You might be surprised to know that there are tons of beautiful places in the UK that feel like abroad. The United Kingdom is filled with captivating sights, stunning beaches, gorgeous architectural designs, and all-around natural beauty. From the quintessentially English countryside, to the dramatic Scottish highlands, down to world-renowned olden-times buildings in the whole of the United Kingdom, there is really no need to look elsewhere.
15 Most Beautiful Places in the UK That Feel Like Abroad
If you've been dying to go for a Caribbean-looking beach, just head down to Cornwall and you just might get your fix. You've also been sleeping on the Lavender field in Banstead if you think you need to go to France to see that striking purple field. Here are 15 of the most beautiful places in the UK that feel like abroad.
Henrhyd Falls, Wales
Looks Like: Tiu Kelep, Indonesia
Sure, the weather in Wales is miiiiiiles away from Indonesia's, but these two waterfalls look exactly like each other! Henrhyd Falls is the tallest waterfall in Southern Wales with a drop of 90 feet. It is also one of the few British waterfalls that embody true tropical vibes what with its green, lush surrounding trees and moss-covered rocks that falls reminiscent to its distant cousin in Indonesia. This spectacular cascade provides a wild swimming spot so get your swimming costumes at the ready!
The Isles of Scilly, Cornwall, England
Looks Like: The Caribbean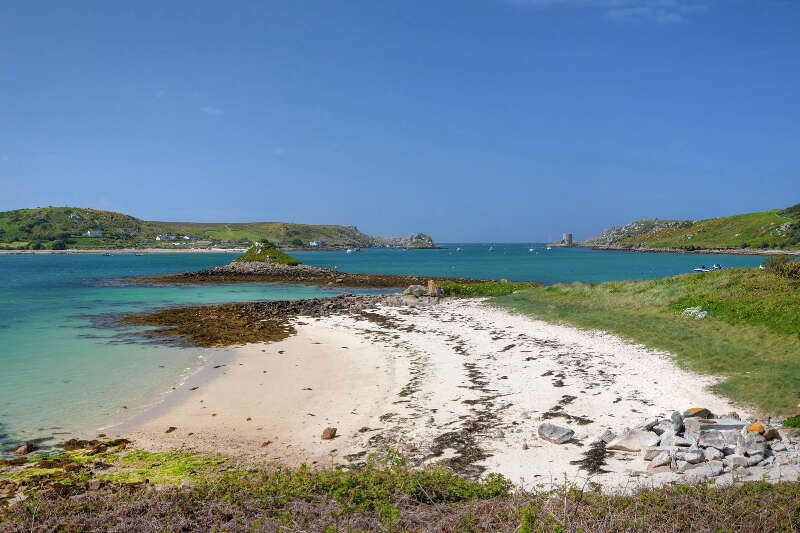 There won't be a more exotic spot in the UK than the Isles of Scilly. It offers the balmiest winters in the UK, the earliest spring of flowers, and the most host of tropical flora and fauna throughout the year. The sands are white, the waters are crystal clear and turquoise, and the wind blows warm in the summer. It's not hard to feel like you're in the Caribbean when you're in this place. Enjoy kayaking, swimming with seals, and scuba diving when you're here to feel like you're abroad!
Mayfield Lavender, Surrey, England
Looks like: Provence, France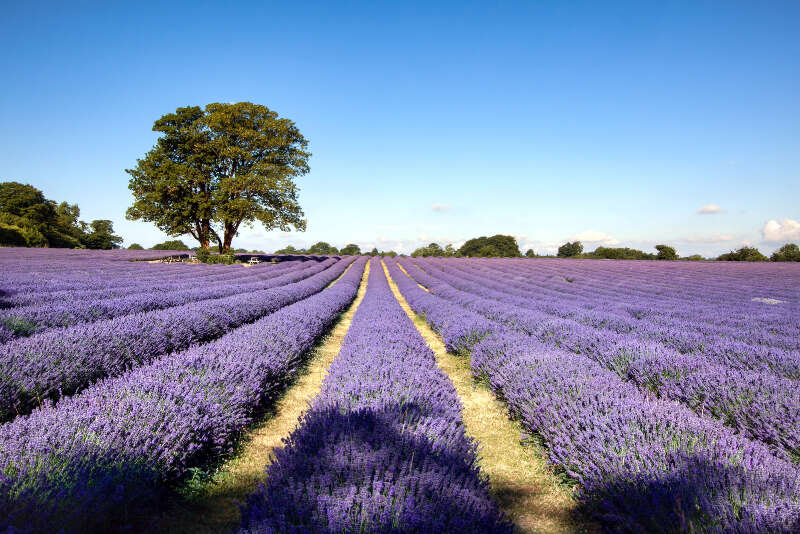 This rolling field of fragrant lavender is a haven for flowers, bees, and picture lovers alike. It rivals the Instagram-famous lavender fields of Provence, France. Wander through a sea of beautiful organic lavender and take endless photos. After that, enjoy a lavender scone followed by lavender-flavoured ice cream while you shop for lavender soaps! Don't forget to score yourself one of their lavender plants for your garden, too. Nothing is prettier than this!
Durdle Door, Dorset, England
Looks Like: Lagos, Portugal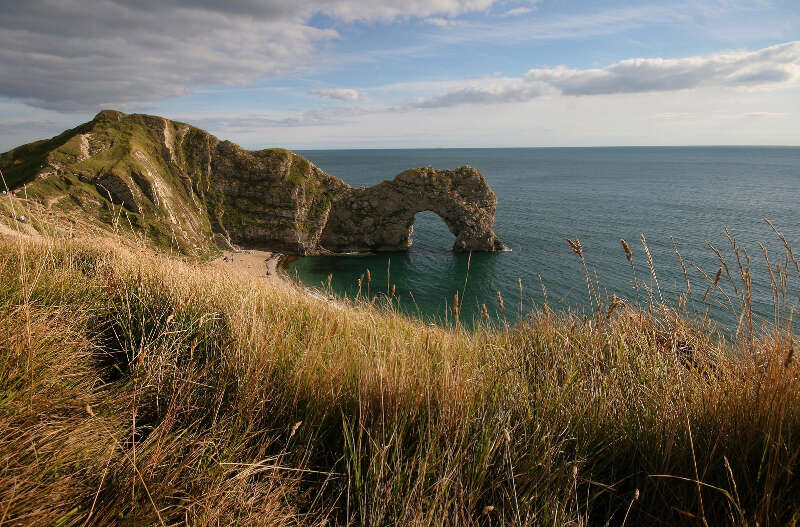 Durdle Door is one of Dorset's most iconic landmarks and arguably the world's most famous rock arch. The arch was created 10,000 years ago when the sea pierced through the Portland limestone. It's a part of the Jurassic Coast World From here, you are also walks away from the breathtaking Lulworth Cove which was formed by the forces of the sea and a river swollen by melting ice at the end of the last Ice Age. You can go camping, rock-pooling, coasteering, or simply enjoy a nature walk with the stunning views. Durdle Door is without a doubt one of the most beautiful places in the UK.
St. Ives, Cornwall, England
Looks Like: Dubrovnik, Croatia
St. Ives is a popular town in Cornwall, known for its surf beaches, Mediterranean-like weather, and picturesque views. There is no need to fly to Croatia to enjoy this kind of beautiful beach. The town is built on narrow peninsula bordered with sandy beaches. From its idyllic harbour to delightful cobbled streets where you can watch local fishermen bring their daily catch of fresh seafood. Sure, being abroad is nice and all, but why would you pass on this painfully beautiful English experience?
Royal Pavilion, Brighton, England
Looks like: Taj Mahal, India
Right, nothing is ever like the Taj Mahal. But, if you can't fly to India right now, then the Royal Pavilion is not just your best bet, but also one of the most beautiful places in the UK. The Royal Pavilion is a fabulous palace in the centre of Brighton with a colourful history. It's built on the seaside boasts a Regency grandeur with the visual style of India. You can opt for a staycation in royal bedrooms, book it for your wedding, hold a ball in the many banqueting rooms, or visit the Indian Military Hospital gallery.
Castell Coch, Wales
Looks like: Dracula's Castle, Transylvania, Romania
The Castell Coch is a 19th Century Gothic Revival castle built above the village of Tongwynlais in South Wales, and one of the most beautiful places in the UK. It certainly has the look of the famous Bran Castle in Transylvania, Romania. The castle is Transylvania is colloquially known as Dracula's Castle due to its infamous myth where the real Dracula had been preying on his victims. While Castell Coch does not have an intriguing backstory like the Bran Castle, it still has its moments! The castle was built by the Normans after 1081 to protect the newly conquered town of Cardiff. It's a beautifully fabled, romantic castle that is a dream to tour!
Wat Buddhapadipa, London, England
Looks like: Wat Benjamabhopit, Bangkok, Thailand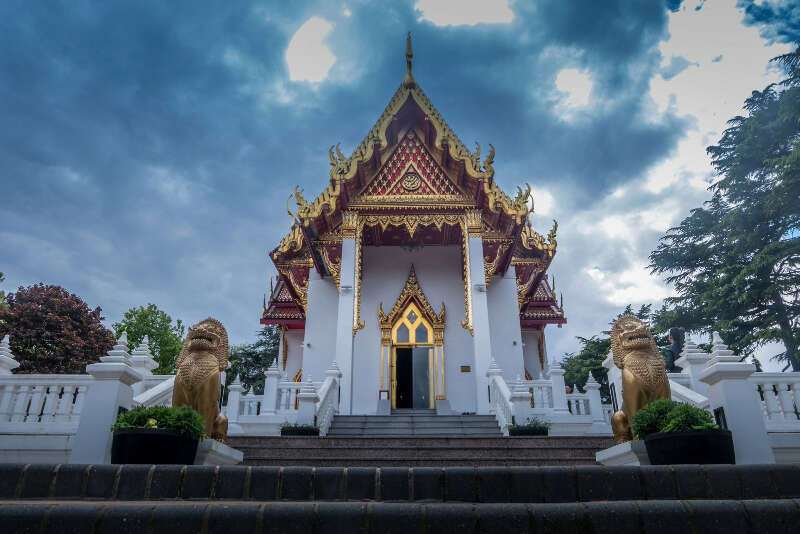 The temple in London is the first Thai Buddhist temple built in the United Kingdom and looks exactly like the Wat Benjamabhopit in Bangkok, Thailand. It is home to monks and nuns, but visitors are welcome! Inside the temple hall, the walls are covered with paintings showing the life of the Buddha — from his birth to his death.
There are pictures of his birth in Nepal, his renunciation, his enlightenment, and finally his death. It's all very spiritual and historically amusing. Once you step foot inside the temple, it sure feels like abroad. All visitors of any faith are encouraged to visit, but remember to be respectful to the building and everything in it. It is, after all, a place and home of worship.
Isle of Skye, Scotland
Looks like: Kirkjufell, Iceland
The Isle of Skye is, undoubtedly, one of the perfect places in the United Kingdom. It's hard to find any faults with this place because there might not be any and I can personally vouch for that. Skye is truly a magical place, and on top of the list of most beautiful places in the UK, it is home to Scotland's most iconic landscapes. The Isle of Skye gives Iceland a run for its money with its countless ways of enchanting locals and visitors alike.
With its mountain ranges, miles of dramatic coastline, abandoned castles, and captivating history, your sense of adventure will be filled to the max. Go for an incredible walk through the many landscapes, have a drink of the finest malt whisky, explore the fabled 'Garden of Skye', and maybe learn some Gaelic whilst you're there. The sky is the limit in Skye!
Wasdale Valley, Cumbria, England
Looks like: Yosemite National Park, USA
Wasdale is the wildest of the valleys in the Lake District. It's the remote and beautiful area between Wastwater, England's deepest lake, and the mountains of Great Gable and Scafell Pike, England's highest mountain. If you can't hop on a plane to America, head over to Cumbria instead, and bask in the stunning views in Wasdale where it feels like abroad. Here, you'll find England's tallest ancient cross and a cork tree, planted in 1833, which is also the most northerly in Europe.
Shetland Isles, Scotland
Looks like: Tromso, Norway
When people think of the Northern Lights, the mind immediately goes to Norway. And sure, some of the best Aurora Borealis displays are in Norway, but you can see them in the UK, too! In Shetland, they are locally known as the 'Mirrie Dancers'. As Shetland lies closer to the North Pole than any other part of Britain, it's the best place to experience the Northern Lights. The best time to catch them is during mid-October and mid-March, although of course, they are very hard to catch, so plan wisely! Aurora watching can be tiring and cold, so make sure to wrap up warmly and go for walks in the area.
Carrick-a-Rede Rope Bridge, Northern Ireland
Looks like: Glass Bridge, Guangxi, China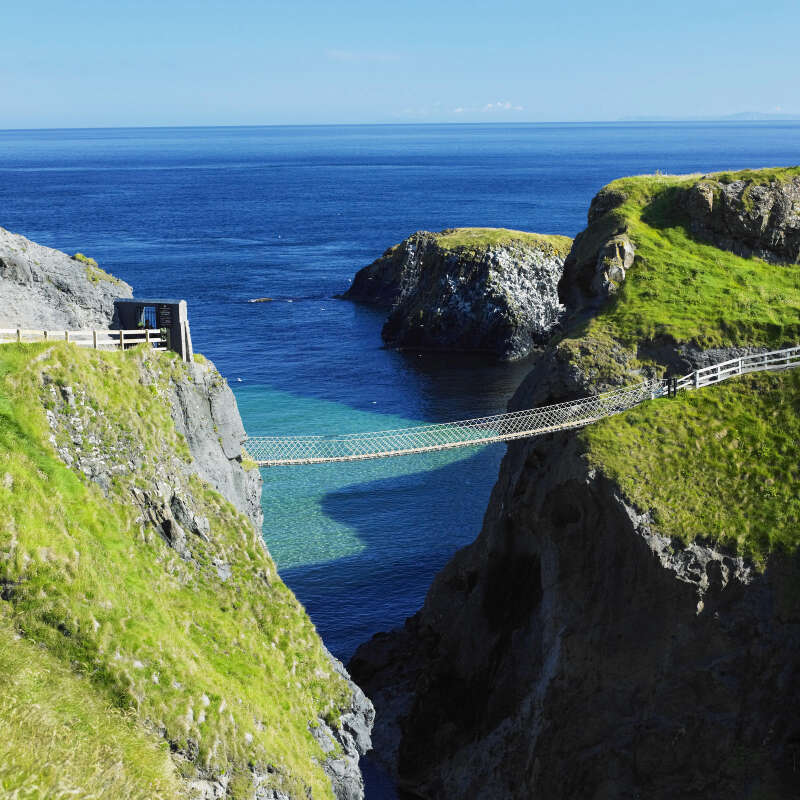 OK, Carrick-a-Rede's Rope Bridge isn't exactly a Glass Bridge like the one in Guangxi, China. But, it sure does look like it from afar! Also, they both hang suspended in the air. In fact, the bridge in Wales has a higher height of 30 m compared to China's 10 m. How is that for an experience? The rope bridge is near Ballintoy in County Antrim, Northern Ireland, one of the most beautiful places in the UK. The bridge links the mainland to the tiny island of Carrickarede and offers a picturesque view from the top. If you're in for a thrill, then this adventure is for you!
Snowdonia National Park, Wales
Looks like: Aoraki Mount Cook National Park, New Zealand
Snowdonia National Park is home to the highest mountain and the largest natural lake in Wales. Arguably showing off the most beautiful ranges of mountains in Europe, Snowdonia boasts glacial landforms incomparable with anything else. The park's historic Snowdon Mountain Railway climbs to the summit of Wales' highest mountain, Mount Snowdon, offering views across the sea to Ireland. It also serves as the base to an extensive network of trails, over 100 lakes, and craggy peaks. With views like this, you might not need to book that flight abroad to New Zealand after all!
Blackpool Sands, Devon, England
Looks like: Golden Beach, Cyprus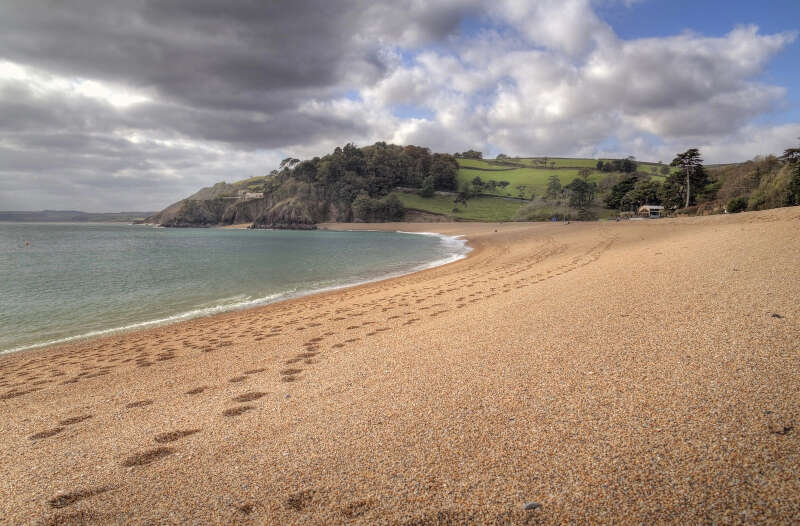 Whether you're in it to relax or to play, Devon's golden beach will serve you its purpose – to satisfy! Set in an unspoilt, sheltered bay, lapped by clear blue water and surrounded by magnificent evergreens and pines, it's summer every day in Blackpool Sands! It's like having your very own Cyprus beach! It's the perfect place to sunbathe, swim, sail, or do some snorkelling. And it's definitely the perfect place where you'll feel like abroad while in the UK.
Kynance Cove, Cornwall, England
Looks like: Seychelles
Perhaps the most photographed beach location in England is the Kynance Cove in Cornwall. It's quite tricky to choose which beach to compare with Seychelles because there's honestly a lot to choose from. Most people's don't know, but England is home to some of the clearest waters and the most beautiful beaches in the world. Kynance Cove is one of them, as you can see. Just like the beaches in Seychelles, its turquoise waters remind us of the paradise that is Seychelles. Its wide stretch of sand provides the best shore-walk for all ages, whether you're a family or a couple on their honeymoon. So beautiful!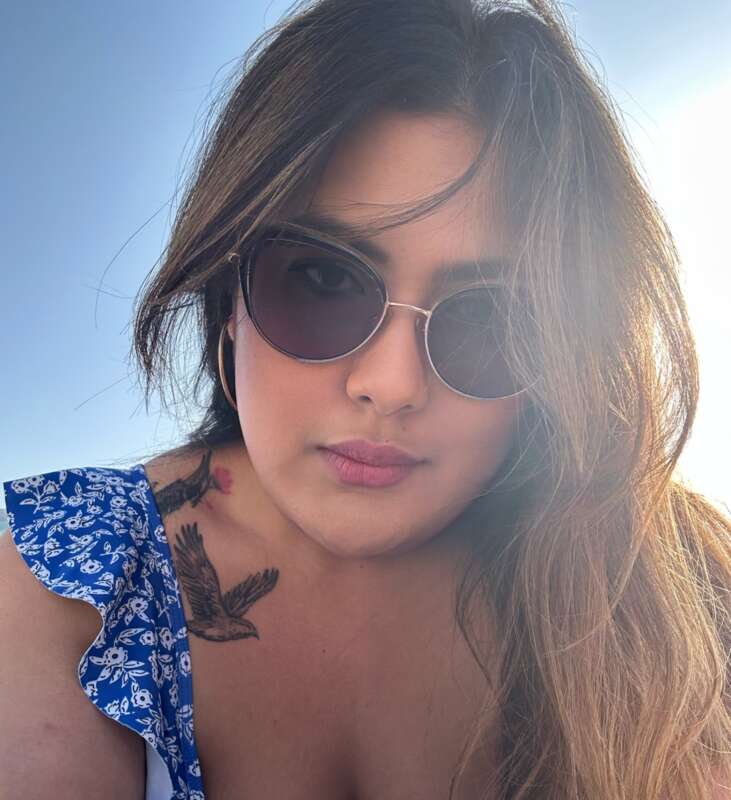 Rachel is an intrepid world traveller, lifestyle connoisseuse, and Girls Who Travel's resident beauty advisor. She is a lover of the ocean, flowers, movies, journalism, and has a penchant for medium-sized tattoos. When she is not busy with life, she writes stories of her globetrots as well as tips & tricks on how to make the best out of travelling.