This is a Caribbean love story about a German girl who fell in love with an Alaskan guy while on vacation.
My Caribbean Love Story
The year was 2006. I was in my last year at university and got a phone call one day from my ex-boyfriend's mother, Conny. She was at that time living in St. Thomas, USVI, in the Caribbean. Her business was failing and she was ready to leave the island, but she needed help.
She offered to pay for my flight if I would come and help her during my Easter break. The first evening we went to a bar. I was tired and jetlagged and not in the mood for conversation. She started talking to the guy who sat next to her. Suddenly she elbowed me and said: Hey! This guy has a sailboat! We are going sailing with him!
Now I wasn't in the habit of taking off with random strangers, but hey, there were two of us, what could go wrong?
Sailing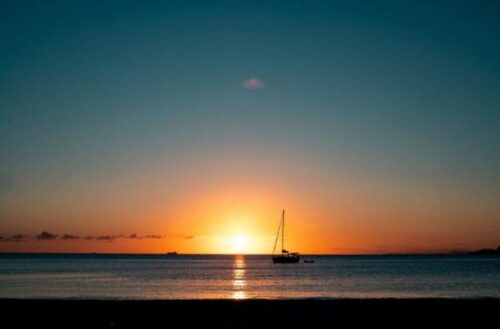 Two days later we took the ferry to Virgin Gorda, where TJ was very surprised to see us. Plans you make in a Caribbean bar usually don't go anywhere. Unless you make them with Germans, of course. The plan was for him to take us sailing for 2 days.
We all hit it off. Conny stayed for 4 days, and I stayed for a week. When she left things became intimate quickly. Despite the language barrier we got along famously. I had learned English in school in Germany, but using it in the real world is a whole different story.
When the week came to an end we returned to Virgin Gorda. TJ's dad, Tom, flew in and they had planned to sail to Trinidad together. We all had lunch together. Tom asked me what I wanted out of life, and I replied with the only thing I ever knew for sure: adventure! He told me later he knew then that we were perfect for each other.
Separation
TJ and Tom sailed away and I took the ferry back to St. Thomas. After a few weeks there I returned to Germany to finish university. TJ and I kept in touch via email. He's a captain on a fishing boat in Alaska, so it wasn't like we could have a little visit.
While we had really hit it off, we left on rather uncertain terms. We lived not only worlds apart, but in very different worlds. A tough guy from Alaska, living on his sailboat, and a well-behaved, fairly normal German girl, doing what was expected of her in life.
Together again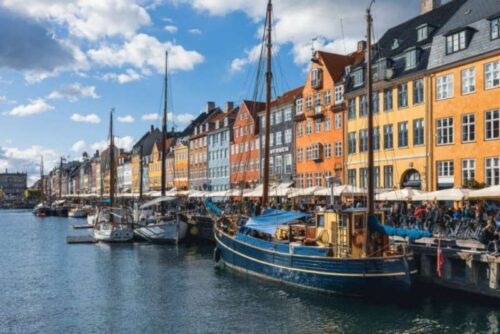 TJ finally asked me if I had any plans for the winter, when I would be finished with my studies. I did not, and so we arranged to meet in Copenhagen on October 26. From there we flew to Trinidad and sailed to some of the Caribbean islands, then on to Colombia.
We had a fabulous time, and this was serious – I'd fallen head-over-heels in love. When you spend two months on a boat together, a very crammed space, and you are blissfully happy you know you are going to be okay.
So we decided to get married. I always knew I wasn't going to spend the rest of my life in Germany. I didn't have a clear vision of what life would be like either though. But now, I was going to get married and move to the USA.
I'm sure you can imagine that this did not go over well at home. Not. At. All. My mother was as angry with me as she had ever been. More, she was in a rage. Here was her only child, getting married to a stranger! My mum and I always had a very good relationship. I was a good teenager. Not rebellious at all. And now this. I suffered, but I did not waiver. I knew marrying TJ was the right thing to do.
My dad and stepdad were a bit more relaxed about it. Not exactly happy maybe, but I would like to think they trusted me enough to know I hadn't gone completely nuts. My friends weren't exactly thrilled, either. I'm not sure if that was because I had promised if I would ever get married I'd throw a huge bachelorette party on Majorca, or because I was going to move away.
We decided to do the easy thing and get married in Vegas. After a few days we had to go our separate ways, him back to work and me back to Germany to get my life in order.
Still in Love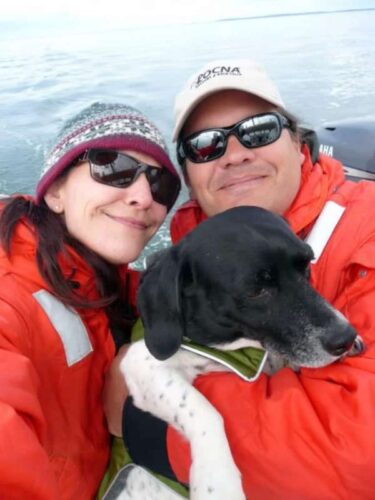 We recently celebrated our 13th wedding anniversary and have an amazing dog named Baxter. I have no regrets about my decision, except maybe we should have invited the family to our wedding. Everyone has since met and they love their son-in-law. This is my Caribbean love story!
My advice: trust your gut. You need to do what is right for you!