It's pride month and we're continuing our series highlighting LGBTQ podcasts, members of the travel community that are often unseen and unheard. Up next, we're exploring some of the great LGBTQ podcasts out there. Whether you're waiting for the laundry to finish or waiting to catch your plain, we recommend tuning in to these 5 LGBTQ podcasts to enjoy, laugh and learn.
Highlighting LGBTQ Podcasts 
1. Making Gay History
Eric Marcus, the podcast's founder, paints portraits of LGBTQ activists, allies and long-forgotten trail-blazers through interviews from his 30 year archive.  Marcus collected the material for a book he was commissioned to write. 'Making Gay History: The Half-Century Fight for Lesbian and Gay Equal Rights' was originally published in 1992 and won the Stonewall Book Award the same year.
2. One From The Vaults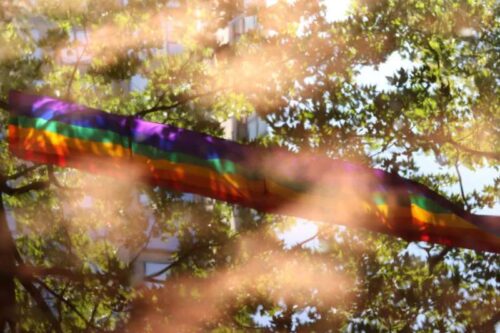 Morgan M. Page, a well-read historian, presents diverse stories of trans history. Each episode features a trans person or an organization that had a big impact on the life of trans people.  Morgan's thorough research and insight get you hooked immediately.
3. To L and Back: An L Word Podcast
This podcast is hosted by Autostraddle's Riese Bernard and L Word co-host Kristin Russo. The L Word was a TV show about lesbian, bisexual and transgender people. Riese and Kristin recap every single episode of the show, and you are guaranteed a few good laughs!
4. Dead for Filth
Horror personality and screenwriter Michael Varrati presents to you this super queer podcast. His guests include the best queer and horror icons of TV, stage and film. Michael's charm and charisma makes him a phenomenal host. His knowledge and engagement will keep you entertained through the whole hour.
5. Disability After Dark
What is it like to be a queer person with a disability? Andrew Gurza, the creator of the viral hashtag #DisabledPeopleAreHot, sparks a conversation about sex and disability. His honest, funny and thought-provoking podcast reminds you that sex is for everyone! A must-listen not just for disabled people.
We hope you have enjoyed us highlighting LGBTQ podcasts! Do you have a favorite LGBTQ podcast? Comment below!
Also, check out these 20 great LGBTQ friendly travel destinations!
Her Adventures is an education and empowerment community dedicated to helping women explore beyond their boundaries. We welcome all people who identify as non-masculine/non-male to connect, educate and inspire each other with their stories, fears, knowledge, questions, and ideas. Because together we make each other strong. We hope you will join us and see the world.