While beach vacations and time spent at the mighty oceans of the world are very popular, lakes are some of the most mesmerizing bodies of water. Their glassy, still surfaces, brilliant blue waters, and fascinating reflections of of snow capped mountains and other beautiful sights can make you want to stay still and observe its beauty all day. There is something magical about seeing towering mountain ranges, overgrown forests, and incredible wildlife reflected on the shimmering waters. There are millions of lakes on earth, so we are narrowing it down and rounding up some of the prettiest lakes in the world just for you!
This post contains affiliate links. This means we make a small commission at no cost to you if you click through and make a purchase. All prices listed are accurate at time of publication. 
The 38 Prettiest Lakes In The World
Our planet is full of amazing lakes. For a better overview, we have divided the prettiest lakes in the world by continent. While Antarctica has tons and tons of amazing lakes, we have left it off the list, due to inaccessibility. If you do end up visiting Antarctica, it'll most likely be on a cruise on an expedition ship, and you won't be able to wander off by yourself in search of these incredible bodies of water. So – without further ado, here are the prettiest lakes in the world!
Prettiest Lakes in Africa
You won't be lacking for stunning lakes on the continent of Africa!
1. Lake Malawi – Malawi, Mozambique, and Tanzania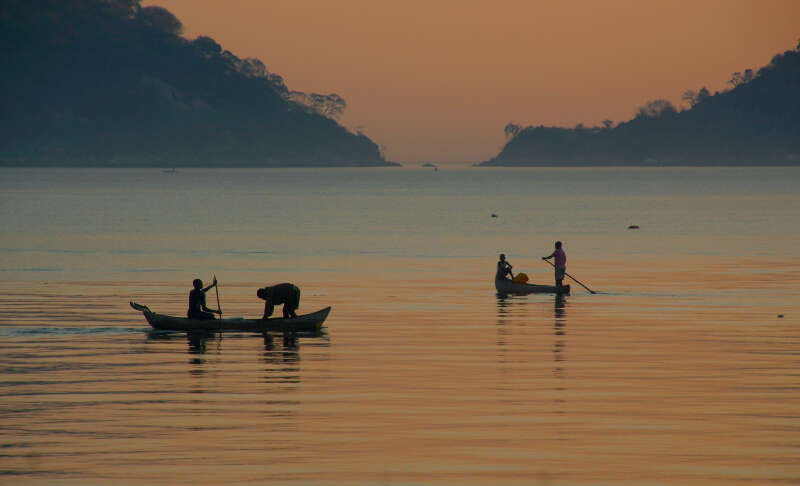 Lake Malawi is located between Malawi, Mozambique, and Tanzania, and is the southernmost lake in the East African Rift System. It is the world's 9th largest lake, and the  third largest and second deepest in Malawi. With a length of 360 miles, and a width of 46.6 miles it is also positively ginormous. What's most special about it is the fact that it is home to more species of fish than you will find in the lakes and rivers of Europe combined!
If you don't fancy being hot and getting wet, plan your excursion to Lake Malawi during the winter months (early May – late October). The best way to get to the lake (and its national park) is to fly into Lilongwe. From there, it's about a 3 hour drive. An easy and convenient way to visit this majestic lake it to book a day tour.
This beautiful lake is the place for some serious R&R. The crystal clear water, dotted with islands, provides a tranquil atmosphere where you can't help but relax. It's excellent for swimming all year round. You can go snorkeling and scuba diving to explore the incredible biodiversity Lake Malawi has to offer.
2. Lake Natron, Tanzania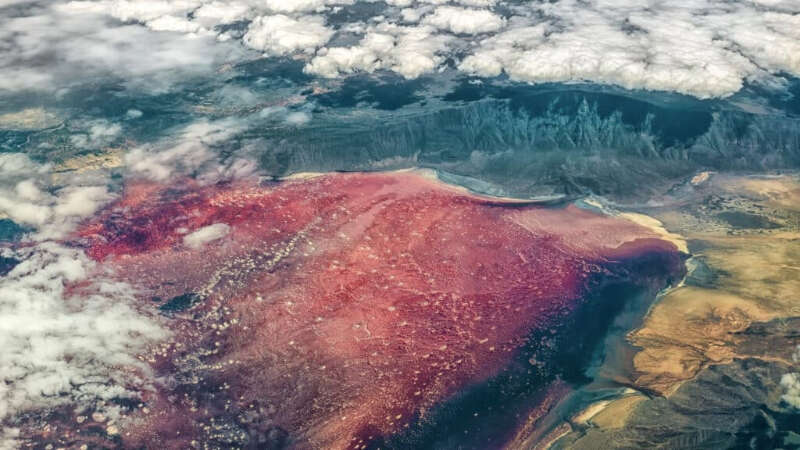 Lake Natron is located in northern Tanzania, on the border to Kenya. It is quite shallow, a little less than 10 feet. One look at any picture tells you exactly why you have to visit this body of water, and how it made it on our list of prettiest lakes in the world. It is a is a mineral-rich soda lake that sometimes turns red and is deadly to most animals, humans among them! The water is extremely alkaline and can cause serious burns. Lake Natron is among the deadliest yet prettiest lakes in the world. Despite (or because!) of that, flamingos flock to the lake every year. It contains high levels of bacteria which serve as food, turning the lake into a nice big buffet for the flamingos.
The best time to visit in regards to weather is from late May to early November, during the dry season. If you want to see the flamingos, plan your trip for some time between August and October. Lake Natron's location is quite remote, but it's a unique off the beaten path experience. The easiest way to get there would be to book a tour that includes it as a stop. If you want to venture out on your own, start at the bus station in Arusha, and hop on a bus to Mto Wa Mbu. From there, take a bus or motor bike taxi to the lake.
The best thing to do is to observe the flamingos. But there's more! You can climb Ol Donyo Lengai, go trekking, see the Ngare Sero water falls, and admire the Hominid Footprints.
3. Lake Nakuru, Kenya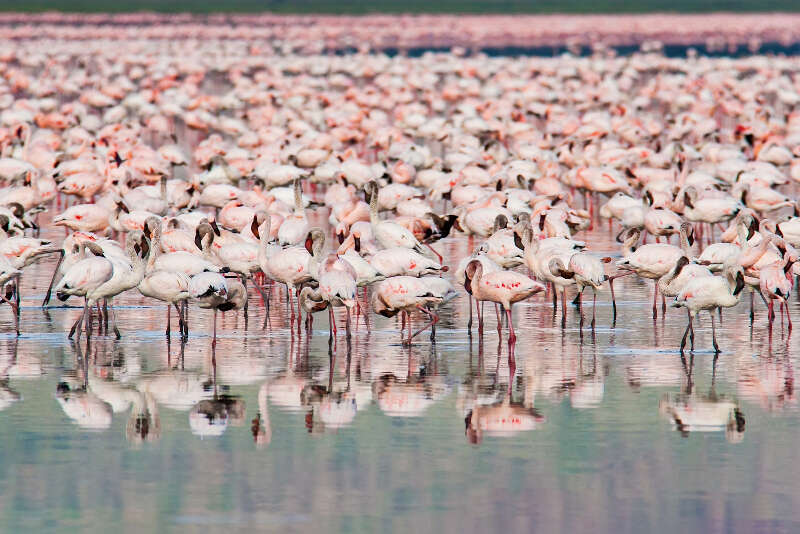 This lake is located in the rift valley of Kenya, at an altitude of 5,755 feet, and is part of Lake Nakuru National Park. It is a UNESCO World Heritage Site. This lake is also alkaline, albeit less deadly, which draws the tens of thousands, sometimes a million flamingoes to its shores. There are many other species of birds to be observed, as well as waterbucks, impalas, and hippopotamuses. It's a haven for wildlife enthusiasts!
If the birds are your main reason to come to Lake Nakuru, November through April is when you must book your ticket for. Those are, however, the wetter months of the year. The dry season is great for visiting as well, with an abundance of wildlife, just less bird viewing available. This body of water and national park lies about 164 kilometers north of Nairobi. There's a good road leading to this beautiful lake, so getting there by car is most convenient. You can also book a tour to take you there.
On top of the aforementioned opportunities to see birds and other wildlife, you can hit the 'Out of Africa Lookout' for fantastic views. It's called that because the iconic movie 'Out of Africa' was partially shot here. Baboon Cliff  is another popular view point. If you come shortly after rainy season, visit the Makalia Falls. They do dry out during dry season.
Prettiest Lakes in Asia
Asia is home to many beautiful lakes, and we picked nothing but the best for you!
4. West Lake – China
China is a huge country with many, many attractions. West Lake is one you should not miss! This body of water consists of freshwater and is located in Hangzhou. Three causeways and one mountain divide the lake into five sections, and it is littered with natural and artificial islands, pagodas, temples, and gardens. While the scenery is breathtaking, West Lake is also center point of many romantic legends. Pack your honey, and off you go to the most romantic lake in all of China!
Spring is, without a doubt, the ideal season to visit. While it can be misty and rainy, the peach trees are in bloom and give the lake that little extra flair. Summers are hot and wet, but fall offers the best weather – though less romance without those peach blossoms. West Lake is conveniently located in downtown Hangzhou City, so getting there is no problem at all.
West Lake was declared a UNESCO World Heritage Site in 2011. One fun thing to do is to go on a lake cruise and visit Lingyin Temple. You can extend that and do a Hangzhou day tour of West Lake, Lingyin Temple, Tea Village and Hefang Street. Take a stroll in the Gu Shan (Solitary Hill) area of West Lake to enjoy the scenery near the waterway and gardens. Ping Hu Qiu Yue is a beautiful spot not to be missed. Su Causeway is a good place to take a bike ride, or go for a walk, with a scenic view of this beautiful lake.
5. Attabad Lake – Pakistan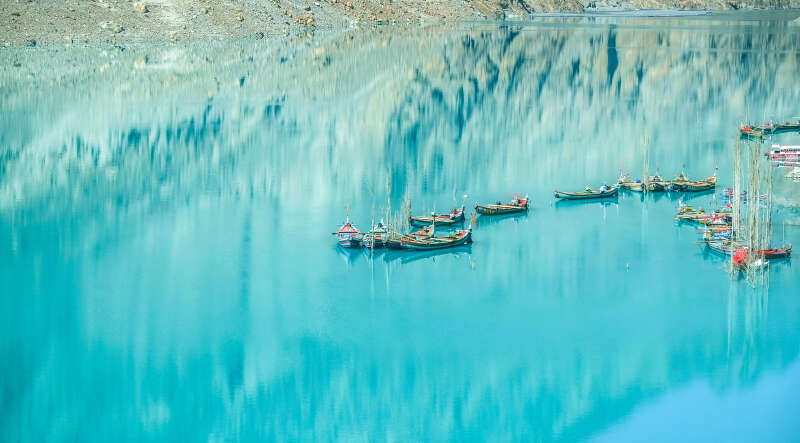 Attabad Lake is located in the Gojal region of Hunza Valley in Gilgit−Baltistan. Have you never heard of Attabad Lake? That's because it's fairly new! In 2010, a landslide created this body of water. It has since become a major tourist attraction – no surprise! Surrounded by mountain ranges, the water is deep blue and chilly. Natural disaster often cause terrible things, but in this case, it created something beautiful. A new item for your bucket list!
Plan your visit between April and October, since the lake freezes over in the winter. Though the sight of frozen Attabad Lake, surrounded by snow capped mountains, is something to behold. Getting there isn't so simple. From Islamabad, take a plane to Gilgit or Skardu, then take a taxi to the lake.
Watersports is the word at Attabad Lake. Go boating, jet skiing, or fishing.
6. Dead Sea – Jordan & Israel
Its name may be misleading – the Dead Sea is not a sea or an ocean, but a very large salt lake. It's 31 miles long and more than 9 miles wide – you might just get the impression of being at the ocean, even if it isn't one! One of the unique facts about the Dead Sea, which is one of the prettiest lakes in the world, is that is it 1,412 feet below sea level. We've talked about many lakes located in mountainous regions which are at altitude. The Dead Sea is the polar opposite.
Summers are very hot in this part of the world. Spring (March – May) and fall (October and November) are the ideal time to visit. If you are vacationing in Israel, rent a car in Tel Aviv. It's only a two hour drive to this body of water. In Jordan, Amman Beach is closest to this beautiful lake. Take a bus from the bus station in Mujaharin to Rame, and grab a cab from there.
Floating is the number one reason why people visit the Dead Sea. The super high concentration of salt (34%) makes the water very dense, and humans can happily float around. The water is full of minerals that have a relaxing effect on the body. Floating in this beautiful lake is R&R on steroids!
7. Inle Lake – Myanmar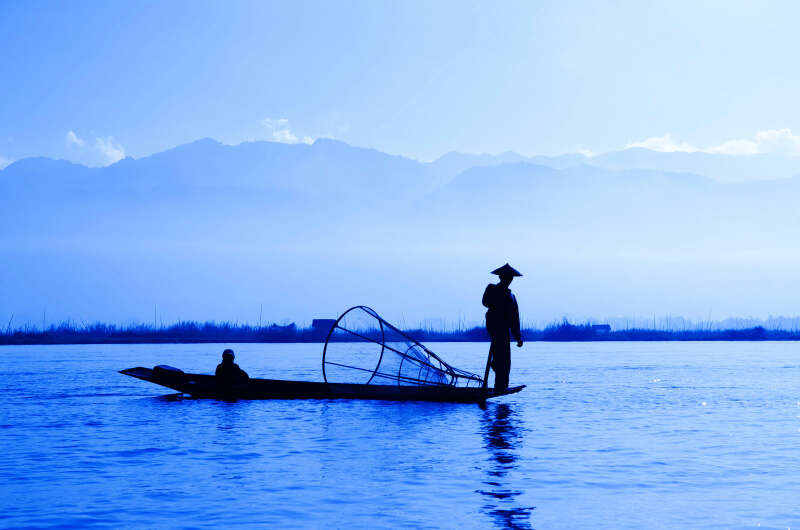 This lake is located in the Shan Hills of Myanmar. It is 44.9 square miles in size, set between two mountain ranges at an altitude of 2,900 feet. Floating stilt villages and gardens make it unique and extra picturesque. Inle Lake is one of Myanmar's most stunning natural treasures, and well worth a visit.
January and February are very pleasant at Inle Lake. Evenings can be a bit chilly. August through October and warmer, and the weather is great for all activities. The closest airport is in Heho, which is a meager 28 miles from this beautiful lake. From Heho, it's east to catch a cab to Nyaung Shwe.
When on a lake, take a private boat tour. Enjoy dinner at Khaung Daing Village. Explore Indein, a small village near the lake, on a full day tour. Explore Phaungdawoo Pagoda. See the the ancient ruins of Kakku.
8. Phewa Tal – Nepal
While the first thing that comes to mind when you think of Nepal may be Mount Everest, there's another jewel worth visiting: Phewa Tal. This lake is located in the south of the Pokhara Valley. Tourists are drawn to the snow capped Annapurna mountain range and lush forests. Some days Mount Machhapuchhre is mirrored on the surface, creating the perfect photo opportunity.
The best time to visit this body of water is between May and September. From Kathmandu, you can take a tourist bus, which will take around 5 hours.
Tal Barahi Temple is open for visitors on the lake's island. You can hire a boat and take a tour of the lake. The area is very nice for walking, and you might even spot some wildlife.
9. Lake Baikal – Russia
Lake Baikal, the Pearl of Siberia, is the world' largest lake by volume. The numbers are stunning: this body of water holds roughly twenty percent of the world's fresh surface water. That is more H2O than in all of the North American Great Lakes combined! On top of that it is one of the prettiest lakes in the world. This beautiful lake is not just a UNESCO World Heritage Site , but also one of Russia's most popular tourist destinations.
It's a bit of a hike to get to Lake Baikal. From Moscow, take a plane to Irkutsk, which takes around 6 hours. Summer is the best time to visit, but it is possible to go during the winter months as well.
Winter sports enthusiasts can rejoice – snow and ice are guaranteed during the cold season! Dog-sledding is a can't miss activity. During the summer, hiking the Great Baikal Trail is a treat. There are plenty of hot springs in the area to relieve your tired muscles. Listvyanka is the most popular village around the lake, and a fine place to sample some Russian specialties. Visit  Ivolginsk Datsan, the largest Buddhist center in Russia.
10. Lake Kawaguchiko – Japan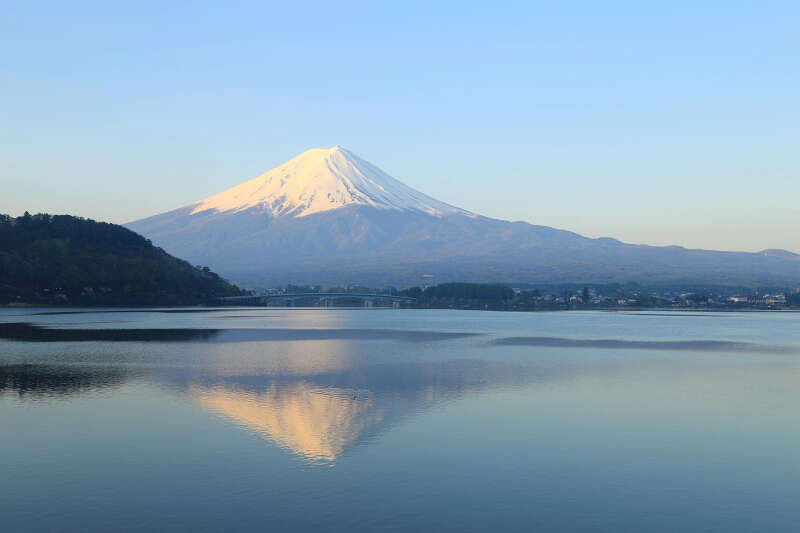 This lake is located at an altitude of 2,625 feet near Mount Fuji, in the town of Fujikawaguchiko. Lake Kawaguchiko offers fantastic views of the iconic Mount Fuji. This body of water is the second largest of the Fuji Five Lakes.
If you travel to Lake Kawaguchiko for the views, spring and winter give you the best chance to catch more than a fleeting glimpse of Japan's highest mountain. It looks especially stunning during that time, its snow capped summit a stark contrast against a clear blue sky. You can visit year-round though. From Tokyo, take a train or a highway bus to reach this beautiful lake. Or, take a day tour from Tokyo.
Aside from the view, there are plenty of other things to do in this area and in general in Japan off the beaten path. If you want to challenge yourself, hike the 10.9-mile loop trail near Yamanashi Shi, Yamanashi. There are other, less challenging hikes and walks available, and the area is teeming with birds, so bring your binoculars! Visit the Arakurayama Sengen Shrine and the Kitaguchi Hongu Sengen Shrine. Take the cable car to the top of  Mt. Tenjō.
11. Thale Noi – Thailand
Thale Noi is a vast freshwater lagoon and a protected wetland area in Phatthalung province in southern Thailand. This body of water is one of the most biodiverse sites in Thailand and was declared a non-hunting area on February 18, 1975.
The best time to visit the lake depends on your intentions. Are you going there to see and photograph some of the approximately 180 different species of birds? Then book a trip between November and March, when the migratory birds make their way through Thale Noi. Do you want to see the pink lotus bloom in all its glory? Buy your ticket for some time between February and May. Phatthalung is the closest town to this body of water. From Bangkok, fly to Hat Yai, Nakhon Si Thammarat, or Trang. From there, connect with the railway to Phatthalung. From Phatthalung, mini buses can take you to Thale Noi.
Birdwatching is one of the main activities. But there are other attractions nearby, such as the very photogenic Sampaothai Resort,  Lung Prum Coconut Shell Village, and local handicrafts centers.
12. Lake Pichola – India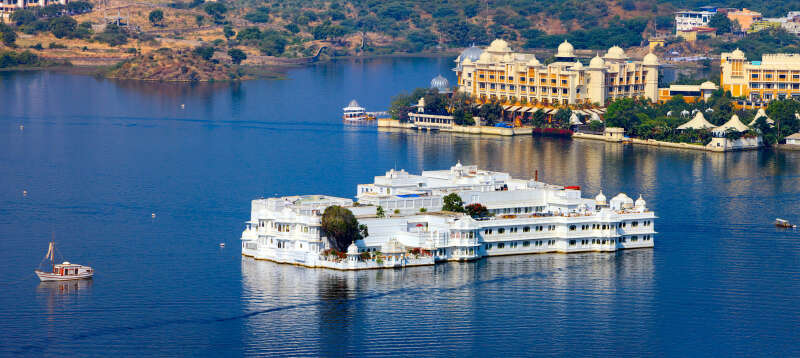 This lake is located in the state of Rajasthan, and it is only the second artificial freshwater lake on our list! It was built in 1362 AD, so it's been around for a long time. Lake Pichola is very picturesque. There are several islands within the lake, but it is Jag Niwas Island that features the Lake Palace. The best thing about this palace? It's been turned into a hotel, the Grand Palace Hotel, so you have the option to stay smack in the middle of this gorgeous body of water! It's shoreline was built up only after the construction of the lake, and it does nothing but enhance its beauty.
Summers get extremely hot in this region, so the best time to visit is between March and June. Head out in the evenings to enjoy a magical sunset. You've got plenty of options to get to Lake Pichola from Udaipur City – by bus, rickshaw, or taxi.
Take a boat ride to Jagmandir Island. Visit the City Palace of Udaipur. See Mohan Mandir, Arsi Vilas, Gangaur Ghat, and the Swaroop Sagar Bridge.
Prettiest Lakes in Europe
Are you ready for all the beautiful lakes Europe has to offer? Because there are many!
13. Buttermere Lake – England
Buttermere Lake is located in the Lake District, a national park in Cumbria in the northwest of England that is a very popular tourist destination. This very peaceful and serene lake is surrounded by mountain ranges, giving it that feel of being on another planet altogether. Buttermere Lake is one of the smaller lakes in the region.
The nearest airport is Manchester. You can take a train, or drive. Parking is available at Buttermere Village. The best time go visit the Lake District and its many beautiful lakes is the summer. Unfortunately, that's not a secret, and it can get quite busy. If you don't mind cooler temperatures and some precipitation, the shoulder seasons are also a fine time to visit.
The good news is that Buttermere Lake isn't one of the most frequented spots in the Lake District. Walking around the lake is a great activity for the whole family, as the path is nice and flat. Have a picnic along the way! You may even spot some wildlife. Close by is Seathwaite, which is where you will find some of the best hiking trails in the area. Buttermere Lake is one of the must-visit destinations in the Lake District.
14. Lake Saimaa – Finland
Obviously Finland, "the land of the thousands lakes", made it on the list of prettiest lakes in the world! Lake Saimaa, Finland is the largest lake in Finland, and the 4th largest freshwater lake in all of Europe. It's not simply a nice, open body of deep blue water – it's more of a labyrinth, with 13710 islands dotting its surface. And it holds a world record: it has the world's longest lake coastline, a whooping 9000 plus miles! This lake is located in the Saimaa region in Eastern Finland and is one of the prettiest lakes in the world.
Lake Saimaa is a year-round destination. The towns around the lake are all very accessible by bus, train, or car.
In the summer months, when the days are sheer endless, the most popular activities are standup paddle boarding, kayaking, canoeing, jet skiing, fishing, and also windsurfing. Maybe you'll even spot the critically endangered ringed-seal! Visit in the spring or fall for the best chance to see the Aurora Borealis. A whole different world opens up at Lake Saimaa in the winter. Arctic temperatures cause the lake to freeze over and open up for ice skating. Cross-country skiing, snowmobiling, snowshoeing, ice fishing – you name the winter activity, you can do it here.
15. Loch Awe – Scotland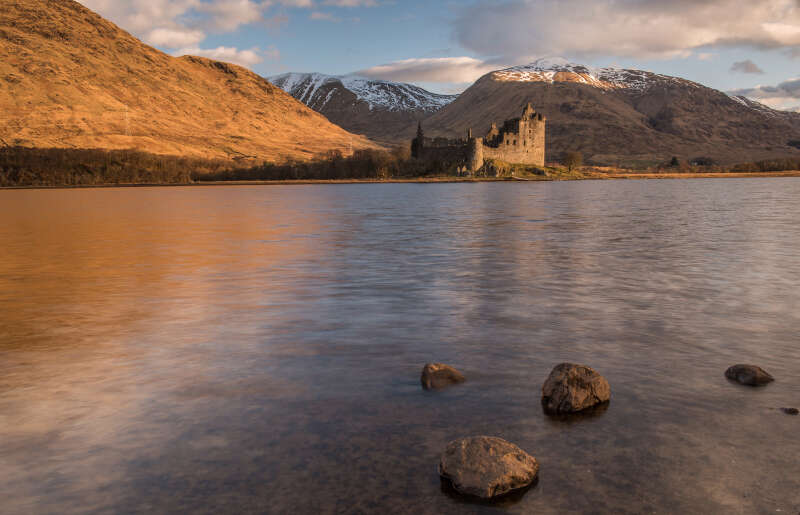 The Scottish Highlands are truly a bucket list destination. This region is wild, mountainous region, perfect for a trip off the beaten path. When you go, you can not miss stopping at a Loch or two. Loch Awe is 25 miles of beautifully clear freshwater.
The best time to hit the Scottish Highlands is from June through August, but don't expect hot summer days. Loch Awe and the Highlands are located far north, so a typical summer day may be no warmer than 70 Fahrenheit. You can get to the Loch by either bus, train, or car.
This body of water is perfect for wild swimming. The crystal clear water is inviting, though not super warm. And the best part? You won't have to worry about sea monsters, since Nessie lives in nearby Loch Ness and isn't known to travel. You can also rent a boat, kayak, or canoe. Visit the Cathedral of Trees, St Conan's Kirk, or Kilchurn Castle.
16. Lake Bled – Slovenia
This glacial lake is located in the Julian Alps of the Upper Carniolan region in northwestern Slovenia. Lake Bled features an island which is the only island in the whole country of Slovenia. The setting of this body of water is so dramatic, between the snow capped mountains and historic city of Bled, that it deserves a spot on the list of prettiest lakes in the world. The deep blue water of the lake is incredibly clean, thanks to Slovenia being the first 'green country' in the world! If you want to travel responsibly, Slovenia is a great destination!
Getting there couldn't be any easier. Take a bus or train from Ljubljana. Summer is the most popular time for a trip to Lake Bled. But if you want to avoid the crowds, April and May, as well as September and October are your best bet. The water is kept fairly warm by subterranean thermal springs, making it ideal for swimming and water sports. You absolutely must visit Bled island. The best way to get out there is by a large gondola-like row boat called a Pletna. Explore the interesting historic buildings, especially the Church of the Mother of God on the lake. Once you get hungry, stop for lunch (or dinner) at Potičnica to try traditional Slovenian potica cakes. Walk around the lake for scenic vistas. Don't miss Bled castle!
17. Lake Como – Italy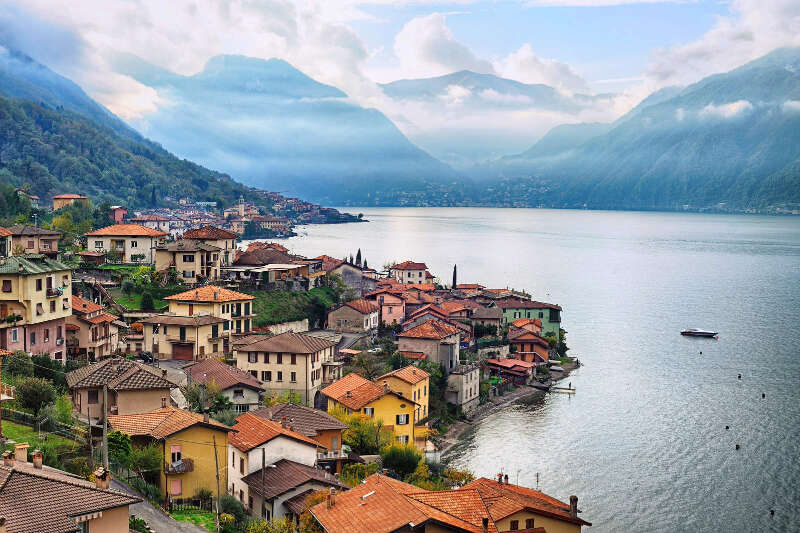 Ah, Lake Como! This incredibly beautiful lake is a favorite destination for aristocrats, wealthy people, and celebrities (we are looking at you, George Clooney!) since Roman times, and we can see why. It's natural beauty and famous Y-shape, framed by the Italian Alps, is highlighted by stunning villas along its shores. But you don't have to be rich to visit one of the prettiest lakes in the world.
With that many rich people in the area, you probably already guessed that it's easy to get to Lake Como (and by other means of transportation than private jet). In fact, it's only a 40 minute train ride from Milan! The best time to visit is from April to October, and you should take at least 3 or 4 days to explore this area, but you can also go on a day trip from Milan.
When in Rome… or in Lake Como, try some Italian food. Or learn how to make it yourself in a small group pasta and tiramisu class. How's that for a great souvenir? Sign up for a guided cruise on a motorboat. Watersports like sailing, water skiing, windsurfing, SUPing, kayaking, kitesurfing, and wakeboarding are available, too. You can rent an e-bike and explore as far as your legs and the battery will carry you. Or go wine tasting at the winery on Lake Como.
18. Jökulsárlón – Iceland
Iceland is famous for it's glacier lakes, and Jökulsárlón is on top of that list. This lake is located in the southern part of Vatnajökull National Park. It is Iceland's deepest lake, and one of the prettiest lakes in the world. Jökulsárlón is large and continues to grow. It connects with the ocean, and is therefore composed of freshwater and seawater, which creates the unique deep blue color of the water. Icebergs bop around peacefully, while gulls hunt for their dinner overhead, with black sand beaches surrounding everything. A scene straight out of heaven!
The best time to visit Jökulsárlón are the summer months. Sure, it gets crowded at times, but thanks to never-ending daylight, you can choose to head out to this body of water at 2 a.m., when everyone else is getting some shut-eye! The best way to get there is by renting a car or taking a guided tour.
To discover the beauty of Jökulsárlón, start your visit by hiking the 4.4-mile out-and-back trail near Hornafjörður. Next, take a boat tour on the lake. A walk on diamond beach is a must. You can see seals, and maybe even spot some orcas! Explore the nearby ice caves!
19. Melissani Lake – Greece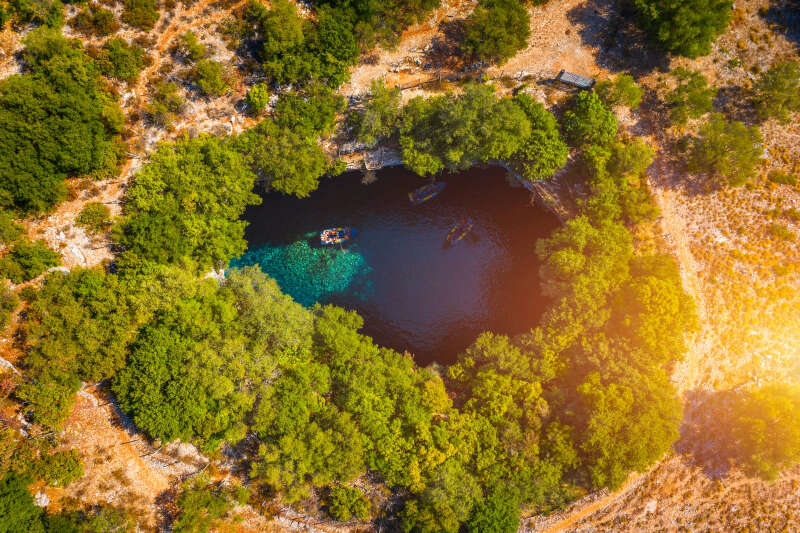 Greece has a very special lake in store for us. Melissani Lake is a lake inside a cave! Obviously this very unique setting makes Melissani Lake one of the most beautiful lakes in the world. This lake is located on the island of Kefalonia. This geological phenomenon with its brilliant turquoise blue water has a special ethereal beauty.
Melissani Lake is a year-round destination. You can go at different times of the day, but it is recommended to go around noon, when the sun is high and bright and shines through the opening of the cave. The best way to get to the cave is by car from Sami or Agia Efimia. You can only access the cave by boat. The easiest way to see it is to book a tour. Some tours cover Melissani Lake as well as Drogarati Cave.
20. Plitviče Lakes – Croatia
UNESCO World Heritage alert! The Plitviče Lakes National Park was added to THE list back in 1979, thanks to its beautiful tufa lakes and caves, which are connected by waterfalls. This oldest and largest national park in Croatia is home to an incredible 16 lakes. But what makes these lakes so special they made it on the list of prettiest lakes in the world? Every single body of water here can change color in the blink of an eye! How? It's due to the quantity of minerals and organisms that are in the water, as well as the angle in which the sunlight hits the lakes. the colors range from blue, to green, to aquamarine, and finally to turquoise.
Summers are the best time to visit, and it can get very crowded. However, the shoulder seasons (April & May, September & October) are just fine weather wise. The easiest way to get there is by renting a car, but if you choose to take a bus instead, you will find good connections from Zagreb, Zadar, and Karlova.
A guided tour is a great way to learn the important facts about the lakes and the national park. You could even book a day trip from Split or from Zagreb. The park itself offers several lake tour programs. It's also a great place for hiking and rowing, and skiing and sleighing in the winter.
21. Rakotzsee – Germany
The Rakotzsee along with its famous Rakotzbrücke appears like a scene out of a fairytale. Built in 1860, the Rakotzbrücke is also known as a "devil's bridge," because back in the day people believed that such bridges were either so dangerous or so miraculous the devil himself must gave built them. This body of water is located at Kromlauer Park, in Kromlau, Saxony.
This is a destination you can visit during any season of the year, but it's especially spectacular in the fall, when the leaves turn and give the scene an especially colorful look. The best way to reach the Rakotzsee is by car, though you can also opt to take the train.
The park itself is a rhododendron park, so if you come while they are in bloom, you are in for a real treat. Unfortunately you won't be able to walk across the bridge. It is closed for preservation.
22. Lake Lucerne – Switzerland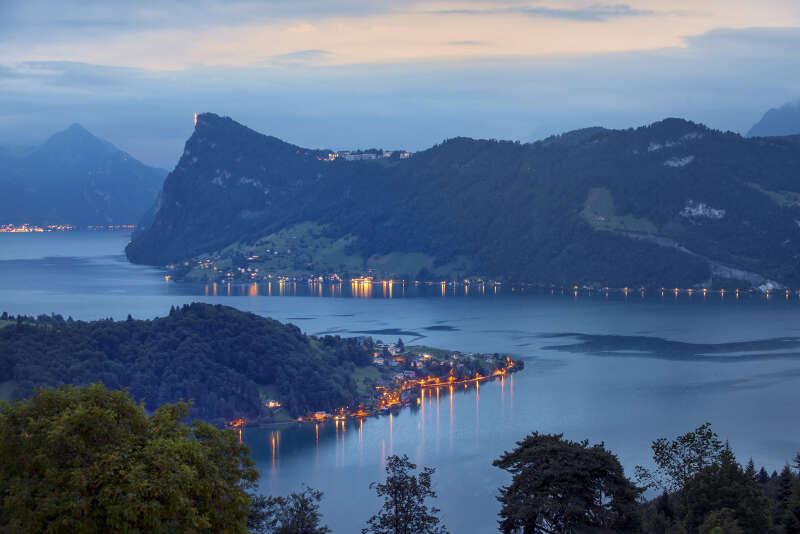 Lake Lucerne, located in central Switzerland, has a very unusual shape. It's got four arms, and many bends and turns, making it look almost like a fjord. Its shoreline is bordered by lots of mountains, as well as the historic cities of Lucerne and Weggis, making it incredibly scenic and one of the prettiest lakes in the world.
It's peak season here from mid June until mid September, when the weather is just about perfect. But the area is accessible all year. The easiest way to get there is to fly into Zurich airport, and then take a train. Switzerland has excellent public transportation!
Switzerland is famous for its natural beauty, which certainly is on display at this beautiful lake. Take advantage of being around a body of water and go on a panoramic sightseeing cruise, or on a catamaran cruise. Spend a day in the Alps! You don't need to climb Mount Pilatus to enjoy the scenic views, you can go by gondola or cable car! Tour Lake Lucerne by e-bike. Don't forget to explore the beautiful city of Lucerne.
23. Lac de Sainte-Croix – France
The Lac de Sainte-Croix in France is one of the few human-made lakes on our list. it was created by the building of a dam in 1974 and serves as a fresh water reservoir. This lake is located is located in the region of Alpes-de-Haute-Provence. Despite it not being natural, the Lac de Sainte-Croix is incredibly scenic, especially with the backdrop of the Regional Natural Park of Verdon.
Summer is the best time to visit, and that's no secret. Hordes of tourists storm the lake shores every year for serious R&R. If you do want to join them, make sure to book tours and accommodations well ahead of time. June and September are less crowded, and the weather is nice. The closest airport is Marseilles. The easiest and most convenient way to get to Lac de Sainte-Croix is by car, though there is some public transportation available in the area.
You can swim, or rent a kayak or pedal boat to pass the time on your vacation. Windsurfing is very popular. Rafting is available at the Verdon River. The Gorges du Verdon is the perfect place to go canyoning.
Prettiest Lakes in North America
There's so many amazing lakes to choose from, how will you pick?
24. Crater Lake – Oregon, USA
Located in in south-central Oregon, Crater Lake is the deepest lake in the US, and the main feature of Crater Lake National Park. Its deep blue color and water clarity stand out in the stunning setting of the National Park. It is one of the most pristine and prettiest lakes in the world, due to being fed only by rain and snow. Crater Lake was formed roughly 7,700 years ago, when the volcano Mount Mazama erupted and then collapsed. It's featured on the standard-issue Oregon license plates and is one of the state's most popular tourist attractions.
Crater Lake isn't just one of the prettiest lakes in the world, but it's also very much a summer destination. July, August, and September are the ideal months to for a visit. It is, however, also the busiest time, and the area can get quite crowded. If you don't mind potential road closures due to snow, and not all facilities being open, May or June is your best to enjoy quiet time at Crater Lake. The lake is at an altitude of 6,178 feet, so make sure you and your vehicle are prepared for cold temperatures during those two months.
The easiest way to get to Crater Lake is by car. This will also give you the freedom to explore Crater Lake National Park at your leisure. From Medford, it's only a 1.5 hour drive on Highway 62 East. From there you'll reach the west entrance, which is open year-round.
If you are towing a travel trailer or travel by RV, make sure the road conditions are excellent before attempting the drive.
Not traveling by car? Take the Crater Lake Trolley from the Amtrak Station in Klamath Falls to Rim Village. It is in operation from late June to early October.
There are tons of things to do at Crater Lake. Drive around the  33-mile Rim Drive and stop on some (or all) of the 30 overlooks. Hike some of the 90 miles of trails while gazing at the deep blue water and the snow capped mountains. Enjoy the plentiful wildflowers, ride your bike, go fishing (but make sure to acquire a permit!), camp, and gaze at the stars. Make sure you got your camera ready to capture the stunning natural beauty of Crater Lake, one of the prettiest lakes in the world, and its surroundings.
25. Lake Tahoe – California & Nevada, USA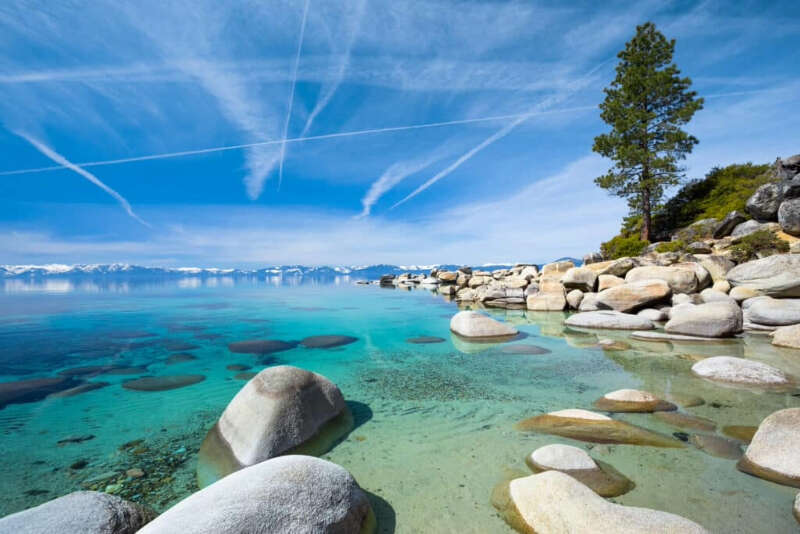 Lake Tahoe is one of the prettiest lakes in the world, but also one of the purest! The water is 99.994% pure – nearly as pure as commercially distilled water. The clear blue water in this second deepest lake in the United States mirrors the surrounding mountain ranges of the Sierra Nevada in the most spectacular way. Located partly in Nevada, and partly in California, Lake Tahoe is a sought-after vacation destination for adventurers and families alike.
The best way to get to Lake Tahoe is to fly into Reno-Tahoe International Airport. There are lots of convenient connections from lots of cities in the United States.
This body of water and the surrounding towns are a year-round destination. Due to its elevation of 6,200 feet summer and winter are much different. Mild spring and fall temperatures are perfect for day hikes, or hiking the famous Tahoe Rim Trail. Summer temperatures can be around 80 degrees, perfect for all kinds of water sports, for example sailing, or kayaking, nice walks, and golfing. Catch the best views on a helicopter tour! In the winter the area gets lots and lots of snow, so pack your skis or snowboard and hit the powder!
26. Lake Powell – Utah & Arizona, USA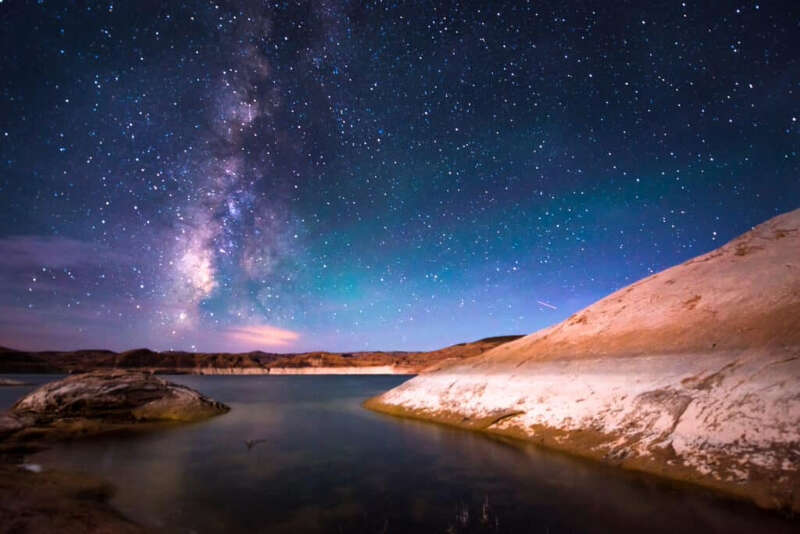 This body of water is actually an artificial reservoir on the Colorado River. How did an artificial reservoir make it on the list of prettiest lakes in the world? Well, it is quite spectacular, and therefore a major tourist destination, artificial or not. This lake is located in northern Arizona, but stretches all the way into southern Utah. Lake Powell, part of the Glen Canyon National Recreation area, is a massive body of water, with nearly 2,000 miles of shoreline, and over 96 towering side canyons on top of that.
Just like Lake Tahoe, Lake Powell is a destination you are able to visit year-round. Spring is cool and quiet. Summer is the busiest time, but it is also the perfect time for all the adventures this area has to offer. Fall is less busy, and while nights can get quite cool, the water is still nice and warm. Winter is very quiet, but it's also beautiful and worth a visit.
Lake Powell might be one of the prettiest lakes in the world, but it's a bit remote. The closest airport to the lake is in Page, Arizona. Major airports are Las Vegas, Nevada (which could be a fun stop on your way and it about 7.5 hours away!) or Phoenix, Arizona, from where you can drive in about 5 hours.
To enjoy yourself once you have reached this body of water, you can rent a boat, or even a houseboat to stay in! You can go fishing, kayaking, jet skiing, swim in the summer or get a tan on one of the beautiful beaches. There are fantastic hikes in the area and something very special – Rainbow Bridge, one of the least visited national monuments in the United States! Or treat yourself to an Antelope Canyon and Lake Powell flight with river rafting.
27. Lake Superior – Michigan, USA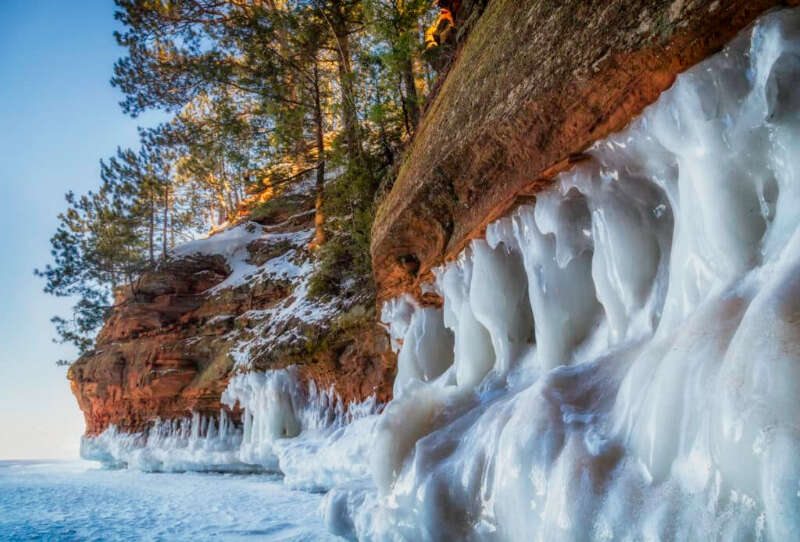 Lake Superior is a body of water that holds many superlatives. Of the famous Great Lakes it is the largest. It is the world's largest freshwater lake by surface area, and the third-largest fresh water lake by volume. It contains 10% of the world's freshwater! Lake Superior is actually partly in Canada, but for our purposes we will focus on the US side and talk about the prettiest lakes in the world located in Canada next.
This body of water is massive, so there's no one way to get to it. It lies in 2 countries and 3 states! One focal point, however, is Isle Royal National Park. Isle Royal is an island in Lake Superior, rugged, isolated and perfect for hiking, backpacking, boating, and paddling adventures. The only ways to get there are either by seaplane or by boat, and the two entry points are at Rock Harbor and Windigo.
There are many, many things to do at Lake Superior, and it's a destination that's attractive through all four seasons. Beaches and Lighthouses, water sports and waterfalls, it's impossible to get bored!
28. Moraine Lake – Alberta, Canada
Located in Banff National Park in Alberta, Canada, Moraine Lake is one of the prettiest lakes in the world. Fed by glaciers, the water is so brilliant blue, you can hardly believe it is real. Visit the Valley of the Ten Peaks at an elevation of approximately 6181 feet to see this stunner. Lake Louise, which is close by, is Moraine Lake's more famous counterpart, but the most scenic destination is, without a doubt, Moraine Lake.
Due to its high elevation, the lake is usually frozen until May. The best time to visit and see Moraine Lake at its peak is from mid June to mid October. Since this is a very popular destination, get there as early as possible. Once the parking lot is full, the road will be closed and you are out of luck. Another option is to arrive later in the afternoon, when the early birds are on their way out or have already left.
Now here's the good news: there's a very easy and convenient way to get to Moraine Lake that doesn't involve desperately looking for parking. Instead, take one of the Parks Canada shuttle buses. These buses run about every 15 minutes between 8 am and 5 pm, from the Park & Ride located just off the TransCanada Highway near Lake Louise to Moraine Lake. The $10 per adult and $5 per youth will save you lots of headaches.
This is an epic place to hike, and there are many trails to choose from. You can rent a canoe and paddle around the lake (though it's a bit pricey). There's a nice café and gift shop (because who doesn't love souvenirs!) where you can take a break after the day's activities. It is a stunning setting for photography. Come at sunset or sunrise, and capture one of the prettiest lakes in the world with snow capped mountains and the colorful backdrop of the rising or setting sun!
29. Lake Louise – Alberta, Canada
Lake Louise is another glacial lake at Banff National Park. It's just as gorgeous at Moraine Lake, but the access is a lot easier, and you can even stay in the area. If you want to fall asleep with breathtaking views of azure blue water and snow capped mountains, treat yourself to a night at the Fairmont Chateau.
The best way to get to Lake Louise is to fly into Calgary. From there it's only a very scenic 87 mile drive to this body of water. If you don't want to spend more than the day, you can easily book a tour from Calgary.
There are lots of things to do in this area, but one thing you do NOT want to do is try to swim. This is also true for Moraine Lake. These glacier fed lakes are, well, glacial! Have you ever heard of the Polar Plunge Challenge? It is an event held in winter, where the participants dip into a body of water despite freezing temperatures. Guess what? They do a Polar Plunge Challenge at Lake Louise in JULY! That tells you all you need to know.
While swimming is out, you can still go kayaking or canoeing. Take a hike or just stroll along the shoreline. If you want the views without the strain of hiking all the way up the mountains, ride a gondola from the Lake Louise ski resort. You can even go horseback riding! In the winter months, skiing, snowshoeing, and snowboarding are excellent activities.
30. Lake Minnewanka – Alberta, Canada
Lake Minnewanka rounds out the prettiest lakes in the world located in Banff National Park. If you haven't yet been blown away by the beauty of Banff National Park, Lake Minnewanka might just tip you over the edge. It is the largest body of water in Banff National Park, and in the summer, it is just as busy as its stunning neighbors. You can get there by car, but again, arrive early to ensure you'll find a parking spot. Make your life easier (and do something for the environment!) and take public transportation instead. There's a bus service to Lake Minnewanka that runs 7 days a week in the summer months and is very affordable.
The spotting of wildlife is almost guaranteed on the shorelines of Lake Minnewanka. There are many easy walking trails for you to stroll on, but if you want more strenuous activities, you can choose between mountain biking, hiking, canoeing, and snowshoeing. Fun fact: in the wintertime, this body of water turns into a ginormous ice-skating rink!
Day tours are available from Calgary.
31. Lake Bacalar – Mexico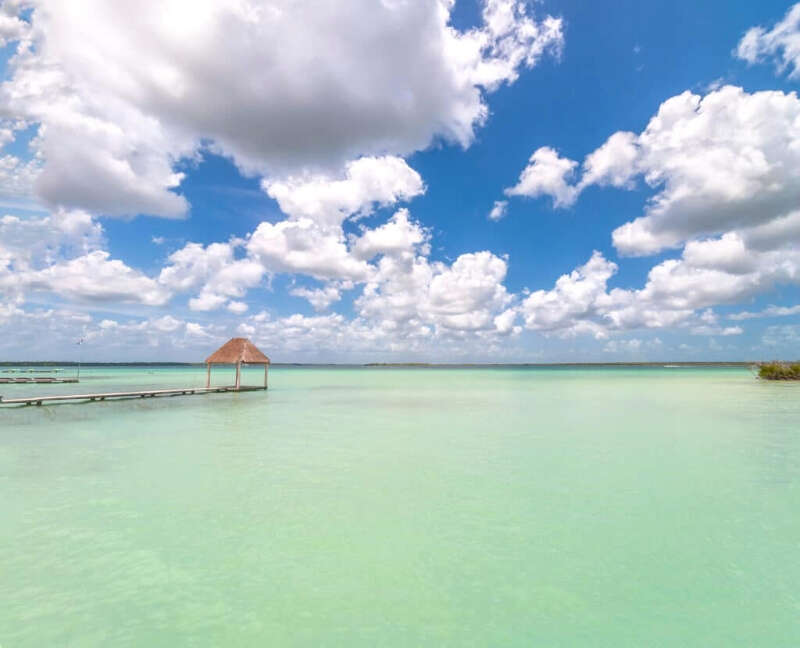 This lake is located in the state of Quintana Roo, near Mexico's border to Belize. Looking at a picture you might think that's not a lake, that's the ocean! But this long, narrow body of water is indeed a freshwater lake, fed by underground rivers. Lake Bacalar, undoubtedly one of the prettiest lakes in the world, is known as 'The Lake of Seven Colors', due to different shades in the blue water that give the impression of looking at the Caribbean Sea, and earning it the nickname 'Maledives of Mexico'.
Lake Bacalar is one of the less touristy places in Mexico, while being just as amazing as the famous destinations such as Tulum or Cabo San Lucas. Winter is a fine time to visit. Temperatures are nice and hot, but not as scorching and potentially humid as they are in the summer. The closest major airport is Cancun. From there, you can rent a car or use a private transport service.
You can imagine that the crystal-clear blue water is ideal for swimming and snorkeling. Additionally, there are several cenotes (sinkholes) that are fun for a dip. There's a narrow channel in the lake called 'Bacalar Rapids'. There are several stralotomite rocks, and the water flows through the channel quickly, but it's more like a lazy river. Bird watchers can find their personal paradise at Bird Island, where thousands of area birds migrate to once the sun starts setting. Book a fun excursion: a Bacalar Lagoon Sightseeing boat tour with open bar and snacks sounds fun. Explore the area during 6 hours of sailing and discover Cenotes, Islands and Stromatolites. Or take a tour to Dzibanche and Kohunlich.
Prettiest Lakes in Oceania
Visiting Oceania and looking to add a couple of fabulous lakes to your trip? We got you covered!
32. Hutt Lagoon – Australia
Hutt Lagoon is a marina salt lake, located in Western Australia near the Indian Ocean. What makes this body of water so special is its distinct pink color, which is the result of algae blooming in the lagoon. Hutt Lagoon is used as a microalgae production plant, which produces brine shrimp.
It's a great destination all year round. The best time of day for a visit is between 10 am and 2 pm, when the sun is high and the lagoon shimmers in its most beautiful colors. From Perth, it's a 5 hour drive by car on the Indian Ocean Drive coastal highway, and that's the best way to get there.
Pink lakes are rare and unique, and if you have a chance to see Hutt Lagoon, we highly recommend you do so. A great way to go is to join a tour. You could ride a helicopter, do a half day tour by land, or explore by dune buggy.
33. Lake Wakatipu – New Zealand
This beautiful lake is located on the South Island of New Zealand, in a glacier-carved trench. It's is nearly 50 miles long, and shaped like a lightning bolt, making it New Zealand's longest and third largest lake. It is so deep that its deepest point is actually below sea level! Tall mountains surround this body of water, running all the way down to the lake. One thing that makes this stunner unusual is the fact that it is 'tidal'. To be more precise, there's a standing wave which causes the water to rise and fall by about 4 inches approximately every 25 minutes.
You can visit Lake Wakatipu at any time of the year. The nearest airport is Queenstown, and from there you can reach the lake by public transportation.
In the summertime, Lake Wakatipu is a great place to cool off. It's deep blue water is incredibly clean and cool! To fully appreciate this beautiful lake, take a Lake Wakatipu scenic catamaran cruise from Queenstown. Do you have the need for speed? Take a 1 hour jet boat ride on Lake Whakatipu and Kawarau River. Properly admire the vistas on an alpine scenic flight from Queenstown. Go for a real kick and go parasailing! If you are a fan, you should not miss the Lord of the Rings 4 wheel drive tour.
Prettiest Lakes in South America
Buckle in for some of the most gorgeous lakes on the planet!
34. Laguna Colorada – Bolivia
The Laguna Colorada in Bolivia is a very shallow salt lake in the south western corner of Bolivia, inside the Eduardo Avaroa Andean Fauna National Reserve. This body of water, with water that is blood red from a variety of algae thriving in the salt water, is truly otherworldly. Dotted with white borax islands and hundreds of pink flamingos, it is a sight to behold. It's not just one of the prettiest lakes in the world, but also one of the prettiest pink lakes!
The best time to go is during the dry season, which starts in late May and ends in October. However, if you go there specifically for the flamingos, rainy season (December through April) is your best bet to see the most of these birds.
Due to Laguna Colorada's remote location, the best way to get there is as part of a tour. You could spend a couple of days exploring the world's largest salt flat in Uyuni and the Laguna Colorada on an excursion from Uyuni, or even extend that to a three day tour if you like.
The flamingos are one of the main attractions at Laguna Colorada. There's an abundance of plankton in this body of water, and you can see three of the 6 species of flamingos that exist worldwide in this one place! The area is spectacular for photography as well.
35. Laguna Verde – Bolivia
This salt lake is located in south western Bolivia, at an altitude of 14108 feet, inside the Eduardo Avaroa Andean Fauna National Reserve, just like Laguna Colorada. Laguna Verde is Spanish for Green Lake, and that is what this body of water is known for: the green color of its water, which is caused by minerals. With the backdrop of the volcano Licancabur, Laguna Verde is one of the prettiest lakes in the world.
Again, just like Laguna Colorada, Laguna Verde is in a remote location. The best way to visit is to join a tour. There are no specific tours that visit only Laguna Verde, but that's not bad news! There's SO much stuff to see and discover! For example, you could join a 3 day tour to the Uyuni Salt Flats and both Colored Lagoons. Or a 4 day tour of the Uyuni Salt Flats that includes both colored lagoons and ends in Chile!
36. Lake Titicaca – Peru and Bolivia
Lake Titicaca is the largest lake in South America (by surface area and volume of water), the highest navigable lake in the world, referring to large vessels, and definitely one of the prettiest lakes in the world. This lake is located on the border of both Peru and Bolivia, 12,500 feet above sea level in the Andes Mountain range. It is believed to be sixty million years old.
The best time to visit Lake Titicaca is during the dry season, which lasts from April to October. The best and most spectacular way to get to Lake Titicaca is from Cusco by train. Peru Rail operates the Titicaca Luxury train, and this route is frequently described as the most beautiful train ride in South America.
Are you looking for things to do at Lake Titicaca? The Uros floating islands are the lake's main attractions. Visit Taquile Island, which is on the UNESCO Cultural Heritage of Humanity list for its textile art. Admire many Inca artifacts at the Island of the Sun.
37. Lake Atitlán – Guatemala
Lake Atitlán, located in the Sierra Madre mountain range, is the deepest lake in Central America. It's not just one of the prettiest lakes in the world, it is said to be THE most beautiful one of all of them! Once nominated for one of the seven wonders of the world, it is one of Guatemala's most visited tourist attractions. This is a body of water inside a massive volcanic crater, formed approximately 84,000 years ago. This lake is located at an altitude of 5,125 feet, and is very large, with a surface area of about 50 miles. The water changes from deep blue to green. Surrounded by towering volcanoes and lush valleys, Lake Atitlán is a sight to behold.
The best time to visit is from November to May. The lake is fairly close to the Guatemala City Airport. The best way to get from the airport to the lake is by shuttle. Most shuttles have a stopover in Antigua, so the whole trio should take around 4.5-5 hours.
There are accommodations at the lake, so you can spend as much time as you need to explore. Alternatively, you can take a day tour, which includes a short hike and watching the sun rise over the lake.
Volcano hiking is highly recommended. How often do you get a chance to summit a volcano? Choose the San Pedro volcano, and you don't even need a guide. San Pedro volcano has several thermal baths. A nice way to soothe your aching muscles. If you aren't comfortable setting out on your own, book a hiking tour of Atitlán Volcano. You can go kayaking on the lake, visit the 'secret' town of Jaibalito, visit Panajachel, or join a sunset cruise. Guatemala is knows for its excellent coffee, therefore we recommend you go on a coffee tour as well.
38. Lago Pehoé – Chile
How do you spell stunning? P-e-h-o-é! Surrounded by mountain ranges and snow capped peaks, this body of water is located in Chile's famous Torres del Paine National Park, in itself worth visiting at least once in your life. Its blue water reflects the Cuernos del Paine, creating the perfect photo opportunity! No list of the prettiest lakes in the world would be complete without Lago Pehoé.
The best time to visit Torres del Paine and Lago Pehoé is either in the spring and summer, from September to March.
From Santiago, Chile's capital, it's a bit of a hike to Torres del Paine. The best way to go (unless you want to spend 40 + hours on a bus) is to fly to Puerto Natales or Punta Arenas, and take a bus from there.
The most important thing when visiting Lago Pehoé is to be prepared for unpredictable weather. If that doesn't deter you, you are in for a treat. Horseback riding, hiking, biking, kayaking, boating and so many other activities are available, all in the stunning surroundings of the Andes Mountains.
We hope you have enjoyed this list of prettiest lakes in the world, and that some of them made it onto your bucket list! Did we miss one? Comment below. Or share your experiences visiting one of the lakes we listed!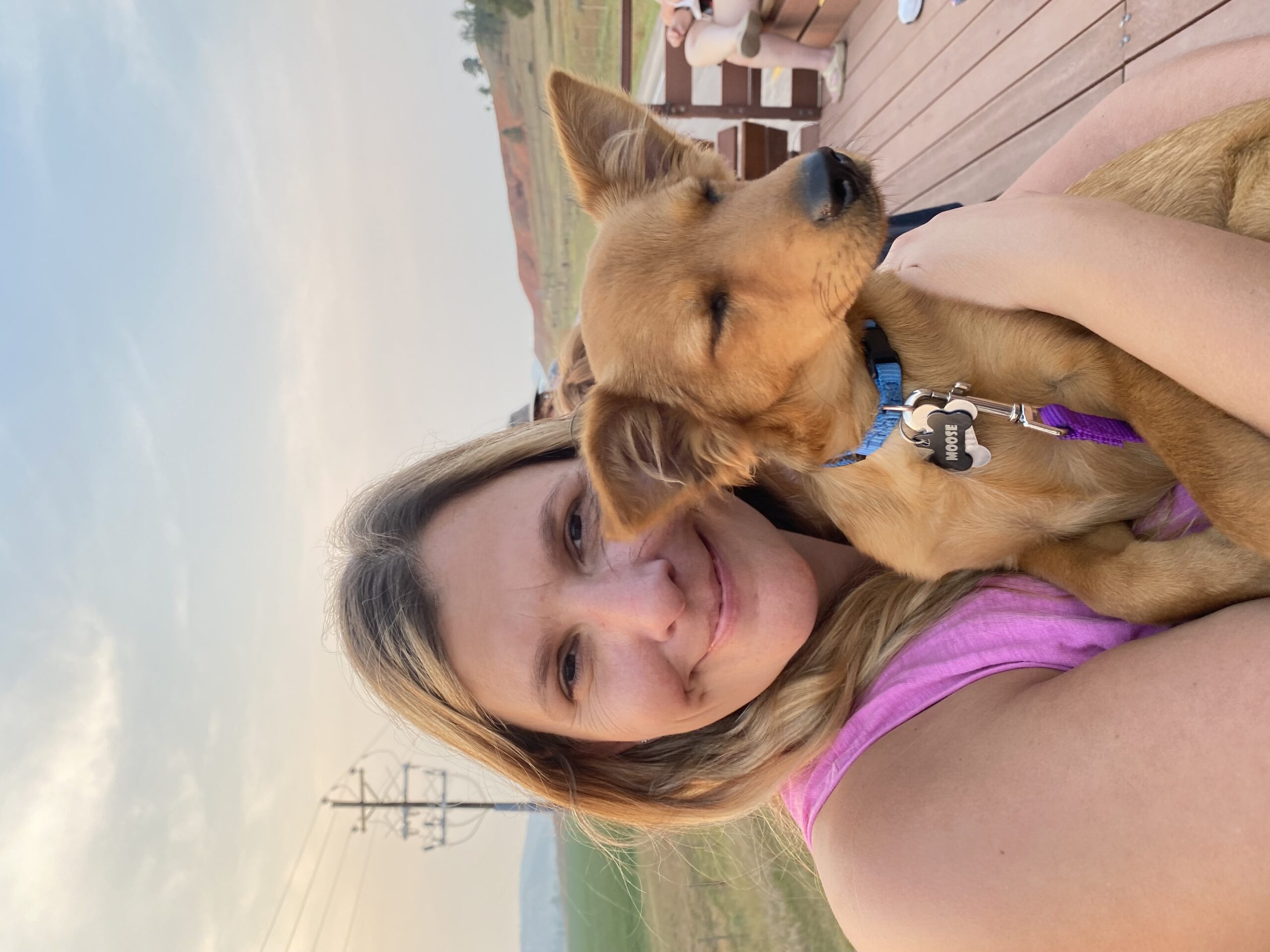 Jenny grew up in Germany. All she ever wanted out of life was to leave and have adventures. Jenny always traveled as much as the budget would allow, and when she met her husband traveling became a full-time thing. You can follow Jenny on her blog and Facebook.