While Iceland is quickly becoming a vastly popular tourist destination, the northern-European island nation is still a mystery to many. After finding a great deal on flights, I impulsively booked a trip and headed to Iceland in June of 2018.
4 Magical Days in Iceland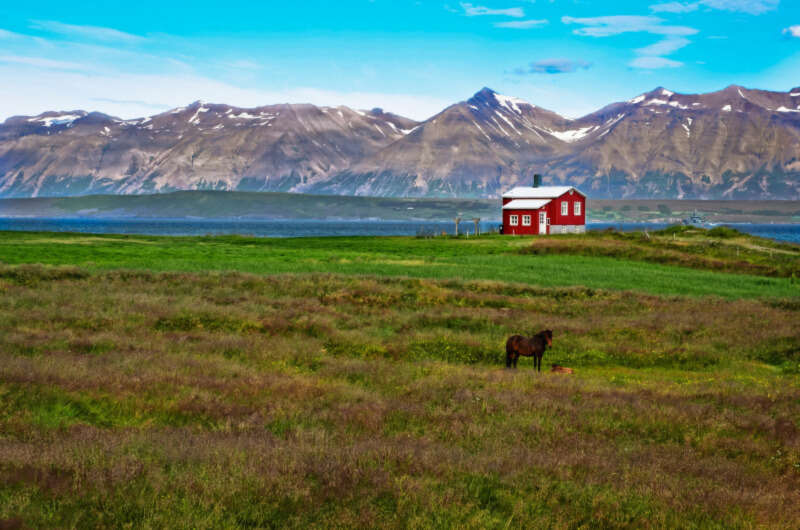 In my opinion, there are a couple of different ways to see Iceland, depending on your personal preference. One way is to travel the Ring Road, an 800+ mile highway that runs along the entire outer edge of the country. Many people choose to camp along the road, which allows them to see the most remote parts of Iceland. Please note that this can take a week or more. Another way is to stay in/around Reykjavik, Iceland's capital city. From there, it is very easy to travel short distances to see some of Iceland's best sites. This is the better option for a shorter trip, as seeing the main sites can take anywhere from a few days to a week.
I chose option two when I visited. Below, I'll describe what my typical days looked like, and my recommendations for sights and things to do in and around Reykjavik.
Day 1 – Reykjavik
Spend the day exploring Reykjavik – It is a relatively small city, and is fairly easy to travel around on foot. There are lots of adorable shops, and it is easy to spend the whole day window shopping. By foot, you can easily visit the Harpa (Iceland's glass-walled opera house), the Sun Voyager (a sculpture of a Viking ship), the Hallgrimskirkja (a uniquely designed church that defines Reykjavik's skyline), and the Iceland Phallological Museum, the Guinness World Record holder for the world's largest exhibit of phalluses (penises, yes, seriously). Depending on the time of year, there are also many markets all around Reykjavik. Many offer samples of food, and are a great way to connect with local vendors and immerse yourself in Icelandic culture.
Day 2 – Blue Lagoon
Blue Lagoon – The Blue Lagoon is perhaps Iceland's number one tourist attraction, and with good reason. This geothermal spa is stunning in every way, and it is easy to spend the entire day here. Make sure to visit their website to make reservations well in advance. You can choose from several different price levels depending on the experience that you want to have. Make sure to try the different kinds of face masks, get a massage, and drink your fill at the swim-up bar.
Day 3 – Waterfalls and Black Sand Beach
Visit waterfalls and the Black Sand Beach. Along Iceland's southern shore are two well-known waterfalls and the infamous Black Sand Beach in Vik. If you are renting a car, these three sites can easily be seen in a day. There are also tour buses that run from Reykjavik if you do not want to rent a car. The first stop is Seljalandsfoss. You can actually walk behind this waterfall for a stunning view. Next is Skogafoss, another of Iceland's famous waterfalls. Be warned, you can get very close to both waterfalls, but you will get wet! Finally, head to the Black Sand Beach. The sand really is jet black, and makes for a much different beach experience than many of us might be used to.
Day 4- Golden Circle and Kerid Crater Lake
The Golden Circle and Kerid Crater Lake. Another easy day trip from Reykjavik is the Golden Circle, which consists of three of Iceland's most well-known sites. Stops include the Ϸhingvellir National Park, Gulfoss waterfall, and a geyser field. Like the previous day, these sights can all be reached via a rental car or by bus tours from Reykjavik. For a once in a lifetime experience, make sure to visit Silfra within the Ϸhingvellir National Park. Here, you can snorkel or dive between the North American and European continental plates. Oneyour way to or from your day at the Golden Circle, make sure to stop at the Kerid Crater, a lake formed by a volcanic crater. This site is a stop on many bus tours as well.
Additional Ideas
If you want to stay longer than a few days, I recommend finding some tours to do. In fact, Iceland has a ton of great options to choose from. Personally, I did a tour of a lava tunnel and a puffin watching tour. Other choices include walking on a glacier, whale watching, deep sea fishing, helicopter tours, and many more.
Food/drink recommendations
Valdis (ice cream shop)
Kopar restaurant
Matarjallarin restaurant
Icelandic hot dogs – there are many stands all around Reykjavik where you can try a unique and iconic Icelandic hot dog (I ate about a dozen during my week-long stay). Make sure to get it with all of the toppings.
Aktu Taktu – Iceland's fast food burger restaurant
Gaukurinn – My favorite bar in Iceland
Things to know
The main thing that took me by surprise was how expensive food in Iceland was. My flight and hotel were cheap, therefore I was taken aback by the price of food. At a typical restaurant, you should expect to spend the equivalent to about $40 USD or more just on a main course. At one bar, I got a strawberry daiquiri for $14. I thought I was getting a deal! I soon found out that $14 was a happy hour special and that the normal price for the strawberry daiquiri was $28! You should also note that if you plan to rent a car, gas will not be cheap either. When I was there in June 2018, gas was over $2/liter, which is over $8 per gallon. Do not let these prices discourage you. I would not take my trip back for anything. I simply wish I had known a little more about what to expect so I could have budgeted better.
Seasons Matter
The second thing to know is that Iceland is vastly different depending on what time of year you visit. Because of its high latitude, Iceland experiences many hours of darkness in the winter, and many hours of daylight in the summer. In mid-June, it is actually daylight 24/7. If you are looking to potentially see the northern lights, summer is not the time to visit. Although there was 24/7 daylight when I was there, it should be noted that it was mostly cloudy each day, and that the temperature rarely went above 60 degrees Fahrenheit. Every season has something magical to offer. Click here for the ultimate adventure guide to Iceland in August.
Overall, Iceland was one of my most memorable trips, and I highly recommend that everyone take the time to visit at some point.
22 states, 8 countries/territories, many more to go!