Are you off to Hawaii? Here are the must-sees for a week on Oahu, Hawaii!
This post contains affiliate links. This means we make a small commission at no cost to you if you click through and make a purchase. All prices listed are accurate at time of publication. 
Must Sees For 1 Week on Oahu, Hawaii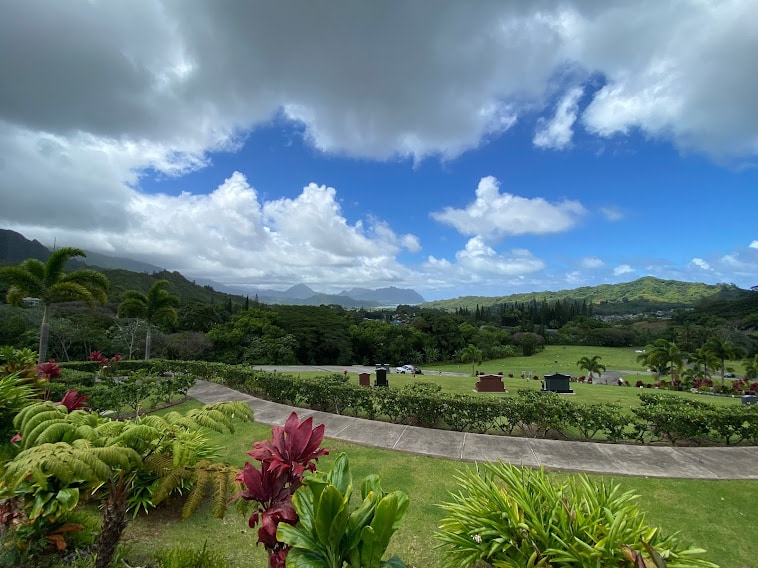 Oahu's main attractions
The following sights are what I feel are "must-sees" for a week on Oahu. And I feel that a week was just enough time to see all of these attractions at a leisurely pace.
Pearl Harbor
Part museum, part memorial to the lives lost in the attack on Pearl Harbor, this location is usually at the top of anyone's list who visits Oahu. Admission to the museum is free. Visitors can pay extra for tickets to the USS Arizona, the USS Missouri, the Bowfin submarine tour, and the Aviation Museum. Be warned, tickets to some of these things sell out VERY QUICKLY. USS Arizona, I'm looking at you! Be prepared to do your research ahead of time. Get tickets plenty in advance so that you don't miss out. You can also book a half day tour.
Iolani Palace/Hawaii Supreme Court Building
Fans of the Hawaii Five-0 TV show reboot will recognize the Supreme Court building as Five-0 headquarters. Right across the street, Iolani Palace is the only royal palace in existence in the United States. Both buildings are architecturally stunning and are great for a quick picture.
Koko Crater Botanical Garden
This botanical garden is located inside the Koko Crater. It  showcases different plants from all over the world. This is a very easy, mostly flat hike around the inside of the crater. It is about two miles in length. Despite the ease and short length of the trail, make sure to allow a couple of hours to fully enjoy all that there is to see.
Halona Blowhole
This is another quick stop. The Halona Blowhole is a rock formation located on the east coast of the island. When big waves hit the shore, the water is propelled up through the hole. It creates a geyser-like spout of water that resembles a whale's blowhole. Simply stop here on your way to another destination to snap a few photos and videos of this natural phenomenon.
Manoa Chocolate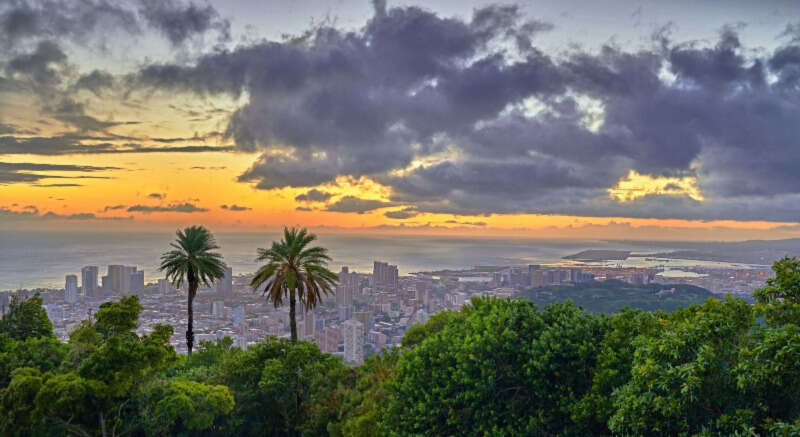 This was a hidden gem that was not on my original itinerary. But it was a surprise find that ended up being one of my favorite stops on the whole trip. Located in Kailua, Manoa Chocolate is a small chocolate factory that uses primarily Hawaiian-grown cacao to create a variety of different bars. The highlight of this location is a free chocolate tasting, where a knowledgeable employee presents you with a chocolate wheel and walks you through a tasting of some of their best bars (think wine tasting, but chocolate instead). They also have other chocolate products such as chocolate wine and chocolate tea. Allow an hour or two to fully experience all that this amazing shop has to offer.
Polynesian Culture Center
This was one of my favorite attractions by far. If you spend a week on Oahu, you should not miss this. The Polynesian Culture Center is a great place to learn about Hawaii's history in a fun and interactive way. The highlight for me was the Islands exhibit. For a fee (about $75/person), visitors can spend the afternoon traveling around different Polynesian islands including Hawaii, Samoa, Fiji, Tahiti, and Tonga and learn about different cultural aspects of each location. Each location also provides a variety of shows and demonstrations throughout the day to enhance the experience. For those who choose to stay later, there is a luau each night for an additional cost.
Dole Plantation
Every Oahu travel guide will inform you that a tour of the Dole Plantation is an absolute must when you visit the island. And the truth is, the Dole Plantation is indeed one of Oahu's main attractions. However, not all is gold that shines, and here at Girls Who Travel, we want to be responsible travelers, which is why we would like you to have a good hard, look at this tourist attraction.
Until 1893, Hawaii was an independent kingdom, at the time ruled by Queen Liliuokalani. American sugar and pineapple companies had been present on the islands since the 1880, growing quickly thanks to the great agricultural conditions on Hawaii. However, pineapples are not a native plant on the islands. Introducing a non-native species always has consequences for the local ecosystem. The plantation owners had problems with the monarchy, so together with the American government, which even back then realized the strategic value the islands had in the Pacific, Sanford Dole staged a coup which eventually led to the removal of the queen, and Dole taking over as president of the Republic of Hawaii, which would become the 50th US state in 1959.
Given the dark history of Dole Plantation, we encourage you to choose another tourist attraction or activity that supports the local and indigenous culture.
Beaches
During my week on Oahu, I was able to visit four beaches. All four were stunningly beautiful. But each were different in terms of their location, the crowds, and overall vibes. While these are only a very small fraction of the beaches on Oahu, this were my experiences at each one.
Sunset Beach
This beach is located on Oahu's north shore, about an hour drive away from Honolulu, depending on traffic. I found this beach to be one of the least crowded of the four that I visited. There were definitely others there, but everyone was able to be very spread out, which helped lessen the feel of any crowd. I was there during the day, so the crowd was very quiet and was mostly families. The water was crystal clear, by far the clearest I experienced while on my trip.
Waimanalo Beach
Waimanalo beach is located on the Eastern coast of Oahu. Due to conditions on the day that I visited (strong current, wave, and jellyfish warnings) I was not able to swim here. That being said, I thought that this was, in fact, the most visually appealing beach that I saw. The water was bright blue, and the beach was surrounded by steep, Jurassic Park looking mountains for a 360 degree stunning view. This was by far the least crowded beach that I visited. I barely saw anyone on the sand or in the water. However, that may have been because of the conditions of the water. I do not know if this beach would be more crowded on a better swimming day.
Waikiki Beach
Potentially the most popular beach on Oahu, if not the entire state of Hawaii! make sure to set aside some time to visit Waikiki Beach. Waikiki provides a panoramic view of nearby Honolulu, as well as the peak of the Diamond Head crater in the distance. As a result of its beauty and popularity, Waikiki beach is generally fairly crowded, even into the evening. Be prepared for larger crowds when you visit!
Kaimana Beach
Virtually right next door to Waikiki, Kaimana beach provides almost the same views and vibe without as much of a crowd as Waikiki. I happened to visit this beach in the late afternoon/early evening, and it was a perfect spot to swim as I watched the sun set into the Pacific and the Honolulu skyline. There were also some low flying planes taking off from the nearby HNL airport that made for some interesting visuals. I noticed that the crowd at this beach was a little bit more rowdy that Sunset and Waimanalo. There were a lot of younger tourists, some of who were playing loud music, drinking, and smoking. I am not sure if this is the usual vibe at this beach, or if it was a result of the time of day I was there. Either way, don't miss Kaimana Beach on your trip to Oahu.
If you only have one week on Oahu, visiting these sights will allow you to experience the best that Oahu has to offer in a relatively short amount of time. Make this a trip to Oahu only, or incorporate it into a larger trip to multiple islands. Either way, Oahu, Hawaii, will be a trip that you won't soon forget. It's also one of the most affordable honeymoon destinations in the US!
22 states, 8 countries/territories, many more to go!