What are the 4 best warm places to visit in February USA? It's February, and you've spend months in gloomy weather, wearing bulky sweaters and warm jackets. Good news! If you are craving t-shirt weather, you can find that right here in the US! There are four states that will welcome you with balmy temperatures, enough to get you out of that winter funk. Read on to find out about it!
4 Best Warm Places to Visit in February USA
California
The Golden State is so diverse, you will find the perfect place to visit year round. But if you are looking to catch some rays, consider Palm Springs as your destination of choice.
Palm Springs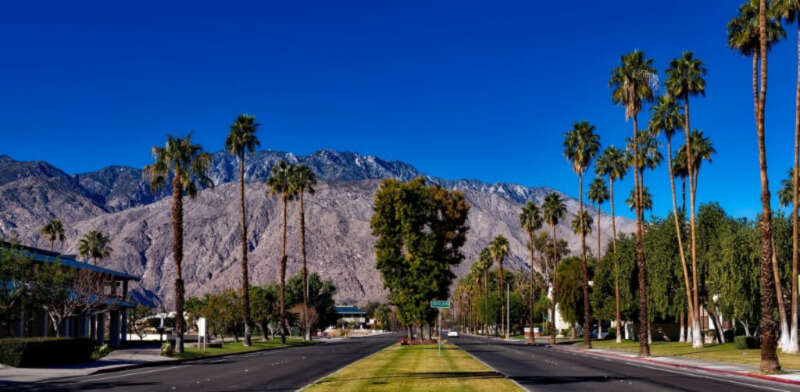 Palm Springs is one if the best warm places to visit in February. Temperatures can reach up to 75 degrees Fahrenheit (23.9 Celsius) during the day. Break out those shorts and summer dresses that have been collecting dust in your closet at home! During the night, temperatures can plummet down to 48 degrees Fahrenheit (8.9 Celsius). Don't forget to pack some warmer clothes for your night out.
About
Palm Springs is a resort town in the Sonoran Desert in Southern California. The Greater Palm Springs area includes nine cities: Palm Springs, Desert Hot Springs, Cathedral City, Rancho Mirage, Palm Desert, Indian Wells, La Quinta, Indio and Coachella, which is well known all over the world for hosting one of the largest and most popular annual music festivals in the US. There are golf courses, hot springs, spas and plenty of fancy hotels to accommodate you on your February getaway.
Things to do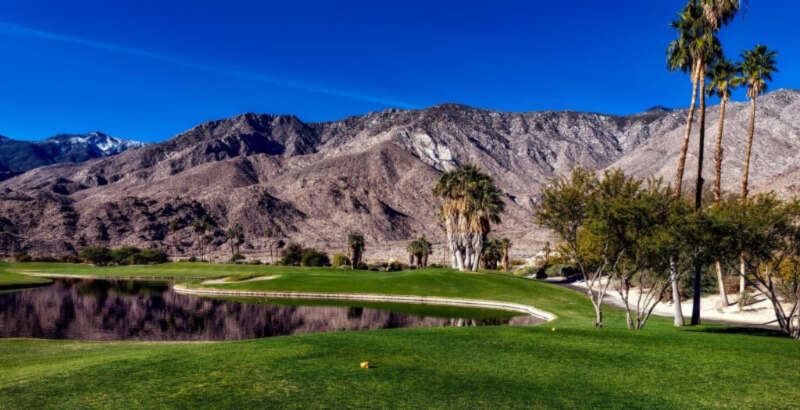 No matter what activities you fancy, you will not get bored in Palm Springs, California. This is one of the reasons it is on top of the list of warm places to visit in February.
If you love golfing, you will be delighted to learn that there are more 110 golf courses in the Greater Palm Springs area. Tennis courts galore will make you want to swing that racquet. The surrounding desert is perfect for all kinds of outdoor adventures, from horseback riding to ATVs, from hiking to biking.
You can take a tour of celebrity homes. The Living Desert Zoo is a unique experience that should not be missed. For art and culture fans, Palm Springs should be high on the list of warm places to visit in February USA. This area has so many museums, you can visit one on each day of your February getaway and not run out! Kids will delight in a visit to the Children's Discovery Museum of the Desert.
Of course rest and relaxation should be part of your holiday, especially in a place like Palm Springs. Fueled by the healing hot springs waters, the area became an oasis for anyone in need of R&R. Visit one of the many spas and emerge completely rejuvenated. Complete your visit with a shopping trip to the many boutique stores.
With all that in mind, put Palm Springs, California, on top the your list of warm places to visit in February!
Hawaii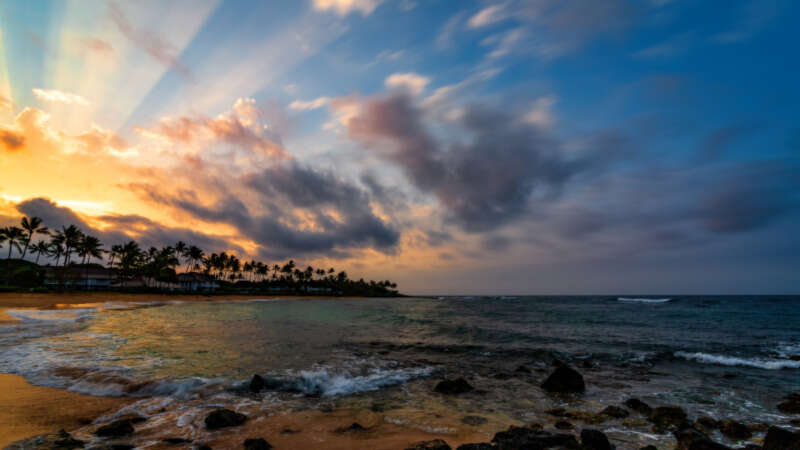 Hawaii is a fabulous destination most of the year, but it is one of those perfect warm places to visit in February. Oahu is a great place to shake off the winter gloom.
Oahu
February is a great time to visit. Temperatures can soar up to 80 degrees Fahrenheit (26.7 Celsius) in the day time, giving you that excellent beach vacation vibe. Nights are mild, with temperatures usually not dipping lower than 62 degrees Fahrenheit (16.7 Celsius).
About
Oahu, known as 'The Heart of Hawaii', is Hawaii's third largest island. No matter if you are looking for the electric vibe of a city, or more laid-back beach vibes, Oahu has it all.
Things to do
Oahu is an adventurer's paradise. If you have ever dreamed of hiking a volcano, this is the time to do it. From the top of the iconic crater Leahi (Diamond Head) you will have the most amazing view of Waikiki. Explore the countryside on horseback or by ATV. Plenty of trails invite you to go hiking or biking. For the golfers, Oahu features 40 public and privates courses.
And of course there are the beaches. No visit to Hawaii would be complete without hitting those fabled beaches. Take a relaxing stroll in the warm sand, or partake in water sports. Don't forget to enjoy at least on sunset on the beach!
If you came here to relax, worry not. There are plenty of mellow things to do. Visit a farmer's market or one of several museums, one of the most notable of them Pearl Harbor. Did you know that Oahu was once the home of the Hawaiian monarchy? Visit one of Oahu's heritage sites such as the Iolani Palace and learn about the island's history.
Hawaii is a place to heal. The pleasing climate, therapeutic saltwater and mystic powers of the volcano will allow you to finally take a deep breath and leave all your worries behind. Unwind with a hot stone massage in one of the beautiful spas. Open your heart and mind during a stroll on this incredible island.
Texas
This southern state is a natural destination if you are looking for warm places to visit in February. if you are ready for a city break, consider visiting Houston, Texas in February.
Houston
The temperatures in Houston are a bit chillier than in our other two February destinations, but if you hit a day that is just too fresh to be outdoors, don't worry. There are plenty of indoor things to do in this fabulous city!
About
Houston is a city of 2.31 million near the coast in the south east of Texas. Fun fact: it is the fourth most populous city in the US. Imagine all the opportunities of things to do here to shake off that February gloom!
Things to do
There are so many fun things to do in Houston, we can't list them all here. Start with a hop on hop off city tour to get a good overview. Catch all of Houston's historical and cultural treasures on a guided evening tour. Hop on an authentic double decker bus that'll make you feel like you've been transported straight to London.
Rainy day? No problem! Visit one of the many museums. You can spend the whole day (or two, or three) in the museum district. No matter where your interests lie, you will find it covered. Visit the Museum of Natural Science or the Holocaust Museum. Kids will enjoy the Children's Museum. Poke your head into the Health Museum and take a look at the Museum of African American Culture.
Houston, we have a problem! Remember this famous line from the movie 'Apollo 13'? The Space Center is home to NASA's mission control, and you can go see it!
Take a day trip to Galveston and indulge in all the shopping you ever dreamed of. Are you traveling on a budget? No worries! Houston offers plenty of free attractions!
Arizona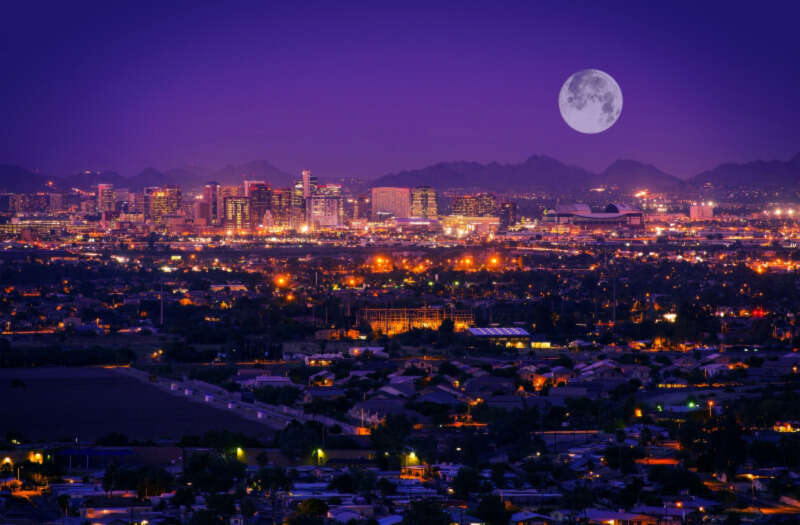 Arizona gets incredibly hot during the summer, but the temperatures in the winter months are quite pleasant. While December is the coldest months, February already features t-shirt weather. If you are looking for warm places to visit in February, Phoenix is your best bet. Note: while Sedona is a few degrees colder than Phoenix in February, you will have all those incredible picturesque spots mostly to yourself, so it might also we worth a visit!
Phoenix
November to April is the prime time to visit Phoenix. With an average high daytime temperature of 73 degrees you can break out that cute summer dress or shorts and get out into the sunshine.
About
Phoenix is the capital of Arizona, in the southwestern US. Located in the Valley of the Sun, the city is known for year-round sun and warm temperatures, high end spas, a lively night club scene and numerous golf courses.
Things to do
The great outdoors are calling in the Valley of the Sun. Hiking and biking are two favorite activities in the Sonoran Desert. One very unique activity are petroglyph hikes. See the messages left by ancient civilizations. Some of the petroglyphs in the Valley of the Sun date back as far as 7000 years!
Climb Camelback Mountain and be rewarded with incredible views. The mountain is one of the main attractions in this area.
Papago Park is just a few minutes from downtown and houses two main attractions: Phoenix Zoo and the fantastic 50 acre Desert Botanical Garden.
Are you a fan of architecture? Take a tour of Taliesin West, the winter home of Frank Lloyd Wright.
Art lovers must visit Roosevelt Row, Phoenix's art district, which features eclectic galleries, murals everywhere you look, and a monthly self-guided art walk.
Stroll through Heritage Square and admire the 19th century architecture.
A stop in quirky Scottsdale is a must on every trip to Phoenix!

Beating the February funk
Now that you have learned of the best warm places to visit in February, book that ticket, get on that plane (or take a fun road trip!) and start your mission to escape the gloomy winter weather!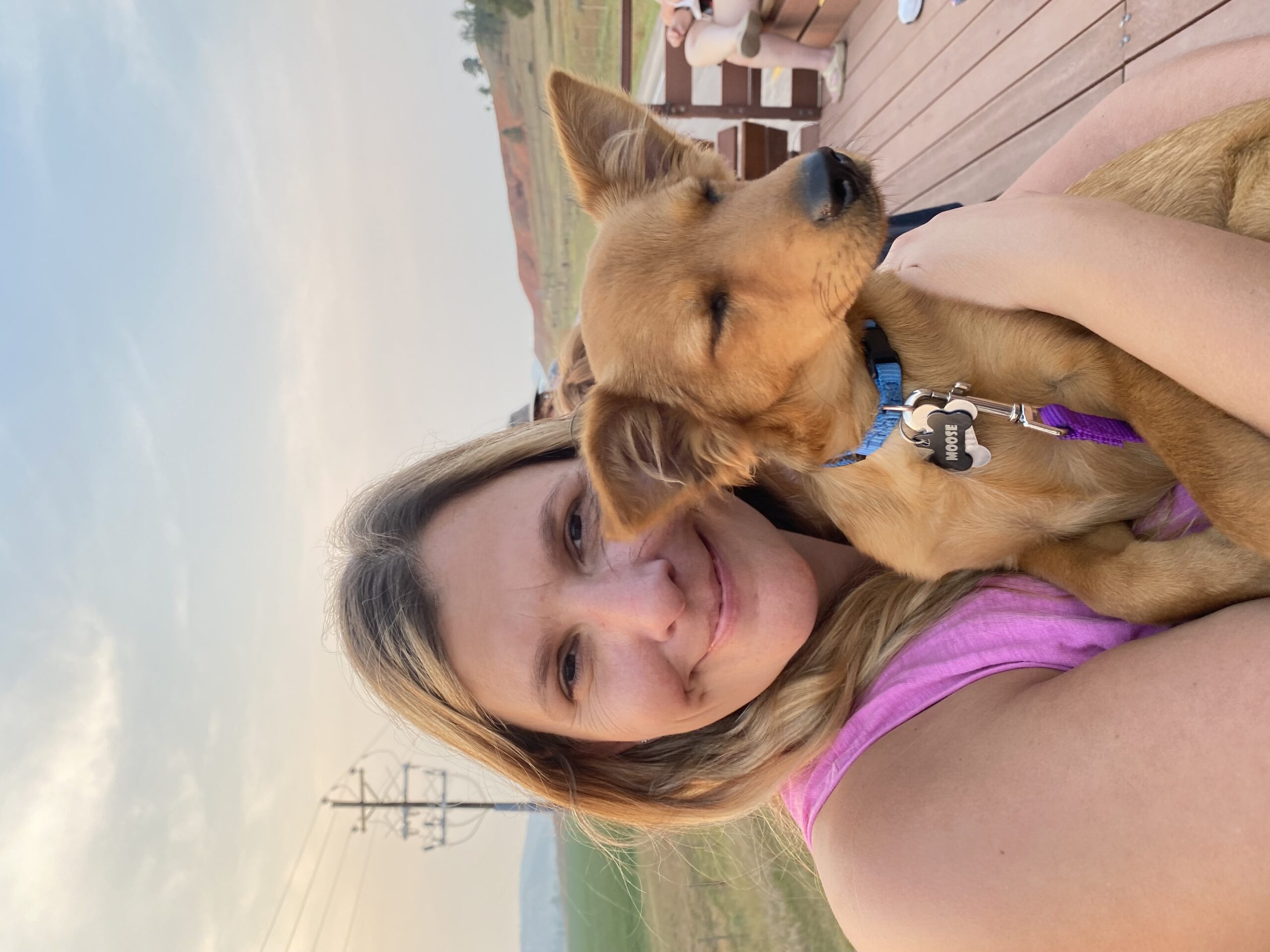 Jenny grew up in Germany. All she ever wanted out of life was to leave and have adventures. Jenny always traveled as much as the budget would allow, and when she met her husband traveling became a full-time thing. You can follow Jenny on her blog and Facebook.