While in December, January and February the southern hemisphere is enjoying summer at the fullest, the northern part of the world is experiencing short days with clouds, rain and snow. That's why a lot of people love to seek the sun in December. But where to go? Her Adventures has made a shortlist for you with some warm places to go in December that are excellent destinations.
This post contains affiliate links. This means we make a small commission at no cost to you if you click through and make a purchase. All prices listed are accurate at time of publication. 
The best warm places To Go in december
Caribbean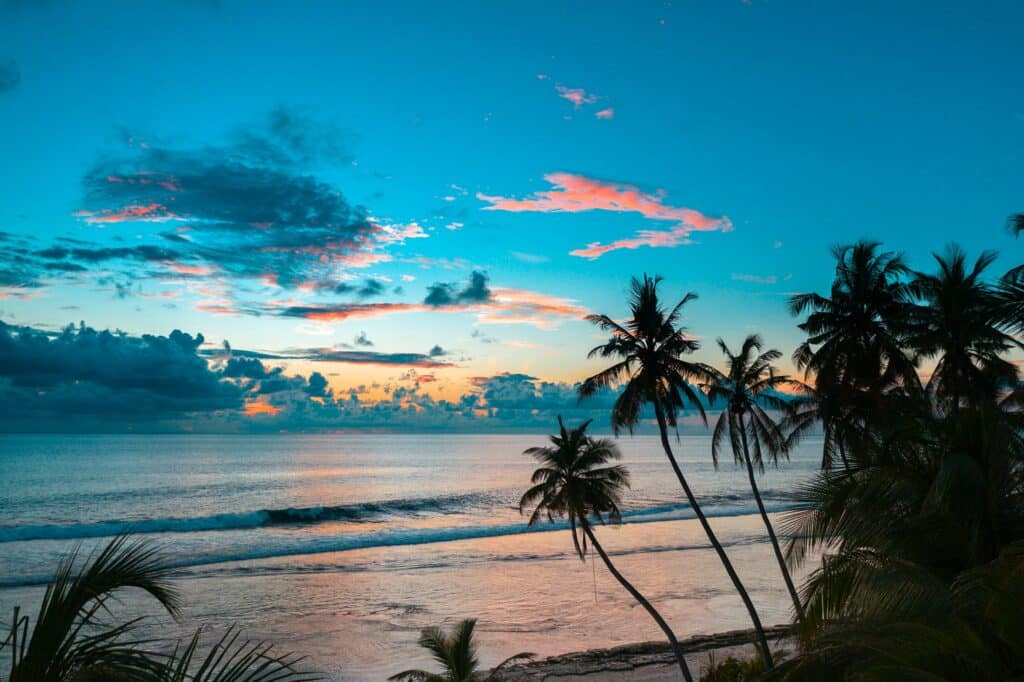 The 1st of December marks the end of hurricane season in the Caribbean. At this time of year lots of islands in the Caribbean are dry, warm, and of course sunny, making them the perfect warm places in December. Cooler temperatures settle in, but the seas are still warm and perfect to swim in. It doesn't mean that it will be dry at most of the islands, some experience heavy rain at this time of year. Showers will cool down the temperatures and they are a perfect excuse for some food, drinks or shopping. Of course you can also visit a museum or dance in the rain, that's all up to you.
Off all the islands, Belize, Dominica, Guadeloupe, Martinique, San Juan and St Vincent and the Grenadines have the highest rainfall in December. Doesn't mean that it's not worth to visit these warm places. Tropical rain forests and waterfalls thrive well with rain.
Looking for warm and dry? Definitely check out Aruba, Bahamas, Barbados, Cayman Islands, Dominican Republic, Jamaica, Cuba, Barbados, and St. Thomas in the Virgin Islands. Click here if you want to learn which US Virgin Island is best to visit. Or, book an Eastern Caribbean cruise that covers many of these destinations! Pack your best summer outfits and enjoy sunny weather in December.
Mexico
With a rare chance of rain Mexico is one of the better warm places for holiday destinations for end of year trips. Hurricane season in the Atlantic ends by the end of November, so there will likely no bad storms on the Caribbean side of the country.
When you plan on visiting Mexico for the weather and the beaches, the Yucatan peninsula will be the best of the warm places available. With temperatures around 85°F (29°C) during the day, and 70°F (21°C) during the night you know for sure you only have to pack summer clothing. There are many nice hotels and resorts available for your comfort. Go for hip and happening in Cancun, tropical paradise in Tulum, the island of Cozumel, or seaside hotspot Playa del Carmen. For those who like to add some culture to the schedule, in this part of the country you will find a lot of Mayan Ruins to visit. Just be respectful of the history and what these places mean for the locals.
Located on the Pacific Coast of Mexico you will find great travel destinations like the more relaxed Cabo San Lucas, San Jose del Cabo, and the very cool beach town Puerto Vallarta. Is seeing whale sharks, or even snorkeling or diving with them on your bucket list? Don't miss out on a great whale shark tour in Cabo. Just make sure to pick a tour operator that's offering ethical tours, and not one that's disturb the animals. Wildlife always needs to be experienced in an ethical way. It's good to mention that Puerto Vallarta is one of the safest cities in Mexico, and because of this it's a very good destination for solo travelers. On top of that the city is the gay capital of Mexico one of the most perfect warm places to hang out in December!
Isn't relaxing in the warm sand something you would like to experience this December? Consider going to the state of Oaxaca! There are, of course, beaches in this part of the country but there's much more! Think about a rich cultural history. Oaxaca city is named Mexico's foodie capital. And you will be able to experience a lot of nature here, like bioluminescence, dolphins, turtles, and whale watching.
Are you traveling on a budget? As December is high peak season in Mexico it's improbable you will find cheap deals this time of year. Don't be discouraged, there are plenty other destinations with better prices that offer warm places in December. Find out where is the best snorkeling in Mexico!
Cape Verde


Many Europeans trade the dreadful weather at home for the sunny, 78.8°F (25°C), archipelago of Cape Verde. Nice breezes make the humidity of 71% bearable. Although many visitors to the islands like to lay on the beach with a cocktail, after all, this is one reason to go looking for warm places in December, Cape Verde is very enjoyable for backpackers.
You will be able to find beaches on each island. The most pristine beaches are Santa Monica beach and Praia de Chaves on Boa Viste, Santa Maria on Sal, Laginha Beach and São Pedro Beach on São Vicente. Are you the hiking type? Research a trip to Santo Antão, Fogo, Santiago and São Vicente. The best dive sights can be found on the shores of Sal Island. It seems like Cape Verde has it all, including a very tasty cuisine.
Australia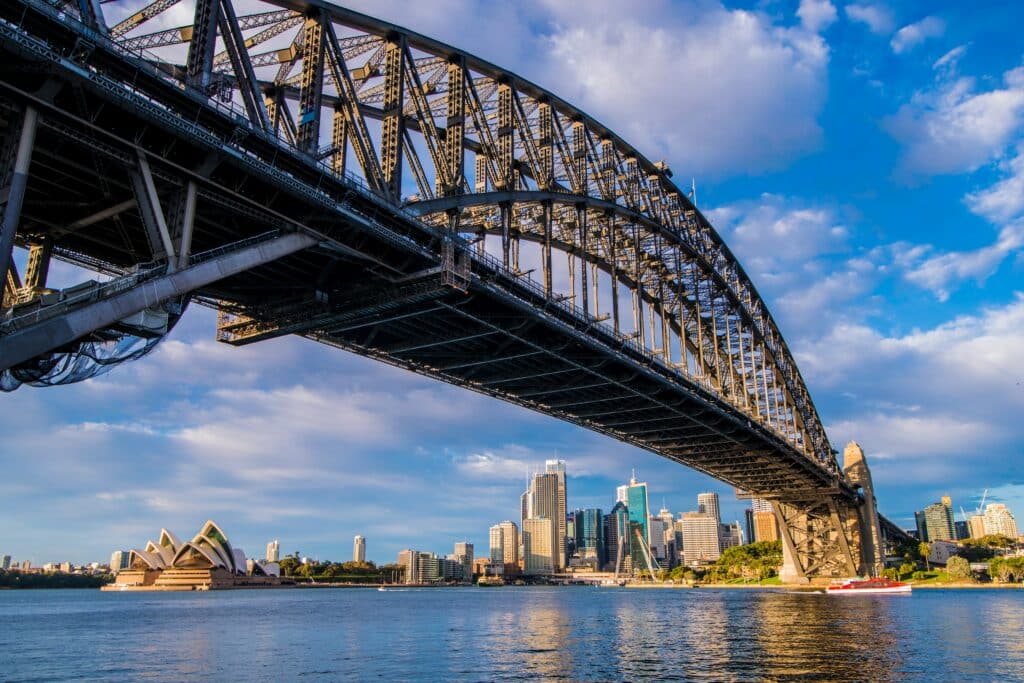 Australia is one of the more obvious sunny destinations on this list, as it will be summertime in December. If you choose Australia as your destination for warm places in December, you can even experience a tropical Christmas! Before you start planning that long wanted trip, note that the Northern region of Australia faces wet season between November and April, and on the Great Barrier Reef it's stinger season. However, knowing that this country is just 27% smaller than the US, there is always somewhere else to go to. In this case, travel south.
A bit cooler in summer, between 66°F (19°C) 83°F (23°C), Tasmania is still a great destination to tour. Wander in the lavender fields at Bridestowe, learn to surf at Shipstern Bluff, visit wildlife at the Bonorong Wildlife Sanctuary and meet the Tasmanian devil, hike the best Tassie trails, shop at Salamanca Market in Hobart or experience one of the many other amazing activities.
With an average temperature of 77°F (25°C) Melbourne is a perfect summer city destination. With great restaurants, the laneways, awesome bars, lovely neighborhoods, etc. it has all you want in a city, and more! Escape to the Great Ocean Road, pay a visit to the penguins at Philip Island, take in the nature at Dandenong Ranges or go wine tasting in Yarra Valley. The possibilities are endless. Other warm places that are worth a visit during this time are Sydney, Adelaide and Perth. The list of things to do there is unlimited. For stunning stretches of sand and less city buzz Noosa and Esperance are the best.
Be aware that in Australia December is a popular time to travel due to it being summer vacation. Keep this in mind you and plan a bit ahead.
Canary islands and Madeira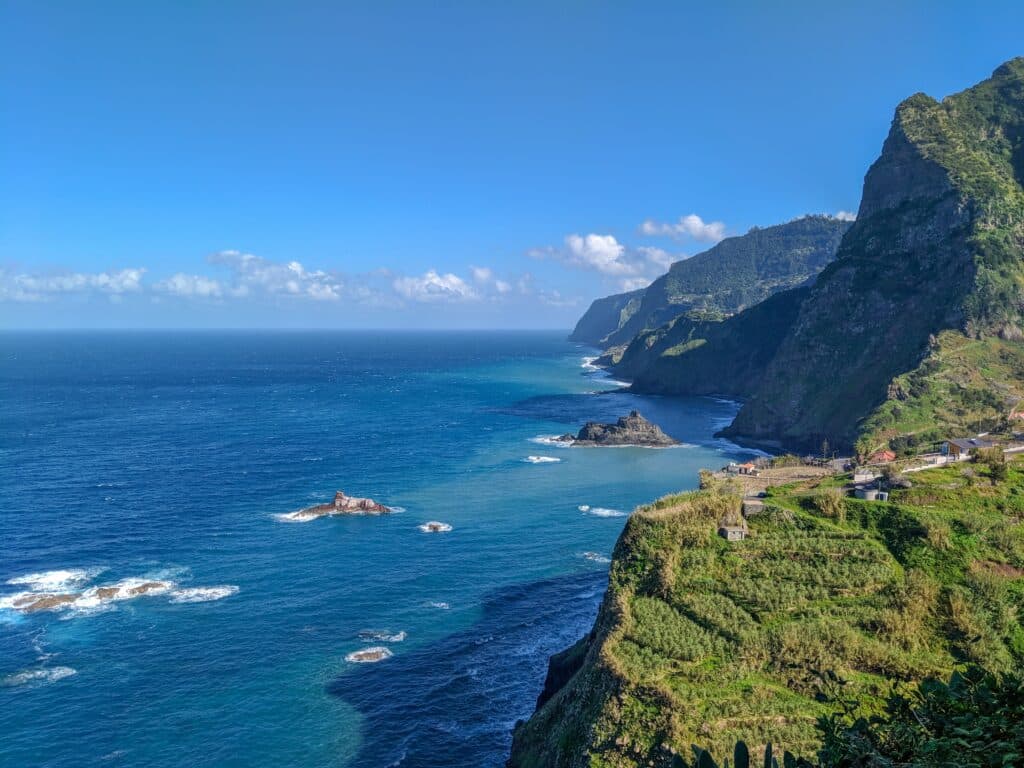 Seeking warm places December located in Europe? The Canaries, an archipelago of 13 islands that are a part of Spain and located in the Atlantic Ocean, are and have been a popular sunny destination for years. Tenerife is the biggest of them all, with a lot of beautiful landscapes to explore. Gran Canaria is well know for it's lively nightlife, furthermore it's one of the main LGBTQ+ destinations in Europe. Are you into watersports? Then don't miss out on the island of Lanzarote. Fuerteventura is waiting for you with its more relaxed vibe. Every island in this archipelago has its own charms, and they are all different. The weather can differ wildly from island to island, depending on the maximum elevation. Definitely check which islands suits your vacations wishes this December the best.
From London or Paris it's just a four hour flight to the Portuguese island of Madeira, also located in the Atlantic Ocean. With pleasant temperatures between 68°F (20°C) and 59°F (15°C)  the island is the perfect destination for those who want warmer temperatures, but nothing too hot. Madeira is well known as the flower island, with a lot of lush green scenery. Many compare the island with Hawaii. Are you a foodie? The food here is wonderful, with lots of fresh produce, and they have very tasty wines. When you visit the island rent a car and go explore the coastline, with gorgeous empty beaches. In for a fun ride? Go on the island's historic sled ride, it more fun than a ride at and amusement park.
Cape Town, South Africa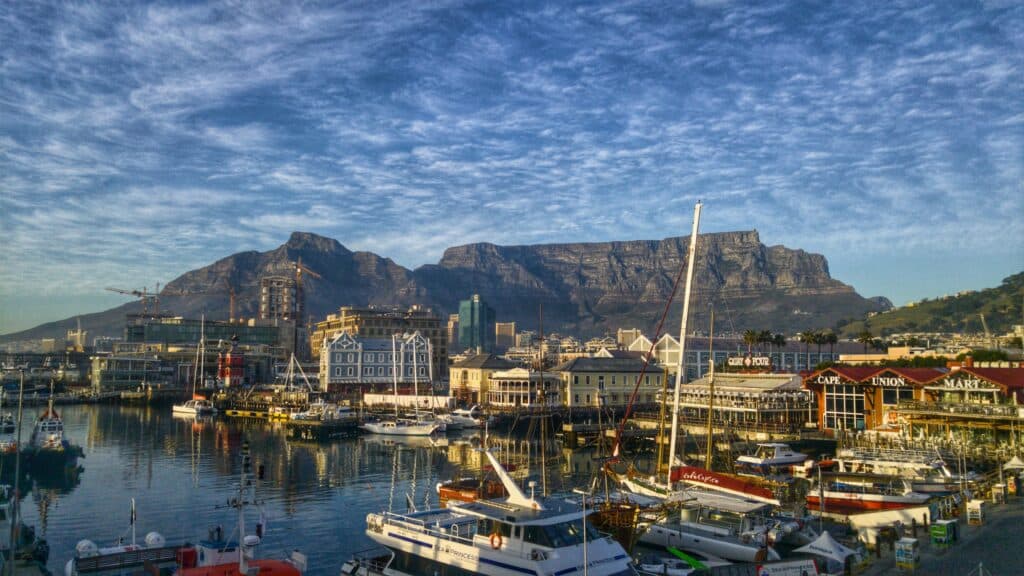 Remember the sunny weather and long days of summer? In December, Cape Town is enjoying summer at it's best with so many fun things to do and see. With temperatures around 68°F (20°C), the little rain the city experiences will fade very easily. South Africa is one of those warm places where you will be able to find it all in December. Watersports are very popular here, you can choose from kayaking and snorkeling and everything in between. The wine lovers among us can do some wine tasting, lay at the beach in the morning and do a wine tram tour or an African story wine tour in the afternoon. You can visit the famous Robben Island, where nelson Mandela was held prisoner, or see penguins at the Cape of Good Hope. Cape Town is the perfect destination for you when you want city life and a sunny holiday in December in one.
Prepare with these 20 things to buy for your next beach trip! Which warm places will you travel to this December?
Martine is from the Netherlands. Six months of the year she travels with her husband who works on a cruise ship. When she isn't exploring new places she loves to read, write postcards, and crochet. You can follow her on Instagram as @martinemuis, on her blog, or watch her video's on youtube.