As a native of Chicago, I've slowly developed my "Welcome to Chicago" tour that I take first time visitors on. Up until now it's been an insider list but for the Girls Who Travel community, I'm willing to share trade secrets. When people come to visit, I want to give them the touristy experience while also giving them a chance to get to know the deeper, richer side of Chicago that I know and love so much. So if you're looking for places to visit in Chicago that are not totally off the beaten path but maybe not entirely on it either, here are my suggestions for 10 places to visit in Chicago:
10 Places to Visit in Chicago
1. Architecture Boat Tour
We're not called the Second City because we're second best (better to learn that now than to say that to someone in Chicago). We're the Second City because the city burned down in the Great Chicago Fire of 1871. Not great for the residents but great for architects from all over the world, who saw our rubble as an opportunity to build a "second" version of Chicago.
So, I recommend you start your visit in Chicago by touring about some of the amazing talent who helped make up our skyline, learning some fun Chicago history, getting a basic lay of the land, and maybe getting some inspiration for places to visit in Chicago. There are lots of options for Architecture Boat Tours but my favorite is the Chicago Architecture Center's tour. Boat tours are open year round so even in the winter you can sit below deck, sip some mulled wine, and take in the sites.
When you're done with your tour, be sure to stop by the McCormick Bridge House and River Museum. Entry is donation based and it's a really quick visit, but it's fun and enlightening. Spoiler alert – Chicago is the "drawbridge capital," with the most moving bridges in North America, and you'll get to see one up close and personal.
2. Millennium Park





















After your boat tour, swing by Millennium Park which is walking distance (or hop on a bus if the weather isn't cooperating). Here you can see the famous "Bean" (aka Cloud Gate) which is…basically a giant…silvery bean thing. It's honestly is fun, even if it's not quite explainable, but you'll just have to see it. You can dance in the Crown Fountain, an interactive video sculpture. Be sure to walk through Lurie Gardens.















In the winter there's an ice skating rink. And there's always something fun happening somewhere in Millennium Park. But if you're there in the summer and your timing is just right you can do my favorite thing — concerts in the park. You can pay for seats but why would you? For free you can sit, yes, in the park and listen to orchestras and performers from around the world play while you sit in the grass and eat cheese (or whatever food/drink you want. But why wouldn't you want cheese?).
If you're not stopping for music and cheese, you're a hop, skip, and a jump from the Art Institute. I'm not much of an art museum person myself but at least swing by to see the famous Art Institute Lions, one of the iconic images of Chicago.
3. Fine Arts Building
I'm not sure if you'll find this in a lot of the travel guides for places to visit in Chicago, but I just love taking people to the Fine Arts Building. If you're at Millennium Park, you're basically there. If you were walking by, you'd likely not even notice the old girl. But stop by to grab a bite to eat in the cafe on the first floor. And then check the directory in the building and pick a floor to go to, so that you can ride the actual person-operated elevator. Yep, when you ring the bell, the elevator will slide down and a human being will open the door and then you will tell them what floor you want to go to and they'll take you there. I'm sorry but that alone is worth it to me. When else, ever, will you get that chance?
While you're there, you should definitely check out the myriad of studios in the building. Why not shop for some jewelry or take a kundalini yoga class at my fav studio in the city? Afterwards, stop by the Escape Room next door or walk a couple blocks to the shopping over on State Street (that great street).
4. Lincoln Park Zoo
Lincoln Park Zoo is oldest free public zoo in country, emphasis on FREE! Even if visiting a zoo isn't something you'd normally do, you may change your tune once you visit. It's so much fun, designed to delight and educate children and adults alike. In the winter, you won't want to miss the Zoo Lights festival, to see the entire zoo adorned in holiday lights. Parking can be a bit of a bear — haha pun intended — so if you're driving (we have an amazing public transit system so I wouldn't recommend it) you may end up paying for parking. Once you're done at the zoo, you can swing by the Peggy Notebaert museum and hang out in the butterfly room, visit the (also free) Lincoln Park Conservatory, or just walk through the gorgeous neighborhood that is Lincoln Park.
5. Museum Campus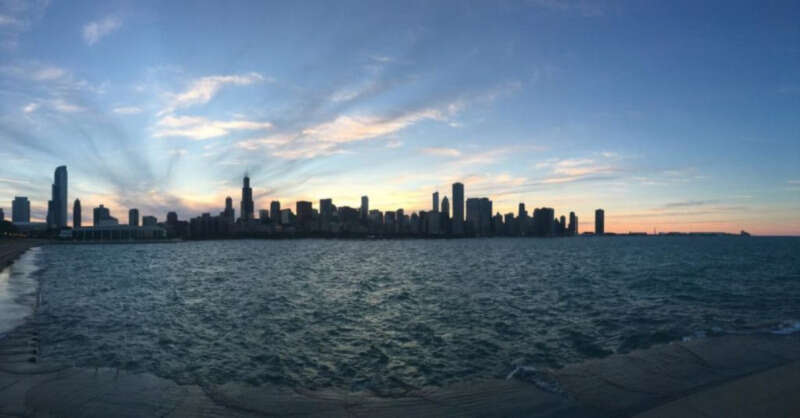 You could spend an entire day here. Museum Campus, sitting along Lake Michigan, consists of Adler Planetarium, America's first planetarium, the Shedd Aquarium, the Field Museum of Natural History, Soldier Field, home of the NFL Chicago Bears football team, and Northerly Island. It's also home to my favorite view of the Chicago skyline (by the entrance of the Planetarium). Sooo yeah. Take your pick of awesome things to do. If the weather is nice, definitely don't miss out on the 119 sprawling acres of nature along Northerly Island. It is an oft missed but always awesome place to visit.
6. Improv
Chicago is synonymous with improv. The most famous improv theater in Chicago is Second City but I'm going to go rogue and say — there are better options out there. The iO theater is always a guaranteed good time and as forms of improv go, I prefer the stylings of the iO. But if you really want to explore improv in Chicago, check out one of the many other theaters performing just about any night. Supporting Chicago's local theater is one of the absolute best ways to really get to know the city.
7. West Loop
At least one day, spend some time in "Restaurant Row." Once an industrial neighborhood (and home to Oprah's Harpo Studios), it's now dedicated almost entirely to world famous chefs doing their cheffy thing. Sure I could make a list of restaurants to try and you could make reservations but…and don't let the word get out…you can get into a lot of these fancy restaurants without a reservation by sitting at the bar. I love to go to the West Loop and just see where I can find a bar seat. It's so much more fun sitting at the bar anyway — if you want tips about Chicago, you definitely want to hang out with a bartender!
8. Navy Pier
Ugh —as a Chicagoan, I almost hate to put this on here. We all groan when our visitors want to go there. It is one of the top places to visit in Chicago and it is also the ultimate tourist trap. However, despite groans, I can't help but admit it's a fun stop for everyone. What is Navy Pier? I'm not quite sure tbh. But while you're there, ride on the surprisingly cush Ferris wheel (Ferris wheels were invented in Chicago NBD) or take in a show at the Chicago Shakespeare theater. Visit one of the various and sundry stalls from local vendors. Go see an IMAX movie. Or just walk along the lake and get a dazzling view of the city. Navy Pier also hosts firework shows regularly so check the schedule and see if you can catch one!
Afterwards, why not visit the beach (if it's nice out) and check out the largest body of fresh water in the world. Or swing by Pinstripes, just down the street for some upscale bowling and bocce ball.
9. Cite
I do have one restaurant suggestion for you. While you're at Navy pier, get a meal at Cite, located in Lake Point Tower, just steps from Navy Pier. The only high rise east of Lake Shore Drive, it snuck in before the ordinance preventing any other tall buildings from blocking the lake front. Talk about sightseeing in Chicago! Lake Point Tower boasts an unparalleled vantage point of so many of the sites. Cite is a secret restaurant located at the tippy top. It's expensive and, in my opinion, not mind blowing food for the price. But you don't have to eat a full meal. Stop by for a drink or dessert and just enjoy the gorgeous view.
10. John Hancock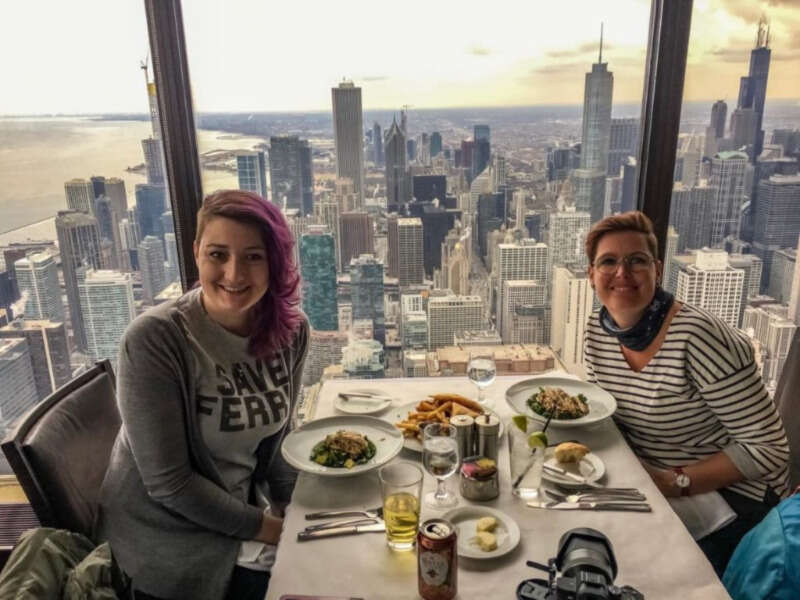 You may have noticed that the Sears Tower (it was renamed Willis Tower at some point, but any true blue Chicagoan will simply refuse to admit that) is missing from this list. The Sears Tower, once the tallest building in the world, is our most famous building. It's also the building where you have to wait in lines wrapped around the entire building and then pay ridiculous amounts of money to go up. So what if I said you could skip the lines, go up for free, and get a better view? The Sears Tower is 108 stories high. The John Hancock? 100. I defy anyone who says they can tell the difference between 8 floors when they're 1,000 feet off the ground.
So there is a paid section of the John Hancock but I, personally, would rather pay for food with a view than just the view. There's two ways to do this:
The Bar: On the 94th floor is bar. You don't need a reservation. You just…go to the bar that is surrounded by floor to ceiling windows, grab a seat, and order a drink. I absolutely love taking people at the end of the day, so we can sit by the window and watch the sunset over Lake Michigan. Oh did I not mention? The Hancock is RIGHT on Lake Michigan. The Sears Tower? Not so much. The drink prices are jacked up but a 15 dollar glass of wine is much cheaper than the $60 you'll pay to go to the Sears Tower Sky Deck. Sorry Sears Tower, nothing against you personally, I just think you're a little overrated.
The Signature Room: Don't want to wait for a seat at the bar? That's ok, there's a restaurant at the 95th. It's popular and expensive. EXCEPT – and this really is one of my best kept secrets – for some reason, lunch is quiet and cheap. And the food is GOOD! Of course if you've got the spare change, enjoying a dinner overlooking the twinkling city is certainly worth it.
VERY IMPORTANT NOTE: Everyone, and I do mean everyone, thinks this is crazy until they've seen it for themselves. The women's bathroom in the John Hancock is the best view of the city. I know a tour guide who ends her tours there. No joke. And there will always be a line to get to – not the bathrooms – but the windows in front of the stalls. Once you know the view, you'll probably start recognizing people's pictures in front of it. Do not go to the Hancock and skip the bathroom on the 94th!
The truth is, there are more amazing places to visit in Chicago than I can list here. It's fun to visit the "big" stuff but don't forget that Chicago is so much more than our downtown. If you can see the Sears Tower from where you're standing, then know there are miles and miles and miles of beautiful, diverse, creative, delicious, unique, and exciting parts of the city yet to be explored. Perhaps another list for me to work on sometime.
Founder of Girls Who Travel. Penchant for travel, yoga, writing, marketing, high heels and words like penchant.