Traveling to Valencia for a long weekend or as a short part of a longer trip? Here is a sample itinerary for how to make the most of Valencia in just 3 days!
Explore Valencia in 3 Days!
Valencia is a beautiful city on the Mediterranean coast of Spain. It is best known for beaches, paella, and Las Fallas, an incredible festival that happens every year in March. There is a lot to see in Valencia, and you could spend weeks or even months enjoying everything it has to offer. However, Valencia is a compact city, and it can also be explored in just a few days. If you are thinking of taking a short trip to Valencia, here is a sample itinerary to make the most of many things the city has to offer. 
Day 1: Ciutat Vella
Ciutat Vella, or Old City, is a great place to start your adventure! There are plenty of cafeterias to have breakfast to start the day. A typical Valencian breakfast often consists of a café con leche (coffee with milk), a glass of freshly squeezed orange juice, and tostada (toast) with tomato, olive oil, and sometimes ham or cheese.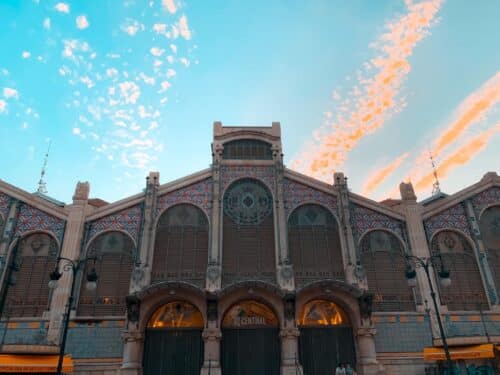 After breakfast, I recommend starting the exploration at Mercado Central, the central market. It opens around 7AM, and is open until 3PM Monday-Saturday. The market is a great place to shop for typical Spanish and local Valencian foods. There is a lot to try at the market, as well as snacks to take with you.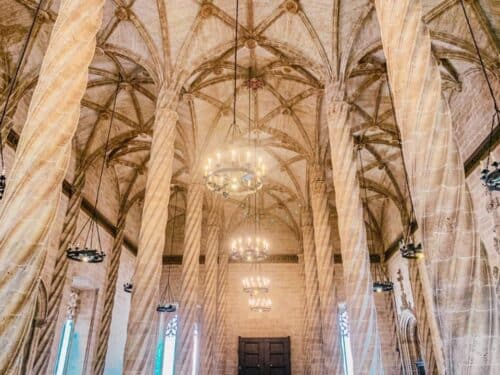 Across from Mercado Central you will find La Lonja de la Seda. This old silk trading building is now a free museum, and a UNESCO world heritage site. The stunning gothic architecture and cheeky gargoyles make this building a must-see!
From there, you can see some other unique architecture on your way to two of the main plazas. You will find La Casa Más Estrecha de Valencia and Plaza Redonda on your way to Plaza de La Reina. Plaza de La Reina is on one side of the Valencia Cathedral, where you will discover the entrance to El Micalet. It's a workout to get to the top, but you will be rewarded with one of the best views in the city center: Plaza de La Virgen, Plaza de La Reina, Ciudad de las Artes y Las Ciencias, and the Mediterranean Sea. After coming down from El Micalet, you can walk to the other side to Plaza de la Virgen, which in my opinion is the most beautiful spot in the city.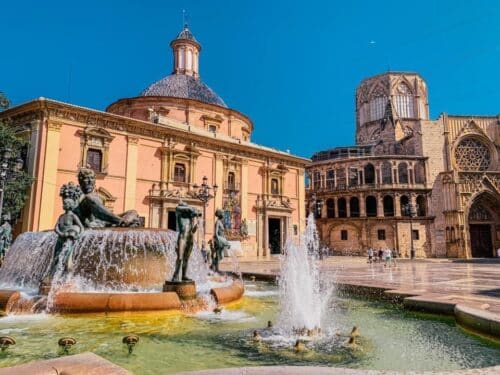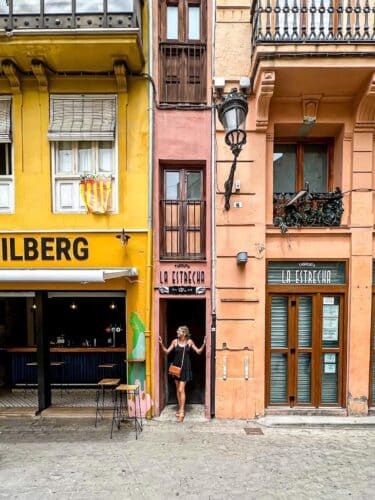 If you are interested in ancient civilizations, I recommend stopping at La Almoina, a museum with the ruins of the original city. It is a small museum, and free to the public. It has a lot of interesting historical information and is also a nice escape from the hustle and bustle in the neighboring plazas.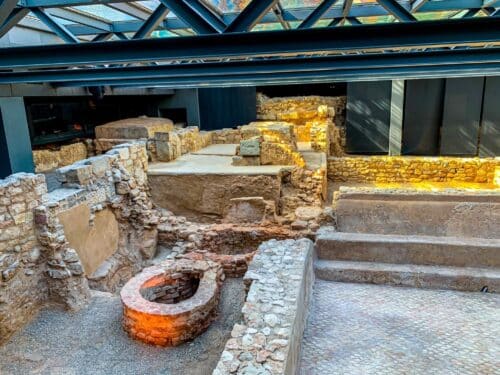 After checking out these plazas, you can make your way to the Iglesia de San Nicolás, undoubtedly the most beautiful church in Valencia. It's unassuming from the outside, but the inside of the church is spectacular. Even if you don't practice Christianity, this church is sure to take your breath away.
By now, you might be ready for a coffee, a beer, or some sangria and a snack. From San Nicolás, it is a short walk to Torres de Serranos. There are several cafeterias next to the towers where you can sit and enjoy the view, while re-energizing to make the second climb of the day. The Torres de Serranos are right next to Río Turia, which once was a river and is now the largest park in the city. The towers are free to climb, and the view of both old and new city center is something you don't want to miss!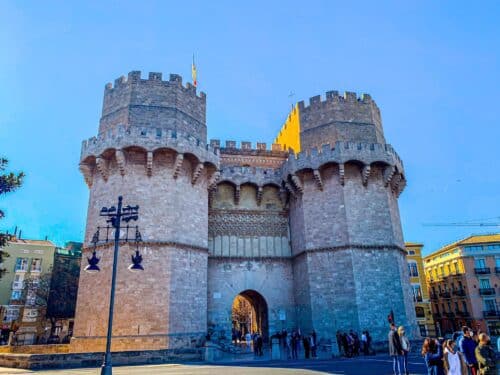 One more museum to be sure not to miss is the National Ceramics Museum, also known as the Palacio del Marques de Dos Aguas. The outside of the building is impressively ornate, and inside you can see the palace as it was when nobility resided there.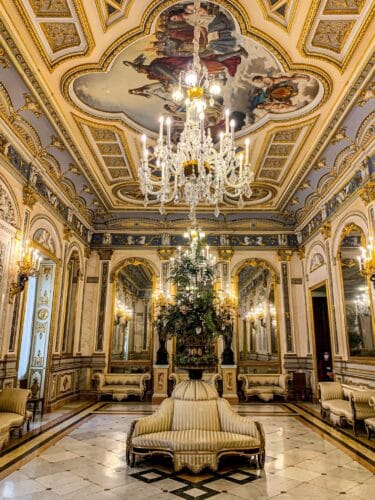 Finally, you can loop back to the last major plaza, Plaza de Ayuntamiento. In this plaza you will find the main government buildings of Valencia.
Make sure not to miss out on tapas, sangria, and agua de Valencia in the evening. There are several bars and tapas restaurants where you can't go wrong! Here are a few of my favorites:
Boatella – Tapas bar across from the Mercado Central that uses local ingredients from the market.
Cafe San Jaume – In my opinion, Cafe San Jaume has the best agua de Valencia in the city! However, they only serve small snacks.
Cafetín – This wine bar serves generous pours and has unique decor!
Cafe de las Horas – This bar also boasts having some of the best agua de Valencia in the city.
100 Montaditos – Looking for something quick and inexpensive? This chain restaurant serves 100 different kinds of little sandwiches, and you can choose as many as you like!
Cafe Lisboa – This bar and restaurant is in an adorable plaza where there is often someone playing live music to add to the ambiance.
El Negrito – This bar has some food choices and is also in a beautiful plaza!
To finish out the evening, it's worth it to return to the plazas to see them lit up.
Day 2: Russafa, Ciudad de las Artes y las Ciencias, & Río Turia
Ready to venture outside of the city center? Russafa is a great place to start the day with some great coffee and a little bit of shopping! This neighborhood is about a 20 minute walk from Plaza de Ayuntamiento. Russafa is home to many local coffee shops, including Artysana, Bluebell Coffee Roasters, and Blackbird. Russafa is also full of vintage shops and used book stores that are great for finding unique souvenirs.
After exploring the Russafa neighborhood, you can either rent a bike or take the new metro line to Ciudad de las Artes y Las Ciencias. This modern architecture does not fit in with the rest of the city, but it attracts tourists and locals alike. There are several museums to visit, but the best part is walking around the outside and maybe paddling a boat around pools surrounding the various buildings.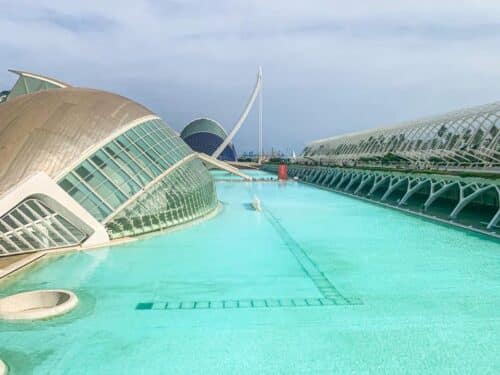 If you are not deterred by a long walk, you can head back to the city center after your visit by way of Río Turia, the river-turned-park that runs through the center of the city. You are likely to see fitness classes, dogs, soccer matches, and if you're lucky, some colorful birds up in the trees! If you exit the park near Puente de las Flores, you can take some great pictures at the flower covered bridge before making your way to Calle Colón.
Calle Colón is the main shopping district in Valencia. You'll find Corte Ingles, Zara, Mango, Natura, Pull & Bear, Bershka, and Stradivarius among others.
After all of that walking, be sure to end your day by trying another one of the restaurants mentioned above!
Day 3: The Beach
Enjoy your last day in Valencia by relaxing at the beach. Playa de la Malvarrosa is the most popular beach, because it is easily accessible by public transportation. However, if you walk about 20 minutes up, you'll find Playa de la Patacona, which is significantly quieter. The beach is also the best place to have a paella lunch. Any of the restaurants along the beach will be delicious, but expect to wait to be seated, because this is not a secret and the restaurants are all very popular! The weather is great for swimming from April to October, and otherwise it is still a great place to relax. If you stay until the evening, there are many beachside bars to have some more tapas and sangria!
Are you a hiker? Don't miss out on these 10 great hiking spots in Spain!
Alexis is a Special Education and English Language teacher from Upstate New York. She is currently living and teaching in Valencia, Spain. In her free time, Alexis loves to read, hike, dance, swap postcards and explore new places both near and far. She also loves anything to do with sloths!