Here at Her Adventures we believe that travel is about more than plane tickets and passport stamps. You can have adventure anywhere, if you just look for it – in a city nearby, on a staycation, or in the pages of a book! Traveling allows you to have incredible experiences, and even change your mindset. Reading can do just the same, from the comfort of your couch, and without the hefty price tag. Books give you a fascinating view of the world whenever you are staying home. Reading can take you places without you ever leaving your home – unless it's summer time and you want to take it to a sunny spot outside. Are you ready to get inspired for your next trip? So are we, and that's why we are sharing a roundup of the best books for travel lovers, which you can read whenever you need a shot of wanderlust!
Best Books for Travel Lovers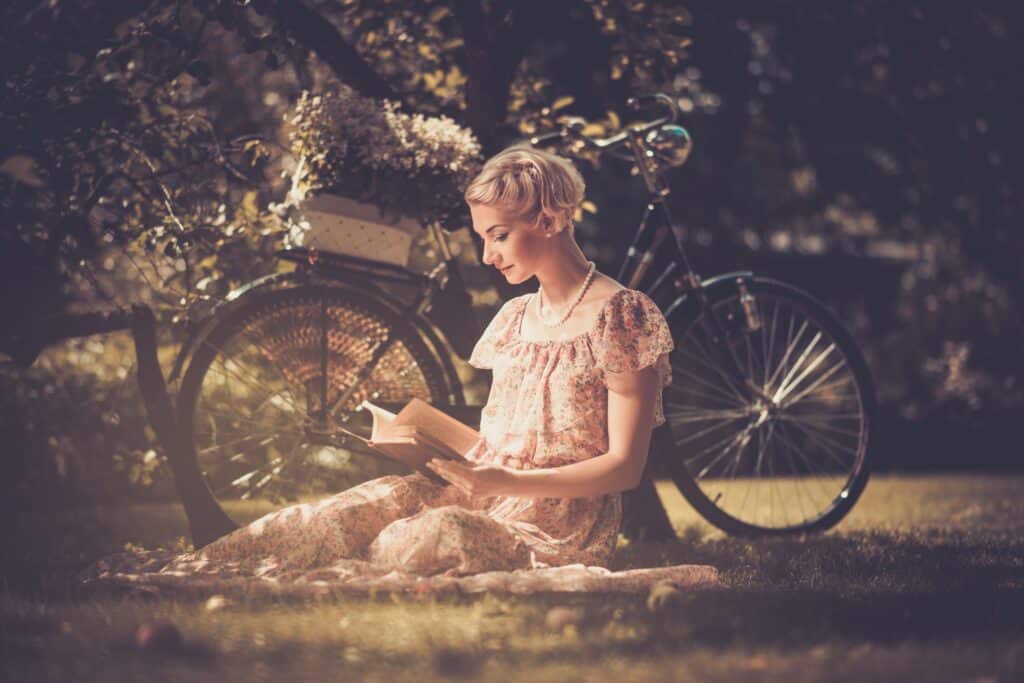 This post contains affiliate links. This means we make a small commission at no cost to you if you click through and make a purchase. All prices listed are accurate at time of publication.
1. Benedict Allen – Explorer: The Quest for Adventure and the Great Unknown
Benedict Allen is a real-life explorer. But in this day and age, where it seems that everything there is to explore has been seen, mapped, and put down on paper (and the internet!), what does it even mean to be an explorer? In his book Explorer: The Quest for Adventure and the Great Unknown Allen investigates this question and tells the story of why he is still exploring today, 30 years after he first started.
He tells the story of returning to a clouded mountain in New Guinea, in search of a man who had once been a friend and who he once made a promise to. This sensitive and very honest book also tells a story of what it can mean to be lost and found. Allen, a member of Council and Trustee of the Royal Geographical Society, among others, allows you to get excited about exploring the world, and shows that it's not important that we have an impact, but that the world has an impact on us. This is, without a doubt, one of the best books for travel lovers.
2. Jami – Attenberg – The memoir: I Came All This Way to Meet You: Writing Myself Home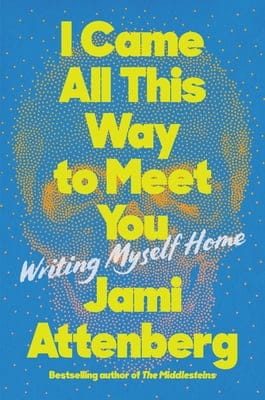 Jami Attenberg has published a bunch of fiction novels in her life – 7, to be precise, which have made her a New York Times bestselling author. Now comes her long awaited memoir 'I Came All This Way to Meet You: Writing Myself Home', and if you are interested in reading all the best books for travel lovers, then you won't want to miss it!
Jami grew up as the daughter of a traveling salesman in the Midwest of the United States. Life on the road was very familiar to her, and it sparked her wanderlust early on. Follow her solo travel adventures around the globe, and live through her challenges and most rewarding moments in this book about friendship, independence, class, and drive.
3. Rebecca Lowe – The Slow Road to Tehran: A Revelatory Bike Ride Through Europe and the Middle East
Rebecca Lowe is from London, where she works as a freelance journalist and specializes in human rights and the Middle East. With that in mind it makes sense that she would set out on a journey to gain a better understanding about this troubled region. Her 11,000 kilometer journey by bicycle took her from Europe to Turkey, Lebanon, Jordan, Egypt, Sudan, the Gulf, and, last but not least, to Iran. Imagine the challenges she faced on this trip – not just the sometimes inhospitable landscapes, but the grueling effort to cycle across them, paired with repressive police states and you have one of the best books for travel lovers of 2022! Release date is September 6, 2022, but you can pre-order your copy of The Slow Road to Tehran now!
4. Shafik Meghji – Crossed Off the Map: Travels in Bolivia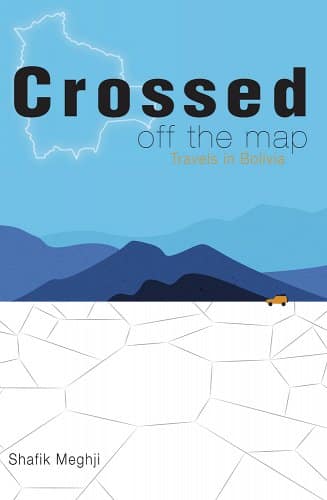 Shafik Meghji is a travel writer extraordinaire, so it's no surprise one of his books made it on this list of best book for travel lovers! Not only has he won awards, but he also co-authored more than 40 guidebooks! In Crossed Off the Map: Travels in Bolivia Meghji explore Bolivia's turbulent past and the challenges the country faces today in a blend of travel writing, history, and reportage. Did you know that Bolivia kickstarted globalization and helped to power Europe's economic growth? No? How about the fact that the country helped to trigger dynastic collapse in China? No? Sounds like this is a must read for you!
What an exciting opportunity to explore one of the lesser tourist destinations in Crossed Off the Map : Travels in Bolivia!
5. Jessica Nabongo – The Catch Me If You Can: One Woman's Journey to Every Country in the World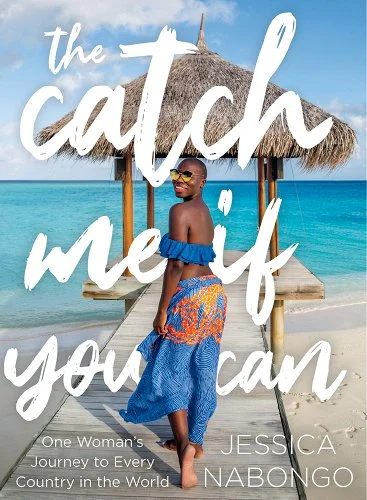 OF COURSE we had to add this one to our list of best books for travel lovers! Who doesn't dream of going absolutely everywhere? Jessica Nabongo did exactly that – she visited every country on earth. Jessica, an Ugandan-American travel blogger, was the first Black woman to accomplish this feat. How did she do it? Well, you'll have to read this one-of-a-kind memoir to find out and get some inspiration on great travel! We want to be out exploring the world with this woman! What are you waiting for, get your copy of The Catch Me If You Can: One Woman's Journey to Every Country in the World right now!
6. Harley Rustad – Lost in the Valley of Death: A Story of Obsession and Danger in the Himalayas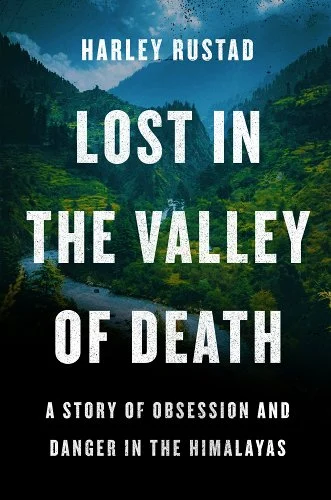 Are you ready for a real-life thriller? In Lost in the Valley of Death: A Story of Obsession and Danger in the Himalayas renowned writer Harley Rustad takes us on a trip to India. He tells the story of one man who was seeking something there – maybe a spiritual journey, an immersion into yoga, or an exciting getaway, we do not know- named Justin Alexander Shetler. When Shetler was in his early 30s he quit his job and set out on a journey, searching for meaningful encounters, that would lead him to drive across the United States by motorcycle, then on to South America, from where he continued to the Philippines, Thailand, and Nepal. Finally his search led him to a remote corner of India, in the Parvati Valley, where he spent weeks studying under the guidance of a holy man, a sadhu. They set out on a spiritual journey from which Justin never returned… This true story contains serious excitement and can not be missed on our list of best books for travel lovers!
7. Bill Bryson – In a Sunburned Country
Who doesn't love Bill Bryson's travel writing? Surely some of his books, including but not limited to A Walk in the Woods, Notes from a Small Island, and The Lost Continent, have made it on your personal list of best books for Travel Lovers. If you haven't yet read In a Sunburned Country, you should pick up a copy ASAP! This time, Mr. Bryson ventures to Australia, and his story about Down Under is wonderfully humorous and will have you laughing out loud! Full of interesting facts, In a Sunburned Country makes us want to pack our bags and head to the airport!
8. Doreen Cunningham – Soundings: Journeys in the Company of Whales: A Memoir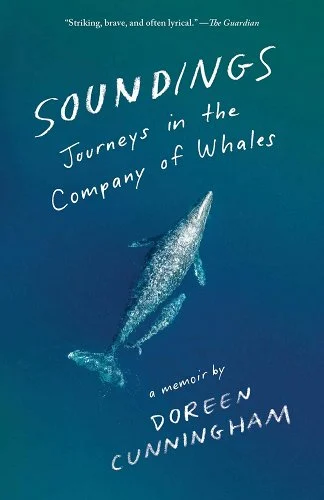 Doreen Cunningham's Soundings: Journeys in the Company of Whales: A Memoir is a beautiful real life story of motherhood, love, courage, and resilience, definitely not your average travel writing. Before turning to journalism, Doreen Cunningham studied engineering and briefly worked in climate-related research and storm modeling. This story is, in fact, one of the most perfect books for travel lovers who also love animals. This is a beautiful true story of a mother and her toddler son following the migration of grey whales, from Mexico to the northernmost part of Alaska. In this extraordinary blend of memoir and nature story, you will even learn a lot about whale science. It's truly beautiful, and a must add to our list of best books for travel lovers.
9. Rolf Potts – Vagabonding: An Uncommon Guide to the Art of Long-Term World Travel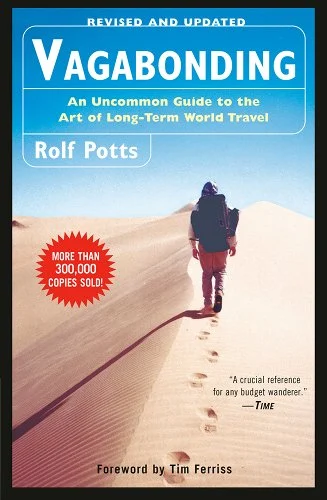 I'll admit, a good title will get me to buy a book in a heartbeat. Exploring the world in an uncommon way sounds extra intriguing! Rolf Potts isn't just a very accomplished travel writer, having written and reported for National Geographic Traveler, Outside, the New York Times Magazine, The Guardian (U.K.), National Public Radio, and the Travel Channel, to name just a few! He is most definitely an off the beaten path traveler, having hitchhiked across Eastern Europe, traversed Israel on foot, did a road trip across South America, bicycled across Burma, and (gasp, what! how?) traveled around the world for six weeks with no luggage or bags of any kind. Vagabonding: An Uncommon Guide to the Art of Long-Term World Travel is a unique handbook to, well, vagabonding, to taking some time off from 'real life' to roam the world on your own terms. The book covers practical topics such as finances, choosing a destination, and adjusting to life on the road, but also the emotional parts: how to handle travel adversity, and how to adjust back to 'real life' upon your return home.
Fun fact: You can inquire about getting signed copies of his books on Rolf Pott's website!
10. Jon Krakauer – Into Thin Air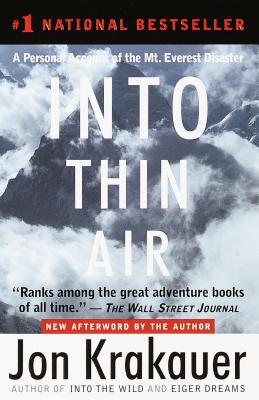 Jon Krakauer is an excellent writer, and I could literally recommend all of his books here. But because this American author and mountaineer is most famous for his travel writing about the great outdoors and mountaineering, and also because it's my one of my favorite books, Into Thin Air: A personal Account of the Mount Everest Disaster made the list. (Though don't miss Into the Wild!)
Many epic books have been written about high altitude climbing, and the perils that come with it. But Jon Krakauer's real life story of the disaster on Mount Everest in 1996 is one of the most epic adventure books of all times.
1996 was the year Jon Krakauer himself made an attempt to summit the Top of the World. What started as a picture perfect day ended in a disaster, with many lives lost. This book is the story of how nobody saw coming the deadly storm that developed, and how it ended the hopes and dreams of some people forever.
11. Jenny Tough – Solo: What Running Across Mountains Taught Me about Life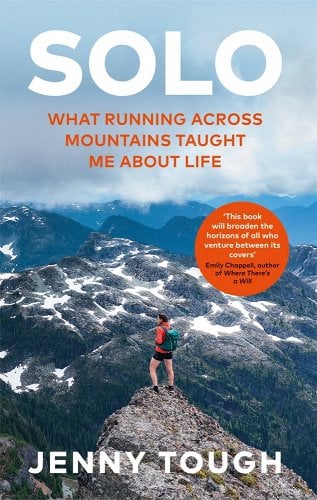 Travel around the world to partake in some of the most challenging events on the planet sounds tough, but endurance athlete Jenny Tough has done it. What an inspiring way of exploring the world! However, in Solo: What Running Across Mountains Taught Me about Life Jenny doesn't tell the story of her events. It gets much more personal than that.
While running had always made her feel better, a sensation you may even have experienced yourself, she was also dealing with emotions and feelings that seemed to be holding her back. So she set herself a goal to accomplish an unbelievable feat independently, without any support, and all by herself: to run across mountain ranges on six continents. We are simply in awe of someone who devotes her full time to such a venture, which is why this book is one of the must read best books for travel lovers!
12. Suleika Jaouad – Between Two Kingdoms: A Memoir of a Life Interrupted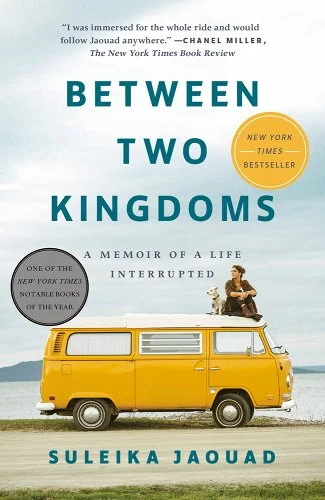 This deeply moving true story by Suleika Jaouad is, at first glance, a story about a woman's fight with cancer. But it is much more than that. In Between Two Kingdoms: A Memoir of a Life Interrupted we learn the story of a young woman who graduated college and is ready to tackle real life. That's when she is diagnosed with cancer.
After a grueling 4 years of treatments, Suleika was declared cancer free. But after spending so much time trying to survive, she didn't feel like she had healed. That's when she and her best furry friend set out on a 100 day road trip through the United States. This profound memoir is sure to extract a tear or two.
13. Are Kalvø – The Hiking Book from Hell: My Reluctant Attempt to Learn to Love Nature
If this title doesn't have you laughing out loud, then I don't know what will! Norwegian writer and satirist Are Kalvø's anti-nature memoir is one of the best books for travel lovers, especially if you like Bill Bryson. When he was in his 40s and poor he starting losing a lot of friends… to nature! Week after week he hears their stories of skiing and hiking, sees their amazing selfies on mountainside, and he wonders…. how bad can it be? Read The Hiking Book from Hell and find out!
14. Paul Coelho – The Alchemist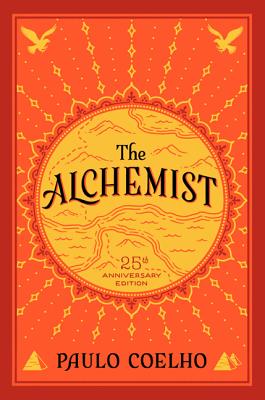 The Alchemist by Paulo Coelho is a classic of travel writing and self-discovery, and, with over 80 million copies sold worldwide, an international bestseller. Assuming that 80 million people can't all be wrong about just how good a book is, we start out on this journey with Santiago the Andalusian shepherd. Santiago yearns to travel around the world, but not to see foreign lands, he's seeking a worldly treasure instead. Where will his quest lead him? The Alchemist is a profound book that teaches us about following our hearts and our dreams, and therefore it made it on our list of best books for travel lovers.
15. William Least Heat-Moon – Blue Highways: A Journey Into America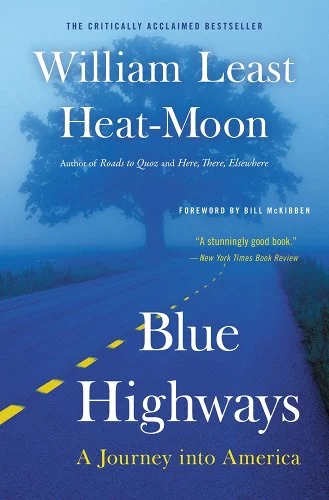 Someone once said you can drive from one end of the United States to the other on the Interstate not see much of anything exciting. In Blue Highways, his masterpiece of American travel writing, William Least Heat-Moon sets out to explore the tiny towns that don't get much recognition and are barely found on a map. if you want to see the authentic America, get onto the country roads and meet the amazing people who live there.
William Least heat-Moon authored several books chronicling unusual journeys through the United States. And since we are all about getting off the beaten path, Blue Highways – A Journey into America made it onto our list of best books for travel lovers.
16. Lonely Planet – South Africa
Of course we have to include at least one travel guide into our list of best books for travel lovers. Because who doesn't love to pick up a guide book for one of those dream destinations and will themselves to be there at that very moment? South Africa is, without a doubt, one of those bucket list destinations. Lonely Planet did an excellent job highlighting not just all the major things to do and see, but they also tell you what NOT to do! Overrated tourist attractions, no thank you! If you are looking for great travel experiences in South Africa, this guide is right for you!
17. Jack Kerouac – On The Road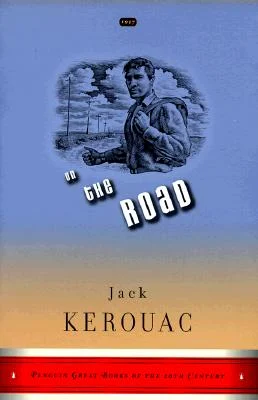 If you haven't read anything by Jack Kerouac, you must pick up this American classic of travel writing! Jack Kerouac was a pioneer of the beat generation, a movement that started in the 1950s and consisted of young people rejecting conventional society. Originally published in 1957, On The Road is a story of two friends searching for authenticity and freedom. On more than one road trip across the United States they try to find meaning. This book truly changed American literature upon publication, and it's a novel that everyone should read and couldn't be left off of our list of best books for travel lovers.
18. Derick Lugo – The Unlikely Thru-Hiker: An Appalachian Trail Journey
Many a book has been published about the Appalachian Trail. Guide books and memoirs, tales and stories. Since we love unlikely stories, we have picked The Unlikely Thru-Hiker: An Appalachian Trail Journey for our list of best books for travel lovers! Derick is a fixture on the New York comedy scene. He's never hiked a single day in his life. When his job gets cut and he has no plans, he starts thinking about doing something he's only heard of: hiking the Appalachian Trail, all 2,192 miles of it. Can he do it? Let this young black man take you on a real life journey with many a lesson!
19. Bibi Bakare-Yusuf & Layla Mohamed – Outriders Africa: Essays on Exploration and Return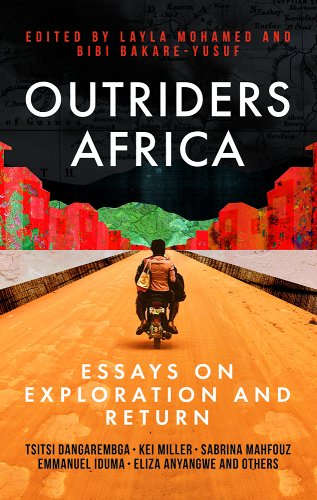 The spring of 2020 was a very strange time to travel. Nevertheless 10 writers of African heritage set out in pairs on a journey through Africa. Outriders Africa is a collection of essays, poetry, travel diaries and letters in which the authors describe their journey from the beautiful but touristy beaches of Madagascar to the Rastafarian town of Shashamane in Ethiopia against the backdrop of temperature checks and hand sanitizer. Well worth a read!
20. Anna McNuff – The Pants Of Perspective: One woman's 3,000 kilometre running adventure through the wilds of New Zealand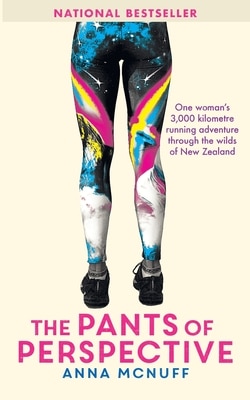 A book by one of the 50 most influential travelers in the world? Yes please! Conde Nast gave this title to Anna McNuff, author, adventurer, speaker, and self-confessed mischief maker. If it wasn't for the great title, I most certainly would have picked up The Pants of Perspective for its great cover. Hey Anna, where did you buy those leggings?
Anyway! Where were we? Oh yes, we wanted to talk about the reasons why we added this true story to our list of best books for travel lovers. Anna, undoubtedly one of the top female adventurers today, takes on the challenge of running New Zealand's 3,000-kilometre-long Te Araroa Trail, despite not being a 'real' runner (what does that even mean!). We follow her on her 148 day run through New Zealand's backcountry and all the adventures that came with it. This witty and deeply honest retelling of the events will have you on the edge of your seat! Travel writing at its finest.
21. Helen Russell – The Year of Living Danishly: Uncovering the Secrets of the World's Happiest Country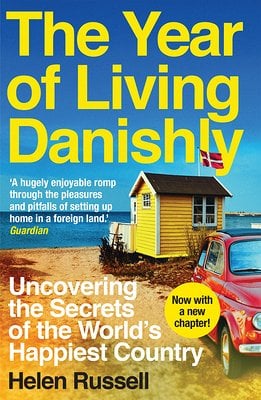 The happiest place on earth is, in fact, not Disneyland. At least not according to British journalist Helen Russell. When Helen gets the chance to start a new life in rural Jutland, Denmark, she is surprised by what she finds. The stereotype of long winters, Lego, and herring may be somewhat true, but it makes for surprisingly happy people! Helen is intrigued and decides to investigate: what's the Danish people's secret to happiness? Read The Year of Living Danishly and find out for yourself!
22. Lonely Planet's Best in Travel 2022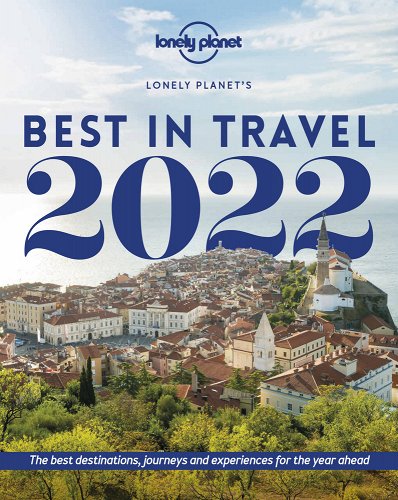 We are always looking for inspiration for our next trip. Lonely Planet, a leading travel media company, has hit it out of the park with this travel guide featuring not just must-visit countries, but also cities and regions for 2022. You get expert advice on every destination, as well as inspiration and guidance that will help you make the most out of your trip! Get Best in Travel 2022 and start planning your next trip!
23. Brianna Madia – Nowhere for Very Long: The Unexpected Road to an Unconventional Life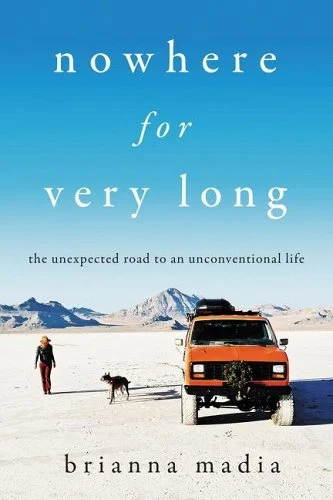 In this great travel memoir, Brianna Madia describes her approach at an unconvential life: traveling across the deserts in the Western United States in her orange van, Bertha. Along with her husband and her two dogs, Bucket and Dagwood, she heads out, exploring the world outside as well as within. An extended road trip and a life lived in an unconventional way is not always easy. Brianna shares it all with the reader – the good and the bad, which makes Nowhere for Very Long so relatable.
24. Heidi Eliason – Confessions of a Middle-Aged Runaway: An RV Travel Adventure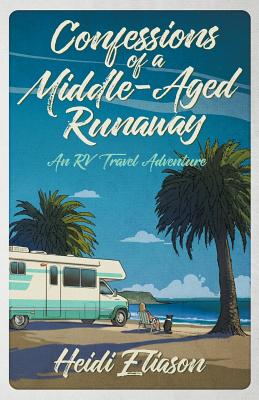 At age 45 Heidi Eliason felt suffocated by her life with all its responsibilities and routines. So she decided to quit her job and go on a road trip adventure. She bought an RV and set out with her dog, Rylie, to live the full time RV life. Little did she know that this journey would transform her life. Heidi struggles through her insecurities, fears, and a mishap or two, but all of that just shows her that the expectations and rewards of a conventional life aren't a guarantee for happiness. We love Heidi's honest account and great travel writing in Confessions of a Middle-Aged Runaway: An RV Travel Adventure so much, we just had to include it in our list of best books for travel lovers!
25. Johnathan Franklin – A Wild Idea
True story alert! In A Wild Idea author Johnathan Franklin tells the story of Doug Tompkins, the founder of companies like Esprit and The North Face. One day, Doug decided to give up life as he knew it in the United States and go live in a shack in Patagonia. He started to regret and despise corporate capitalism and his role in it. Exploring the wild beauty of Patagonia, Doug decided to make a 180, which eventually led to him becoming one of the primary founders of the modern conservation and land protection movement.
In a world full of amazing must-read books, it is incredibly hard to choose. We hope that you are inspired by this list of best books for travel lovers and add them all to your TBR pile ASAP!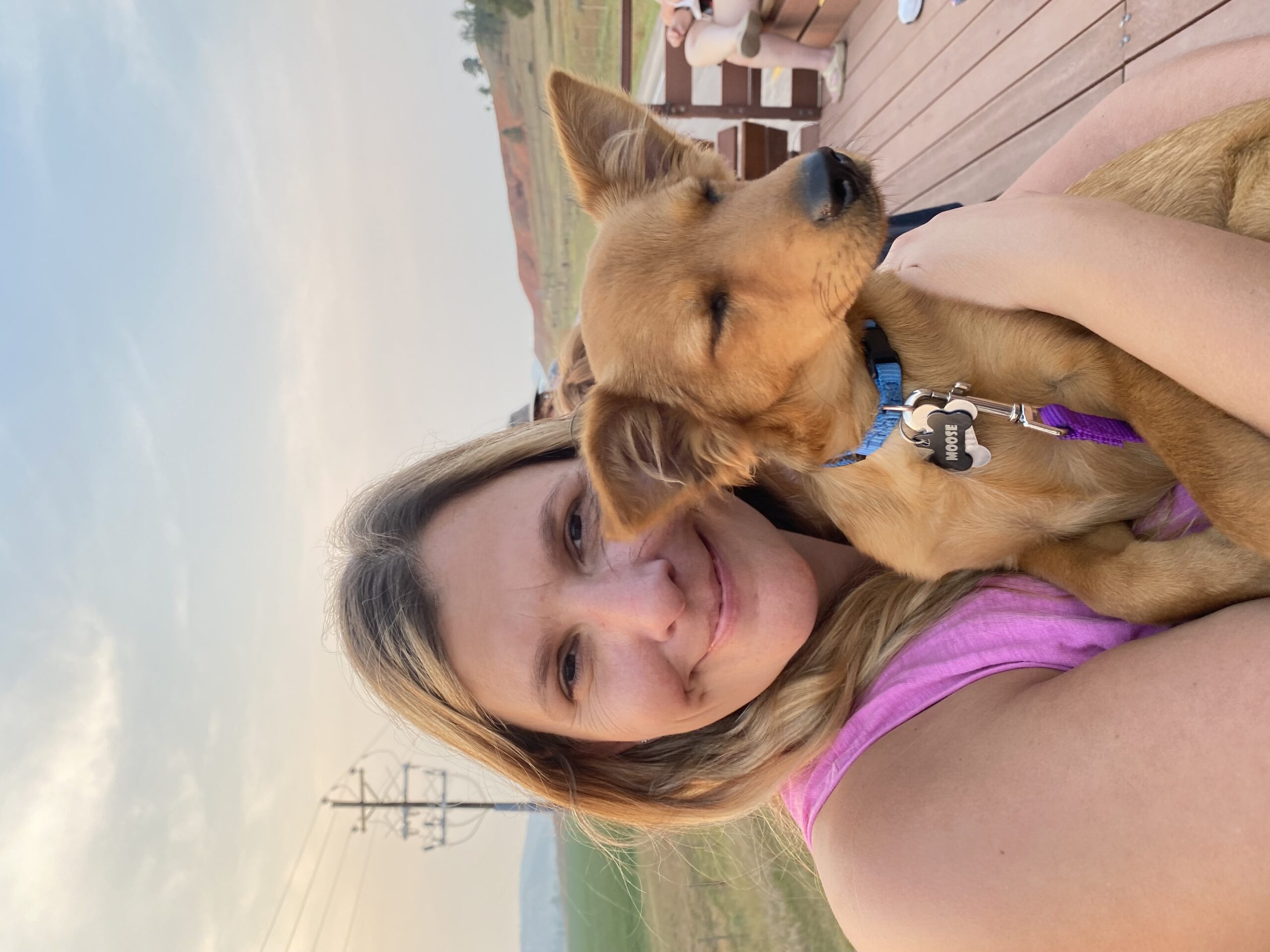 Jenny grew up in Germany. All she ever wanted out of life was to leave and have adventures. Jenny always traveled as much as the budget would allow, and when she met her husband traveling became a full-time thing. You can follow Jenny on her blog and Facebook.