Malibu is a dream destination for many. Yet, being a responsible traveler while renting an AirBnb in Malibu can be tricky. You can imagine that in a desirable location like Malibu many people aim to rent out their places short term.
Problems with short-term rentals
Short term rentals can create problems, potentially ending in a full-blown housing crisis. In September 2020, the Malibu City Council decided to enact its first-ever short-term rental ordinance. This was decided for the purpose of giving law enforcement better tools to act against disruptive behavior in short term rentals. While requirements for AirBnb in Malibu are plentiful and the city collects a tax and requires owners to have a permit, there are still many complaints that go unheard. Therefore we ask you to make sure to stay ethically with AirBnb. How do you do this, you wonder? Read all about it here. The following is a list of AirBnb in Malibu you can rent with a clear conscience.
Go glamping
If you are looking for a different kind of stay with Airbnb in Malibu, glamping is here for you.
Glamping in historic village of Cornell, California
Cornell is located just a few minutes North of Malibu. Host Geraldine offers a 21 ft 2015 travel trailer for rent. It is situated in a breathtaking sanctuary in Agoura. If you are a couple of a family with one small kid, this camper van with one full bed, one pull out bed, one dining area that converts into a bed, and one full bath is perfect for you! The space is small, but cozy and in a beautiful location. Enjoy the wildlife and array of rescue dogs! Truly a destination off the beaten path, yet close to all the action.
Shared Rooms
Shared rooms are a good option. They don't cost you an arm and a leg, and you will most likely meet your host, who can give you some tips for off the beaten path things to do in the area. While there are no shared rooms available directly in Malibu, there are some nearby that may be an option for you.
"The Bondi" at Hill Manor B&B
This B&B has four rooms which each sleeps four people. The Bondi room has a view over the downtown Los Angeles skyline and an accessible balcony. No matter if you travel alone or with thirteen of your closest friends, Hill Manor B&B can accommodate you!
Host Roger conducts restaurant reviews. Make sure to get his input and find that perfect dinner spot. Malibu! A great option for an AirBnb in Malibu!
Ladera's Divine Crescent Luxury Bedroom Suite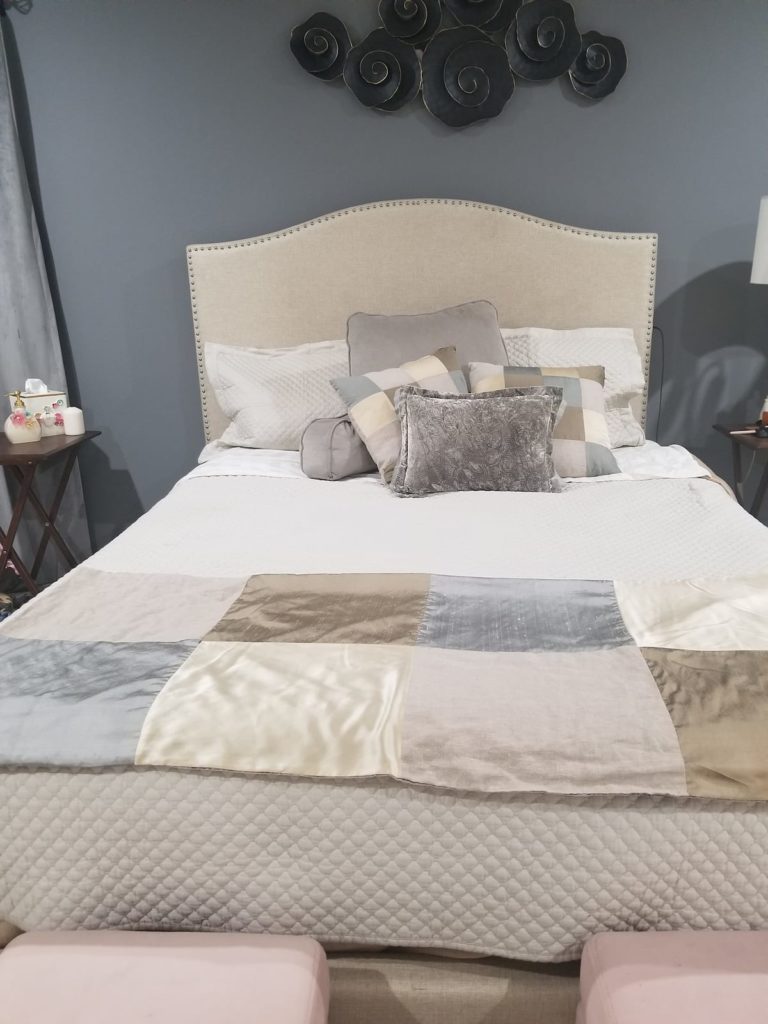 Another option is this shared room in Los Angeles, about 33 miles from Malibu, which offers plenty of amenities.
Private Rooms
Just like shared rooms, private rooms can be a great option for AirBnb in Malibu. Not only are they generally more affordable, but you have a chance to meet your host and get the skinny on what to do in the area.
Grandma's cozy California cottage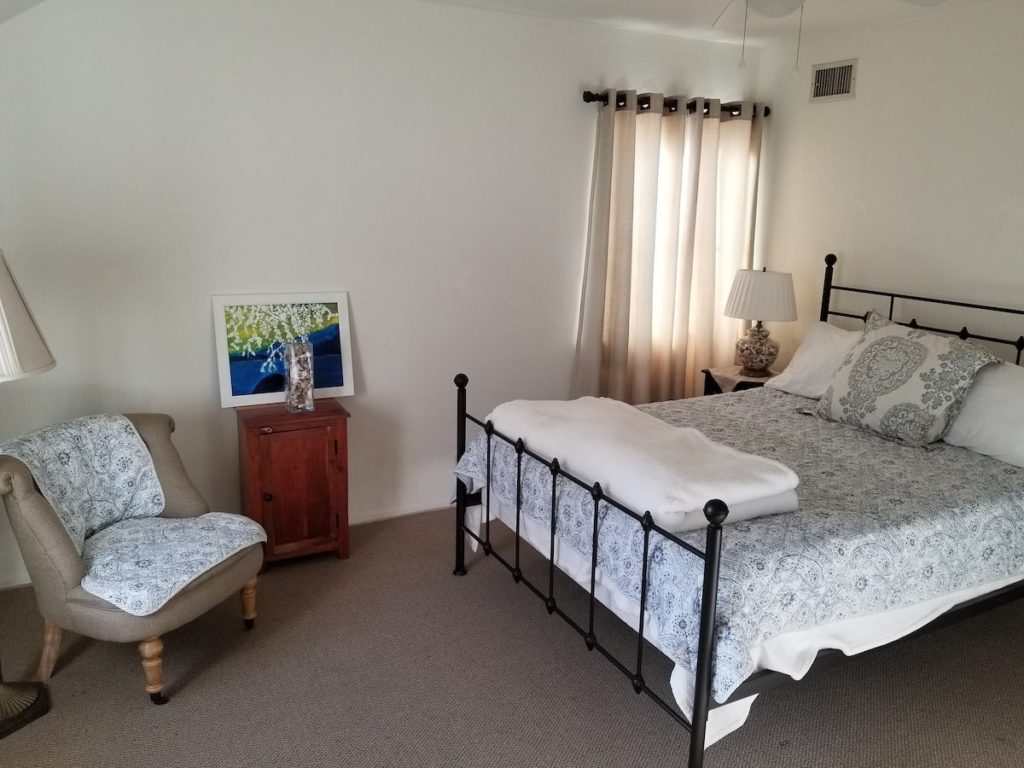 Now this sounds like a place that will fell like a home away from home! The cottage is within walking distance along the beach to the Malibu Pier and close to some of the greatest beaches in the world. This could be your ideal AirBnb in Malibu for that surfing vacation! Host Judy lives downstairs, but the upstairs is very private. Due to the central and desired location there is some traffic noise.
Private Mountain Top Suite with Breakfast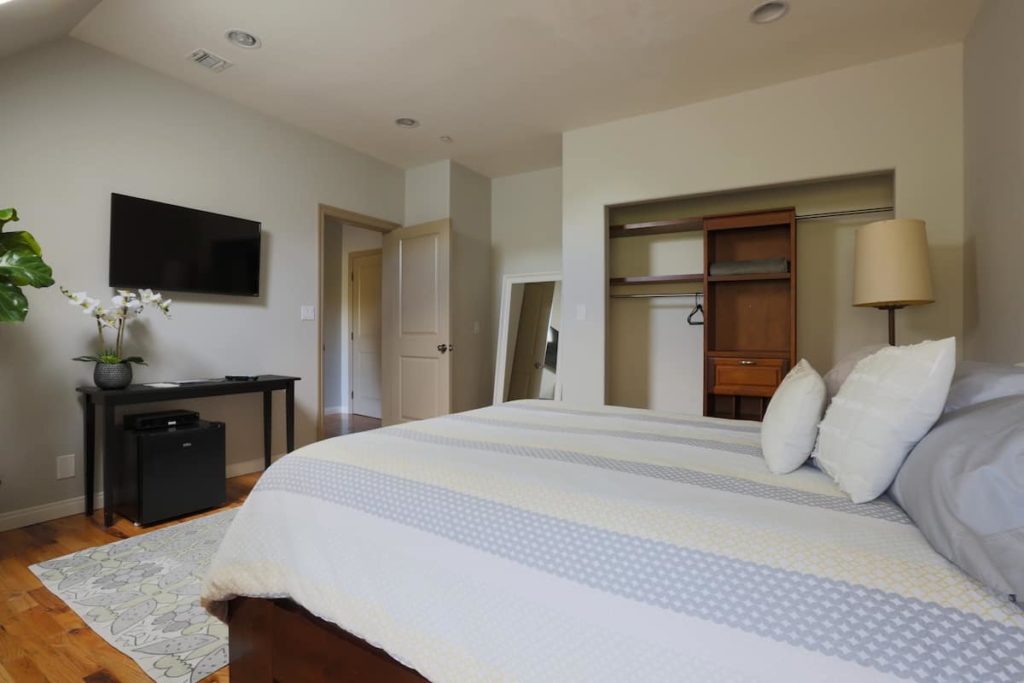 If you are a quiet nature lover, this private room in a beautiful villa is right for you. This secluded mountain top retreat with beautiful views of the ocean and the mountains within the Santa Monica Mountains National Recreation Area is just a short 15 minute drive away from the Pacific Coast Highway.
For your convenience there's a mini fridge, microwave and coffee maker in this AirBnb in Malibu. Host Elaine and her husband are quiet but always available for questions, concerns or recommendations.
Malibu Room 4
Ocean view, anyone? You can book your perfect getaway in this private room only 80 yards from the Pacific Ocean! Hosts Paul and Bhee are friendly, welcoming and go above and beyond for their guests. A fantastic pool and beautiful garden round up this perfect spot. Oh, and did I mention private beach access?
Entire Places
Maybe you prefer more privacy than a shared or even a private room can offer. There are some fabulous Airbnb in Malibu that'll offer the privacy you seek.
Malibu Modern 1 bedroom Pool House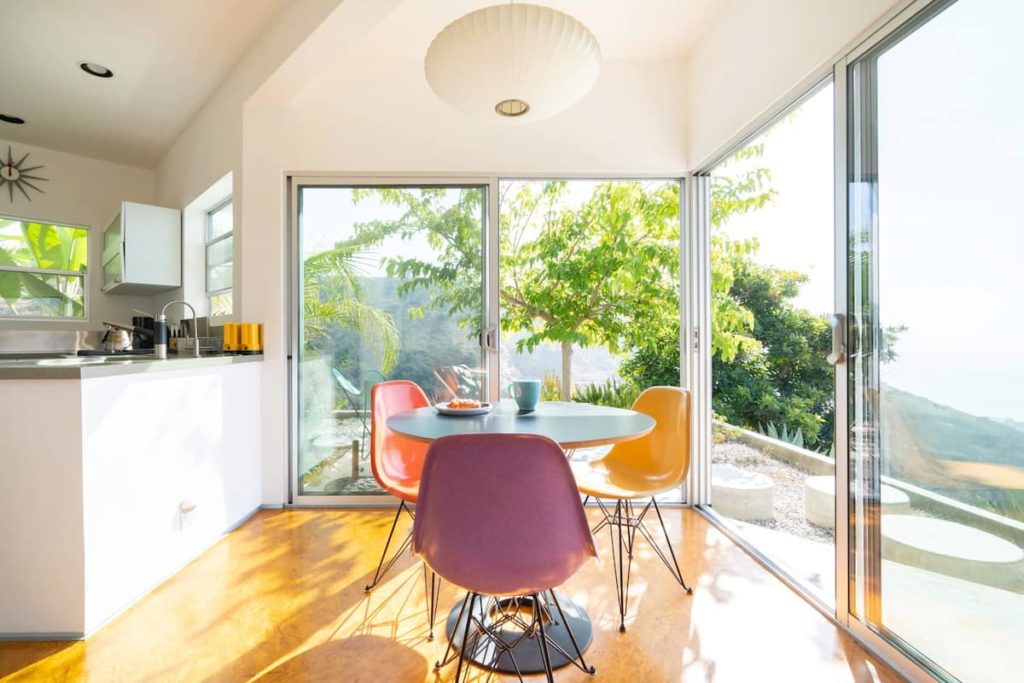 Host Shannon offers this secluded 800 sqft standalone pool house. The maximum number of guests allowed is two. A perfect space for a couple. Best of all? You'll have a private pool! The pool house has a powerful ac, always a concern in sunny California. Here you are only 5 minutes away from the Pacific Coast Highway. Downtown malibu is 4 miles away, and it's 10 miles to Santa Monica. The one bedroom unit offers stunning ocean and canyon views from the wraparound deck . Enjoy your morning coffee surrounded by organic avocado and lemon trees.
Shannon is very kind and accommodating, the perfect host for your getaway!
Magical Nature Cabin & Beach Retreat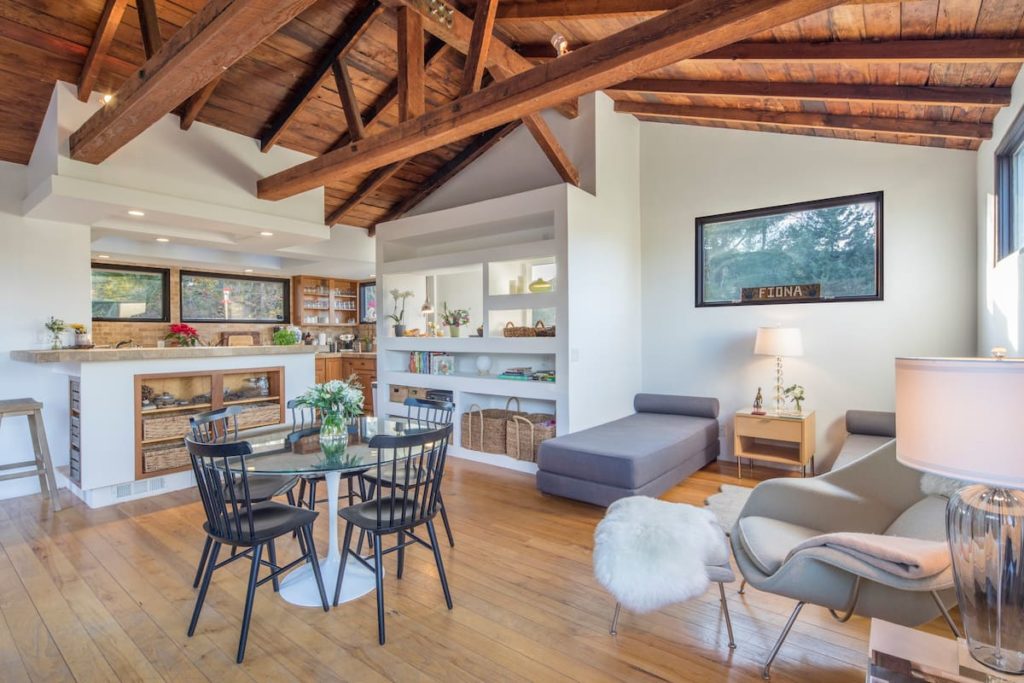 This cute and enchanting 1927 beach house has one bedroom and can accommodate up to four guests. If you are a nature lover, you will greatly enjoy this space. The idyllic cabin overlooks Solstice Canyon, known for its spectacular wild life. It's conveniently located only 5 minutes from the local beach, 7 mins from Pepperdine and 10 mins from local shops & restaurants. Best of all? There's a Tesla/Electric Vehicle charger! Host Whitney gets an A+ for excellent communication and hospitality.
Higher end Airbnb in Malibu
Are you looking for a luxury getaway? Worry not, there is an Airbnb in Malibu that caters to your taste.
Stunning Waterfront Retreat with Jacuzzi & Beach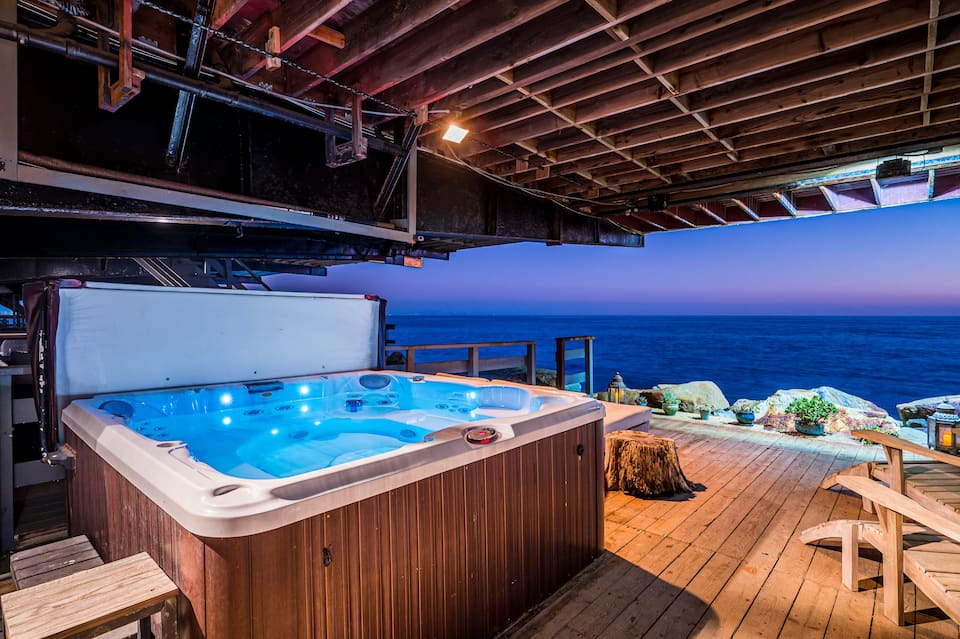 There's only one word to describe this place – iconic! The three bedroom, 3.5 bathroom house has it all. Uninterrupted ocean views let you take in all those breathtaking sunsets. You can cook to your heart's content in the chef's kitchen. After your swim or walk on the private beach, only shared with the neighbors, enjoy the Jacuzzi, bar and BBQ. Your stay in this relaxed beach vibe home will be nothing short of memorable. This might be the perfect AirBnb in Malibu!
Malibu Beachfront Penthouse
Did someone say penthouse? Spend time soaking up rays on the semi-private beach that belongs to this 3 bedroom 2 bathroom luxury beach front Malibu Airbnb. Be amazed by the breathtaking panoramic views offered by the floor to ceiling windows and top-notch amenities. Listen to the sound of the waves while you fall asleep in this truly stunning Malibu Airbnb.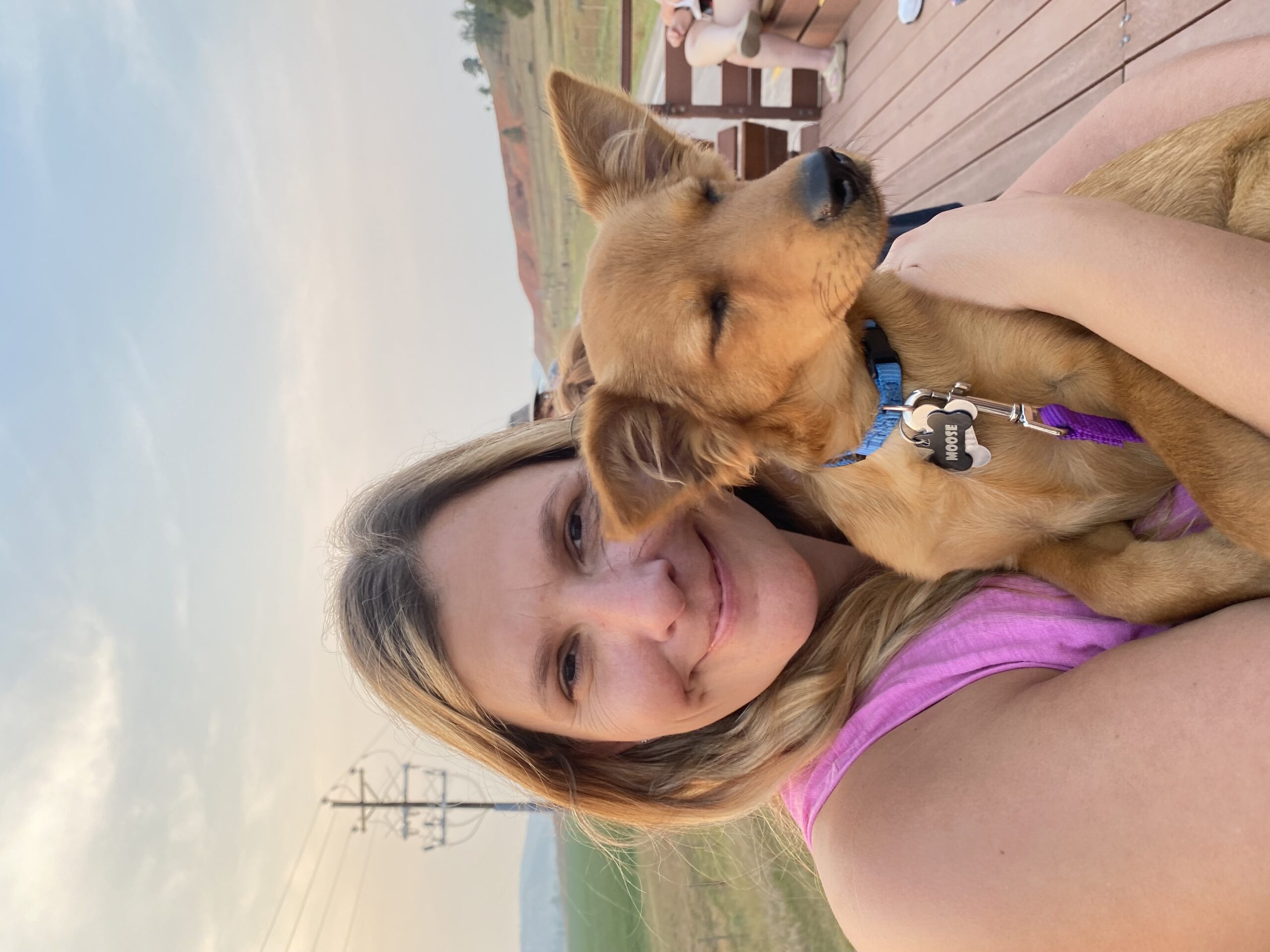 Jenny grew up in Germany. All she ever wanted out of life was to leave and have adventures. Jenny always traveled as much as the budget would allow, and when she met her husband traveling became a full-time thing. You can follow Jenny on her blog and Facebook.