Are you thinking of staying with Airbnb Aspen Colorado? Read on and learn all you need to know!

About Aspen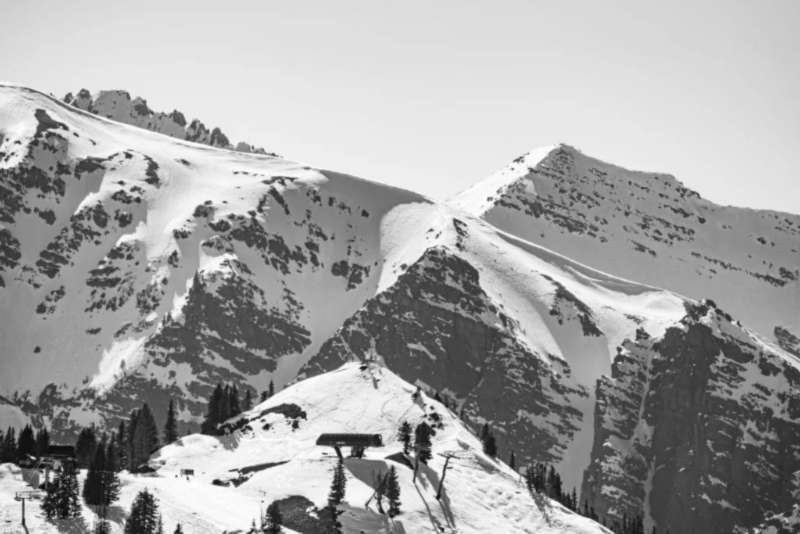 Aspen is a ski resort town, nestled into the Rocky Mountains of Colorado at 8000′ (2438.4 meters). At that altitude Aspen gets snow for about half the year, which is one of the reasons it is so popular. Outdoor recreation is possible year round, and there are no less than four ski resorts in the area.

Playground of the rich and famous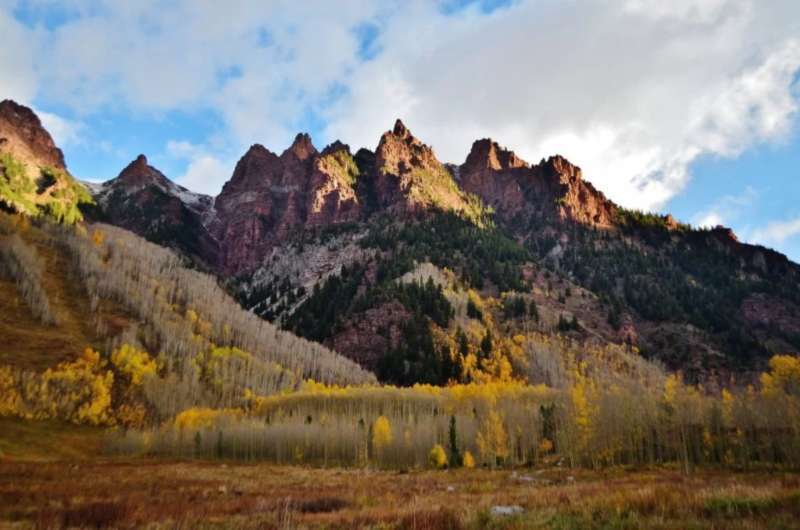 The town is popular with the rich and famous.  Red Mountain, which is also nicknamed "Billionaire Mountain," is home to millionaires and billionaires. But ordinary people from all over the world come here to ski, too. If you are planning a visit to this beautiful former mining town, make sure to pack some cash or read on and find out how to not spend a fortune, especially on lodging.

Ethical Lodging with AirBnb Aspen Colorado
In a town like this, lodging options can be very expensive. Sure, you can book a one star hotel. But a short-term rental, such as as AirBnb Aspen Colorado, could be available at a similar price. Having a place to cook your own meals and brew your own cup of coffee rather than having to eat out every meal is a huge money saver.

The Problems with AirBnb
However, AirBnb and similar short-term rental companies can be problematic. It started out as an alternative to expensive hotels and put emphasis on the community aspect ('stay with a local'). It became 'live like a local', but this is not true everywhere. The so-called 'AirBnb effect' has significant impact for some communities. This effect is similar to gentrification. It slowly increases prices in an area, which can lead to residents being pushed out and not being able to afford housing there anymore. Big cities and other very popular destinations fare the worst. This can lead to a serious housing crisis.

The situation in Aspen
Whenever you travel to a destination where you are planning to stay in an AirBnb, do your research and make sure you are not, in fact, hurting the community. As global citizens and responsible travelers we want to keep our impact low.
The urban exodus caused by the Covid-19 pandemic has led to skyrocketing prices. The fact that rental prices have risen leads to buyers being more willing to pay more for properties, because they have the option to do short-term rentals. There are efforts in the city to offset the negative impacts of short-term rentals, as many other cities, like Park City, Utah for example, have done already. While there are more people buying places to rent short-term, the increased prices have also caused more people to put the houses they already own up for rent, which may help long-term renters.

Ethical ways to stay with AirBnb
Don't be put off by all this. There are still ways to stay ethically with AirBnb. Make sure you know your host. You can easily live the original spirit of AirBnb and stay with a local, rather than choosing a property that's owned by a company with multiple listings. Stay in shared listings and know the local laws.
Responsible Options
Without further ado, here are some great options in various price ranges for AirBnb Aspen Colorado.

Black Bear Guest Suite With Private Entrance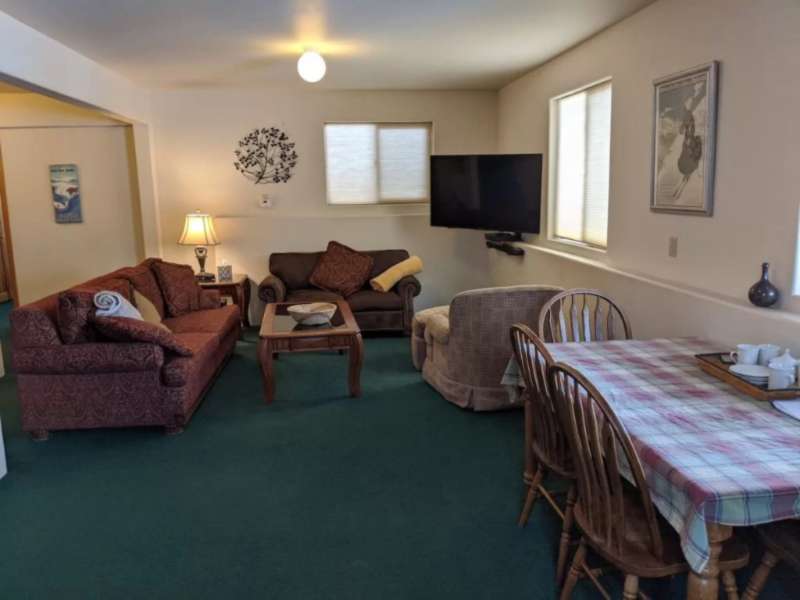 The fact of the matter is that staying right in Aspen for an affordable price is tough. A good option that's not too far (about 30 miles) is the Black Bear Guest Suite in Carbondale. At $105USD per night you can hardly go wrong! The suite is located on the garden level of a signal family home. There are two bedrooms that can sleep up to 6 people. You have a private entrance and the use of a fenced-in yard and a hot tub.
If you are looking for a very quiet spot, this place may not be right for you. While it is located in a quiet neighborhood, a family with three children lives in the house. However, they do have a firm bed and quiet time of 9pm, and chances are that you'll spend your days out exploring Aspen and the evenings in a nice, cozy restaurant or bar. And if you stay here, you are supporting a young family! That's the true spirit of AirBnb.

Mount Sopris Retreat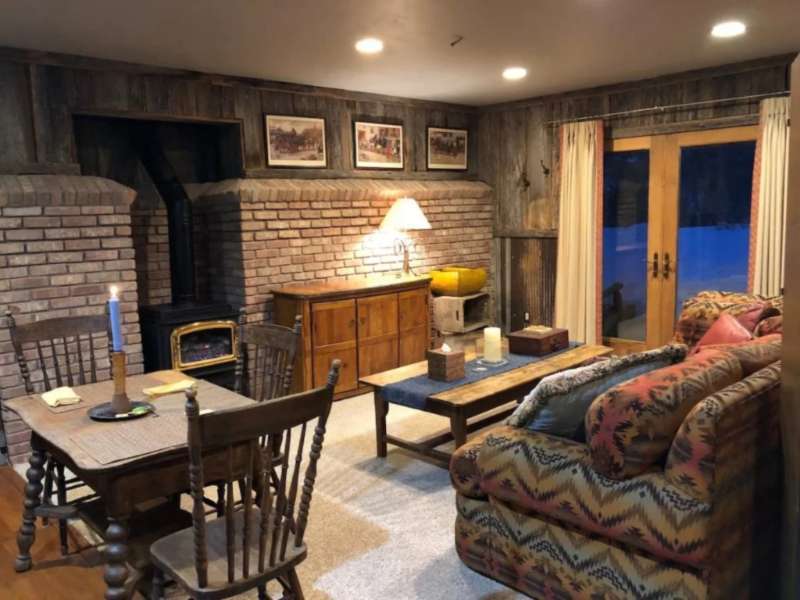 Another excellent and affordable option in Carbondale is the Mount Sopris Retreat. This guest suite with two bedrooms features a private patio with a view of Mount Sopris! There are so many amenities, it's hard to list them all, but some of them are a personal sauna, exercise room and freestanding fireplace. This is the perfect place to relax after a long day on the slopes.
It is hosted by Charlene and her husband, a married in couple in their early 60s. They have created a true home away from home atmosphere in this guest suite, which is an extension to their house. Prices start at $130 USD per night. What are you waiting for?

Stunning Villa for Mountain Getaway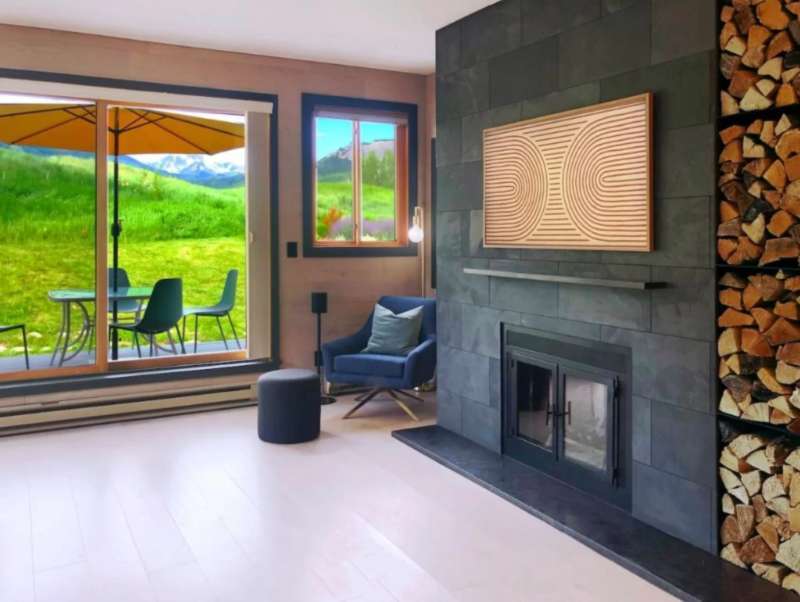 The closer you get to Aspen the steeper the prices are. But consider that this villa in Snowmass Village, only 7 miles away from Aspen, can sleep 10 people and rents our for $430USD per night. This entire villa on the Snowmass Club golf course will be yours during your stay. Just a short 5 minute shuttle ride from the base of Snowmass Mountain, this is the perfect location for skiing. There are many amenities, including a fireplace, Peloton, deck with mountain views, and gas grill.
The hosts Erica & Jansen have lived in the area for 15 years and will be able to share the locals' tips and tricks for a perfect stay.

Aspen Modern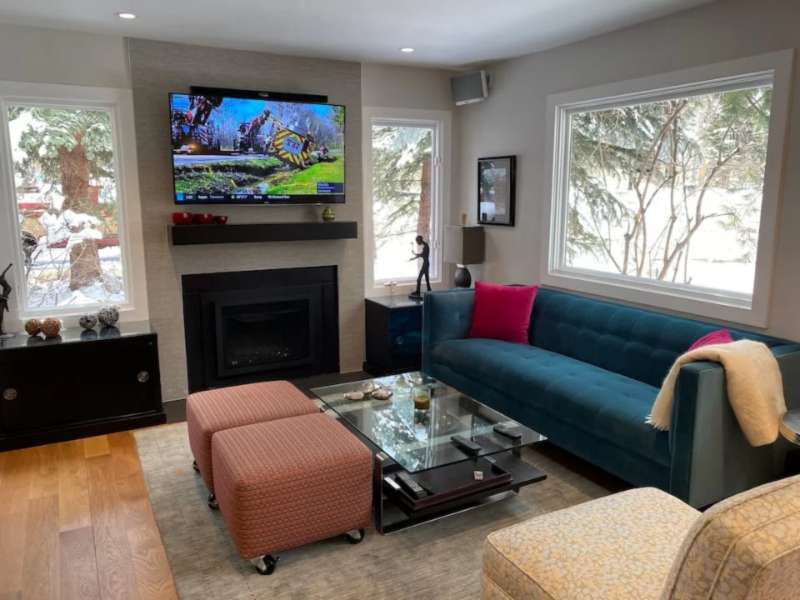 Stay in this 2 bedroom, 2 bathroom condo and Aspen will be entirely walkable for you! The place has a designated parking space, but you won't need to use your car to get around. The place has 2 levels, and also offers an outdoor space with patio seating and BBQ. Sunny and bright, with a newly renovated kitchen on the main level and a new master bath with corner jacuzzi tub and separate steam shower on the upper level, you will reside in style here. Prices start at $494USD per night.
Rose is local to the area. She responds quickly to requests and concerns and will happily provide insight into the area and tips on how to make the most of your vacation.

River View Condo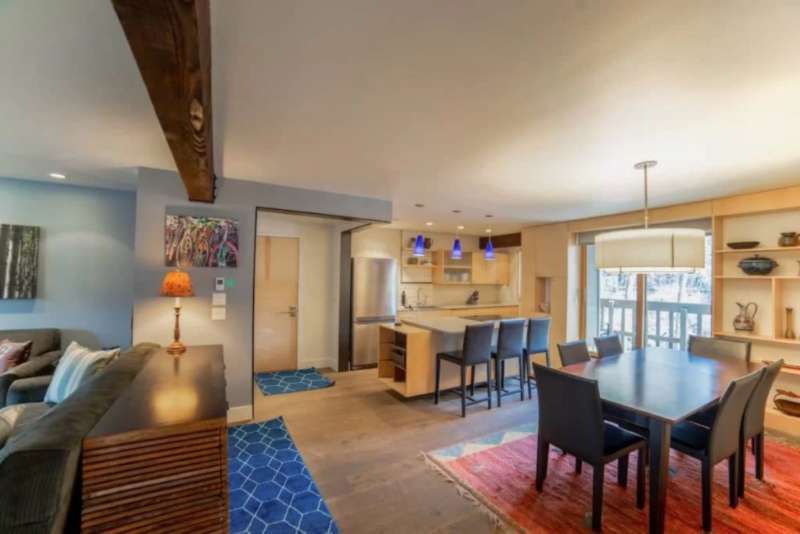 Did someone say river view? This AirBnb Aspen Colorado condo overlooking the Roaring Fork River can host 6 people in 3 bedrooms. There's a designated parking spot with additional street parking, but the walk to town is short. A heated pool and hot tub are available so you can relax after a long day skiing. Prices start at $697 USD per night.
Host Debbie is local, very accommodating and responsive.

Sunny Top Floor / Ski to the Aspen Gondola!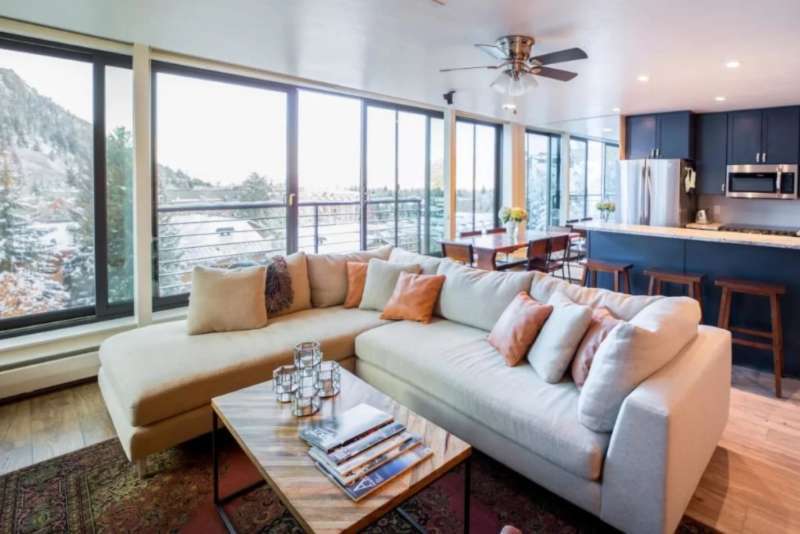 Location, location, location! If you are looking for a higher end rental, this is your place! This condo is on the top floor of the Durant. The building has a private path with access to the ski area. Amenities include a pool that's heated year-round, a hot tub, gas fireplace, and fully equipped kitchen. The view is absolutely spectacular!
Hosts Ian and Jessica have lived in the area since 2015. They are happy to share their love for the mountains and all things Colorado and Aspen with their visitors.
These are some great options for AirBnbs in Aspen. What are you waiting for? Pack your skis and go!