Book sniffer: a person who loves the smell of books. They can be old or new, used or unused. Smelling a book makes this person happy.
Do you have a book sniffer among family or friends? If so, then look no further! At Her Adventures, we have plenty of tips for you to give the perfect gift for your book sniffer.
1. Handmade Gift Ideas For Book Lovers
Handmade gifts are perfect for any occasion. Whether you are ask your friend to make you something for your mom, or you support a local Etsy shop or business to create something for your favorite book sniffer, homemade gifts are the way to go!
For hardcover books, perhaps choose a protective cover, so the original one doesn't get bent or scratched, like this one!  
Another idea is a handmade bag for all of your books! Check out the ones we have in the Her Adventures shop.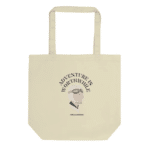 Custom and personalized bookmarks are probably one of the best gifts you can give your book sniffer for any occasion. For more ideas, check out this cute resin bookmark! 
As you can see, the list can go on and on for homemade gifts for book lovers! Let us know at HERA if you decide to go with one of these!
2. Gifts for E-Book Sniffers
Not everyone has the luxury to buy copies of books, so e-readers are the way to go! If this is the case, then your book lover will probably need a pair of blue light blocker glasses! While many e-readers have the blue light blocker option, a pair of glasses wouldn't hurt, either. Plus, you'll look cute while reading!
An additional idea is an e-reader case! Did you know that there are e-reader cases that make them look like real books? Check these cute ones!
3. Book Ends
You may be thinking that bookends seem a bit outdated since people usually cram all of their books in their bookcases. However, adding some cute bookends to either your bookcase, bookshelf or even on your dresser with a few books would really make your reading area extra cozy! You could do a travel-themed set, like these globes, or something a bit more simple. (I have these and I absolutely love them!)
4. Candles
Have you ever been cozied up in a chair, book in hand, and think to yourself, "a soothing scented candle would match my mood perfectly right now"? Because I know I have! I am a sucker for a wood wick candle. There's just something about the crackling noise that really puts me at ease. Check out this one that is book club scented!

5. Subscription Boxes
That's right – subscription boxes aren't just for wine lovers or professional snackers. Here at Her Adventures, we actually partnered with Cratejoy and got to pick out some subscription boxes for fellow Her Adventurers! The top contender for fellow book sniffers is probably the Read, Relax & Recharge, by Introverts Retreat. Not only do you get a new book every month, but it also comes with a beverage (tea, coffee, or hot cocoa), lotion, a candle, and so much more! Be sure to check it out, they have a wide variety of genres that you can choose from as well.
6. Snacks & Drinks
I don't know about you, but when I'm relaxing in my reading corner, I like to have a nice, calming setup. Not only do I want a candle burning, but I would also like some snacks and drinks! As mentioned above, Cratejoy also has about three different snack boxes to choose from. They have the Russian Box, Gusto di Roma, and the Treats box! As far as drinks go, some days I would like a cup of coffee, but some nights I want a glass of Sauvignon Blanc from New Zealand. The person you are shopping for could be more of a tea and red wine kind of person. The possibilities are endless when it comes to snack and drink combinations.
7. Mugs & Glasses
Going with the theme above, if you do get some snacks and drinks for your favorite book sniffer, then perhaps add in a cute glass or mug to go with them! Whether you're a morning person and don't like to be disturbed while reading, then this coffee mug for book lovers would be perfect! If you're drinking a glass of white wine, then something classy like this glass would be perfect for them. The Her Adventures shop also features a variety of travel-themed mugs!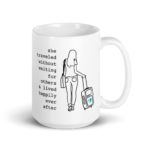 8. Socks
I don't know about you, but I love being cozy when I read. Coming from someone whose feet are always cold, I love a good pair of warm, fuzzy socks, especially for these cold winters in the Chicago area. You could go with something cozy and warm like these fleece-lined socks. If you want something that is reading-themed, you could go with a pair of socks that say, "Shhh I'm reading," because let's face it, we've all been there.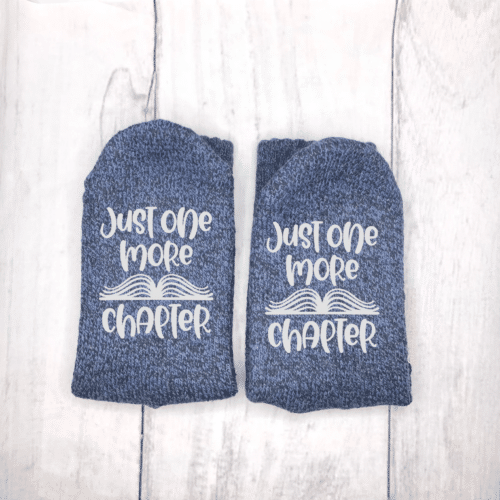 9. Book and Author- Specific Merchandise
Whether you're a fan of Harry Potter and all of his adventures, Great Gatsby and his frivolous parties, or Stephen King and his graphic novels, then Out of Print is right up your alley! They have all kinds of merchandise. From wallets to water bottles, t-shirts to wall art, they have something for everyone.
10. Special-Edition Books
Do you have a favorite book sniffer that perhaps has a few books, such as Peter Pan or The Alchemist? Barnes and Noble has classic editions in those and many more! One of my best friends has probably a dozen of these styles and they are very aesthetically pleasing. If those aren't really your style, then Penguin Cloth Classics could work as well!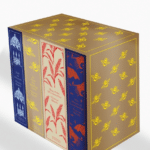 I really hope that this list gave you some ideas for gift-giving for your fellow book lover. It was so hard to pick only 10 because I love reading, but these are the ones that would mean the most to me. Let us know if you end up giving or receiving any of these!
Devan has been traveling since she was about 10 years old. She recently fell in love with solo traveling back in August of 2018. Devan is a student in Naperville, Illinois, USA majoring in social media, and she hope to further her education by traveling the world posting about it all over social media. You can follow her journey on her Instagram and website.