Let's chat about Lagos restaurants. Portugal is a country that is famous for many things. The Algarve invites tourists to lounge on its beautiful beaches. Lisbon and many other cities welcome visitors from all around the world to show off their culture and history. The people are friendly and welcoming. And then there is the food. The Mediterranean cuisine is at its best in Portugal. The Portuguese diet is generally contains fruits, vegetables, fresh seafood, meat, and plenty of sweets.
Lagos Restaurants – Feast in Portugal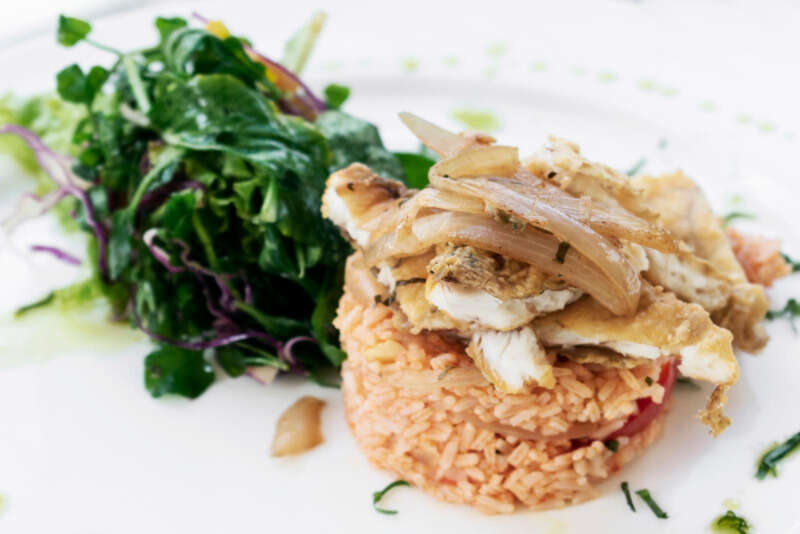 If you are planning to visit the Algarve, don't miss Lagos. This ancient marine town with a long history is one of the most popular tourist destinations in Portugal. The walled old town, beautiful beaches and steep cliffs create a unique setting that's stunningly scenic. There are loads of things to do, but one thing you cannot miss is the fabulous Portuguese cuisine offered in the many Lagos restaurants.
After all that traveling it took to get here, you are most certainly ready for a bite to eat. Lagos restaurants will serve all the food your heart desires.
Adage Tipica A Forja
Adage Tipica A Forja is a typical Portuguese restaurant. The interior reflects that, and the staff is very friendly and attentive. The food is prime, and the prices are reasonable, while the portions are large. Their seafood is especially recommendable. Try the house wine! This is a place you will want to visit over and over again.
Jukebox Tapas & Meals
Who doesn't love tapas? It's hard to go to a restaurant where every item on the menu looks fantastic and only order one meal. In a tapas restaurant, you can try several. Jukebox Tapas & Meals will make all your tapas dreams come true. The service is great, and the prices are very affordable. The local Algarve dishes are fresh and tasty with perfect texture and ensure you will have an authentic Portuguese dining experience. The restaurant is on the smaller side, so make sure you reserve a table ahead of time.
Goji Lounge Café
Are you looking for a Mediterranean breakfast, lunch or brunch? Then the Goji Lounge Café is the place to go. From good coffee to smoothies, from pancakes to Acai bowls, you can find it all here. This restaurant is also open for dinner, but the brunch is not to be missed. And the best part? They have some vegetarian and vegan options! This truly is a place where everyone will leave happy and satisfied, no matter which diet they follow.
Luca's Rooftop Restaurant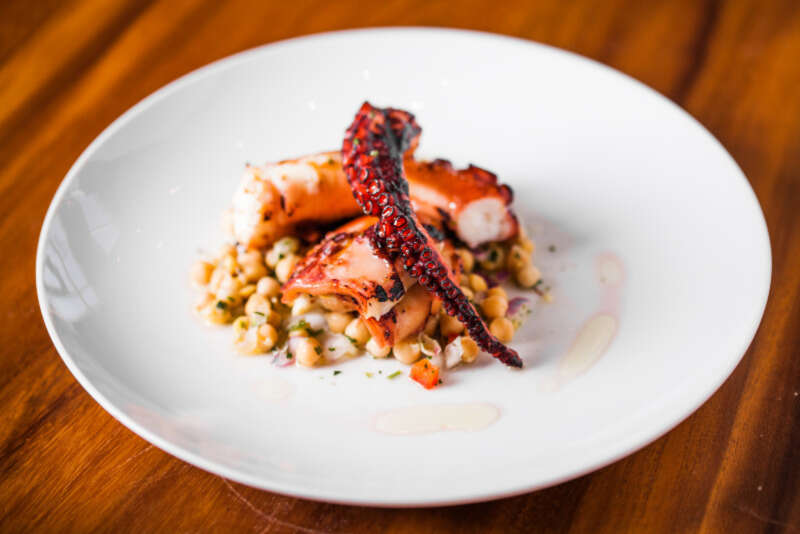 The main attraction is in the name! This hidden gem invites you to not only enjoy their Mediterranean cuisine, but also their unmatched view. The restaurant's location on the rooftop of Carvi Beach Hotel on Dona Ana Beach is perfect for a sunset dinner. The food is good, and the menu offers a large variety of it. Everyone is sure to find something to their taste!
Other cuisines
If you have had your taste of Portuguese and Mediterranean food, worry not. Lagos restaurants are diverse. Do you feel like having an Indian dinner? Try Maharaja Tasty Indian restaurant. Is Hawaiian food more up your alley? Visit Poke Lagos. Is it time to indulge in a steak? Go to Bransons Steak & Shellfish for a bite to eat. The Baffi Bar will satisfy all your needs for Italian food.
Let's talk dessert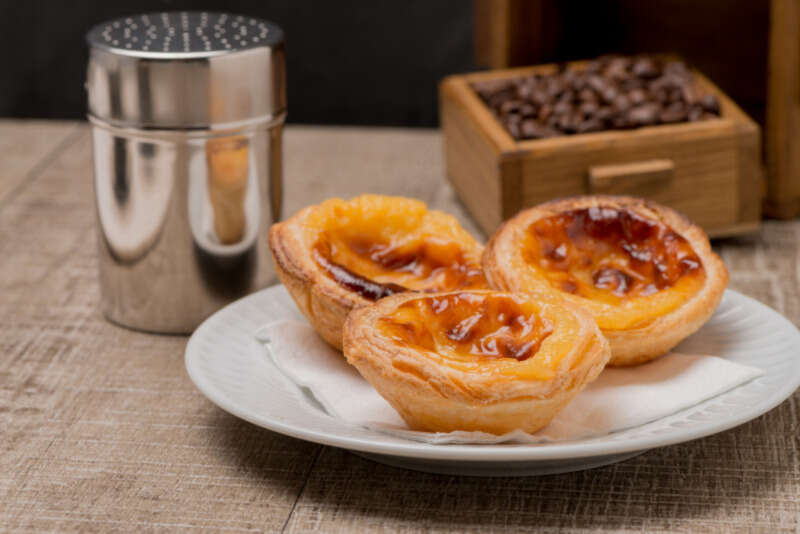 I hope you left some room for dessert during your culinary adventures. Have some classic Italian ice cream at Gelícia – Vero Gelato Italiano. But don't miss out on traditional Portuguese desserts. Sweet home offers incredible coffee and cakes. Pastelaria Gomba is not just known for its pastries, but especially its Pastel de nata. This is a Portuguese egg custard tart pastry which is dusted with cinnamon. Do not skip the Padaria Central and the Pastelaria Algarve.
Beaches
Praia da Dona Ana & Ponta da Piedade
Now that you have dined to your heart's desire, get out and do some stuff! There are several beaches you can't miss in Lagos. In 2013, Condé Nast Traveler Magazine voted Praia da Dona Ana the most beautiful beach in the world. Praia da Dona Ana is larger than some of the other beaches and can get very crowded in the summer. It is sheltered on one side by large cliffs, which makes it perfect for swimming. The Huffington Post stated that Ponta da Piedade is the most beautiful beach in the world. You probably start to sense a theme here! Don't miss the incredible rock formations, sea arches, caves, cliffs and crystal-clear green water at Ponta de Piedade.
Praia do Camillo & Praia dos Estudantes
Praia do Camilo is a very scenic yet tiny beach. Framed by large limestone rocks, it has crystalline green-blue water and amber sand. The tiny Praia dos Estudantes gives you a chance to look at history. There is a small bridge that belonged to a fortress. The beach is framed by rock formations, which makes the water nice and calm and great for a dip.
Praia do
Pinhão

, Praia Grande & Praia da Batata

Praia do Pinhão is a little more hidden than some of the other beaches, but it is a gem nevertheless. A steep stone stairway lets you access this beach on the bottom of ochre cliffs in a series of terraces. There are no facilities, but plenty of solitude to be had for an early morning walk.
Access to Praia Grande is somewhat difficult. It's not too busy and some bars and restaurants will keep you watered and fed throughout the day. Bathrooms and showers are available.
Praia da Batata is another smaller but sheltered beach, which makes it perfect for swimming. It's the closest beach to the city center and very convenient for a quick stop and dip.
Other things to do in Lagos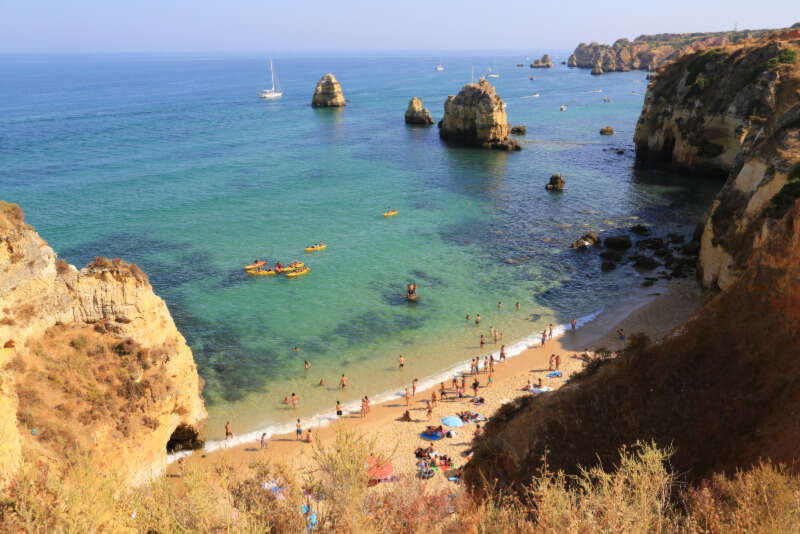 Once you have had your fill of Lagos restaurants and beaches, try out some other activities.
See the caves and grottos
There are several options, but one is a trip that covers a must-see in the area: the Ponta da Piedade caves and grottos. The Algarve is known for it's dramatic coastline with steep cliffs and caves. Specially designed boats will be able to take you inside those spectacular places. Don't miss out on this!
Go dolphin watching
Dolphins are amazing animals. Take a 1.5 hour boat tour and get a front row seat to see the dolphins in their natural habitat. Don't forget to bring your camera!
Wine Tasting Tour
Maybe you have already had your fill of Portuguese wines in the many Lagos restaurants. But maybe you haven't. In that case, take a wine tasting tour! The tour takes 3-4 hours and you get to visit an authentic Portuguese winery. They don't just let you taste the wine – no, you'll also get to try some local cheese and sausage.
Go to Sagres
Sagres, located at the Western tip of Portugal, is a remote area with barren landscapes, wild seas and towering cliffs. It's very picturesque, but to find the best view points, take a tour from Lagos. Watch the spectacular sunset from Cabo Sao Vicente, the southwesternmost point of Portugal and of mainland Europe.
If you are heading to Portugal, you'll find the most comprehensive 10-day Portugal itinerary here! We also provide you with the perfect Portugal packing list for women, and if you want to get excited and informed before your trip, read one (or more) of the 22 best books about Portugal!