Portugal – this dreamy small country in southern Europe offers a fabulous mix of major cities, beautiful beaches, and medieval towns. Indulge in R&R at the gorgeous beaches in the Algarve, enjoy city life and culture in Lisbon, and feast at the best Lagos restaurants. One thing that you won't encounter is boredom! To help you plan your dream trip, we have put together this comprehensive 10-day Portugal itinerary. We are including the best places to eat, where to stay, and some basics of Portuguese culture and etiquette. Enjoy!
This post contains affiliate links. This means we make a small commission at no cost to you if you click through and make a purchase. All prices listed are accurate at time of publication.
The Most Comprehensive 10-Day Portugal Itinerary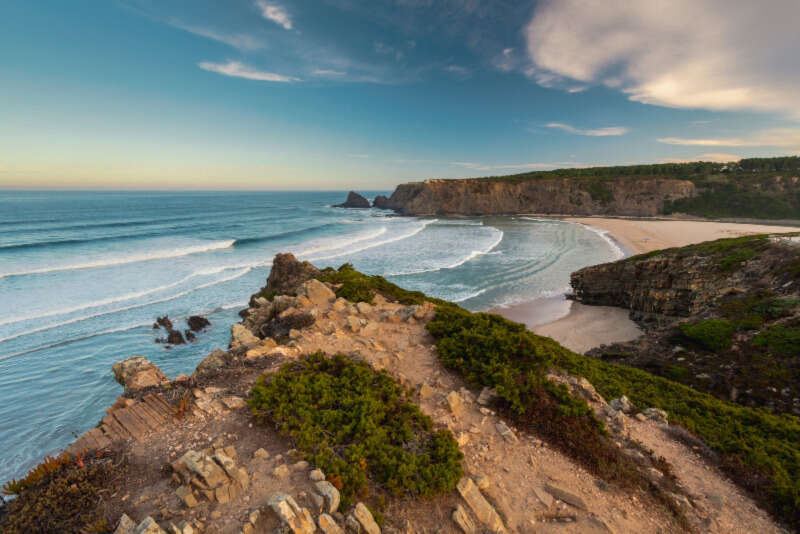 Quick Facts about Portugal
Before we start, let's cover some basic facts about Portugal, this warm and friendly place, which is one of the smaller European countries.
Capital: Lisbon
Population: Just over 10 million
Official language: Portuguese
Currency: Euro
Best time to go: spring and fall
Electricity: 230 V
Emergency phone number: 112
Some travel tips:
Portugal has a long history to look back on, and in many cities and smaller towns you will encounter cobblestones. Wear practical shoes to avoid injury.
You may encounter pickpockets in larger cities. Keep an eye on your personal belongings. Wondering how to stay safe while traveling? Take a look at this travel safety toolkit, put together by your experts at Girls Who Travel.
Portugal is a great place for budget travelers. Do you want to go but need to know the basics of budget travel? The Girls Who Travel experts can help with that, too! Check out the budget travel toolkit.
Be careful at the beach. There can be strong currents.
Are you ready to get in the mood? Pick one of the 22 best books about Portugal to read before you go, on your travels, or while relaxing on the beach! Or are you all booked and ready to go, but you haven't yet packed? Don't worry, Girls Who Travel is coming to the rescue! We curated a perfect Portugal packing list for women!
Day 1 – Lisbon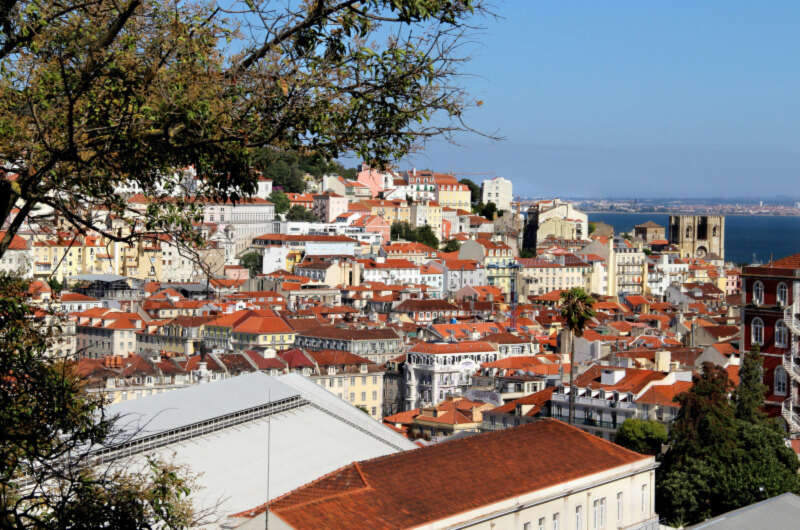 Chances are high that you will arrive at Lisbon airport to start your Portugal vacation. Lisbon is one of the main cities, and it's crucial to allow enough time for your Lisbon itinerary, because there's lots to see in Portugal's capital! Depending on where you are coming from, you'll probably arrive mid day. Head to your hotel (more about those later), take a quick shower and head out to explore! Since traveling can be quite stressful we recommend you take it easy and start your vacation by taking a private four hour TukTuk Tour of Lisbon. Spend a few hours with a knowledgeable guide, get a goof overview of the city, sit back, relax, and let new impressions flood your mind.
If you feel like you've spent enough time sitting around while traveling, head to Baixa Pombalina, the elegant historic center. Stroll around the Praça do Comércio, a large and magnificent plaza lines by yellow buildings in the Pombaline style, and home to the royal palace until it was destroyed by an earthquake and ensuing tsunami in 1755. Once upon a time this plaza market the entrance to the city. You can see Rua Augusta Arch, the former gateway to Lisbon. Next, walk to Rossio, also known as Praça de D. Pedro IV. It serves as a meeting place for locals and tourists alike, with many cafes and shops. Next is the Praça da Figueira, once the site of a hospital, now the major transportation hub of the city. Last but not least there is Praça dos Restauradores, or Restauradores Square. Here you can admire a large obelisk dedicated to the battles of the Restoration War fought in 1640.
Afterwards treat yourself to a nice meal at BAHR, located in the Bairro Alto Hotel. Enjoy the impeccable flavors of Portuguese cuisine in a sophisticated yet relaxed atmosphere. Vegan and gluten free options are available upon request. Try the delicious citrus and onion tuna pie for an appetizer, the wild turbot for the main course, and, of course, don't miss out on dessert! A selection of Portuguese cheeses is ideal for those who love savory foods, and the pineapple from the Azores with sweet potato and puffed rice are a special treat for those with a sweet tooth.
Day 2 – Lisbon
Today get up early for a full day to discover the best places Lisbon has to offer! Getting around is super easy, thanks to excellent public transportation. The fastest way to get around is the metro, but there's also a tramway system, busses, the commuter train, ferries, and taxis. Or you can choose to go by tuk tuk, or rent a bicycle (even an e-bike!) or an electric scooter. Or you could choose to buy a ticket for the hop on hop off bus which stops at every tourist attraction. Lots of options, and you can pick whichever one tickles your fancy.
We recommend you start your day by riding tram 28 though. Lisbon is famous for its tram, and the 28 line goes through several of the city's most famous districts such as Baixa, Alfama, Chiado, Bairro Alto, and Estrela, and their landmarks. Buy a 24 hour ticket and hop on and off whenever you see something interesting! But be aware that during the high season there can be long lines, in which case the hop on hop off bus is the better option. Here are memorable stops along the way:
Get on at Praça Martim Moniz, a large square located in the heart of the Martim Moniz neighborhood.
Hop out at Voz Operário to visit the Monastery of São Vicente de Fora. It is one of the most notable monasteries in Portugal, built in the 17th century.
Enjoy some of the best views in Lisbon at the Portas do Sol stop.
At the Sé stop you have the chance to see the Lisbon Cathedral. It was built in 1147, and went through many earthquakes and remodels, so today it's an interesting mix of different styles of architecture. A must-see!
The Conceição stop will spit you out in downtown. It's a beautiful spot to take pictures of the historic tram, or wander down to the water.
At the Estrela stop, you can catch a glimpse of the Basílica da Estrela, a beautiful 18th century basilica ordered built by Queen Maria I of Portugal.
Get out at Campo Ourique to visit a stunning final resting place- the Prazeres Cemetery is not just one of Lisbon's largest cemeteries, but it is considered one of the most beautiful ones worldwide!
Unless you get out at every or many stops, this is a fine way to while away your morning. Now it's time for lunch. Do you want to enjoy Portuguese cuisine in a very special setting? Head to Floresta Das Escadinhas, a restaurant located in a former church! It's a popular spot, but rather small – it seats no more than 40. So make sure you arrive a little before or after the popular lunch times, or make a reservation. Make sure to try Portuguese specialties such as octopus or sardines, and don't miss the home made desserts!
If you absolutely love Portuguese food, you can skip lunch and book a 17 tastings Lisbon food tour instead!
In the afternoon, head to the Alfama District. Lisbon's oldest area is dominated by steep hills lined with small shops selling locally made crafts and cafes that invite you to sit for a minute and take in the beauty of this area. It's a great place for photographers and souvenir hunters alike, and a very popular place to photograph the iconic Tram 28. Here are some major attractions in the Alfama District you shouldn't miss:
Panteão Nacional, a baroque building from the 17th century and the burial ground of many important Portuguese people.
Feira da Ladra flea market happens on Tuesday and Saturday and is a great place to look for unique souvenirs.
Sé Cathedral, the Lisbon Cathedral, is a must see, if you haven't hopped off Tram 28 this morning to admire it.
The Museu do Aljube is for those interested in political history, and music lovers should visit the Museu do Fado.
Next, head to Bairro Alto. This district offers everything from street art to nightlife in and is the place to be if you want to dance the night away!
Day 3 – UNESCO World Heritage Sites & Faro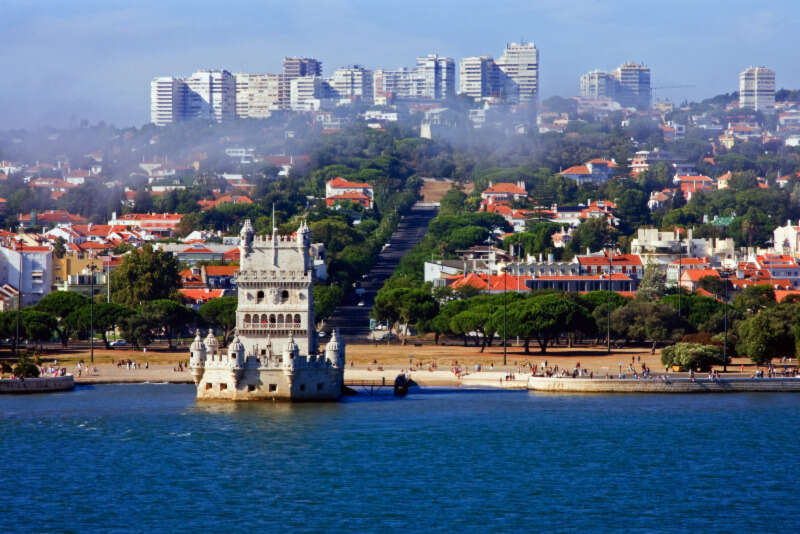 Reserve a rental car for today until the end of your Portugal vacation. Renting a car is the easiest way to get around the country, and it's not outrageously expensive. You'll find several well known car rental companies such as Hertz, Enterprise, Europcar, Avis, or Sixt in Lisbon. Websites such as booking.com are a handy tool to compare prices. Having a car at your disposal will allow you to explore places that are a little out of the way of public transportation and make your own schedule. It's also a great way to make the most of your time, since you'll be getting from point A to point B faster. Driving in Portugal is generally easy, traffic is manageable, and the roads are good. However, some of the smaller villages can have narrow roads that aren't as well maintained as the roads in the bigger cities, so be careful when venturing off the beaten path. Here are some essential tips for renting a car in Portugal:
Make a reservation ahead of time to ensure you have a vehicle.
If you are planning to visit smaller villages, rent a smaller car. In Europe, you don't need an SUV to comfortable get around.
If you are not used to driving a manual transmission, make sure to reserve an automatic one. If you don't specific this, your car will most likely have the manual transmission.
When taking possession of the car, check for damages and take pictures of anything you find. Have the person in charge make a note of your findings so that you won't be held responsible for the damage upon returning the car.
Check ahead of time if your license is valid to drive in Portugal. For example, a US drivers license will be accepted, but depending on where you come from you may need to acquire an international license before your trip.
Before you rent, check the options for insurance. The only required insurance is unlimited third-party liability insurance, but it's good to be covered for everything, just in case. Contact your car insurance and your credit card company to find out if either one of them will cover rental cars in a foreign country, or give you the option to buy this kind of insurance for a small fee. This option will almost guaranteed be cheaper than buying insurance from the rental car company.
Portugal has toll roads. We highly recommend getting a transponder from the rental car company to avoid getting stressed out about tolls. Not all toll booth have the option to pay cash, and with a transponder you have nothing to worry about.
If you drive in major cities and encounter someone helping you to park, know that they expect to receive a tip.
If you don't feel comfortable driving in a foreign country, train travel is also a good option.
Now that we covered transportation, let's go on a road trip! There are two places you should visit when you head out: Torre de Belém and Jerónimos Monastery. Torre de Belém, or the Belem Tower, is not just one of Lisbon's main attractions, but also a UNESCO World Heritage Site. From the city center, it's only a 20 minute drive to the tower, which was built in the 16th century. Back then it served as a fortification, a gateway into the city, and it was the point from which Portugal's explorers set off for new adventures. You can tour the inside and enjoy beautiful views of the Tagus River, or opt to wander around the outside to admire this impressive building.
Just a little over a mile away, you'll find the second part of this UNESCO World Heritage Site: Jerónimos Monastery, or Monastery of the Hieronymites. Built in the early 16th century in the gothic manueline style, the monastery started its life as the seat of the Portuguese royals, but became a monastery in the 19th century.
After spending the morning sightseeing, it's time to head south to the Algarve. Base yourself in the small town of Faro, where you are in a good position to explore the surrounding area. The drive from the monastery to Faro is roughly 180 miles. By the time you get there and have been sitting the car for a few hours, you will want to get out and stretch your legs. You could wander around the historic quarter and take in the sights.
Cathedral of Faro, a Roman church built in the 13th century representing the Baroque and Renaissance style.
Igreja Da Misericordia, once a chapel, today a church, built at the very end of the 15th century.
Arco De Repouso, an arch built in the 13th century by the Moors to add to the city's defenses.
Nucleo Museologico Da Villa Romana De Milreu, the ruins of a Roman villa, complete with a temple, baths, and incredibly colorful mosaics.
Jewish Heritage Centre, a cemetery in the place where there was once a flourishing community which was later expelled.
Or, if you are hungry, take the opportunity and join a 3 hour classic food tour. If you decided to explore on your own, head to Pigs and Cows for dinner afterwards. While the concept is indeed inspired by pigs and cows, the menu offers a wide variety of food that'll ensure one of the best culinary experiences ever.
Day 4 – Enjoy Nature
Getting into nature after spending time in the city is one of the best things to do. Start your day with a Ria Formosa Natural Park and islands boat cruise. A local guide will educate you about the region's nature and wildlife while you enjoy a gentle ride on a catamaran. This tour lasts about 3 hours, so you'll have the afternoon to head to the beautiful beaches of the Algarve! For the best amenities, choose one beach from Faro's Golden Triangle: Praia do Garrao, Ancao Beach, or Vale do Lobo. You'll find the best photo opportunities at Cabo de Santa Maria, Praia de Faro, and Culatra Beach. Calm waters can be found at Faro Este. Barreta Island, or Ilha Deserta, is the most quiet beach, especially during high season. Go for a walk, soak up the sun, or learn how to surf!
If that's not your cup of tea, you can choose to go on a dolphin and wildlife watching tour. The Algarve is famous for it's fantastic caves!
Hungry after a long day of play? You could decide to have an authentic Portuguese cooking experience. Or, head to one of Faro's excellent restaurants. Book a table at EPICUR Wine Boutique & Gastropub or to Tasca do Ricky for culinary delights.
Day 5 – Head To The Edge Of The World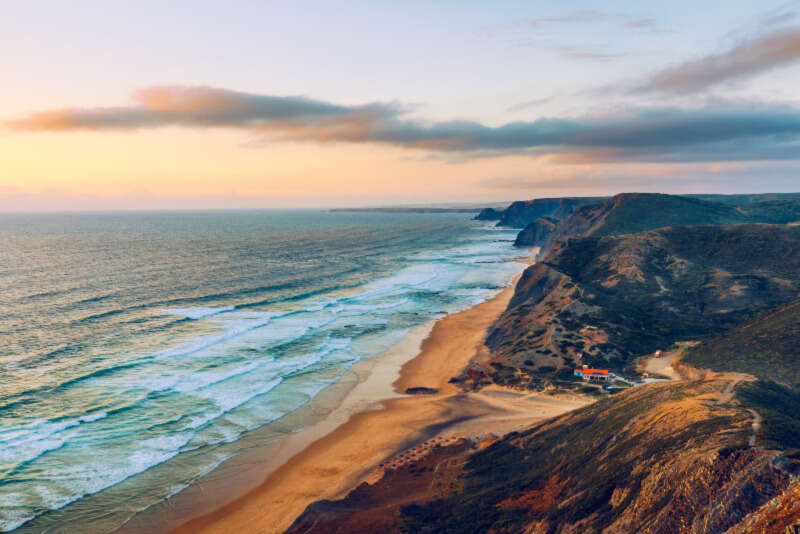 Faro is a good base camp for an exploration of the Algarve. Today, hop in your rental car and drive to Sagres. In less than 1.5 hours you will arrive at the Algarve's extreme western tip featuring some of the most dramatic scenery to be found anywhere in Portugal. Sagres is a very popular spot for surfing, but if that's not your jam, there are plenty of other things to do. Do you love to hike? There are plenty of trails in the area!
Fortaleza de Sagres com observatório para pôr do sol – an easy, 2.5 mile loop with an elevation gain of 344 feet
Ponta da Atalaia – Porto de Pesca da Baleeira – an easy 2.3 mile out and back trail with an elevation gain of 341 feet
Praia Martinhal – Praia da Ingrina – a moderate 10 mile loop with an elevation gain of 1,240 feet
Praia da Mareta – Fortaleza de Sagres – a moderate 4.4 mile loop with an elevation gain of 669 feet
Rota Circular de Sagres – a hard 30.4 mile loop with an elevation gain of 2,864 feet
If you would rather have a quiet day, start by exploring the town of Sagres. The main attraction is the Fortaleza de Sagres, a fort dating back to the 15th century. The fishing harbor is not just a great place to buy fresh fish if you are inclined to do so, but there's a daily fish auction that's worth witnessing. It's also perfect for a scenic stroll, after which you might be hungry for lunch. Popular lunch spots are Babugem, Restaurante A Sereia, and Vila Velha.
After lunch, head out to Cabo de São Vicente (Cape St. Vincent) to stand at the southwesternmost point of Europe and admire the beautiful views of the sheer cliffs and the wild Atlantic ocean. Take scenic pictures with the lighthouse! Now you may want to relax for a bit, and what better place to do so then the beach? The closest and most popular beach is Praia da Mareta, a sweeping stretch of golden sand protected from the often relentless winds. If this beach is too busy for you, one of the other three beaches located in walking distance of Sagres might tickle your fancy: Praia do Tonel, Praia da Baleeira, or Praia do Martinhal. After a full day, head back to Faro and enjoy a good night's sleep.
Day 6 – Lagos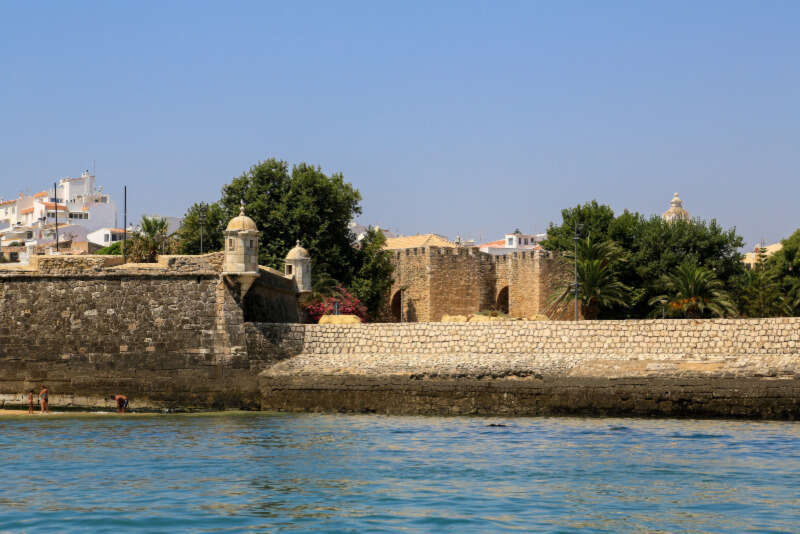 Pack your bags, make one last stop in the beautiful Algarve, and then start heading north again. Lagos is a stop you should definitely include in your 10-day Portugal itinerary. Lagos's most famous feature is the Ponta da Piedade (Point of Mercy), a group of golden rock formations jutting 65 feet into the air, creating the perfect photo opportunity with a great view. You can view them from atop and even take the stairs down to the beach, but the most fun ways to see the Ponta da Piedade is from the water. You could opt for a half day cruise to Ponta da Piedade with lunch and drinks, or, if you are looking for a more active adventure, kayak to go inside Ponta da Piedade caves and grottos. The second most famous attraction in Lagos is the Algar de Benagil, the stunning Benagil cave open to the sky. The easiest way to see it is on a 2 hour guided tour and boat trip. Don't make it too long of a day, you'll want to make the three hour drive back towards Lisbon for your sightseeing day tomorrow!
Day 7 – Sintra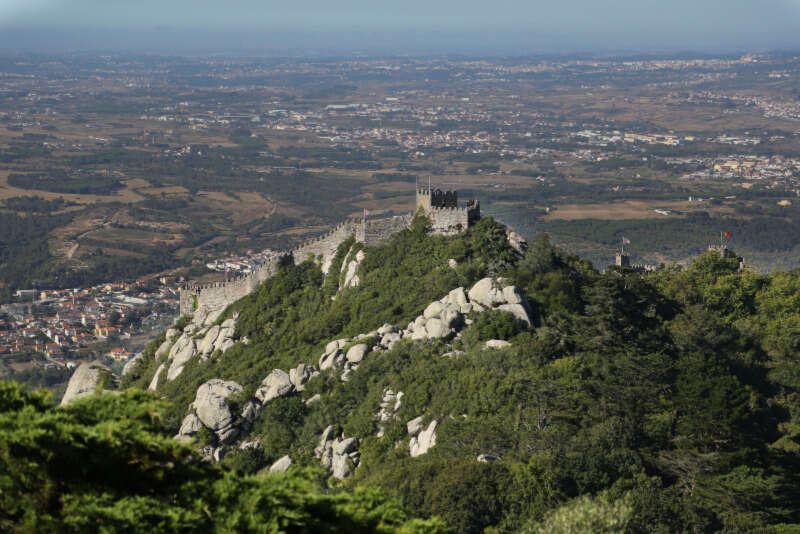 Back in the day Sintra was where the Portuguese royalty resided and we totally understand why! Mountains, forests, and views as far as the eye can see make this place special. Today, visitors can delight not just in the landscape, but the opportunity to visit gorgeous palaces and a medieval castle. Here's your schedule for the day:
Colorful Pena Palace: one of Portugal's seven wonders, it looks like a Disney castle but was built way before Walt Disney's time – in 1838
Cruz Alta: located in Pena Park, Cruz Alta is a cross marking the highest point in the Sintra Mountain Range, offering sweeping views
Castle of the Moors: a Moorish castle, once built to defend the city and towering high above on a mountain
Park and Palace of Monserrate: another Moorish palace, slightly out of the way, but you can not miss this extravaganza
Quinta da Regaleira: a magnificent 16th century manor built in the Renaissance style
Palace of Sintra: the oldest palace in town, dating back to the 15th century
Cabo da Roca: continental Europe's westernmost point is marked by a lighthouse
That's just a selection of all there is to see in Sintra. If you feel slightly overwhelmed by the choices, you can stay in Lisbon on the night of day 6, leave your rental car behind, and opt to book a guided tour instead. Either do a Sintra small group tour to get the full Sintra experience, or opt for a day trip that includes neighboring Cascais, a fun small town worth visiting, such as this small group tour to Sintra, Pena Palace, pass by Regaleira, Cabo Roca, Cascais.
Looking for a place to eat after such exertion? Tascantiga, Romaria de Baco, or Piriquita are great choices of restaurants.
Day 8 – Vila Nova de Gaia & Porto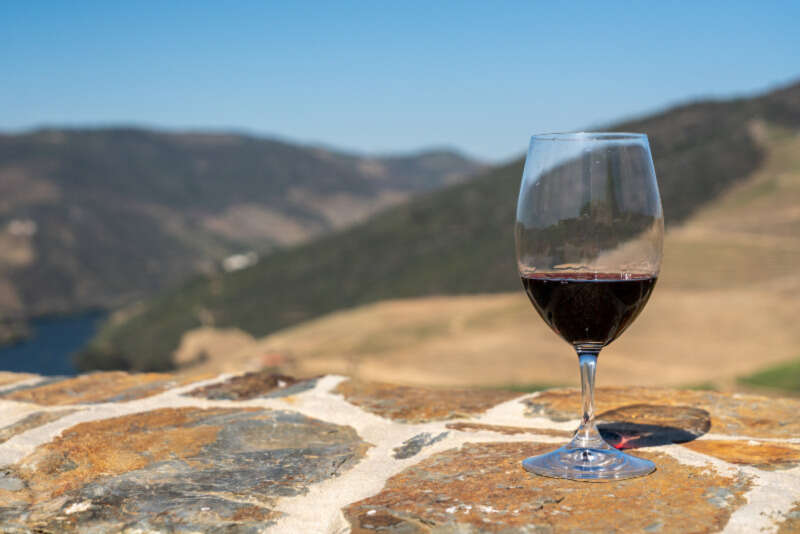 From Sintra, it's a 3 hour drive to Porto, located in northern Portugal. To make the most of your Portugal trip, we recommend flying into Lisbon and our of Porto. That way you cut down on travel time between cities and have enough time to enjoy the beautiful city of Porto. But before you dive head on back into city life, stop at Vila Nova de Gaia. This medium sized city is located just south of Porto, and is world-renowned for being a hub of the port wine industry. The perfect place to indulge your love for wine tourism! Port wine is a sweet red wine, usually served as a dessert wine, though there are also dry, semi-dry, and white varieties. Its production dates back to the 17th century. For those who love wine, we recommend booking a wine class with tastings, or even a port wine cocktails workshop at Espaço Porto Cruz for some extra fun. What else is there to do?
Visit a port lodge, where you can learn about the different types of port wine
Ride the Teleférico de Gaia cable car
Explore the Mosteiro da Serra do Pilar, a monastery that is a UNESCO World Heritage Site
Jardim do Morro is a quiet park, perfect for a stroll and taking panoramic pictures of Porto
Walk across the iconic Dom Luís I Bridge with sweeping views of the Duoro River
Take unique pictures at Capela do Senhor da Pedra, a chapel by the ocean, especially beautiful on sunny days
Head to Porto and check into your hotel. Go on a short walk to discover some of the best restaurants: MUU Steakhouse if you are in need of serious amounts of protein, Casa da Mariquinhas if you want one more taste of the famous Portuguese cuisine, Farinha if you are craving a pizza, Morabeza Boavista for African fusion, or CastleRock Pub & Hotel for some pub grub.
Day 9 – Douro Valley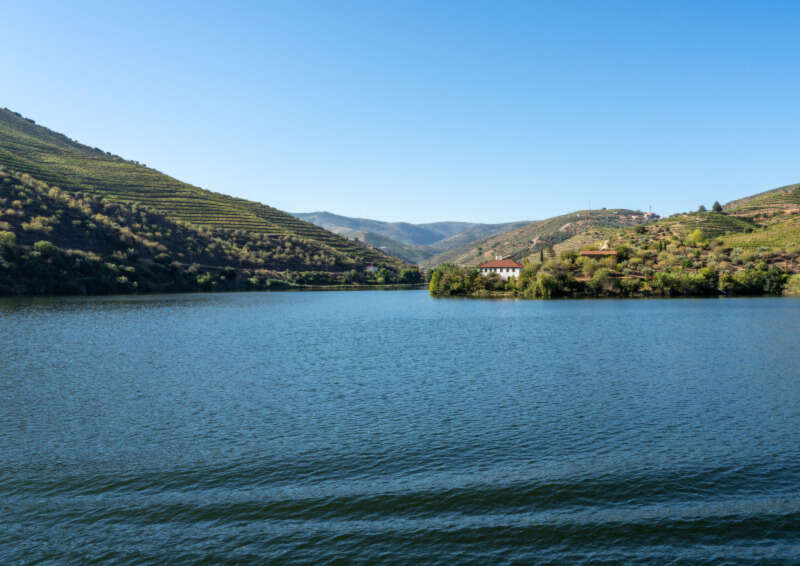 The Douro Valley is Portugal's wine region. You can drive there yourself, or take the Porto to Pocinho train, which takes about 3.5 hours to get there from Porto. But the most convenient way to visit is to book a tour. You might not want to drive after a wine tasting or three! An authentic Douro wine tour will include lunch and a river cruise on the Douro River. What can you expect? You'll be picked up from your hotel, off to start a 9-10 hour day. The drive is very scenic, which is yet another reason to book a tour rather than driving on your own. It's hard to drive if all you want is to take in the sights! The tour stops in the historical city of Peso da Régua, where your guide will give you a short introduction and give you some free time to explore. Next, you'll head to Quinta do Tedo and learn about the process of wine making. Of course you also get a tasting! Next stop is Pinhão, where you'll have lunch and hop on a boat for a 1 hour river cruise. Last but not least on the list of attractions today is a small winery: Quinta do Beijo. The owner himself will tell you all about his business and offer insights straight from the grounds. Then you'll head back to Porto.
Day 10 – Porto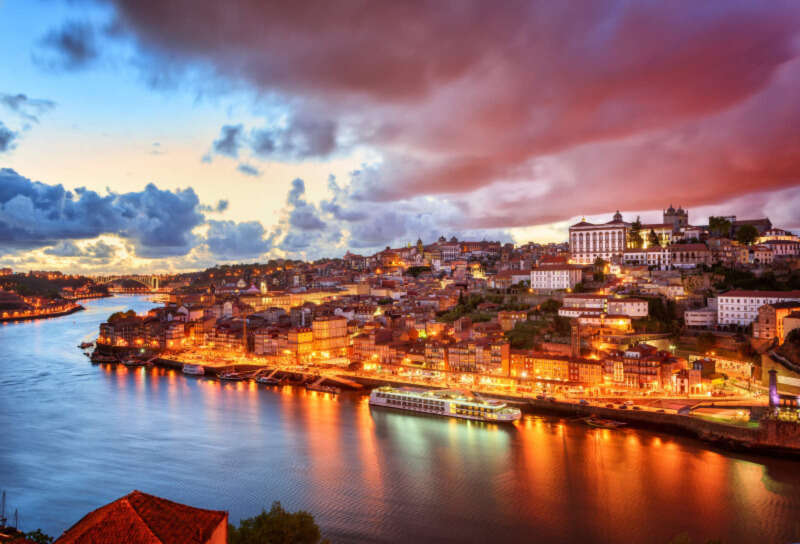 Opt for a late flight home to take full advantage of this last day. Before you commit to a hotel, call ahead to ask if they will store your luggage for you after check out. Make the most of your last half day in Portugal to explore the city of Porto. It's admittedly a lot to squeeze into such a short amount of time. To guarantee seeing all the major sights, book a private electric Tuk Tuk sightseeing tour of historic Porto, or alternatively a 3 hour guided walking tour.
If you prefer to have a relaxed time and go sightseeing on your own, don't miss these major sights:
Sé cathedral, built in the 12th century
Clérigos Tower, standing 249 feet tall, perfect views of the city from the top
Igreja de São Francisco, the most splendid church you can imagine
Mercado do Porto Belo is the perfect place to shop for unique gifts
Get incredible views of the river at the Ribeira district (and buy a souvenir or two)
If you are a major fan of Harry Potter, Porto will be a treat for you. Did you know that J.K. Rowling lived in Porto for a while, and even wrote the first 3 chapters of Harry Potter and the Philosopher's Stone there? The city inspired several elements in the Harry Potter series, and the best way to find out the details is to book a Harry Potter tour. A highlight for every Potterhead!
And before you know it, your 10-day Portugal itinerary has come to an end. Hopefully this itinerary will help you plan the perfect vacation. Now, let's get into some details. Where should you stay? And what's the proper custom and etiquette to follow?
Custom and Etiquette in Portugal
As visitors, we want to be respectful of another country's customs and etiquette. Here are some pointers:
Handshakes are the most common greeting. Women often greet each other with hugs and kisses.
Punctuality is not taken too seriously. Being 15-30 minutes late is acceptable.
It's customary to tip around 10% at restaurants.
The Portuguese tend to dress conservatively, and it's respectful to not go to a store or any attractions in nothing but your bikini top and shorts.
Family is the center of Portuguese life. This can lead to a restaurant being very noisy with toddlers running around, and elders, who enjoy special respect and privileges, cutting in line in front of you – and that's normal and okay.
Meals are taken rather late. It's not unusual to have lunch at 2 or 3 pm, with dinner starting around 9 pm.
Learning some basic phrases in Portuguese will be much appreciated by the locals and get you a long way.
The best places to stay in Portugal
A 5 star hotel, a hostel, a vacation rental… no matter what you are looking for, you will find it! These are our favorites.
Lisbon
Faro
Sintra
Porto
If this sounds amazing, but you want someone else to do all the planning for you, then be sure to check out Discover Portugal, the Girls Who Travel tour coming up in May!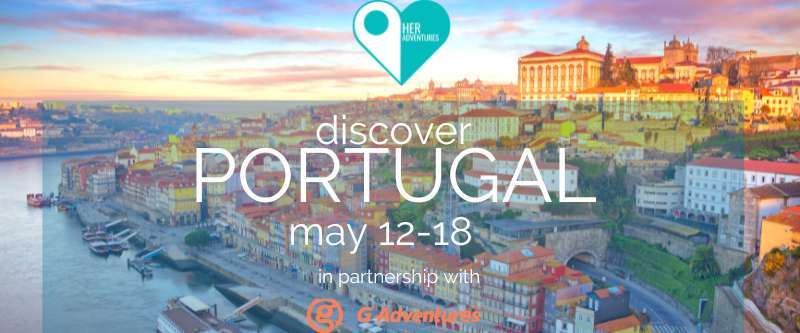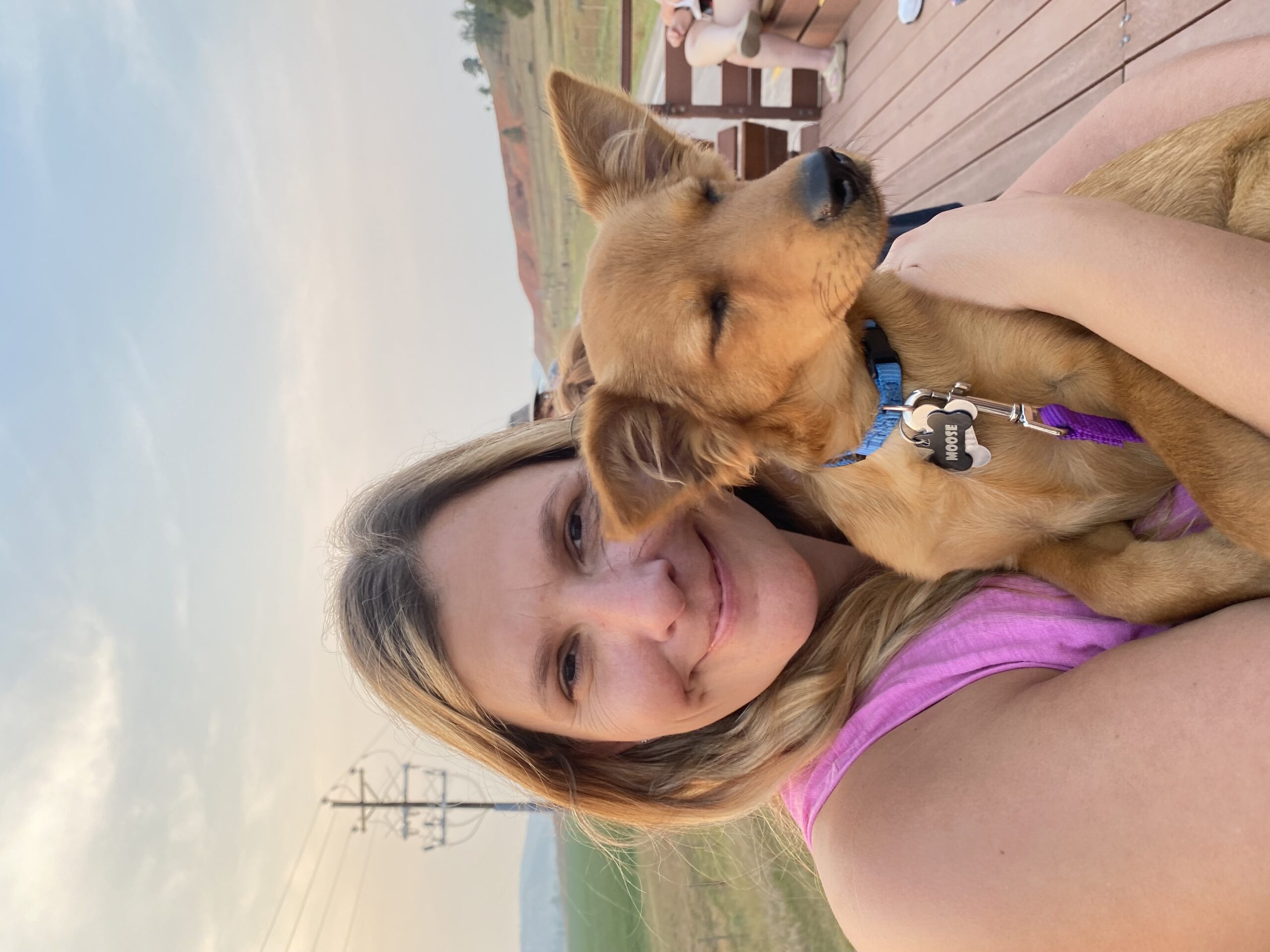 Jenny grew up in Germany. All she ever wanted out of life was to leave and have adventures. Jenny always traveled as much as the budget would allow, and when she met her husband traveling became a full-time thing. You can follow Jenny on her blog and Facebook.