Portugal is beautiful in its own ramshackle, unkempt way.  Accept her beauty as she gives it to you; even though she is unassuming and even unaware of what she offers visitors.  Each cobblestone street, each narrow passageway is similar to unwrapping a gift.  I perused these gifts during 2 weeks in Portugal, a solo trip in September 2018.  This was my first solo trip; I was nervous and excited.  I recently read that Portugal has a 26% unemployment rate, but I only witnessed bustling streets with tons of European and British tourists, downright honesty and some unbelievable prices on food. It was two weeks of glorious travel in Portugal.
Lisbon
I landed in Lisbon, the capital of Portugal, on a early evening on Tuesday and had decided to stay in a shared apartment (a first for me).  The metro station is a walkway from the airport and the ticket machines are easy to navigate.  For $1.20 Euro I could go anywhere in the city!  Lisbon was my only pre-planned hotel and the rest of the trip was spontaneous reservations based on where I landed for the day. Spontaneity was part of my glorious travel in Portugal.
I will confess, I spent a lot of time lost.  It is easy to do when street names are not in English, not visible and windy, cobbled streets begin to all look the same.  When I got off the appointed station, I exited the wrong direction which left me wandering the Bairro Alto/Bica neighborhood for about an hour looking for my reserved apartment.  It was hot and a roller bag (even small ones) coupled with cobblestone streets don't make for easy travel.  I did finally find the apartment and fortunately it was in a great location.
I wandered all over Lisbon for the next two days, mainly by foot, seeing all the sites and even taking the streetcar to Belem.  On my third day, I made the day trip to Sintra.  I headed to the Rossio train station where a round trip ticket was $5.00 Euro.  It was an easy 20 minute train ride out and a quick walk from the station to town.
Obidos
On my fourth day, I took the metro to the airport to pick up my rental car.  I am pretty sure I was the only person in the country that wanted an automatic, but I guess this distinction gave me a BMW, so it all worked out.  
  I headed to Obidos.  What a day to continue my glorious travel in Portugal! It was a quaint (dare I say fake) medieval town (but also the wedding capital apparently).  I walked through the main drag littered with trinket shops and cafes.  I climbed the wall of the castle to see the countryside.  Overall it was an easy-in, easy-out trip completed in one hour.  If your time is limited, don't bother stopping.
Coimbra and a Side Trip
My plan was to head to Coimbra next but I saw the sign for Nazare and decided to take a detour!  Nazare was the quintessential fishing village.  It was clouded over with fog, but it had a wonderful, long, sandy beach.  I found a cafe (there were many to choose from) and had my first fish dish in Portugal.  The Dourada (fish) was good and came with salad and potatoes (a theme I would see in many of my meals).
Nine miles outside of Coimbra were Roman ruins that I stopped to see.  The mosaics were incredibly preserved and an interesting museum provided a little relief from the unrelenting heat.   Next stop was Coimbra.  It was crowded, traffic-filled and I never was able to find the location of my airbnb.  So after one and a half hours circling the city I gave up and decided to find a hotel in a town on the way to Porto.  I ended up in Aveiro (Portugal's Venice) and sure enough there were gondolas and canal. A highlight of my glorious travel in Portugal.
Porto
In the morning I made my way to Porto and since I had read that driving in Porto was not recommended, I decided to stay north of the city.  It ended up being an industrial area with little charm, but the metro was easy to find and dropped me right in the downtown area.  While waiting on the platform, I met a man from Morocco.  He was doing some work in Porto so I asked him what he thought I should see.  He suggested an itinerary and even made sure I got off on the correct metro stop before releasing me to explore.  When traveling alone, these bits of kindness are very appreciated!
The metro stop put me in this amazing garden across from the city.  What an unforgettable way to be introduced to Porto.  I walked across the bridge and walked up and down the many hills.  The Ribiera walk was crowded and people watching was at its finest.  I also visited the most beautiful train station with tile work more impressive than anything else I had seen.
The Douro Valley
After spending the night in Porto, I head to the Douro Valley where I spent two nights in Pinhao.  This little town was the perfect central location to an amazing gorgeous area.  I stayed at the Hotel Douro, which was family run and the perfect refuge.  The hotel was smack in the middle of town and an easy walk to several Quintas and the river.  I immediately walked the bridge and did a port tasting at Quinta Das Carvalhas.  I had never had port before and also did not realize the variety.  White, rose and red ports exist!  Who knew?!
For $10 Euro I took a one hour boat ride down the Douro.   It was the perfect amount of time and blessed me with more amazing views of the rolling hills, vineyards and Quintas along the way.  I ended the day by watching the sunset from the veranda of my hotel…absolutely perfect.
Hiking to Provesende
I mentioned to the hotel owner that I wanted to do a hike and he suggested visiting the village of Provesende.  It was 10 Km and ALL uphill, but the rewarding vistas were worth every bead of sweat down my forehead.  The stunning hills, valleys, and many Quintas made the time pass and I ended in a tiny town lost in time.  It was perfect.  I roamed the tiny, very quiet town, had a coffee and knew there was no way I was walking back down with the stifling heat.  Fortunately, this tiny town was not too small for a taxi. 10 minutes later at $11 Euros (money well-spent!) I found myself back in Pinhao.
Driving South
After two heavenly days in Pinhao it was time to head south with the ultimate destination of Evora.  But I was in no rush…and had identified four small towns that I wanted to see.  I stopped in Belmonte, Sortelha, Marvao and Castelo de Vide.  Each of these towns were smaller, with few tourists and even fewer touristy shops.  In other words, pure heaven.  Of course, each town had a church and a castle and all were beautiful.  Castelo de Vide was not on my list but I needed a hotel and just happened upon this town…what a find!  Small, quaint, full of character and beautiful.  I feel like I have used the word beautiful way to much, but pictures and words truly cannot describe the Portugal I discovered, wandered through and embraced.
Evora
The next day, I headed to Evora.  Again, a last minute hotel find ended up being perfect.  The location of the hotel coupled with its beautiful details made my visit even better.  Evora was a nice-sized town with a university, Roman ruins and of course, an amazing array of churches.  St. Francis church (Igreja de São Francisco) was spectacular and Bones Chapel, with it entrance saying, "We bones that are here, for yours we wait" created an eerie experience for $5 Euro.  A bonus of entry was the nativity display on the other side of the building,  2600 nativity sets were displayed from around the world and in many different mediums.  There was also a small art gallery.  This was definitely, overall, worth a visit.  I dined outside on a cobblestone, hidden street and truly enjoyed Evora's vibe.
The Algarve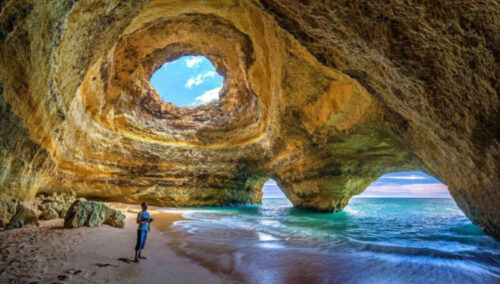 After spending the night, I headed down to the Algarve. This was the one area that not having a hotel in advance worked against me.  Similar to Lisbon, the Algarve was overcrowded with tourists.  I ended up staying in Lagos and it was not my favorite.  I did a day trip to Salema, a quiet kind-of-fishing village.  It was small and the beach was empty.  Sagres, with its dramatic cliffs was a worthwhile day trip from Lagos.
My 2 weeks in Portugal
Portugal was a gracious hostess.  She gave me beauty, history lessons, long lasting memories and the knowledge that I can travel alone.  Portugal is well worth the effort.  I will definitely return for more glorious travel in Portugal.
HR Manager by day and an active, curious traveler all the time! Also serial volunteer involved in helping women make long lasting changes in their own lives through skill development, mentoring and training.