You've planned a great trip, you are thinking about fun activities for your next family vacation, looking forward to all the interesting ways to create memories with your family while traveling, you are so excited… But first you have to get there!

Let's Chat About Airplane Travel With Kids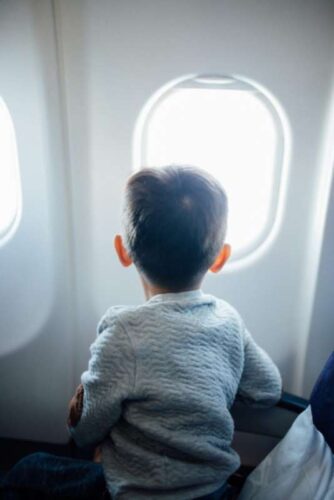 I have seen a lot on social media recently about airplane travel with kids who were disrupting the peace of the cabin of the plane. Lots of people are traveling with kids on planes. For example this article in Forbes regarding first class travel. There is debate as to whether families should travel in a designated 'family cabin'.

We Have All Been There…
As a frequent flyer, I've been there, as I am sure many of you have too. You sit in your seat and settle down to a book, or film.
Five minutes in it starts. The kid who has sensitive ears is screaming in pain and perforating your eardrums in the process. The unruly child who won't sit still and runs constantly up and down the isles, or, even more difficult to ignore, the kid behind you kicking the back of your seat. What do you do? I have traveled with my own daughter since she was a baby. Her first long haul flight from London to LA was when she was three. But, also traveled on my own before I had her and herein lies my point.

Unruly Children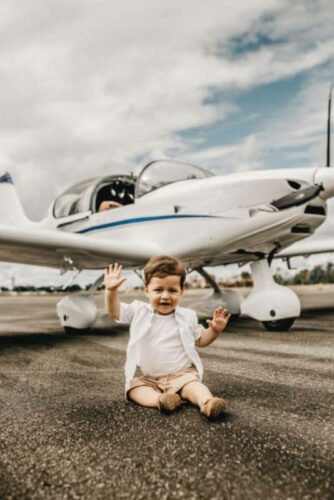 I will never be the person to say to anyone that they need to put up with any sort of unruly behavior by kids on planes. If a child is causing disruption, the parents are CLEARLY not dealing with it and it is obvious that the child has no disabilities that are exacerbating the situation, then you have every right to ask a flight attendant to intervene. You can even ask for help before that if it is really bothering you.

Stress
However, I would suggest that if the parent looks as if they are doing all they can to settle the child, the chances are your intervention will only make them feel more stressed than they already are. See, on a previous occasion, it is highly likely that that parent was a child-free flyer like you, in fact sometimes they might still be. Therefore, they will remember, (believe me), what it was like to travel as an adult without kids. They will remember settling down like you do, enjoying that space you rarely have. Inevitably, because of that, they are also likely to recognize the disruption their little darling is causing.

If The Issue Is Not Being Dealt With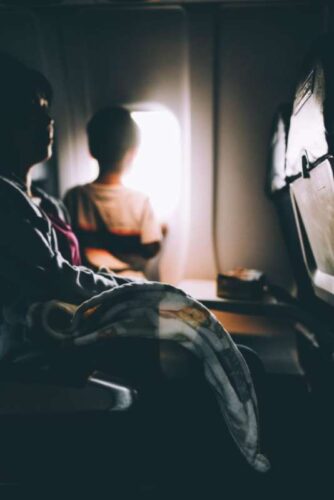 Now, on some occasions, as I mentioned before, a child is not disciplined properly during a flight. Some parents do not seem to notice the chaos that their offspring are causing around them during airplane travel with kids. I would encourage you to raise your concerns if this happens, because it is the courteous responsibility of all parents, and everyone else for that matter, to cause the least disruption to other passengers as possible.  Finally, I would like to add, that it is a common misconception that once you become a parent you can tolerate everyone else's kids. Not true. If anything, although as a parent you may be able to relate to what another parent is going through, you are also more likely to become irritated if the behavior is not dealt with correctly, because you compare it to your own parenting.

So What Should You Do?
If that kid is frequently kicking your seat, politely ask the parent to intervene. A couple of children are running around causing chaos in your cabin of the plane? Call a flight attendant. Maybe a child is distressed and the parents ARE doing their best to deal with it. If so, turn your music up on your headphones until they settle. Possibly even do a good deed for the day and ask if you can help.
Segregating families with kids from adult only travelers into a family cabin on a plane will not work unless it is optional. Some parents may choose this as a preferable choice. Others, like myself, would not. Parents are still adults. Trust me, they don't want to sit in a family cabin with the disruptive children any more than you do.
Happy travels ladies!
Michelle believes memories make you happy and stuff doesn't. Ditch the stuff and make more experiences. When she is 106, she will cherish those memories and unlikely care that her neighbor has a bigger or better car. You can take memories everywhere you go. You can't take all that stuff. You can follow Michelle on her blog, Facebook, and Instagram.