India is colourful, vibrant and diverse. We celebrate our diversity with splendour. One of the biggest celebrations in the country is Diwali.
Food, Fireworks, & Festivities of Diwali
Diwali or Deepavali is the festival of lights. It is based on the Hindu Calendar. Each year it falls somewhere between October – November. When you translate it from the most ancient language of the world, Sanskrit, Diwali means rows of light. Think Diwali and the whole country lights up in enthusiasm, colour and festivities.
The Origin of Diwali
Many Indian traditions and festivals have been passed down generations. There are many stories associated with the origin of Diwali. The most popular one is from Hindu mythology epic Ramayana. According to the legend, Lord Ram was sent on a 14 year exile by his father. The victorious return of Lord Ram with his wife Sita and brother Lakshman after killing the Demon King Ravana of Lanka is celebrated as Diwali. It signifies the triumph of good over evil. Light triumphed over darkness.
In other versions, Goddess Lakshmi emerged from the cosmic ocean on this day. She is the patron goddess of wealth & prosperity. And therefore it is celebrated as Diwali.
Diwali transcends religion and geographic boundaries. Not just people of the Hindu faith celebrate this festival. Buddhists, Sikhs and Jains also celebrate Diwali. The festival is not restricted to the Indian sub-continent alone. Diwali is an official festival in Singapore, Fiji, Guyana, Malaysia, Mauritius, Myanmar, Nepal, Sri Lanka, Suriname, Trinidad and Tobago.
The preparation
The anticipation and excitement of Diwali begins weeks before. Homes are cleaned, decluttered and spruced up. Streets, homes and shops are festooned with buntings and festive lighting. Elaborate coloured patterns called Rangoli are prepared as part of the decorations. People go on shopping sprees to buy new clothes. They also buy gifts for their family and friends, and home decoration items, too.
Decorations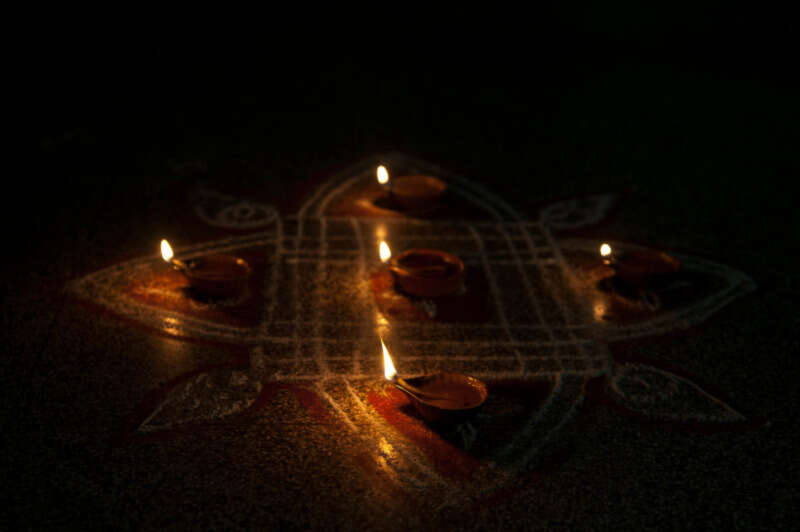 Lights, lights and more lights. Every home, every street, every store is bedecked in twinkling lights. These create a magical festive experience. In the earlier days, people used small earthen oil lamps. Soon these got an upgrade to fairy lights and the like, and joined the decorations.
In some parts of India, large paper lanterns called Kandeels are used to festoon the entrance of the house.
Rangoli
Another integral part of Diwali décor is Rangoli. Rangoli is an Indian art form. Intricate colourful patterns are drawn on the floor or on a pedestal. Most of the patterns have been passed down from generations. A multitude of colours is used in the process. The rangoli represents the happiness and positivity of a household. It is meant to welcome Lakshmi the goddess of wealth and good luck.
Food
In India, food is a celebration in itself. Festival food is a feast. Elaborate preparations are made. Each home overflows with Indian sweets of all shapes and sizes. The most loved Indian sweets include Ladoos, gulab jamun, jalebis, kaju katli, barfis, kalakand, peda, rosogulla. The list goes on. Sweets and snacks are exchanged with friends and family.
Fire crackers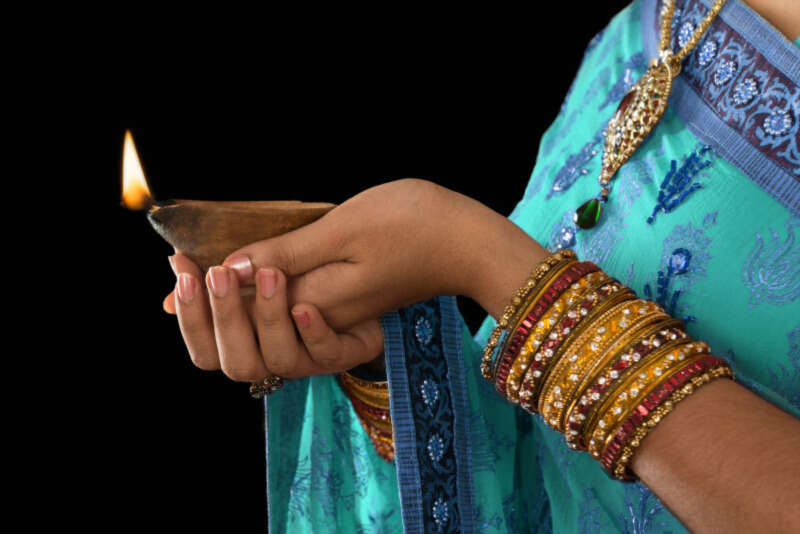 As night falls on Diwali, the sky comes alive with illuminating fireworks. Despite growing concerns over increasing sound and air pollution, fireworks are an important part of the festival.
In more ways than one, Diwali exemplifies the true Indian spirit. Vibrant, inviting, deeply spiritual yet flamboyant and ornate.