India's Golden Triangle is a famous tourist route. It connects the country's capital, Delhi, with Agra and Jaipur. All three cities are located in India's Northwest and are the most visited cities in this vast country. When you plot the route on a map it forms an almost-equilateral triangle. It's called 'golden' for the extraordinary sights, both religious and historical, that visitors get to take in on this trip.
India's Golden Triangle: Trip of a Lifetime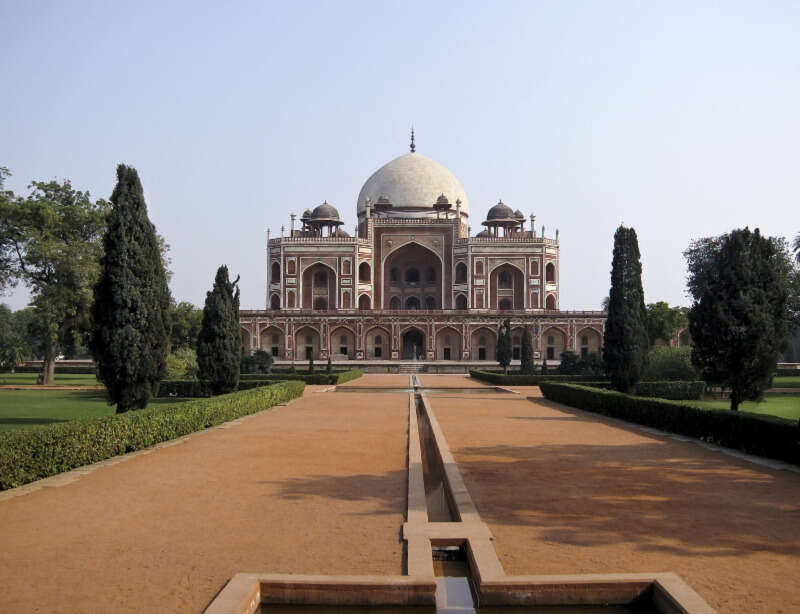 This post contains affiliate links. This means we make a small commission at no cost to you if you click through and make a purchase. All prices listed are accurate at time of publication.
The best time to go
These three destinations are fairly close to each other, and therefore the weather conditions will be similar. Due to its proximity to the desert, Thar Jaipur receives a little less rainfall than Delhi and Agra. During the summer (March – May) the temperatures can be scorching hot. It's not uncommon to experience 45 degrees Celsius (113 Fahrenheit).
June through September are the monsoon months. The temperatures are lower, but you may experience torrential rains that would most certainly sink all your touristy plans for the day.
For all these reasons, the ideal time to visit is winter (October – February). The average temperatures are much lower than they are during the summer months. They typically range from 22 – 32 degrees Celsius (72 – 90 Fahrenheit). Nights can be freezing cold, but the warm days lend themselves to wandering around these cities to see the sights.
The best way to get around
A trip to India's Golden Triangle can be done on a budget! The good news is that Delhi, Agra and Jaipur are all well connected by public transport. You can either choose to take the bus, the train, or a taxi, if you want to spend a little more and travel more comfortably.
Ride the bus
The cheapest busses are also the least comfortable ones. They make multiple stops, and therefore you will need to plan a little more time for your journey. If that's not your thing, or you are under time constraints, consider paying a little extra for a deluxe bus, which stops less often and offers more comfort (and has air-conditioning!). These busses are run by regional companies such as Rajasthan Roadways. You can purchase your ticket online, or in person at the bus station.
Take the train
The train is the best way to get around India's Golden Triangle. Much quicker than the bus, riding the train will still allow you the glimpses of rural India that you may miss if you take the plane. You can book your ticket online or right at the train station. Spend the few hours between stops in India's golden triangle gazing out the window, relaxing, and maybe listening to a podcast.
Hire a taxi
You can hire a private car and driver to explore India's Golden Triangle. While this option is more expensive than the ones previously mentioned, there is one huge advantage: you will be traveling with a local. Your driver may be able to point out off the beaten path attractions and restaurants that you wouldn't necessarily notice on your own.
If you choose to go this route, make sure you hire from a reputable company. Another way to find a reliable driver is to ask for a recommendation at your hotel.
Explore India's Golden Triangle
You made the trip to India, and now you are ready to go out and explore! We made a list of the must-sees in every city.
Delhi
Chances are you arrived in Delhi and will start your journey of India's Golden Triangle here. The city of Delhi consists of two parts. In the North you will find Old Delhi, the historic city. In the South is New Delhi, which was been the capital of India since 1947. Delhi is fast-paced and may seem frantic at times, but take a deep breath, immerse yourself in this fun-filled place and explore the ancient history and daily life here.
Full Day City Tour By Tuk Tuk
Unless you have a ton of time to spend in Delhi, it will be tough to everything this place has to offer. The full day city tour By Tuk Tuk is a great way to save time and energy and still see the most significant sights.
Humayun's Tomb
Humayun's tomb was built in the 1560s and has been a UNESCO World Heritage Site since 1993. It's the tomb of the Mughal Emperor Humayun and was commissioned by his first wife, Empress Bega Begum. It has cultural significance as the first garden tomb and inspired architectural innovations that eventually led up to the construction of the Taj Mahal.
The Red Fort
This historical fort served as the main residence of the Mughal Emperors. It was commissioned on May 12 1638 by Emperor Shah Jahan and represents the peak of Mughal architecture. It was designed by Ustad Ahmad Lahori, the same man who designed the Taj Mahal.
Wander around the bazaars of Old Delhi
Wander around Old Delhi, get lost in the bazaars and look for hidden treasure. Visit Masjid-i Jehan-Numa, the largest mosque in all of India, and explore Khari Baoli, Asia's largest wholesale spice market. Keep an eye out for the colorfully painted merchant houses, built in the 18th century.
Try the street food
No visit to Delhi would be complete without sampling the culinary delights the street food vendors have to offer. Try chaatpapdi (fried wafers loaded with potatoes, chickpeas, yoghurt and chili), or maybe golgappas (fried hollow dough filled with chickpeas and spicy potatoes).
Agra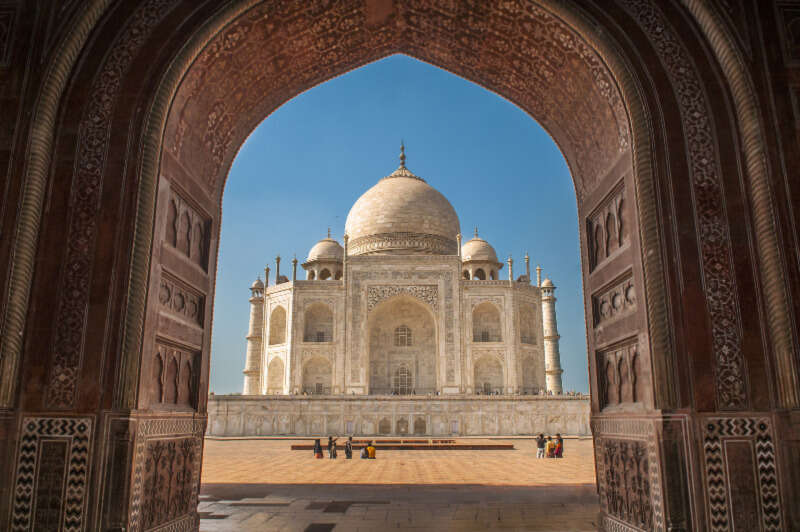 Just when you thought you've had your fill of India's beauty, you get to visit Agra. Located on the banks of the Yamuna river in the state of Uttar Pradesh, Agra is most famous for the Taj Mahal. But there's more to see!
Taj Mahal
The Taj Mahal is one of the seven wonders of the world, and undoubtedly one of India's most famous sights. Built entirely out of white marble, this immense mausoleum was built between 1631 and 1648. In 1982 it was declared a UNESCO World Heritage site, since it is considered to be the greatest architectural achievement in the whole range of Indo-Islamic architecture. Skip the line and take in this beautiful sight at your leisure!

Agra Fort
Until 1638, Agra Fort, also called Red Fort, was the main residence of the emperors of the Mughal Dynasty. That year the capital of India was shifted from Agra to Delhi. Built in 1565 this red sandstone fort is more like a walled city than a fort. Just like the Taj Mahal, Agra Fort is a UNESCO World Heritage Site you shouldn't miss!
Sheesh Mahal
The Sheesh Mahal, or Palace of Mirrors, is inside Agra Fort. It was an addition, built between 1631-1640 AD. It also served as the imperial bath of the Emperor. The Palace of Mirrors is an incredible beautiful sight to see. The walls and ceilings are widely inlaid with mirrors, which give the whole palace a sparkling effect when the light hits them. When you visit Agra Fort, don't miss the Palace of Mirrors.
Tomb of Itimad-ud-Daulah
The Tomb of Itimad-ud-Daulah, sometimes called the baby Taj, was completed in 1628 and is regarded as a draft of the Taj Mahal. Even if you have already visited the Taj Mahal, the tomb is worth a stop. That's because of its marble jali works, which is considered more delicate than any other structure of Agra. This includes the Taj Mahal!
Jaipur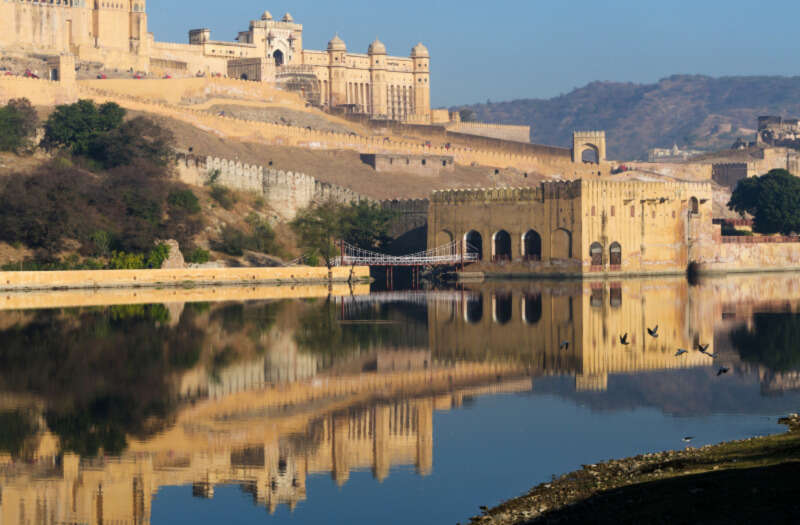 Once you've had your fill of Agra, move on to Jaipur. Jaipur is the capital City of Rajasthan, and also known as the 'Pink City'. This name derives from Jaipur's trademark building color. Jaipur's second nickname, 'Paris of India', is due to its many tourist attractions and the fact that it was the first planned city of India. There are so many things to see in Jaipur, we can't name them all here. But when you travel India's Golden Triangle, you should not miss the five attractions mentioned below.
Jantar Mantar Observatory
Rajput King Sawai Jai Singh II, the founder of Jaipur, built this monument as a collection of 19 astronomical instruments. This UNESCO World Heritage site features the world's largest stone sundial and was completed in 1734.
Hawa Mahal (Palace of Wind)
The Palace of Wind is undoubtedly Jaipur's most distinctive landmark. In 1799 Maharaja Sawai Pratap Singh constructed this unusual palace to enable the ladies of the royal household to watch the life and processions of the city. Made of pink and red sandstone, the palace offers spectacular views over the city.
Birla Mandir Temple
The Birla family built several temples around India. Birla Mandir in Jaipur is definitely worth a visit. Built in 1988 and constructed solely of white marble, it is dedicated to Hindu Gods. For a special experience, visit the temple during a festival, such as Diwali, which is celebrated with great splendor.
Galtaji Temple
Galtaji temple is also called 'the monkey temple'. It's situated roughly 10 kilometers out of town, but had to be included in the must-see list of Jaipur. This ancient Hindu pilgrimage is a series of temples built into a ring of hills surrounding Jaipur. Pilgrims can bath in sacred water tanks, filled by the spring water flowing down the hills.
Patrika Gate
If you are looking for the perfect, Insta-worthy picture on your tour of India's Golden Triangle, Patrika Gate is a stop you can't miss. It stands at the entrance to Jawahar Circle, the biggest circular park in Asia. Based on 7 original heritage gates that formed the entrance to Jaipur, it was built by the media conglomerate Rajasthan Patrika Group of Publications in 2016.
India's Golden Triangle has so much to offer, we can't cram it all in one article. Go on and explore, and don't forget to tag us in your Instagram pictures @girlswhotravel!