Travel to Bangladesh! The Chittagong Hill Tracts is a gorgeous area that is a must visit for anyone in the area! Originally, this area was the eastern wing of Pakistan, but now it is a semi-autonomous region within Bangladesh. It is the home of a dozen different Adivasi tribes – the Jumma people – each with their own language, religion, physical appearance, dress, and customs.
Highlights Of Bangladesh – Chittagong Hill Tracts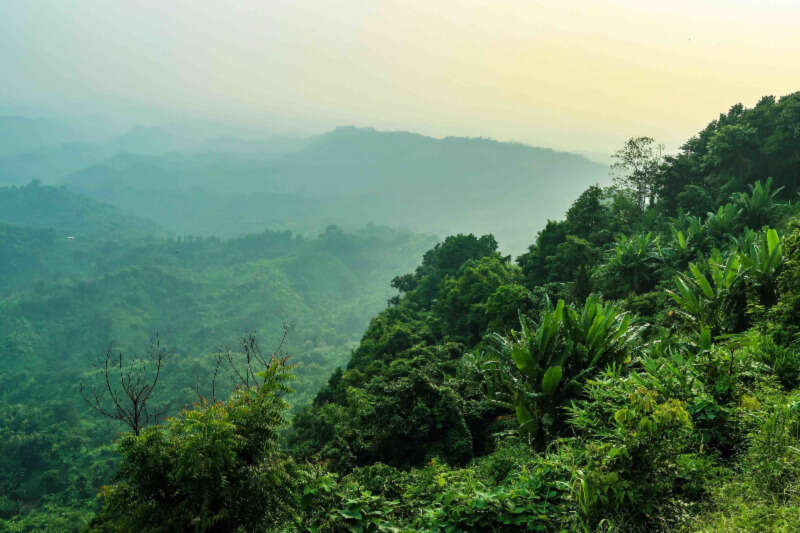 What to do around Chittagong?
The best base to explore this spectacular hilly area is the town of Banderban – a mere 2-hour drive from Chittagong. From Banderban, you can explore the different tribal villages by foot, auto-rickshaw, or bamboo boat.
Tribal Market
When you travel to Bangladesh don't miss this market. Every Wednesday and Sunday morning, the elder tribal women will make the journey from their villages to Banderban to sell home-grown produce. They come armed with a dozen different types of vegetables, fruits, dried fish, chunks of iguana meat, and live animals (frogs, snails, eels and chickens). It's a lively scene and a great place to see the different tribal women gathered all together. Most of the women smoke self-rolled cigars from tobacco leaves, a rare sight in Bangladesh.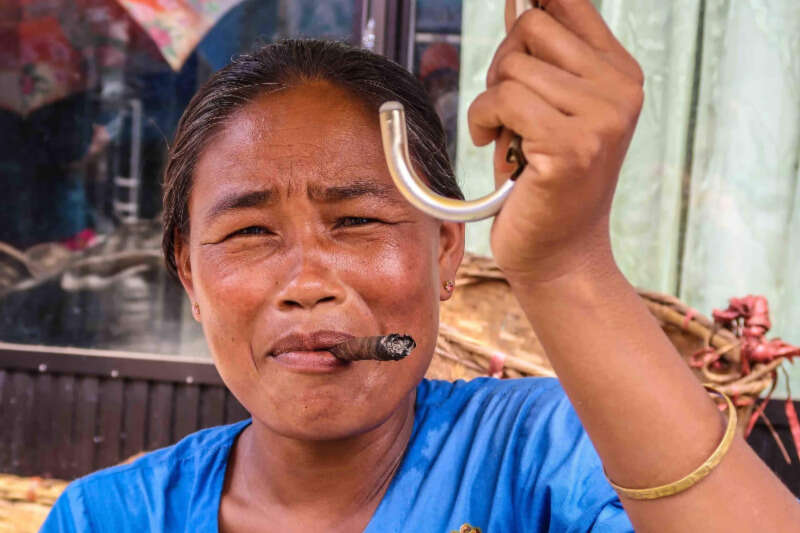 River Villages
Many of the tribal villages in the area are only accessible by water: navigating the wide Sangu river that snakes through the thickly forested landscape. It was clear that some of the locals had never seen a foreign visitor before, as I was met with big smiles and curious glances when I visited some of the villages. My guide explained that the locals were surprised to see me, especially since I had traveled by myself.
The best part of visiting these people was the boat ride to get there. Slowly drifting down the river on a rustic bamboo boat showed a great inside in local Bangladeshi river life. A three-hour boat trip down the river and into the villages will only cost you 500 Taka (5 euro).
Golden Temple
In a country where more than 90% of the population is Muslim, the Chittagong district has the largest community of Buddhists in Bangladesh. Balancing on the top of a hill, overlooking the jungle, is the Golden Temple (or Dhatu Jadi). The Arkanese-style monastery houses several monks. The golden stupa houses the second-large Buddha in Bangladesh! Be sure the area will be open when you visit – unfortunately, I couldn't check out the Buddah statue because the monks had closed the stupa for prayers. Still, it's a nice refuge from the busy streets of Banderban and only a short auto-rickshaw ride out of town.
Tiger Hill
Tiger Hill is a famous place where one of the Royal Bengal Tigers would come to overlook its kingdom nearly every night. Don't miss this when you travel to Bangladesh. Unfortunately, the tigers have vanished from this area. At present, the tigers are only found in south-west Bangladesh in the Sunderbans, the largest mangrove forests in the world. On the upside, visiting Tiger Hill these days means you don't have to fear being stalked by a massive tiger! Watching the sunset from this hill, in the same way as those big cats had been doing for a long time, gives an extra special feeling to the place. A new resort popular with tourists opened in 2018, so don't expect to have the place to yourself!
Is it safe to visit Chittagong Hill Tracts?
The Chittagong Hill Tracts of Bangladesh is perhaps the hardest part to visit as a foreign tourist. You'll need to have a permit which states all your details (full name, passport number, visa number, when you are arriving, where you'll be staying, where you'll be visiting each day, and when you'll be leaving). You'll have to hand in a copy at a police check point just outside Banderban. Unfortunately, you cannot explore the area alone. You will need a guide! If you stay in the Hill Side Resort in Banderban, they will arrange a guide for you.
Police officers will call your guide twice daily to ask what the daily plan is, and to check that you are actually following that plan. That's not all! At night, two police officers will hang around until they are sure you've retired to your room for the night. I've never felt safer in my life!
I can promise you, this area is worth the extra security hassle every bit and I can highly recommend visiting this special slice of Bangladesh!