Welcome to our Belize travel guide! With only about half a million tourists visiting Belize every year, it is easily one of the best (and also most underrated!) tourist destinations in Central America. It's a small country, and easy to navigate by the mode of transportation of your choice. This country of unparalleled diverse natural beauty with its turquoise and coral barrier reefs, impressive Mayan ruins, and lush rain forests is a dream destinations for tourists, backpackers, vacationers, dive enthusiasts, and honeymooners alike. There are plenty of things to see and do. Here we share a comprehensive Belize travel guide that can help our readers make the most out of their time.
This post contains affiliate links. This means we make a small commission at no cost to you if you click through and make a purchase. All prices listed are accurate at time of publication.
Belize Travel Guide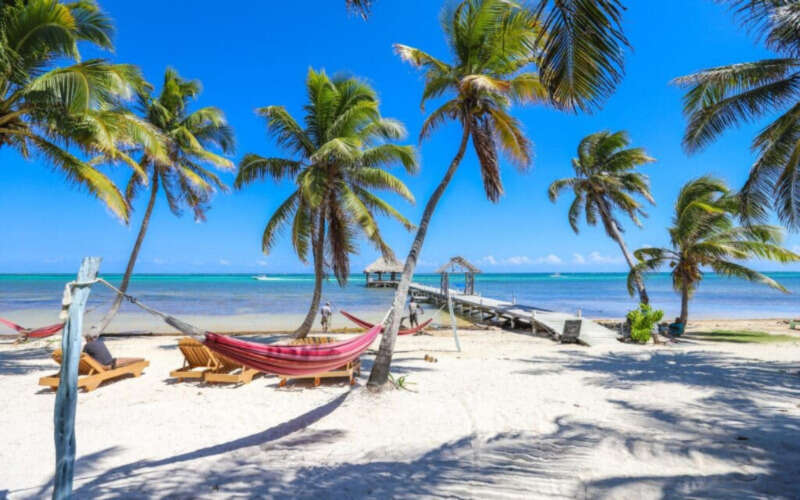 Before you travel to Belize, here are some need-to-know facts about this beautiful country in Central America.
Language
While lots of residents are multilingual and speak languages such as creole patois, or Yucatec, Mopán,and Kekchí in the case of the Maya population, the official language is English. If you speak English (and we'll assume you do if you're on this site) this adds a great deal to the ease of traveling!
Currency
The official currency is the Belize Dollar (BZ$). If you are traveling from the US, don't stress about exchanging money before your trip to Belize. The US Dollar is widely accepted as currency. If you are traveling from anywhere else, it's advisable to exchange some of your currency to either US or Belize Dollar. Once you are in the country, the change you will receive will often be in Belize Dollars, though sometimes it's a mix of both. Note: whenever you buy something in Belize, check to make sure which currency the price is in. Many restaurants, tour operators, and even hotels quote their prices in US $. At an approximate exchange rate of 2 to 1, that price difference can be substantial. Remember: whenever you travel to a foreign country, it's vitally important to not put all your eggs in one basket in regards to money. Don't bring all your money in cash! If you want more tips on money safety, and other aspects of travel safety, check out the comprehensive Her Adventures Travel Safety Toolkit.
Credit Cards
Credit cards are generally widely accepted. However, Mastercard and Visa are more widely accepted than other credit cards, such as American Express. Make sure your hotel/restaurant/tour operator accepts the credit card you brought, or carry a sufficient amount of cash.
ATMs
Internationally accessible ATMs are generally located in the bigger cities. If you travel to Belize, planning to visit smaller cities, such as Belize City, make sure you go well prepared. Even if you do find an ATM in a smaller city, your card won't necessarily work there. Always plan ahead.
Charging your devices
Charging your devices is always crucial, and therefore it's a part of our Belize travel guide. Electrical outlets in Belize are 110 V and are typically the same as they are in the United States: the 2 pronged flat type. Therefore, travelers from the United States don't need to worry about bringing along a travel adapter. All other travelers need to make sure to come equipped with one of those handy devices. We wouldn't want to be unable to take any pictures of Belize's natural beauty because we can't charge our phone or camera!
Time Zone
There is only one time zone in this country in Central America, and it's UTC -6 – the same as US Central time.
Weather
One thing every Belize travel guide will tell you is that the weather is a very important factor when planning a trip to Belize. The climate is subtropical, which means there's a dry season and a rainy season. Rainy season starts in June and lasts until November. Temperatures are warmer, and it's a lot more humid. It is' however, also a lot more green! All that rain allows the flora to prosper. However, the best time to visit Belize is during the dry season, from November to mid April.
Travel documents
What would a Belize travel guide be without this very important information! To receive a tourist visa upon arrival, all visitors entering Belize must have a passport valid for at least 30 days, if they are returning to their country of origin immediately after their trip to Belize. That is unless a person is travelling to a third country which requires the six months' passport validity. Additionally, visitors are required to have a return ticket with sufficient funds to cover their stay. Once you arrive, you are allowed to stay for one month.
Visa are not required for the following: citizens of the United States and its territories, Canada, United Kingdom and its territories, European Union, Caribbean and Central America. If you are unsure if you need a visa or not, please do check here.
What to expect upon arrival
What to expect when you travel to Belize:
All visitors to Belize are eligible to purchase health insurance for the duration of their stay for a meager $18 for 21 days! If that's not a good investment, then I don't know what is! If you always buy travel insurance you won't need this, but if you do not, this is a fantastic option.
Food
Ah, food! One of our favorite topics in this Belize travel guide! What would a trip be without some culinary adventures? Fry Jacks, a popular breakfast food, are soft tortillas with cheese, beans, and/or meat. Rice and beans is a food staple here, so expect to see it a lot on menus. Since it's also a Caribbean classic, you should at least once have rice and beans. Stewed chicken is very popular, and often served with the rice and beans. Chimole is a delicious chunky stew. Salbutes are one of Belize's most popular snack foods. Garnache are similar, and also delicious. They are tiny fried corn tortillas, mostly topped with a mix of cabbage, chicken, avocado, and hot sauce. Tamales in Belize are similar to the traditional ones served in Mexico, but they are wrapped in plantain leaves. When at the ocean, try some Ceviche!
How To Get Around Belize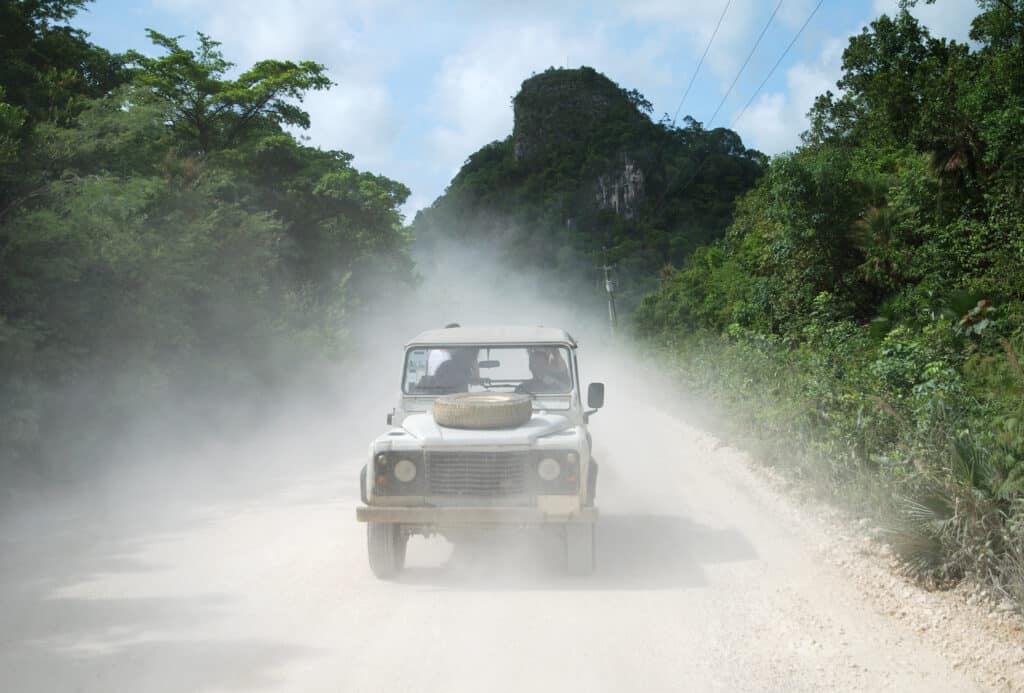 Tips on getting around a new destination are an essential part of any travel guide. This Belize travel guide is no different! The best ways to travel around the island are by car, water taxi, plane, or bus. Renting a car is a fine way to see everything this small country has to offer, and you do not need an international driver's license to do so. Belize is only 70 miles wide and 250 miles long, distances that can easily be covered on wheels.
If you don't feel comfortable driving yourself, you can easily take a taxi. In Belize, taxis do not have meters. You will need to agree on a price before you set off. They are widely available and not terribly expensive.
There is no centralized bus system, but dozens of bus companies service Belize and make it easy to get around.
Water taxis shuttle between Belize City, Caye Caulker and Ambergris Caye. They are also available for hire to go see smaller, less frequented tourist spots.
Some places are easier reached by commuter plane, such as the Great Blue Hole.
Things to do in Belize
This travel guide to Belize would not be complete without mentioning the wonderful things one can do on a beautiful island. The first thing that may come to mind is lounging around on the beach and playing in the water, but there's much more!
See ancient Mayan ruins
Belize is home to loads of Mayan ruins, and every Belize travel guide will tell you you need to see at least some of them. Lamanai, Caracol, Altun Ha, Xunantunich, Cahal Pech, Lubaantun, El Pilar, Cerros, Santa Rita, and Nim Li Punit are all worth seeing. You most likely don't want to spend your whole vacation visiting Mayan ruins, but if you are an enthusiast, I recommend booking a 3 day Mayan experience tour. That will allow you to visit 5 Mayan cities, and cave tube in two different cave systems on top of that. If you want to incorporate Mayan ruins into your schedule, I recommend visiting the following sites.
Altun Ha, once a rich trading and agricultural town, is the easiest site to visit. On top of that it is the best excavated site, which makes up for the fact that is smaller than some of the other Mayan ruins. Altun Ha was even eternalized on Belize's banknotes! It's located only about one hour North of Belize city, which makes it ideal for a day trip.
Located on the edge of the New River Lagoon, the ancient Mayan ruins of Lamanai (Lamanai meaning submerged crocodile) are one of the top attractions in Belize. This Maya city, containing 8 groups of buildings, was occupied for 3000 years. The site offers a visitor center and museum. The dense rainforest around the ruins has been cleared to make trails, allowing visitors to wander around, admire the ruins, and take advantage of the excellent bird- and other wildlife watching opportunities.
Opening hours are daily from 8am to 5pm. From Belize City, you can drive yourself, or book a Lamanai and the New River safari, or a Lamanai and scenic boat ride.
Are you an off-the-beaten-path explorer? Then every Belize travel guide will tell you to visit Cahal Pech. It's much more quaint than some of the other sites, which will give you an excellent chance to step back in time without the crowds. (And snap some uncrowded Insta-worthy shots!) People settled in Cahal Pech around 1000 BC and abandoned the place by 800 AD, which makes them the oldest known ruins in Belize. Check out the small museum and visitor center. You can go on your own or book a tour.
Explore limestone caves
Water sports with a twist! Nohoc Chen Park is home to an ancient cave system in which you can go kayaking, cave tubing, or spelunking. These nine limestones caves are one of the major attractions and cannot be overlooked in this Belize travel guide. Due to the fact that the caves are an archaeological reserve visitors are only allowed in with a guide. Several tour operators promise you a good time on your trip from Belize City to the caves. You can go cave kayaking, cave tubing, or combine your cave tubing adventure with ziplining!
Top cave in the World
If you've done the above mentioned cave adventure and have gotten a taste for caves, you are in luck! National geographic named the Cave of the Stone Sepulchre (Actun Tunichil Muknal) the top sacred cave to explore in the world! This is a true bucket list adventure that you will find mentioned in every Belize travel guide. Again, you will not be allowed to enter by yourself, you must book a tour. From Belize City, it's about a 1.5 hour bus ride. Upon arrival at the ranger station, your guide will outfit you with a helmet, a headlamp, and a lifejacket if you need one – a glimpse at things to come! Your tour will include hiking, river crossings, and wading and swimming through the cave waters!
The Great Blue Hole & Barrier Reef
Sounds ominous? It's not! The Great Blue Hole is one of Belize's major attractions, mentioned in every Belize travel guide, and also one of its national parks. It is part of the Belize Barrier Reef Reserve System which in 1996 was declared one of UNESCO's World Heritage Sites. It's a giant marine sinkhole, located about 43 miles off the mainland. It is circular, 1043 feet across, and 407 feet deep. Truly gigantic! It's a fabulous spot for scuba diving, its natural beauty unsurpassed. The water is often crystal-clear, and you have a chance to see Caribbean reef sharks, midnight parrot fish, and many other species. If you are into scuba diving, you can not miss this! It's important to know that the Great Blue Hole requires you to have intermediate to advanced diving skills.
You can get to the Great Blue Hole by yourself. Take a flight to Ambergris Caye airport. Arrange for a speedboat rental in advance with your hotel. It's best to visit early in the morning, before the crowds arrive. You can stay at Ambergris Caye and Caye Caulker. There's a ferry that takes passengers back and forth, so either one will be a perfect spot to stay.
If you aren't a confident boat driver you can still go! Enjoy a half day snorkel tour. You can even combine snorkeling and fishing on a full day excursion. Special snorkeling expeditions with sting rays and green moray eels are also available.
If you are looking for scuba diving tours, there are several to choose from. Book a 2 hour one tank trip, or a 3 hour two tank trip. The advantage here is that you will be accompanied by a certified guide. Scuba diving at night is also available. You can even learn scuba diving here! There's hardly a better place to do that. The natural beauty here is just stunning.
Belize City
Spend a day to wander around Belize City! It is the largest city in Belize with roughly 57000 inhabitants. It's a busy port where the cruise ships land, so there's always something going on! There are, however, some neighborhoods that are best avoided, so make sure to check on that before you go, or book a tour with a local guide who will keep you from wandering into those parts of town. A Belize City and Rum Factory private tour is fun and affordable!
Howler Monkey Sanctuary
Every Belize travel guide will tell you that this is a can't-miss opportunity! Observe Belize's wild black howler monkeys in their natural habitat! As you know, here at Her Adventures we are all about seeing wildlife ethically and supporting conservation efforts. Sanctuaries allow us to do just that! Take a 3.5 hour tour to the Community Baboon Sanctuary, hike along forested trails with your knowledgeable local guide, and learn all about these black howler monkeys, and the sanctuary's conservation efforts.
Cockscomb Basin wildlife sanctuary
Animal lovers rejoice! There's yet another sanctuary you can visit! Cockscomb Basin Wildlife Sanctuary & Jaguar Reserve is located in southern Belize. It is the not just the only jaguar reserve in Central America, but the only one in the world! An opportunity to see these majestic animals in their natural habitat that can not be missed! On top of jaguars, the sanctuary is home to other large cats, as well as exotic birds. Book this tour and go on once in a lifetime hike!
Visit San Ignacio
San Ignacio, located in the western part of Belize, is very popular with tourists. Excellent food, lively nightlife, and many opportunities for eco tourism make it the perfect stop on your trip to Belize. Sign up or a relaxing kayak tour on Barton Creek. Cruise through the wild forests of the Cayo district on a pontoon boat. Or go on an ATV excursion! San Ignacio is definitely worth a stop when you travel to Belize.
National Parks
Here's a topic that needs to be included in every Belize travel guide: national parks. Visit one of Belize's 17 (gasp!) national parks! That sure are a lot of national parks for a tiny country, but let me tell you, there's lots to see and lots worth protecting! This includes more than 4,000 species of flowering plants, over 100 species of mammals, over 100 species of reptiles and amphibians, and nearly 600 species of birds. That certainly explains the large number of national parks!
1. Laughing Bird Caye National Park is an island off the coast of Placencia, named after a colony of laughing gulls nesting there.
2. You already know that Blue Hole National Park is spectacular and a must-visit.
3. Bacalar Chico National Park and Marine Reserve is a fantastic spot for scuba diving and snorkeling, and is a critical habitat and breeding ground for many animals, fish such as Horse Eye Jacks and Black Groupers, several species of birds, and three species of turtles.
4. Aguas Turbias National Park is located in the extreme north-eastern corner of Belize where Belize, Guatemala, and Mexico meet.
5. Billy Barquedier National Park is full of natural beauty and features a waterfall that's easily accessible!
6. Chiquibul National Park is Belize's largest park and surrounds the ancient Mayan ruins of Caracol.
7. Five Blues Lake National Park is enclosed by over 4000 acres of limestone hills and features a lake with, you guessed it, different shades of blue!
8. Gra Gra Lagoon National Park features a very shallow brackish lagoon of 300 meters.
9. Guanacaste National Park is the perfect place for quiet walks and birdwatching. Don't miss the ginormous Guanacaste tree!
10. Honey Camp National Park is close to are several UNESCO world heritage sites.
11. Mayflower Bocawina National Park offers excellent opportunities for wildlife observation.
12. Monkey Bay National Park features the Monkey Bay Wildlife Sanctuary, which strives to educate guests about the importance of sustainable living and protecting the environment.
13. At Nojkaaxmeen Elijio Panti National Park you can explore the Sakt'aj waterfalls and two dry caves .
14. Payne's Creek National Park has an abundant population of black howler monkeys.
15. Peccary Hills National Park has a wide biodiversity of flora and fauna, and many caves just waiting for you!
16. Visit the emerald pools at Río Blanco National Park.
17. Sarstoon-Temash National Park is home to flora and fauna that can't be found anywhere else in Belize.
Best Resorts In Belize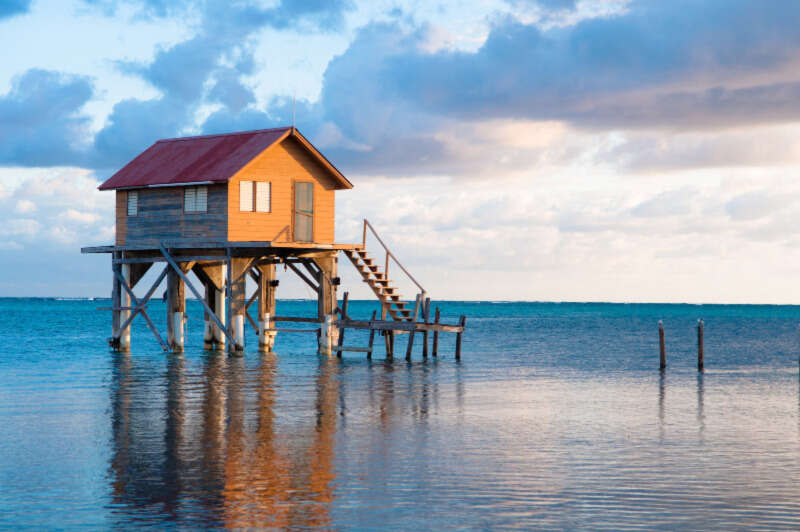 This wouldn't be a good Belize travel guide if we didn't give you tips on accommodations! Let's start with the best resorts. If you are looking for a luxury stay with a wide range of the best amenities and services, a resort is the way to go.
Chan Chich Lodge
The Chan Chich Lodge is located in the region of Orange Walk. It's a 5 star resort offering world class amenities. Relax at the restaurant, outdoor swimming pool, hot tub, jungle bar, or in the garden. Enjoy free parking, free WIFI, and concierge service. The staff is extraordinary, with incredible attention to detail. You'll find a home away from home in this beautiful setting.
Las Terrazas Resort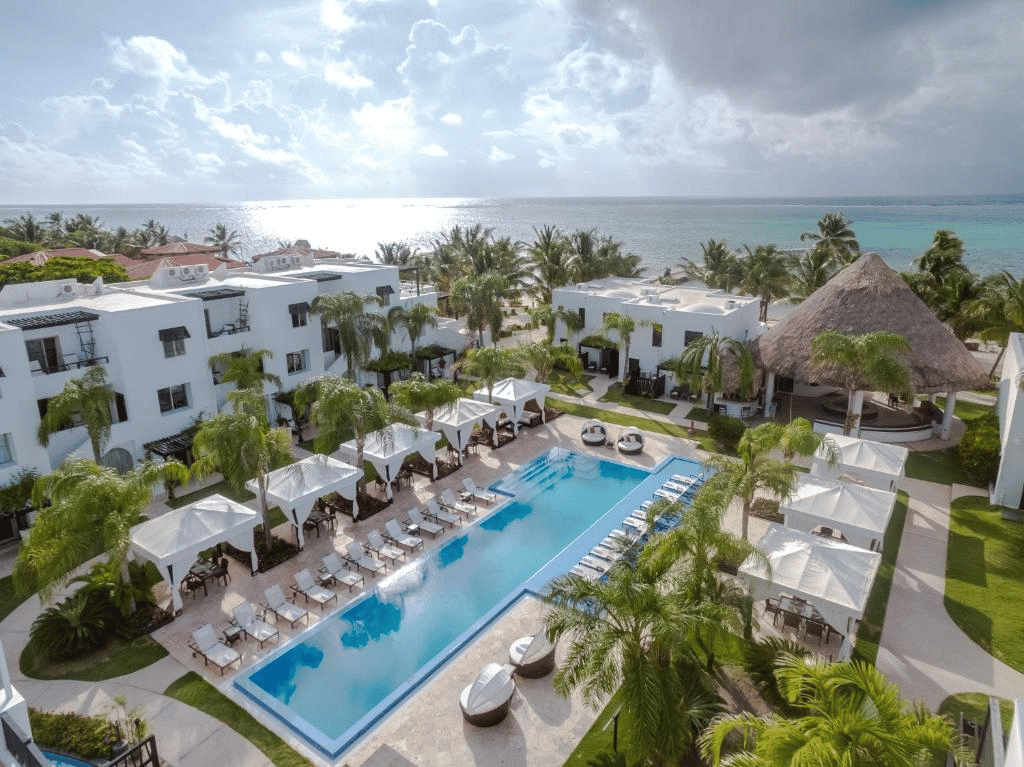 Located in Ambergris Caye, the Las Terrazas Resort doesn't just offer luxurious amenities such as infinity pool, a spa, and an onsite Restaurant, serving local and international cuisine, but also a private beach! You stay in your very own private villa, with free WIFI and a fantastic view of either the exotic gardens, lagoon, or the ocean from your private terrace. The villas are equipped with full kitchens, including include oven, refrigerator, microwave, coffee maker with condiments, toaster, and a dishwasher. Big plus: there's a washing machine, so you don't have to pack half your closet! Your stay also includes free use of bicycles, kayaks, paddle boards, and a water bike.
Blancaneaux Lodge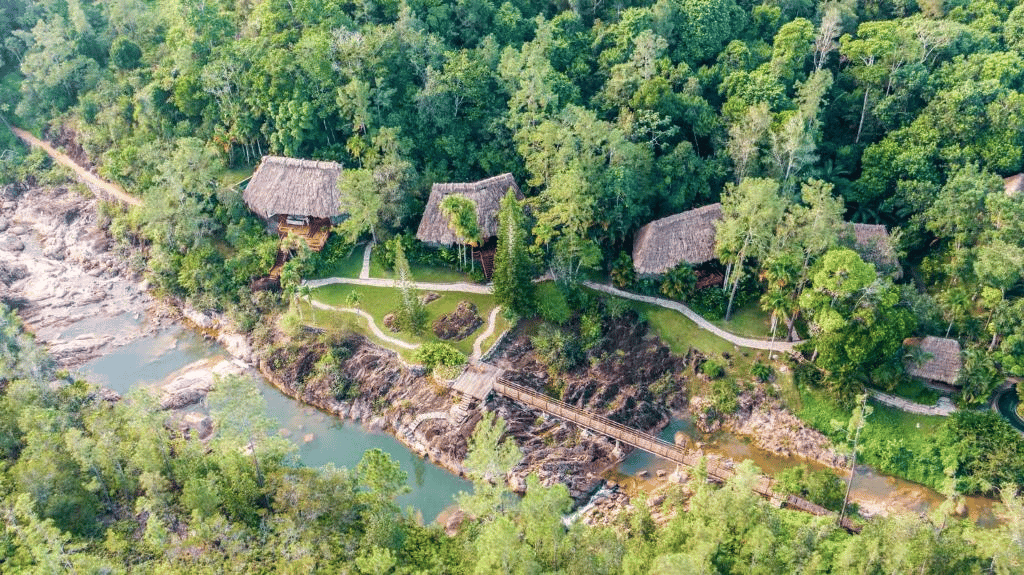 The Blancaneaux Lodge is located in San Ignacio. Enjoy the perfect eco-holiday in this lodge, located inside the Mountain Pine Ridge Forest Reserve. This is the place to be if you are looking for a place that's secluded, peaceful, serene. Relax in your luxurious bungalow or villa, featuring a spacious seating area, a mini-fridge, and free WIFI while enjoying views of the river. When you are ready to head out, explore the outdoor pool, organic gardens and 2 restaurants. Blancaneaux Lodge has its own orchid trail! Hiking trips and more can easily be arranged by the lodge, and they offer bicycles free of charge.
Where To Stay In Belize
As we have mentioned before, Belize is a very small country, and it's easy to get around. Which area you choose to stay at largely depends on what your main interests are. Our Belize travel guide can help!
For great nightlife, great food, and a variety of historical and cultural attractions, Belize City is the place to be. There are many great places to stay, such as the Villa Boscardi, The Great House Inn, or the Seaside Chateau Resort.
The perfect scuba diving and snorkeling can be found at Caye Caulker, close the the Barrier Reef. There are several nice accommodations in the area, including the Jaguar Morning Star, the Colinda Cabanas, and the Sea Dreams Hotel.
San Pedro, the main town in Ambergrise Caye, with its laid-back vibe, and great bar and restaurant scene, is a haven for backpackers and budget travelers. Stay at the Sapphire Beach Resort, The Palms Oceanfront Suites, or the Mahogany Bay Resort and Beach Club. Click here for the best hostels in the area.
San Ignacio is the perfect base for anyone looking to explore the Mayan ruins and have plenty of outdoor adventures. Good places to stay are the Pine Ridge Lodge, the Maya Mountain Lodge, and the Sweet Songs Jungle Lodge.
Corozal is small, friendly, and offer loads of things to do. You can hit the beach, or explore the Mayan ruins, or relax at your hotel. The Tilt-Ta-Dock Resort, the Serenity Sands Bed and Breakfast, or the Cerros Beach Inn are great options for lodging.
Customs & Etiquette in Belize
Before we visit anywhere in the world, we want to do some research on customs and etiquette in that country. This is not only for safety reasons, but we also want to show respect to the place and people that are welcoming us as guests. This Belize travel guide will list some things you need to know about customs and etiquette in Belize.
Generally speaking, the friendly people of Belize are quite used to tourists. They are approachable if you have a question. However, you may find they will rarely make eye contact and tend to not be direct.
As a whole the country is rather conservative. Clothing that is too revealing is frowned upon, though the general dress code is casual.
Men may approach a woman by herself, or even a small group of women and make advances. Rather than ignoring those, smile and walk away quickly.
Due to it being a conservative country, the LGBTQ+ community isn't widely accepted. It's not typically commented on, but public displays of affection are frowned upon. This is true for anyone, not just members of the LGBTQ+ community. There are no gay venues in the country.
Belize is a very relaxed country. Depending on your culture, things may not arrive at the speed you're used to. Be patient, you are on vacation, and everything will happen in due time. Pro tip: don't wait until you are ravenous to find a place to eat! You are expected to tip around 10%.
Haggling over prices isn't acceptable, unless you are visiting one of the street markets.
We hope you have enjoyed this Belize travel guide! Are you ready to book that flight yet?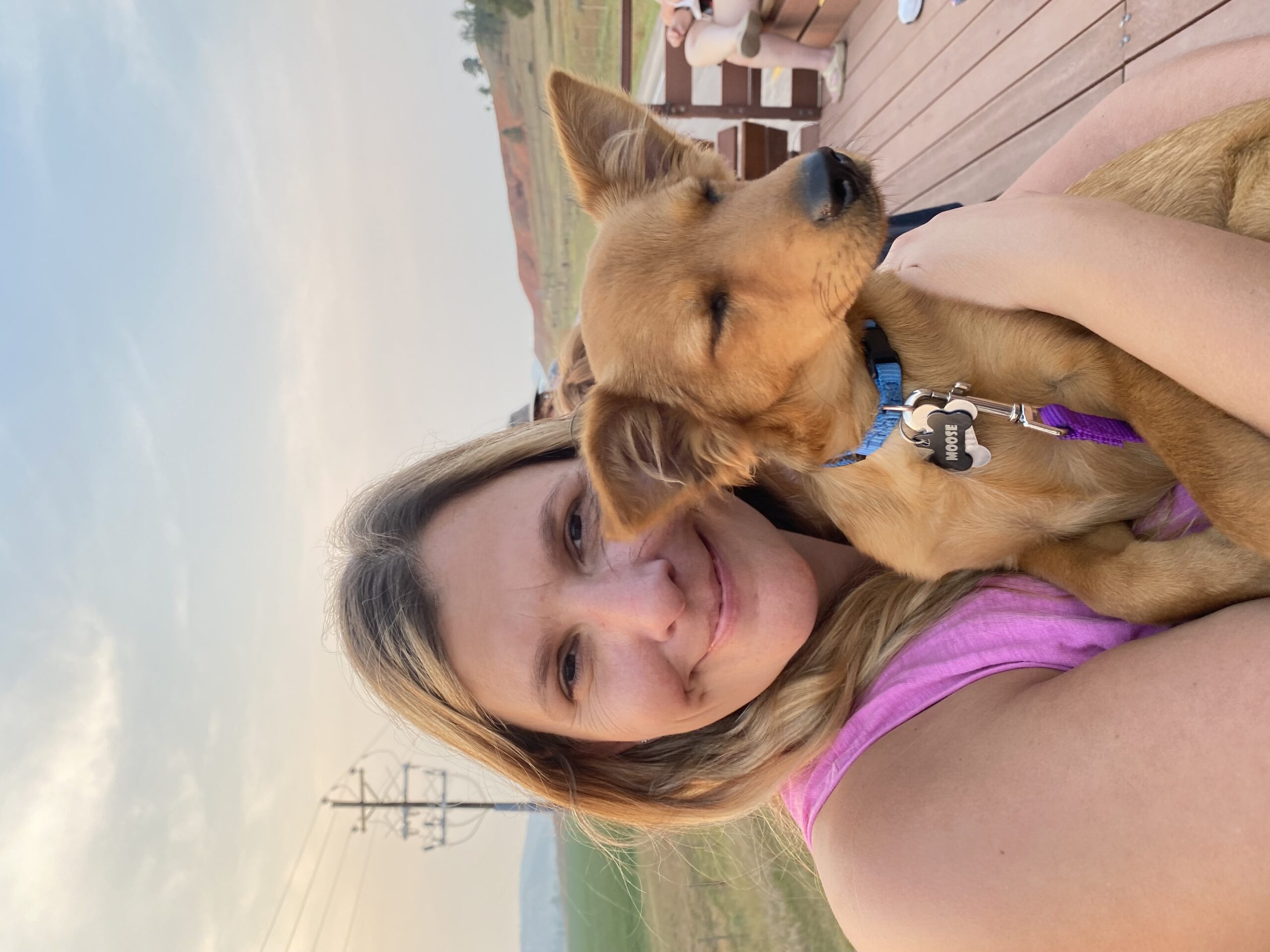 Jenny grew up in Germany. All she ever wanted out of life was to leave and have adventures. Jenny always traveled as much as the budget would allow, and when she met her husband traveling became a full-time thing. You can follow Jenny on her blog and Facebook.