"Afghanistan is dangerous. Motorbike travel in Afghanistan is a bad idea. Besides, what are you thinking?" As we approached the border of the Wakhan Corridor and saw the heavily armed guards, I wondered if they were right…
A Woman in Wakhan Corridor – Motorbike Travel in Afghanistan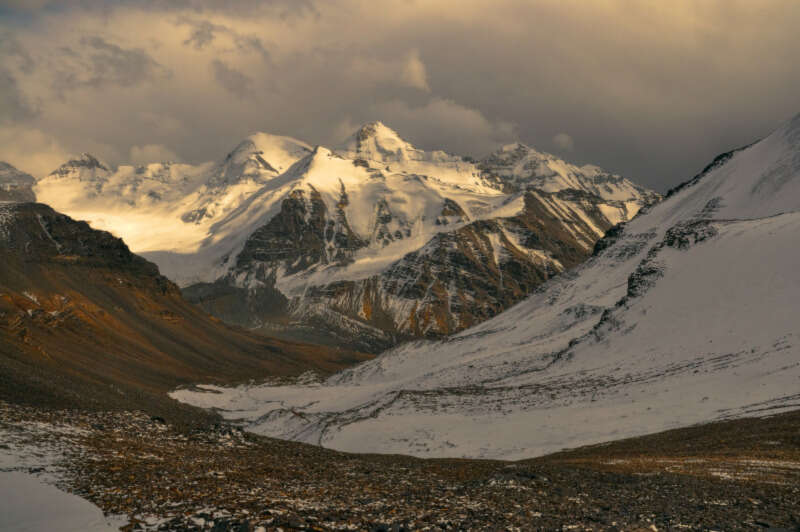 I'm surely going to faint. My body's shaking and my heart's pounding. A scary man is walking towards me. Does he have a gun? He has a long beard, therefore he must be dangerous. Sweat and heat builds inside my helmet, but I can't take it off in front of him. The online warnings circle inside my baking brain: 'cover your entire body and face at all times, don't look at or talk directly to men, only communicate through your partner and never shake a man's hand … under any circumstance'. What was the rest of it? I can't remember, he's getting closer and there's nowhere to hide. Maybe motorbike travel in Afghanistan was not a good idea?
Welcome to Afghanistan
"Welcome to Afghanistan!" He stands in front of me with a beaming smile and an outstretched hand. Certainly this is a test? I hesitantly lift my hand and he shakes it with a gentle grasp. "Would you like some tea?"
After four hours of laughing, joking and hot tea at the Afghan border, our passports and paperwork are finally stamped and my boyfriend and I are free to continue our motorbike travel in Afghanistan.
Inside Eshkashim
The dusty town of Eshkashim is filled with rickety wooden shacks bursting with colourful clothes, pots, pans and jewelry. It's like walking through a scene from Aladdin. And I may as well have a genie above my head the way hundreds of eyes fix on me. I still don't know how to act or where to look, so I keep my head down in case I accidentally make eye contact.
Photographs
A quick glance up and a man is waving, shouting, and beckoning me to visit his stall. He speaks English well, explains how happy he is to see a tourist, and proudly asks me to take a picture of him and his shop. After our chat I turn around to leave, only to find my exit is blocked. It takes fifteen minutes to take pictures of the queue of people who all want their photograph taken too.
A Friendly Welcome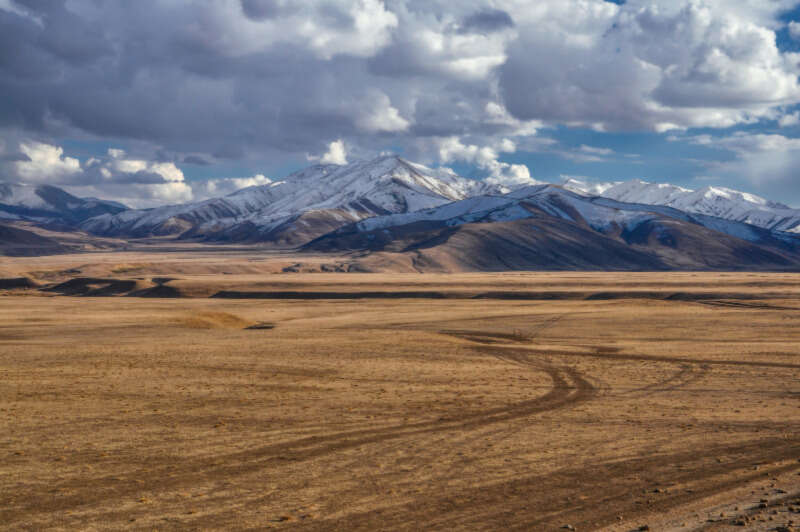 The town takes me by surprise. Once I stop looking at my feet, I realize everyone's smiling and happy to see us. Some people speak English and want to practice with us, others ask for their photo to be taken, some just want to say hello, and nearly everyone wants to shake hands.
As a foreign woman, I can't comprehend the warm welcome I'm receiving. And I also can't help but notice the local women too… floating around the town like ghosts in their iconic blue burqas. I can't help myself but ask a woman if I can take her picture. I can hear her laughing behind her veil, but she nods, posing as best as she can with her child in arms for the camera.
Qazideh Village
As we pull into Qazideh village and park the bike, men with guns approach. We explain that we want to camp the night, they check our paperwork and show us to a beautiful green garden with a stream.
One sweet 12-year-old girl offers to show us around her village and takes us to meet her family – and then what feels like every other family home in the village. The people welcome us in like honorary guests, proud to show us round their homes and share their food.
Takeaways from the Wakhan Corridor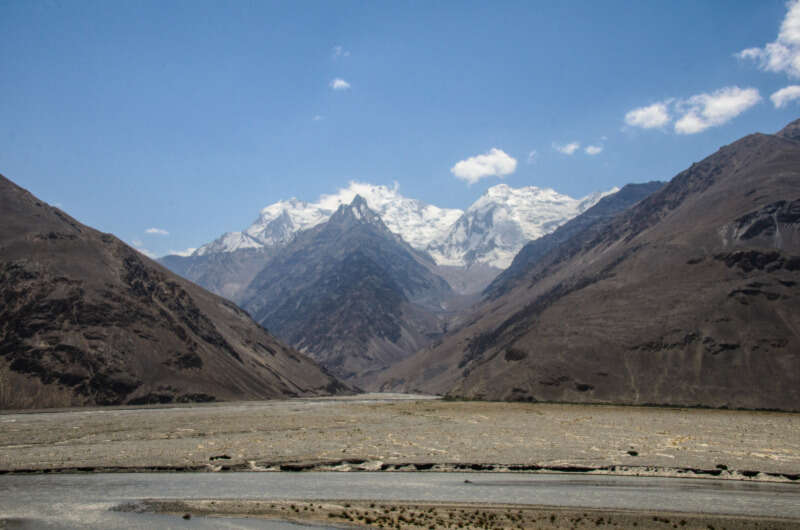 Before making the decision to go on a bike trip to Afghanistan and the Wakhan Corridor, I spent the two days reading reams of negativity plastered all over the Internet. Everything online was, in fact,  well out of date and I couldn't find any information on safety in the Wakhan. I couldn't decide and was torn for days. I don't actually know why I wanted to go so badly; maybe it was curiosity and the fear of missing out.
A Country Ravaged by War
Afghanistan has been ravaged by war for decades. We only hear of fighting and destruction, of the Taliban and their inhumane behaviour towards women. It is a dangerous place. There's no denying that. But the people of the Wakhan Corridor, in the north-eastern part, say they are cut off from the rest of Afghanistan. They are remote and have remained conflict-free for years. The people here are farmers, left to their own devices, practice a more moderate form of Islam, and are incredibly happy to see tourists.
A Beautiful Experience
I can honestly say that this bike trip to Afghanistan and its Wakhan Corridor was one of the best and most unexpectedly beautiful experiences of my life. The people were so warm and welcoming. I learnt that although their country is associated with war and terror it doesn't mean they are. They love to laugh, drink tea, and take the odd selfie. Life certainly isn't easy for them and they do everything they can to keep positive, teach their children about the greatness of life and goodness of people. They don't judge, and therefore  neither should we.
On 1st January 2018 I left my job, sold everything and jumped on a motorcycle with my boyfriend to ride round-the-world. I love overland travel but love helping others do it even more! You can follow my adventures on www.madornomad.com. Happy travels 😀