With its striking white and blue houses, cliffside villages, and picturesque caldera, Santorini, Greece is a dream destination for many. Santorini is as notorious for its prices as it is for its beauty. But I thought it only lived up to one of those reputations.
How to Visit Santorini On A Budget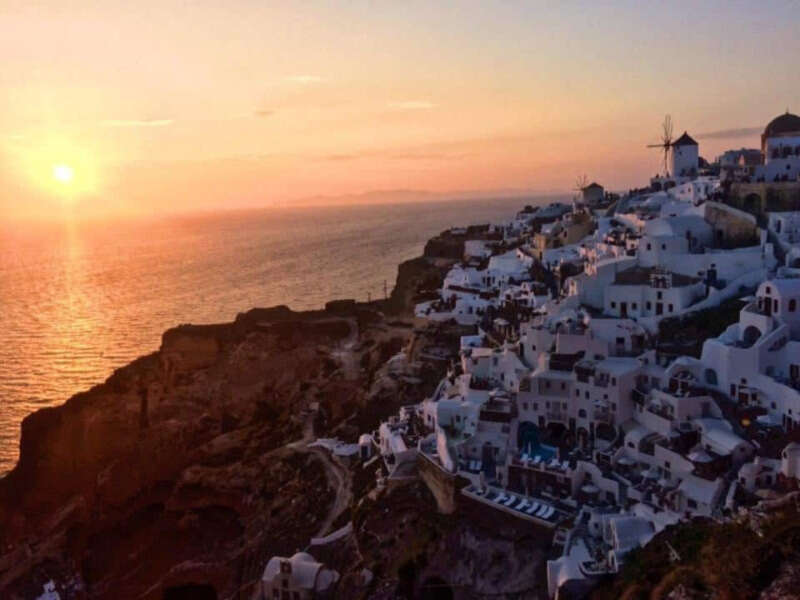 Sure, you can spend $1,000/night for a caldera-view suite in Oia with a private hot tub and butler. But you can also have a pretty luxurious time without breaking the bank. Here are my tips for enjoying Santorini on a budget.
The Best Time to Visit Santorini on a Budget
Santorini is beautiful any time you go. But if your schedule is flexible, and you are looking to visit Santorini on a budget, you can optimize your trip dates to get the best deals.
Visiting in shoulder season (April, May, September, October) helps you avoid the prices and crowds of the high season while still enjoying beautiful weather. If you go in the off-season you can get good deals. But you run the risk of businesses being closed and tours not operating.
Affordable Lodging in Santorini
The cost of your visit to Santorini is hugely dependent on where you stay. If you are trying to visit Santorini on a budget, choosing the right accommodation is key.
Oia is by far the most expensive village, both for food and accommodation. It's known for being the honeymooners' village.
The beach towns on the south part of the island have a lot to offer at the fraction of the price. We stayed at Smaragdi Hotel, which has rooms with private outdoor hot tubs (which were as low as 57 Euros/night when we visited) and is right next to the beautiful black-sand beach of Perivolos. The pool area was beautiful and the staff went above and beyond to make our stay perfect, such as arranging our rental car and boat tour. They even had a bottle of wine waiting in our room upon arrival!
If Smaragdi doesn't look like a good fit for you, there are plenty of other hotels in that price range around the beach towns of Perivolos, Perissa, and Kamari that will make visiting Santorini on a budget possible.
There are also several options for hostels on the island, such as Caveland Hostel or Fira Backpackers Place. There are even some camping/glamping options.
The point is, Santorini hotels come in all varieties and there are plenty of lodging options for your visit to Santorini on a budget.
Tip: Look for lodging options that offer free airport/port shuttles to save a little extra! Transfers can be expensive.
Budget-Friendly Activities in Santorini
Get Lost
When you are looking for affordable activities when you visit Santorini on a budget, drive around the entire island (it doesn't take too long), taking time to explore all the different little villages; the beauty really is in the details. My favorite was Pyrgos, Fira is known for nightlife, and Oia is the most famous.
Watch the Sunset from Oia Castle, or Anywhere on the West Coast
Get to Oia Castle early to secure a good spot for the show. I'm talking two hours before sunset. Bring a snack and a bottle of wine, and settle in for the wait while the ruins fill up.
It really is stunningly beautiful, but it's also world famous, so if crowds aren't your thing then you might be better off finding another spot along the coast – Santorini's sunsets are beautiful from everywhere. Either way, bringing snacks and wine is a good idea when you do Santorini on a budget.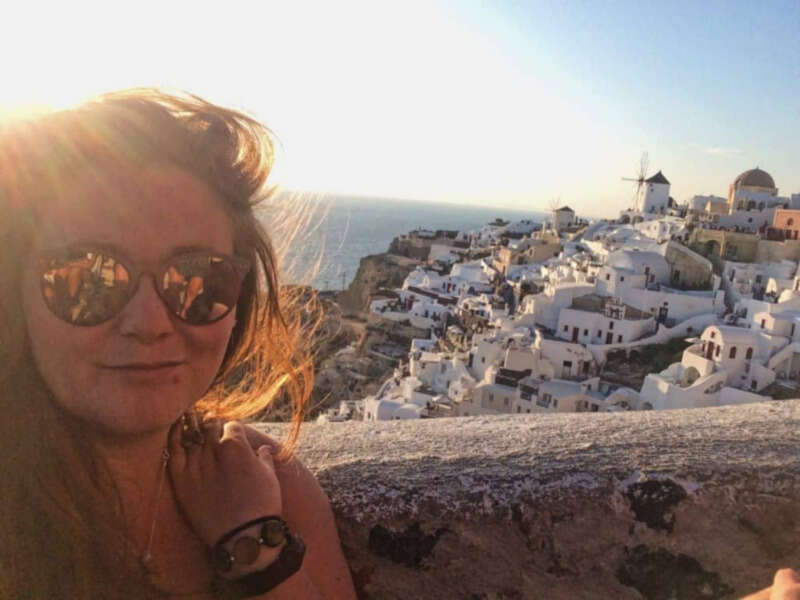 Hike from Fira to Oia
For some outdoor activity and sweeping views of Santorini's coast, you can do the 10 Km hike from Fira to Oia. Grab some snacks at the grocery store and wear good shoes. The hike takes about three hours, and is best done in the morning or evening to avoid the heat of the day. If you go in the morning, it's a good chance to explore Oia in a different light and with fewer crowds (it's famous for its sunset, so that's when it's most busy).
Beach Hop
Santorini isn't the best Greek island if laying on the beach is your priority, but it definitely has some interesting ones. Due to the volcanoes, there black, white, and rust-colored beaches. And it's easy to see all of them when you visit Santorini on a budget.
Go on a Boat Tour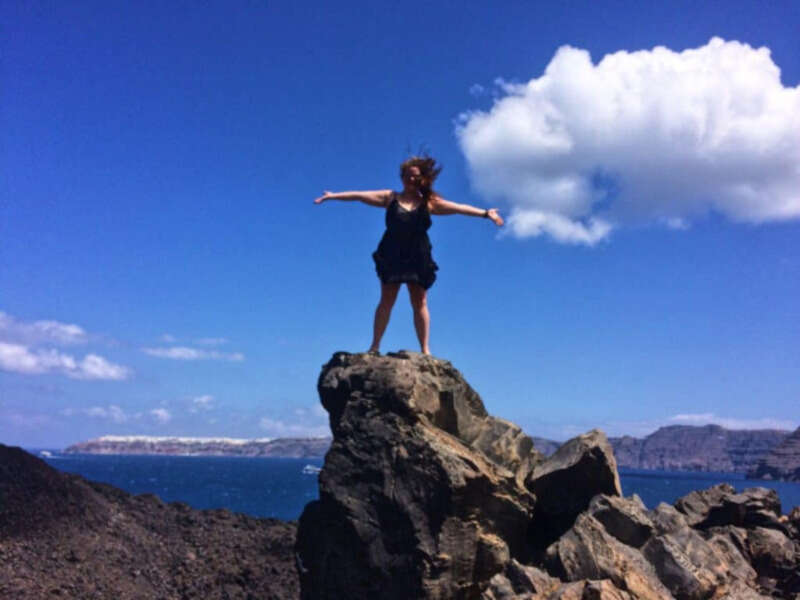 A boat tour around Santorini and its volcanoes is essential to any visit, and of course, there is a range of prices. For 35 euros each we got a 6-hour tour that included a hike up a volcano, visiting the caldera hot springs and lunch on a scenic island. The perfect activity for a visit to Santorini on a budget.
Winery Tour
Santorini wines are distinctive due to the volcanic properties of the island; the region is known to produce some of the best whites in the world, which makes it the perfect place to go on a winery tour.
Channel Indiana Jones
Santorini is home to Akrotiri archeological site, also known as the Pompeii of the Aegean Sea. We didn't make it there on this trip, but we heard great things, and at only 12 Euros it's a perfect way to spend a morning when you visit Santorini on a budget.
Head to the island's highest point for sweeping views of Santorini's caldera.
Set your map for the Monastery of the Prophet Elijah (Profitis Ilias) and prepare for some fantastic views. You can also visit the monastery if you go when it's open to the public.
One-Day Itinerary for Santorini
This is exactly what we did on a full day of exploring on our own when we visited Santorini on a budget.
Drank coffee in our private outdoor hot tub
Had breakfast on the balcony
Drove to the highest point on the island to check out the view. We hiked along a trail for a few minutes until we could see the entire island.
Stopped in Pyrgos, the nearest village to the monastery, to do some wandering. We had a beer at the most charming restaurant ever (which you can read about in the "What to Eat in Santorini" section)
Drove to Amoudi Bay, stopping to look at epic views and anything else that caught our interest along the way
Ate a fresh seafood dinner in Amoudi Bay. Walked around the trail to see sweeping views of the sea and cliffs
Drove up to Oia to get our spot for the sunset at Oia castle, stopping at a market to get some cold beers to drink while we waited
Watched one of the most beautiful sunsets I've ever seen, laughed at the amount of tourists trying to get a good selfie
Explored Oia at dusk
Drove back to our hotel and got some damn good souvlaki
Enjoyed a nightcap in the hot tub
What to Eat in Santorini
You probably don't need a blog post to tell you that gyros and souvlaki are the best dining-out options for budget travelers in Greece. They're cheap, local, fast, and so damn delicious. But there is a range of non-souvlaki restaurants in Santorini that are budget-friendly as well.
As with accommodation, eating out in Oia is more expensive than dining in other parts of the island. Everywhere we ate was supremely delicious, and I'm a big fan of the "wander around until a place speaks to me" method, which served us quite well in Greece. Because Greek food. Just make sure that you check the prices, and take your time comparing restaurants.
For the best seafood in Santorini, head to Amoudi Bay.
Just down the road from Oia, it's the perfect place to eat dinner before catching the sunset from the Oia Castle. All of the restaurants by the water look nice and share the same striking view of the bay, but we chose Sunset Tavern and thoroughly enjoyed our meal of tuna tartare with avocado and orzotto with marinated shrimps with saffron and truffle oil.
The cliffside trail along the water works for a little post-dinner stroll and a different view of the bay, or jump off of the cliffs if you're brave enough!
Our favorite meal by far was at Ouzeri Penelope's in the idyllic town of Pyrgos. It was the best food we had on our trip, and I don't think anything on the menu cost more than 12 euros. Visiting Santorini on a budget is possible!
Getting Around the Island
TL;DR Get a smart car.
There are a few options for getting around the island; take the bus, rent a quad, rent a car, or take taxis. The bus is cheap and fairly easy, but it doesn't run as consistently as you might want and it limits your options to areas with bus stops.
Having your own vehicle is widely regarded as the best way to see the island.
Renting a quad is usually the cheapest option, but it's not ideal for everyone. Riding a quad around in the sunshine looked like a lot of fun, but once it got dark I was sooo thankful for the walls of our car.
Taxis are expensive in Santorini, but might be a good option if you only need to take them a couple of times.
A smart car is not only cheaper to rent than a traditional car, but it's way easier to park on the small and often crowded streets of Santorini's villages. We paid about 40 Euros/day for ours. It's also more fuel efficient, which is cost-effective AND better for the environment. Win win win, a great way to get around Santorini on a budget.
Avoid paying for GPS by downloading offline maps while you're still on WiFi (directions here). If you'll be in Greece for a while it's a good idea to buy a local sim card for your phone. If you're jumping around countries, consider an international data service like Flexiroam. Flexiroam is a microchip that attaches to your existing SIM card and connects to local networks to provide you data in foreign countries as soon as you land.
Get a free Flexiroam microchip and 1 GB of free data here.
Our hotel offered a free shuttle to the hotel, but not on the way out. We were able to return our car directly to the port for no extra charge which allowed us to be on our own schedule and save on a transfer.
How to Get to Santorini
There are two ways to get to Santorini: take a ferry or catch a flight.
There are several ferry companies that are all essentially the same. We took Blue Star Ferries on the way there and Hellenic Seaways on the way back, and we enjoyed both. We booked on a site called Ferry Hopper and it found the best route for us amongst the different companies. You can save money (and eat a little healthier maybe) by packing your own snacks and drinks, but they do have a decent selection on-board and the prices are better than you'd expect.
It's worth paying the extra 5 Euros for "business class" if your goal is to sleep or you want a home base, but there are a lot of areas to relax if you want to save that fiver for souvlaki, especially if you are visiting Santorini on a budget.
It's possible to find flights from Athens to Santorini for as low as 50 euros one-way on Aegean Airlines, but when you factor in the time at the airport flying is only slightly faster than the ferry, and I found the ferry much more enjoyable than any flight I've ever been on.
If you fly to Santorini on a budget you can take the bus from the airport for about 2 euros to your accommodation, but shuttles from the port are more expensive. To save some money, book a hotel that includes a shuttle or a rental car that you can pick up and/or return to the port or airport.
Click here to listen to Away She Goes, the Girls Who Travel podcast. On today's episode: Destination Greece. Are you excited for your trip? Pick up one of our 25 best books about Greece before you go!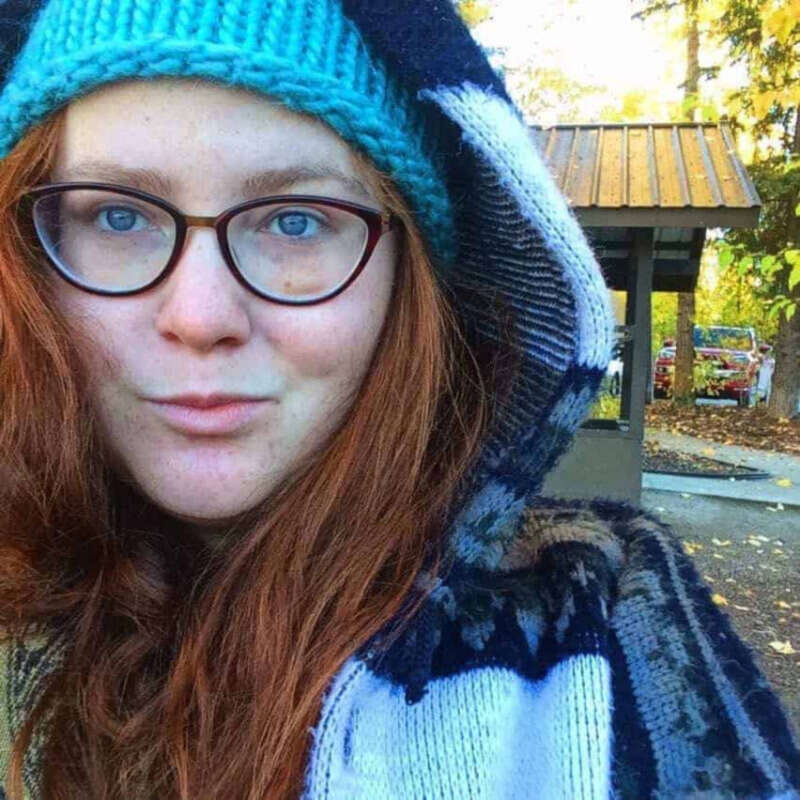 About Cassie: Cassie is a travel consultant and blogger from Missoula, Montana. She loves mountains, good beer, fluffy dogs, and exploring the world. She's been to 27 countries so far, and has lived in lived in Montana (Missoula and Helena), Morocco (Marrakech), Spain (Murcia and Bilbao), Mexico (Patzcuaro and Sayulita), Portugal (Lagos), and Australia (Melbourne). Check out her trip-planning services and read more blog posts at www.travelgarden.org ✈
Instagram: https://www.instagram.com/travelgarden/
Twitter: https://twitter.com/CassieHintz
Facebook: https://www.facebook.com/TravelGardenOrg/
Pinterest: https://www.pinterest.com/TravelGardenorg/