Are you looking for the best Greek islands to visit? Where to start? I just got back from Mykonos & Santorini & I have so much to share! The Girls Who Travel Facebook group helped me a lot in my preparation for the trip, so I'm here to help anyone else who may also be seeking a little guidance.
Visit The Greek Islands – Santorini & Mykonos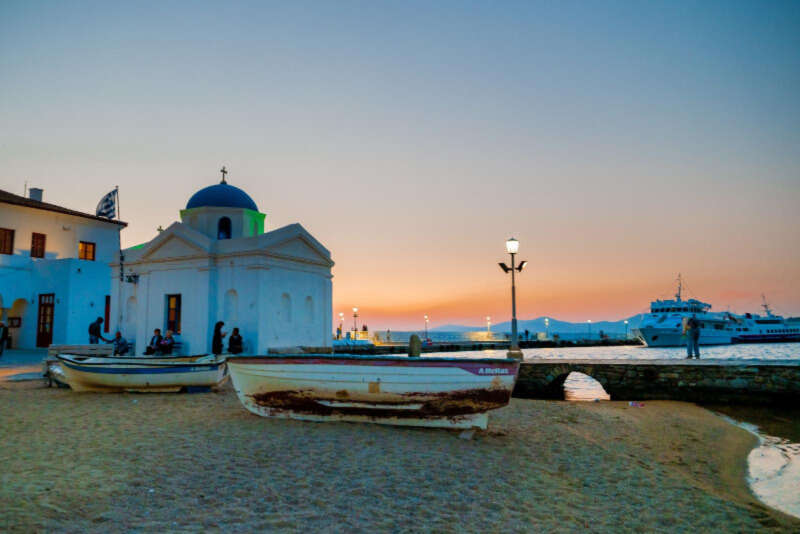 Luggage
We were in Greece for 10 days & I will say that most places you go are not luggage friendly. The islands are made up of cliffs & narrow, winding streets with cars, mopeds, and busses all zooming past each other. Not to mention all of the stairs across Mykonos. So pack light or prepare to haul. I would simply suggest a large backpack.
Weather
Immediately when we stepped off the plane, I noticed how windy it was. I was a little unprepared for that. It stayed breezy for the first few days of our trip. The evenings were especially chilly, so bring a light jacket or pullover. It only took a couple of nights before we knew that wearing shorts to dinner was out of the question.
The beaches were also a little chilly, but there was enough sunshine for me to enjoy it. My friend, however, was curled up, using our beach towels as blankets. Going in mid-September, the weather was beautiful during the day. We stayed warm, but it was not scorching hot. For the entire duration of our trip we never saw a single cloud. Mykonos and Santorini are the best Greek islands to visit!
The Ferry
If you're taking the Seajet Championjet 1 between islands, and you probably are as it's the most popular one at the ports, you have about 60 seconds to board your boat. The other ferries will dock at the port for a few minutes, but don't let this fool you. If you wait for the crowd to clear before you decide to get on, you WILL miss it.
Catcalling
Greek men are not afraid to let you know when they are interested. If you aren't used to this, it may come across a bit strange. They will whistle, holler, honk, and pull over just to talk to you. As two single women traveling together, we were approached by several men on our trip. Sometimes this can be uncomfortable, but I will say that Greek men are absolutely beautiful and take rejection better than most men I've come across.
180 Degrees Sunset Bar
If you've done any previous Mykonos research, then you probably already have this place in your travel plans. While the view was great and the singer that evening was amazing, I do feel like this place is a little over-hyped. There are so many places with great food and breathtaking views all over the island. Although this one is completely outside and does have the most space of anywhere we stopped. Mykonos is definitely one of the best Greek islands to visit.
Mopeds and ATVs
Besides the ferry port, airport, and our catamaran cruise, we walked absolutely everywhere! If you're thinking about renting a moped, you will need an international driver's license. The ATVs on the other hand are still up for grabs if you're not able to acquire one. We typically saw 2 people per ride, with one driving and one giving directions. If you decide to brave the roads, please keep in mind that defensive driving does not apply over there. Everyone is going to speed, pass, and squeeze by you without any hesitation. This applies to walking as well. Stay as far over on the road as you can because buses and cars will kiss your toes. Sidewalks are limited.
Location, Location, Location
Paradise Beach
If you are staying in Paradise beach, STAY AT MINA's! She is a 1 minute walk from the beach & the rooms are right off of the main road, which keeps your hiking to a minimum. Mina and her husband were the kindest people we encountered on our journey. Our room was beautiful & is the only place we stayed that had a closed-in shower.
We booked this room with her very last minute. She was extremely responsive and immediately had our ride arranged to and from the ferry port. Upon arrival, Mina had many great recommendations for food and drinks nearby, as well as a fresh glass of lemonade ready to be sipped! Along with every accommodation made available to us, her husband and son also whipped up a great breakfast the next morning. This was such a great way to round out our experience there. I highly recommend booking immediately!
Mykonos Town
If you want to stay in Mykonos town, Kipos is perfect for you. They are conveniently located amongst the cafes and shops, which means that as soon as you step out of the front door, you are right where you want to be. They are not luggage friendly, but if you are going to stay anywhere in this area, that is going to be something to take into consideration. However, our host did help us with our bags and our room was adorable. The keeper of the rooms was the only person we came across that did not speak English, but she was still so sweet and helpful during our stay in Mykonos.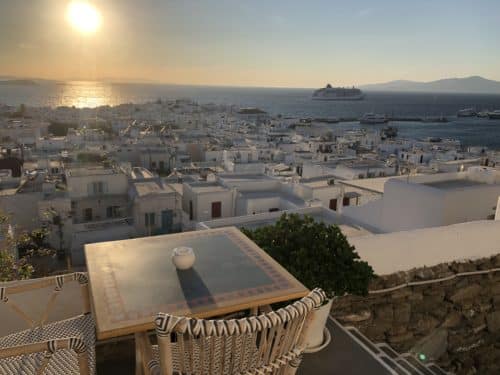 Poseidon Hotel
Just south of town is Poseidon Hotel. Only a short walk to Little Venice, and located off of a main road, this was the only one of our stays that had a pool. You can walk to Mykonos Bay in about 5 minutes. There we decided to grab a cabana and some mojitos for the day. On our walk back, we stopped for dinner at Joanna's Nikos Place Taverna. It is located on the beach, but also has a street entrance. Their food was incredible.
Poseidon has a large breakfast included with your stay & lets you keep your luggage in their office the day you leave, before your evening flight. This was so helpful since we had a full 8 hours between checkout and takeoff. Leaving was made stress-free as they provide airport drop off, free of charge. Poseidon was one of our best decisions.
D'angelos
When you get hungry, go to D'angelos! As soon as you walk up to their entrance, you are greeted by the aroma of pizzas and sauces! The food was delicious and their entire dining area is a beautiful outdoor patio. After lunch, every table was brought small glasses, which the waiter filled with a different liquor. We were given the Greek specialty, Metaxa, and the table next to us got to sip Limoncello. This was such a great experience!
Santorini
If you are looking for the best Greek islands to visit, Santorini is for you!
Fira
We stayed in Fira while in Santorini. Our home was a 5 min walk from the square. However, to get to your room you do have to go off of the beaten path, which again, is not a problem. It's just inconvenient with a suitcase, and a little difficult in the dark. The room was beautiful & we never had to taxi to a shop or restaurant. Our host was very helpful in arranging our rides & recommended a lot of great excursions and places for dinner!
Kipos
On your way to the square, you will find one of our favorite stops, Kipos! This restaurant is uniquely covered in grape vines, giving it an elegant garden ambiance. Their food was fantastic, and they also offer wine tastings. This takes place in their cellar and includes a tour of the underground venue, cheeses, bread, and lots of interesting information about their history and wine process. Definitely try it out!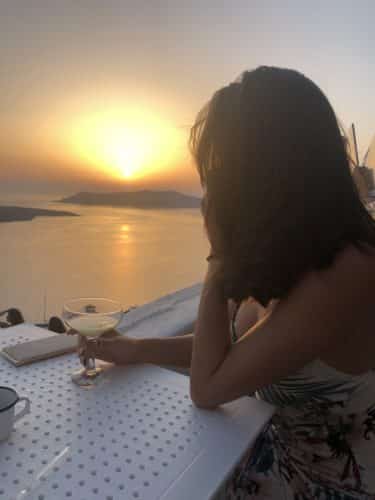 Idol
Idol was a restaurant recommended to us by a local. While the food was good, the portions were the smallest and most expensive of anywhere else we ate during our time in Fira. They are amongst so many other places with the same great views and delicious food, there's no real reason to make this a stop during your stay.
Extra, Extra
Do a catamaran cruise! We did ours in Santorini, which was a perfect way to see all of the different colored beaches. All of the cruises were mostly the same, with not a lot of swim time, but plenty of food and fun. Texas Roadhouse rules do not apply! When the waiter asks if you want bread, know that it does not come with your meal. The bread is made fresh so you will be charged for it. Don't drink the tap water and don't flush the toilet paper.
Helpful Phrases
Καλημέρα – Kaliméra : Good Morning
Καλησπέρα – kalispéra –Good Afternoon
Ευχαριστώ – efcharistó – Thank you
Παρακαλώ – parakaló : Please/ You're welcome
Endless Options
It's okay to not know exactly how you plan to fill your time during your visit to Mykonos and Santorini. With an endless amount of options, it's easy to get a little overwhelmed. But you can't go wrong with simply exploring and taking in the exotic sights and breathtaking scenery. We didn't come with an itinerary, we simply wandered the islands and it didn't take long before we stumbled across delicious food and fun activities. So relax, have fun, and explore. Remember, you're on island time, and now you know which are the best Greek islands to visit! And if you want to see them all, have a look at the best Greek island cruise itinerary!
Yamas!
Click here to listen to Away She Goes, the Girls Who Travel podcast. On today's episode: Destination Greece. Are you excited for your trip? Pick up one of our 25 best books about Greece before you go!