Greece is one of the most popular travel destinations from tourists all over the world. There is no shortage of amazing things to see and experience, including exploring the ancient ruins, relaxing by the stunning beaches, dining on fresh Mediterranean dishes, and so much more. The Greek islands are especially unique in their beauty. Each island has its own unique landscape and scenery, and going on a Greek Island cruise is the best way to experience everything that this magical country has to offer. This Greek island cruise itinerary covers the best and most popular spots!
This post contains affiliate links. This means we make a small commission at no cost to you if you click through and make a purchase. All prices listed are accurate at time of publication.
Greek Island Cruise Itinerary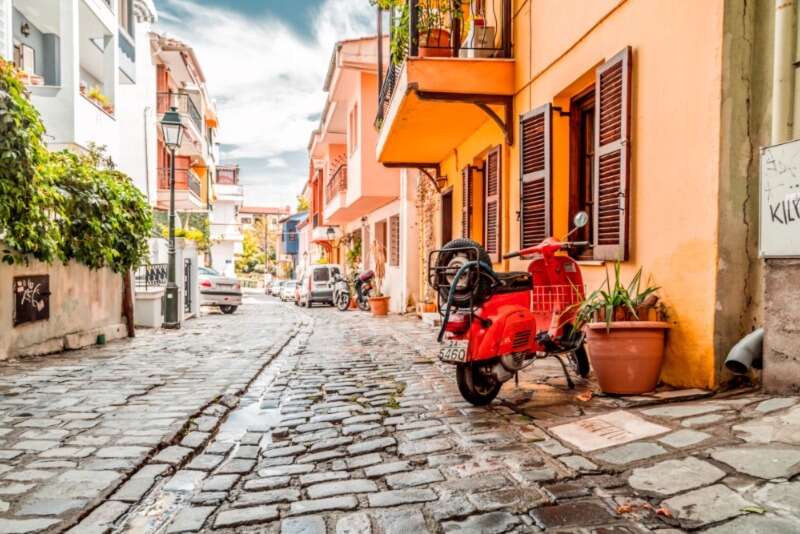 Day 1 – Athens
Your Greek island cruise will most likely start in Athens. Greece's capital, the birthplace of democracy, has much to offer for the curious traveler. Once the seat of the powerful empire, Athens is dotted with many landmarks dating back as far as the 5th century BC. Take a guided tour of the Acropolis, one of the most iconic sights in the world., and stop at the Acropolis Museum afterwards. See the Parthenon, dating back to 447 BC. Join a mythological tour. The tales of heroes and gods are captivating to say the least! If you are a fan of Greek mythology, don't miss seeing the Temple of Poseidon. Explore the Erechtheion, a temple dedicated to Athena and Poseidon. The Temple of of Hephaestus and the Temple of Athena Nike shouldn't be missed. There are also numerous fantastic museums to be discovered. The Museum of Cycladic Art, the National Archaeological Museum, the Benaki Museum, and many more are a great way to escape the heat and learn a thing or two about the ancient world.
There's so much to do and see, it's well worth to spend a day or two in this ancient city before you head off to your Greek island cruise. If you are pressed on time, a half day sightseeing tour ensures you'll hit most major sights. A a visit to Athens in winter is a good idea to escape the summer crowds, and many cruises run year round.
Day 2 – Thessaloniki
While Thessaloniki is part of the mainland, you will find that most every Greek island cruise itinerary includes Greece's second largest city as a port of call. And there are many good reasons for that. Greece's cultural capital has it all: a vibrant cultural life, with plenty of festivals and events, as well as must-see ancient ruins. On top of that, Thessaloniki features the most amazing street food!
Plan to include the UNESCO World Heritage Sites in your shore excursions. Thessaloniki has a whooping 15 of them! The area around Tsimiski Street provides ample opportunity for shopping, no matter if you are looking for famous brands or local handicrafts. Keep your eyes open for bags, clothing, and jewelry from independent Greek designers. Those are unique souvenirs that'll always remind you of your adventures in the Aegean Sea.
Explore the ancient world in one of the many museums. Literally every single period in history is represented in a museum.
While cruise ships generally offer everything from a 24 hour pizza buffet to fine dining, save some room for Thessaloniki's famous street food.  Put a Pita Gyro sandwich on the menu, followed by kataifi or baklava. If you want to go all out, book an open markets food tasting tour.
City sightseeing is made easy by the hop on hop off bus. Another great option to hit all the major sights is a classic city private tour. Looking for adventure? Head to the home of the Gods for an Olympus canyoning course!
Day 3 – Mykonos
It's day 3 and finally the cruise ships are venturing out into the open waters of the Aegean Sea! Mykonos is widely known as a party island, but there's more to it. For one, it's an excellent spot to go scuba diving. Find out if that's one of the shore excursions your cruise ship offers, or book your own scuba diving adventure. Santorini and Mykonos both have fantastic beaches. Psarou beach, Ornos beach, Platys Gialos beach, Paraga beach, and Elia beach are just a few of the available options. The seven white windmills, Mykonos' landmark, are not to be missed and can be reached with a short walk. Matogianni Street is the place to go for shopping and dining. If you feel like visiting another UNESCO World Heritage Site, take a half day Delos tour. This little island is knows as the birthplace of the twin gods Apollo and Artemis, and it is perfect for immersing yourself in mythology on your Greek island cruise. One day is a short time to explore everything Mykonos has to offer, but you definitely need to check out Alefkandra, known as Little Venice. Small alleys, paved with dark marble, are flanked by the typical white houses you see everywhere on your Greek island hopping cruises. The waterfront is lined with beautiful little restaurants where you can dine seaside with stunning views of the Aegean Sea, witnessing a Mediterranean sunset over the famous windmills.
If doing this all by yourself sounds like too much work, book a private tour of the island! Another very relaxing option would be to book a tour and wine tasting in Mykonian Land.
Day 4 – Rhodes
Rhodes is one of the most popular islands and will most certainly be part of any Greece cruise you book. Known as 'Knights' island', it boasts incredible medieval architecture and is especially famous for it's Old Town, which is listed as a UNESCO World Heritage site. While booking shore excursions is fun, on Rhodes you can easily venture out on your own and have a good time. Spend the day strolling through Old Town, Europe's largest medieval city, and once upon a time home to one of the seven wonders of ancient times: the Colossus of Rhodes. Enjoy the architectural beauty, visit one of the many churches, and eat tasty Greek food. The highlight of Old Town is the Palace of the Grand Master, built in the 14th century.
One can never get enough of the architecture of ancient times. We count the Acropolis of Lindos among the places you have to include in your Greek islands itinerary. It's easy to book a day trip to Lindos, or take a high speed boat to get there and explore on your own. In need of R&R? Agios Pavlos Beach and Saint Paul's Bay are the ideal places. One very special thing to see on Rhodes is the Petaloudes, the Valley of the Butterflies. The best time to visit is between June and August. One unique on the water activity is the 3 hour yellow semi submarine swimming cruise with drinks included! If you prefer taking a tour, but the shore excursions were sold out, book a this 1 day Rhodes Island tour with olive oil, honey, wine tasting experience & lunch.
Day 5 – Santorini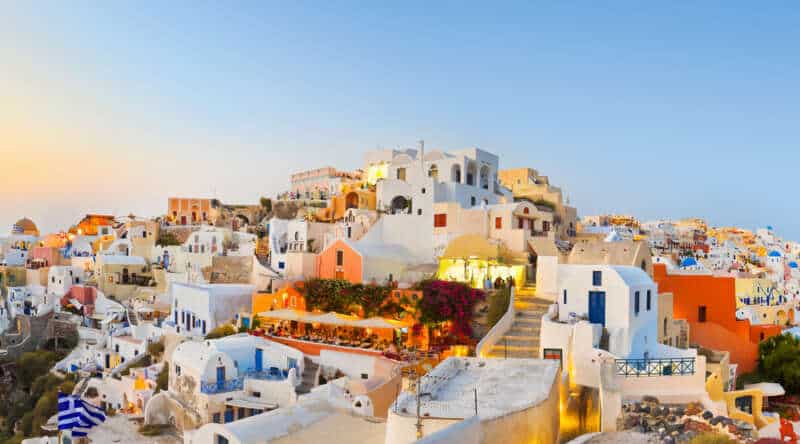 Depending on which Greek island cruise itinerary you choose, your next port of call could be Santorini. Known for its volcanic beaches and renowned wine making, it's a Greek island that should be part of every Greece cruise. Its rugged landscape, caused by a volcanic eruption in the 16th century BC, holds a special kind of beauty. Around the main islands lie several volcanic islets, and Nea Kameni even has an active volcano. Book a boat tour of the volcano, visit two islets only accessible by boat, with a chance to hike to the crater of the active volcano. A walk to Skaros Rock is also great exercise. It's a popular spot for hiking and taking Insta-worthy pics! Walk along the edge of the caldera, all the way from  Oia to Imerovigli to Fira and enjoy mesmerizing views of the Aegean Sea. The small village of Oia is most famous for sunset watchers, but it's beautiful and extremely photogenic during the daytime, too. See a Venetian Castle! The castle of Akrotiri, located in the village of Akrotiri, is well-preserved. You could even book a full day Santorini highlights and Venetian castles tour. Cliff jumping at Ammoudi Bay is ideal for those seeking the ultimate adrenaline rush. Last but not least, go wine tasting! Be aware that both Santorini and Mykonos can get very crowded during the high season.
Day 6 – Crete
Crete can lay claims to many titles: it's the largest of the Greek islands, it was home to Europe's first advanced civilization, the Minoan, which led it to be known as 'the cradle of Western civilization', and it has more archaeological sites than you can possibly see during a one day stop on your Greece cruise. So – what should you do with the limited time you have? If you do one thing on Crete, it should be a visit to Knossos and the Cave of Zeus. Knossos is not just the name of a palace, but also of the city surrounding it. It is Crete's most important site. The cave of Zeus is a Minoan sacred cave, dating back to ancient times. For those seeking to gain a deeper understanding of those long ago civilizations, a stop at Heraklion Archaeological Museum is recommended. Depending on your fitness level, the 8.9 mile hike at Samaria Gorge is fun and rewarding. Chania's Venetian Harbour is one of Crete's most significant historical landmarks, and absolutely stunning. Sense a theme on this Greek islands itinerary? A lot of Venetian influences! It's a beautiful area for a stroll, and you can go see the restored lighthouse and the Firka Fortress. Going to the beach in Crete is an experience you'll never forget, because as it so happens, Elafonisi Beach is one of the top 10 beaches in the world! The sand is a mind-blowing pink, and the hue of the color changes depending on weather and tides. After all this activity you will surely be hungry. Go on a food tasting tour and stuff yourself with all the Greek delicacies. Or take a full day wine and olive oil tour and discover Crete's specialties.
Day 7 – Hydra
Hydra is car free! No clogged roads, no traffic, no angry drivers honking… sounds like paradise. There are little tours available on this Greek island, so make sure to check and see if your cruise ships offer shore excursions. If they do not, don't worry. There's still plenty to do. It's an amazing place to go scuba diving. Underwater caves and reefs can be seen in the crystal-clear waters of the Aegean Sea. Hiking is also a very popular activity, and there are several trails of varying difficulty which are generally well marked. Itching to see the sights? Visit the Bastions, the Monastery of Prophet Elias, the Monastery of Agia Efpraxia, the Church of the Assumption, or one of the museums.
Day 8 – Corfu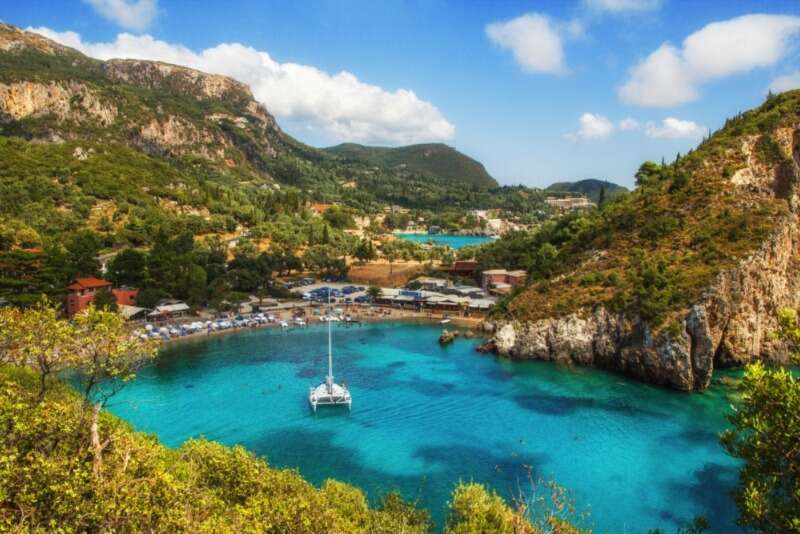 The luscious Greek island of Corfu is mostly known for its beaches. Because it is so tiny it got the nickname 'Mouse Island', but it makes up for it with an abundance of vegetation. Olive trees and cypresses abound, and the lush vegetation creates a home for many small animals. The most beautiful area is undoubtedly Paleokastritsa Beach. The views are stunning, the waters cool and crystal clear, and there are many shops and restaurants to entertain you throughout the day. Unfortunately none of this is a secret, and Paleokastritsa Beach can get VERY busy. Avoiding the crowds is simply not an option. The good news? There's a number of beaches on this Greek island that are more hidden and thus more quiet. Try Rovinia, Arkoudilas, Giali, Kerasia, or Gialiskari for a more serene experience. For the full experience, book a private and customizable half-day or full-day Corfu tour. Another great option covering all important sights is a hop on hop off bus tour. Other excellent tours available are a full-day boat tour of Paxos Antipaxos Blue Caves, an adventure quad ATV safari for an added adrenaline kick, The Governor Olive mill tour with olive oil tasting, and mini cruise around the coastline of Corfu town with a pirate ship.
Best Greek Island Cruises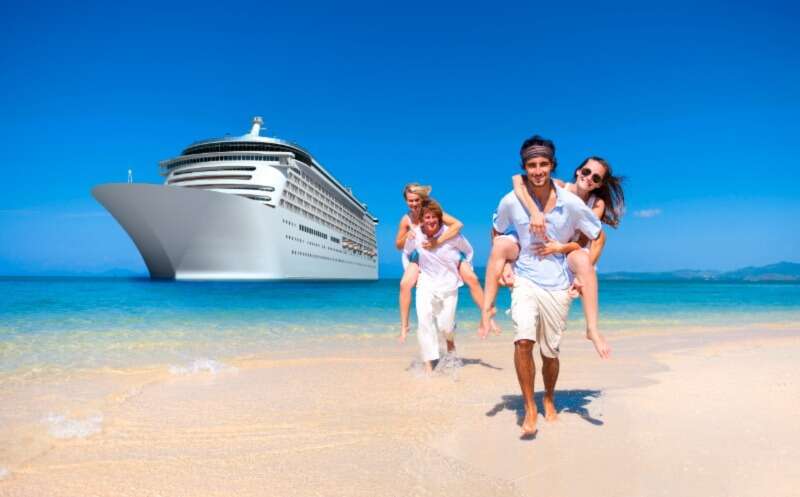 Now that you know the best places to visit and what makes each Greek island unique, you need to find out how to get there. Here we feature cruise lines offering a Greek island cruise itinerary. We'll point out what they offer, where they go, and how much each cruise costs.
1. Norwegian Cruise Lines – Norwegian Jade
Norwegian offers a fantastic 7 day – 7 ports of call cruise of the Greek islands with a twist! You start in Athens, the next stop is Rhodes, followed by Bodrum, Turkey! Why not throw a little Turkey in to mix it up? Bodrum is followed by Mykonos, Paros, and Crete. If you want just a taste of Turkey, this cruise is perfect for you. The Norwegian Jade, a beautiful ship with lots of open space, will safely sail through the waters of the Aegean Sea, showing you some of the best Greece has to offer.
On board this ship you have the options to go basic and save your $$$ for fun at the ports of call, or indulge and book a stateroom with 24-hour butler service, exclusive sundeck, private hot tub, and many, many more extras.
Once you made yourself at home, explore the ship. Onboard shopping includes gift shops, duty free shops, and even an art gallery! And you won't go hungry, either.
There are seven complimentary restaurants, ranging from an Irish Pub (which comes highly recommended) to an Asian restaurant. If you want a little extra, there are several restaurants who serve food a la carte, and, of course, room service for a cozy evening in your stateroom. And talking about cozy: book a well deserved spa treatment at the on board spa!
During time spent sailing to one of the next ports of call, enjoy activities on board: Perspectives Photography Studio, a basketball/volleyball/tennis court, a fitness center, the pool, the spa thermal suite, a card room, jade casino, the video arcade, a cigar lounge, the Entourage Teen Club, Splash Academy for kids, an internet café, a jogging and walking track, a library, and a chapel.
After a relaxing day at one of the beautiful Greek island beaches, get ready for entertainment. The Norwegian Jade features everything from magical evenings to comedy shows and breathtaking acrobatics.
Shore excursions are offered for every stop, including exploring a village in Crete, a trip to Knossos, wine tasting in Crete, an outing to see the innovative solar and wind installations on Tilos, Rhodes, highlights of Bodrum, and many more.
Note that this cruise is port intensive, with no sea days in between to relax. While there is plenty of entertainment and activity on board, there's a good chance that in the evening you'll just want some R&R, which the pool and spa are perfect for.
Prices vary at the time of writing this the beginning of the high season for every Greece cruise, prices start at $1,099 USD for an inside cabin and go up to $4,939 USD for The Haven, the most luxurious accommodations available. Also available are ocean view cabins from $1,499 USD, cabins with a balcony, starting at $2,299 USD, club balcony suites from $2,399 USD, and suites from $3,819 USD.
2. Norwegian Cruise Lines – Norwegian Breakaway
Can't decide between Greece and Italy? No worries! This 10 day cruise on the Norwegian Breakaway covers the best of both worlds. Again, this is a port heavy itinerary, with 9 ports of call, including even Malta! Here's the itinerary: You will embark on your journey on day 1 in the Eternal City – Rome. If you can, plan to spend a few extra days here beforehand to see all the famous sights, and even some hidden gems in Rome. Day 2 is spent at sea. On day 3 you get to explore the Greek island of Santorini. Day 4 takes you to mainland Greece and it's fabulous capital city of Athens. On day 5 you again hit the Aegaen Sea and head to Mykonos, followed by a stop in Corfu on day 6. On day 7 you get to visit the beautiful island of Malta, and on day 8 you will head back to Italy, with a stop in Messina, on the island of Sicily. On day 9 you get a taste of the Amalfi Coast when your cruise ship stops in Salerno. Day 10 is reserved for Florence and Pisa, where you can see the famous leaning tower. After that, you will head back to Rome and conclude your cruise there on day 11.
The Norwegian Breakaway offers similar accommodations to the Norwegian Jade, ranging from basic but comfy to very luxurious. On this ship you will find 6 complimentary restaurants plus The Haven restaurant and The Haven Lounge, which are complimentary if you book a luxury The Haven suite. 8 a la carte restaurants such as The Raw Bar and The Bake Shop add to the appeal.
Onboard shopping could be a fun activity for your day at sea, and options range from duty free to gift shops. Norwegian offers great options for shore excursions. If you don't want to explore Rome on your own, join one of two shore excursions available. Join a popular 'Let's Take a Selfie" tour in Santorini, Mykonos, Athens, or Corfu. In Malta, you can get an unlimited attraction pass, perfect for those who don't want to miss a thing! Those and many more are available. Best book them in advance to guarantee a spot.
This is a busy schedule, but for those who have some extra energy after a fun-filled day in port, there's tons to do on board your ship. Nights are filled with musicals, musical performances, and acrobatics. During the day, you can get your picture taken at Perspectives Photography Studio, splash at the Aqua Park (there's also an Aqua Park for the little ones), have fun at the sports complex, relax at the Spa Thermal Suite, at the Mandara Spa & Salon, or the Bliss Ultra Lounge. Kids can enjoy the Splash Academy, while teens will find plenty to do at Entourage, their own version of a lounge.
Prices at this time: $1,529 USD for an inside cabin, $2,149 USD for an ocean view state room, $3,399 USD for a cabin with balcony, $3,689 USD for a spa suite with complimentary access to the thermal suite, $3,639 USD for a club suite with balcony, and finally $5,929 USD for The Haven, the most luxurious state room available.
3. Windstar Cruises – Star Pride
Windstar Cruises offers small ship cruises with all the amenities. There are several advantages to small ship cruises: they are a lot less crowded, offering a more intimate experience. If you are traveling solo, you will easily make friends. They offer a unique onboard experience, and smaller cruise ships can go places off limits to big ones, which is reflected in the following 9 day itinerary.
This Windstar Cruises experience is also geared towards those having trouble deciding between Italy and Greece. You will embark in Athens, Greece, on day 1 of your adventure. On Day 2, you will want to be on deck as your ship is passing through the Corinthian Canal, so narrow that only private yachts and Greek mail carriers can make it through, aside from small cruise ships. This is a unique experience in your Greek islands itinerary only possible on small ship cruises. Once the transit is completed successfully, you arrive in Delphi. On day 3 you'll find yourself wandering the cobblestone streets of Corfu, followed by Argostoli on day 4, with wonderful opportunities to see sea turtles. Next it is off to Sicily: you'll spend day 5 in Messina, and day 6 and 7 in Trapani. Sardinia is next, with a stop in Cagliari on day 8. Day 9 will be spent at sea, a fine time to get some much needed R&R. From there you'll sail to the amazing city of Barcelona. It's highly recommended to spend a few days exploring this city!
The Star Pride only carries 312 guests and is all about luxury. All accommodations are suites, and your only choice is to go all inclusive or not. The suites all have ocean view, queen or twin beds, a full-size bath tub, and they offer bathrobes and slippers, as well as fresh fruit bowls and fresh flowers to make you feel comfy and at home.
These private yacht style cruises will not disappoint. There's a fitness center and a spa, and a whirlpool to relax in, but since you are on the Aegean Sea, why not try out water sports? You have the choice between kayaking, sail-boarding, even water skiing, and, of course, swimming, and it's all included. Also included are all meals, and all non-alcoholic beverages. Live music is provided in the lounge after dinner. Best of all? Because this is a private yachts style cruise, you are more than welcome to visit the captain on the bridge! Get the best views and learn a thing or two about operating a ship. Well thought out shore excursions are provided at every port of call on your Italy and Greece cruise.
The pricing for small ship cruises is about on par with or a bit higher than the luxury cabins on the big cruise ships, but minus the crowds. On the Star Pride you can choose between not all inclusive or all inclusive. All inclusive prices are in parenthesis. There's a variety of ocean view suites with prices ranging from $4,899 USD (5,700) to $5,499 USD (6300). A balcony suite runs at $6,099 USD (6,900), a star balcony suite starts at $6,299 USD (7,100) and can run up to $6,599 USD (7,400). Book a deluxe suite for $7,399 USD (8,200) or an owner's suite for $9,899 USD (10,700).
4. Holland America Line – Oosterdam – 7 Day Cruise
The Holland America Line offers a fabulous 7 day Greek Enchantment cruise that begins in the most enchanting (though not Greek) places of all: Venice! And not just that. In addition to starting in possibly the most romantic place on earth, the Oosterdam will also stop in a couple of destinations in Croatia, and one in Turkey! While this is a short Greek islands itinerary, you'll get to see other, equally fabulous places. Split in particular is a must for all fans of Game of Thrones.
With that said, here's the itinerary: Embark in Venice, day 1 – Split, Croatia, day 2 Korcula, Croatia, day 3 – sea day, day 4 – Santorini, Greek island, day 5 – Rhodes, Greek island, day 6 – Ephesus, Turkey, day 7 – Athens, Greece.
Accommodations range from a basic but comfy cabin on the inside of the ship to cabins with ocean view, staterooms with a private verandah, which feature floor-to-ceiling windows and include a sitting area, signature suites including a verandah, sitting area, and a private whirlpool tub in the bathroom, to the most luxurious option: the Neptune & Pinnacle suite, which features all the amenities of the signature suite, and additionally grant you access to he exclusive Neptune Lounge, a private concierge. and lots of complimentary services.
Dining options included in your fare are the Dining Room, the Lido Market, the Dive-In, and…drum rolls please…. 24 hour room service! No need to hang with the crowds if you don't feel like it after a long day in your port of call. If those don't hit the spot, you'll find 3 more options at an additional cost.
There's plenty of entertainment on board to keep you occupied, either after a day of sightseeing or on your days at sea. Work out in the fitness center, win a buck at the casino, enjoy R&R at the spa, listen to music on the World Stage, or get competitive in the family game room. Club Hal is great fun for kids. A variety of shore excursions is available, and you'll receive all that information once you booked your Greece cruise.
Are you looking to book your Greek island cruise at the end of June? In that case, pricing is as follows: inside staterooms start at $1,164 USD, you can book ocean view rooms from $1,264 USD, a cabin with verandah starts at $1,564 USD, a signature suite can be had for $2,399 USD, the price for Neptune suites starts at $3,664 USD, and the Pinnacle suite runs at $6,284 USD.
5. Holland America Line – Oosterdam – 14 Day Cruise
Did you love the 7 day itinerary on the Oosterdam? Then I have good news for you! You can have all this and more. The Oosterdam sails that exact itinerary, but adds 7 fantastic more days. After day 7 in Athens, you will spend day 8 cruising the Dardanelles, followed by day 9 in Istanbul, Turkey. Next you continue your Greek island itinerary. Days 10, 11, and 12 in Mykonos, Chania, and Olympia, Greece. After all that you get to relax at sea on day 13. On your last day you arrive back in Venice where you will disembark.
Dining, amenities, and onboard activities are the same as they are on the 7 day version of this cruise. Pricing is as follows for late June/early July of 2023: inside staterooms – $2,029 USD, ocean view rooms – $2,409 USD, a cabin with verandah at $2,979 USD, a signature suite goes for $4,559 USD, the price for Neptune suites and the Pinnacle suite is $6,619 USD.
6. Star Clipper – Star Flyer
For the most unique of all Greek island hopping cruises, you need to look at Star Clipper and its beautiful tall ship, the Star Flyer. The Star Flyer is a modern clipper ship, beautifully designed to safely sail 166 passengers through the Aegean Sea and beyond.
In April of 2023, you have the chance to join a 6 day Sicily & Greece sailing adventure.
You'll join your island cruise on the island of Malta. From there, you'll sail to Sicily. Day two will be spent entirely at sea, sailing to Pilos, your first stop in Greece, where you get to spend day 3. On day 4 you will visit Monemvasia, Greece, and day 5 provides a chance to explore Nafplio, also in Greece. Your Greece cruise will conclude in Athens on day 6.
A cruise on the Star Flyer is unique in many ways. You'll get plenty of time for rest and relaxation, and an authentic experience sailing the Aegean Sea, powered by nothing but the wind. And you will do this in utter comfort. Staterooms are available in 6 categories, plus an owners cabin. Category 1 is a deluxe deck cabin, featuring your own whirlpool and a minibar. Category 2 is a large outside cabin. Category 3 is a regular outside cabin. Category 4 is an outside cabin with an extra fold down bunk with a ladder. Category 5 can be an inside or outside cabin and features an extra fold down bunk with a ladder. Category 6 is an inside cabin, which is much smaller than the other options. The owners cabin is the crème de la crème of accommodations on all Star Clipper ships. It's a deluxe outside cabin, featuring a sitting area, minibar, and a whirlpool. It's also the largest available cabin.
Rather than having a large assortment of restaurants like the big cruise ships, there's one place to eat. But do not be concerned, food is treated as a culinary art on the Star Flyer! Feel free to dress casually. Another thing that's simply amazing on this cruise is the entertainment. Local performers are invited onto the ship to give you the most authentic experience. if you are so inclined you can even pick up a few basic nautical skills! Climb the mast up to the crow's nest for the best views, or relax in the netting at the bow, watching the waves and looking for dolphins. Water sports of all kinds are available for you to try out.
Prices for April 2023 are as follows: category 1 – $2,480 USD, category 2 – $ 2,220 USD, category 3 – $ 2,100 USD, category 4 – $2,000 USD, category 5 – $1,740 USD, category 6 – $1,590 USD. The owners cabin runs at $3,180 USD.
7. Disney Cruise Line – Disney Dream – 7 Day Cruise
Dream about a Greece cruise onboard the Disney Dream. It doesn't matter if you have kids or not, a Disney cruise is magical for all ages. In its 2021 World's Best Awards, Travel and Leisure voted Disney Cruise Line the No. 1 mega-ship ocean cruise line. What better way to explore Santorini and Mykonos, and other exciting ports of call?
Here's the itinerary for a 7 day Greece cruise, with a little extra! You'll embark in the Eternal City – Rome, then you are off to Naples, where you will spend your first day. Pro tip: Pompeii is close to Naples and a must-see site! After a busy day 2, you get to spend day 3 at sea at your leisure to make sure you are rested for the next part: the Greek islands itinerary. Day 4 is spent in Mykonos, day 5 in Santorini, and on day 6 you'll head to Crete before heading back to Rome where you disembark on day 7.
The Disney Dream can make your accommodation dreams come true. You can choose a standard or deluxe inside stateroom. Staterooms with ocean view include the deluxe or the deluxe family options. Staterooms with a balcony are also available: a deluxe family ocean view stateroom with verandah, a deluxe ocean view stateroom with verandah, or a deluxe ocean view stateroom with navigator's verandah (a smaller verandah than the regular one). If you want to go all out and have the most luxurious Greece cruise possible, book one of the available suites. The concierge royal suite with verandah, the concierge one bedroom suite with verandah, or the concierge family ocean view stateroom with verandah will leave you wanting for nothing.
Ah, the dining. There's magic to be had everywhere on a Disney cruise, and the dining is no exception. Included in the price of your cruise are the Animator's Palate, the Royal Palace, the Enchanted Garden, Cabanas, Flo's Café, and room service. On top of that you can get complimentary soft serve ice cream at Eye Scream Treats and Frozone Treats. For extra $$$ you can eat Italian food at Palo, French Cuisine at Remy, have coffee and pastries at Vista Café, get popcorn and candy at Preludes, or smoothies and specialty drinks at Eye Scream Treats and Frozone Treats.
Onboard shopping is available and includes everything from a photo studio to a gallery, a sweets shop, and a boutique.
The Disney Dream offers so much entertainment, you might be hard pressed to pry yourself away from it all and go to shore. There are bars, clubs, and lounges, even a teen club and a video game arcade. There's a spa for adults and even a special spa for teens! Get your hair style all freshened up at the barber shop and hair salon. Stay in shape at the fitness center, join an exercise class, walk on the outdoor walking and jogging track, or book an hour with a personal trainer. But wait, there's more, a whole sports deck (Goofy's sports deck!), and there's so much fun to be had: there's a basketball court, a mini-soccer pitch, ping pong and foosball, a digital sports simulator, Goofy's mini golf, a golf simulator and packages for an additional fee, and shuffleboard. Oh, and don't forget the 5 different pools, with lots of water fun, and four infinity hot tubs.
In case this wasn't enough leisure for you yet, there are plenty of shows you can see, from Broadway style shows to comedy and magicians, and there are two movie theaters, one of which is poolside. There are parties and theme nights, live music and dancing, contests and tournaments. And all this doesn't even include all the entertainment and activities for kids. Boredom is not an option.
Shore excursions, known as port adventures at Disney, are available at all ports of call. You can not go wrong with a Disney cruise. If you decide to pick this itinerary the following are the current prices you'll be looking at: interior staterooms start at $3,443 USD, ocean view can be had starting at $3,695 USD, if you want a balcony, you'll be paying $4,108 USD and up, and suites start at $9,330 USD.
8. Disney Cruise Line – Disney Dream – 11 Day Cruise
Did you love the idea of a Greece cruise on the Disney Dream, but 7 days are not enough? Good news! There's an 11 day cruise available on the same ship. Just like on the 7 day cruise, you'll embark in Rome. Day 1 finds you in Messina, Italy, followed by day 2 at sea. Your Greek islands itinerary includes days 4 – 6. You'll hit Piraeus, Santorini, and Mykonos, followed by another sea day. On day 8, you get to explore Naples, again followed by a day at sea. On day 10 you'll be back in Italian waters. Livorno, Tuscany, will be your port of call. From there you'll visit Toulon, France on day 11 and disembark the next day in Barcelona, Spain.
This itinerary allows you not just to see a few more countries, but it's also more leisurely, with a few days spent at sea during which you can enjoy the wonderful amenities only a Disney cruise can offer.
Pricing for the end of June/early July is as follows: inside staterooms start at $5,037 USD, ocean views can be had for $5,543 USD, a stateroom with balcony will cost you $6,231 USD, and suites start at $15,643 USD.
9. Princess Cruises – Enchanted Princess
For those who would like to combine their Greece cruise with the best the Mediterranean has to offer, this 14 night cruise on the Enchanted Princess is a great deal. The ship is fairly new, built in 2020, so you can count on modern amenities for a very affordable price. The itinerary is as follows: day 1 you embark in Athens, Greece, then sail to Santorini, where you'll spend day 2. Day 3 is a sea day, followed by day 4 in Kotor, Montenegro. On day 5 you'll hit another Greek island: Corfu. On day 6, you'll explore Messina, on Sicily, Italy, followed by another day at sea. On day 8, you get to see Barcelona, and then spend day 9 relaxing at sea. On day 10 you'll wake up in Gibraltar, a very fun destination. Day 11 is once again a sea day, followed by day 12 in Marseille, France, day 13 in Genoa, Italy, and day 14 in Pisa (Livorno), Italy. On day 15 you'll arrive in Rome and disembark.
Just like on most other big cruise ships, accommodations include inside staterooms, ocean view staterooms, staterooms with a balcony, and suites. To ensure the ultimate comfort, Princess has invested in luxury beds on this ship, making sure you get the rest you need for your busy schedule.
There are plenty of dining options available. Included in the price of your cruise are Dine My Way, World Fresh Marketplace, International Café, Slice Pizzeria, Gigi's Pizzeria, and Salty Dog Grill. Specialty dining is available at Crown Grill, Sabatini's Italian Trattoria, The Salty Dog Gastropub, Gelato. and Ocean Terrace Seafood Bar.
Your sea days can be filled with rest and relaxation, or a variety of activities. From the top deck, you can indulge in stargazing. Other activities are inspired by Discovery Channel hit shows, such as Shark Week, Finding Bigfoot, Deadliest Catch and others. The crew of the Enchanted Princess also puts on a festival from the region you are sailing to, and offers other destination themed activities.
Princess, in partnership with Discovery, offers very special shore excursions. They are all small group tours, focused on immersive once in a lifetime experiences.
Join this cruise from the end of July to early August and plan to be out of pocket as follows: inside stateroom – from $1,678 USD, ocean view – $2,469 USD, balcony – from $2,548 USD, mini suite – from $3,318 USD, and a suite – from $5,858 USD.
Are you excited for your trip? Pick up one of our 25 best books about Greece before you go!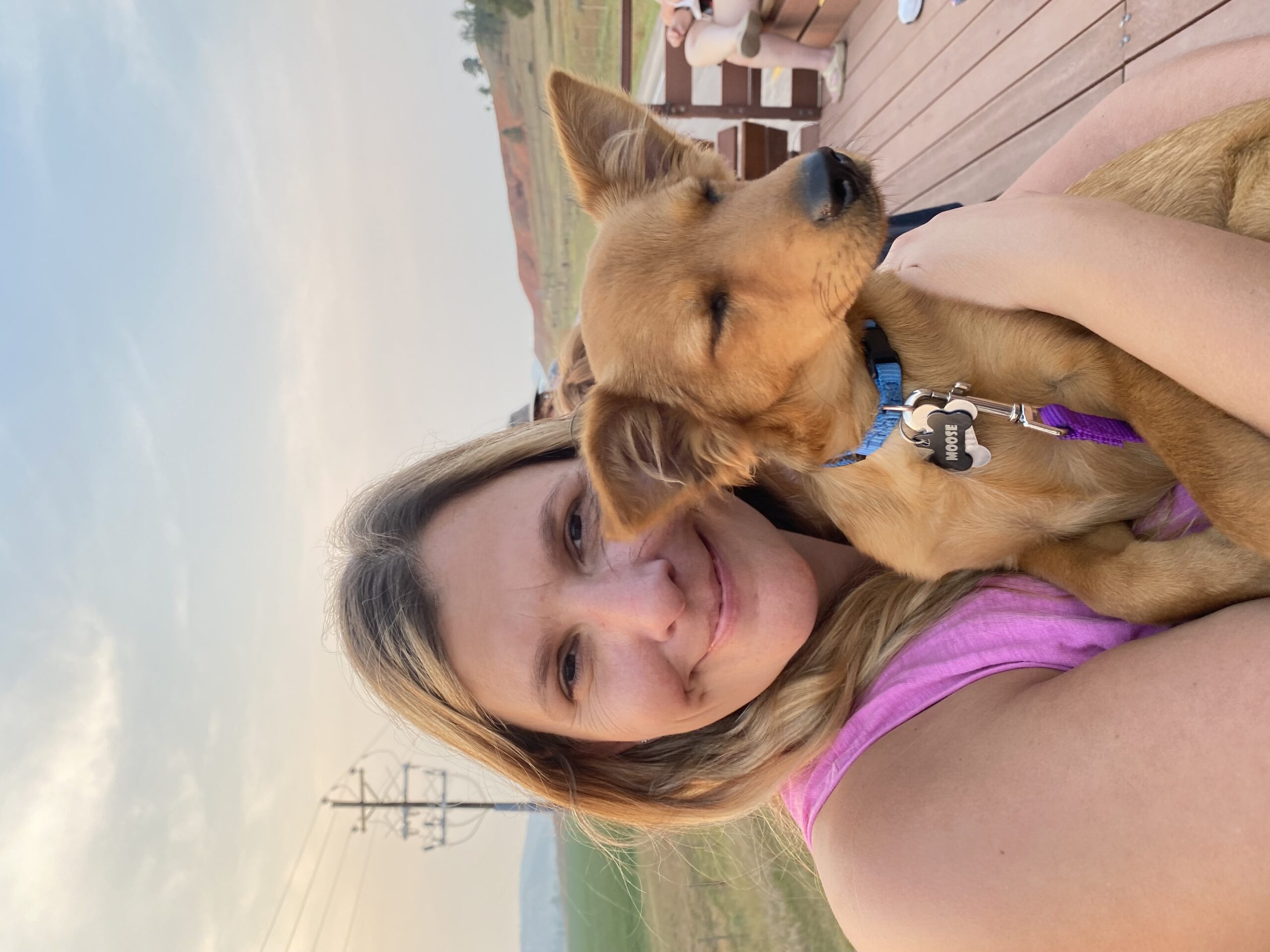 Jenny grew up in Germany. All she ever wanted out of life was to leave and have adventures. Jenny always traveled as much as the budget would allow, and when she met her husband traveling became a full-time thing. You can follow Jenny on her blog and Facebook.