Do you like to explore multiple new places on a week long trip without being on busses, trains and planes all the time? Are you the person that loves to travel but not to pack and unpack countless times on a short getaway? I love to travel. I'm that person that loves to explore but don't want to loose time getting around, and I'm definitely the person that loves to (un)pack as little as possible. Are you like me? Then cruising can be the way to go. I have quite a few days on a cruise ship under my belt. That's why I'm going to share some of my favorite cruise destinations with you. This time it's going to be all about Norway.
Not sure if cruising is for you? Check out the article 'Why you should go on a cruise' and read all about the leisure ways of traveling by ship, and why it isn't just for those who are retired.
This post contains affiliate links. This means we make a small commission at no cost to you if you click through and make a purchase. All prices listed are accurate at time of publication.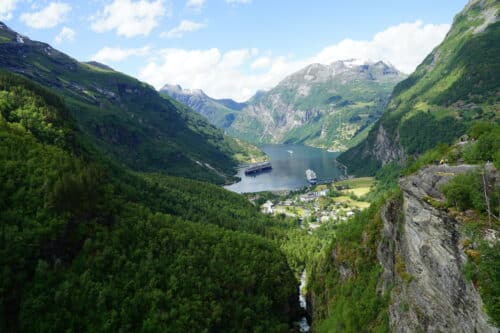 Go Cruising in Norway
Located in the Northern part of Europe is the Kingdom of Norway. Next to the mainland territory the country counts 50.000 islands, including the remote Arctic island of Jan Mayen, and the archipelago of Svalbard. The longest tunnel in the world can be found here. The Lærdal Tunnel is 24.5 km long.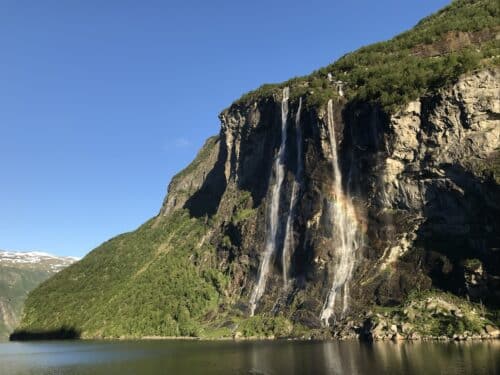 This Scandinavian country is famous for it's stunning nature, beautiful fjords, and, of course, the Aurora Borealis. Are you a fjord lover? Then you can indulge yourself in Norway, as it is the country with the most fjords in the world. Two of these fjords are UNESCO World Heritage Sites, and Norway has a total of eight UNESCO Sights. The Norwegians have a lot of history regarding Vikings and folklore. A lot of these stories are well known all over the world. Fun facts about Norway: In the 80s the Norwegians introduced salmon sushi to the Japanese. Another Norwegian invention is the paperclip. And did you know that the Swedish store IKEA names beds, hall furniture and wardrobes after places in Norway?
The local currency is the Norwegian Krone, NOK. You may have heard before that Norway is a very expensive country. A pint of draught beer will cost you an arm and a leg at $ 9 USD, and a cappuccino will be around $ 4.50 USD. The reason for this is this: The taxes are high, because they pay for a large range of services, such as universal health care and welfare. Also paid with public funds are the salaries of teachers, researchers and professors. Students in Norway only pay for the student union, they don't pay tuition fees.
Take the Hurtigruten ships or another line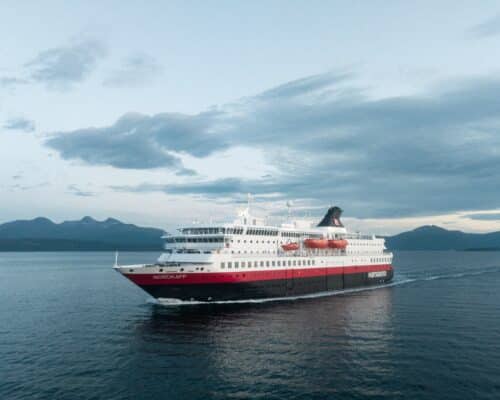 You probably have heard of the Hurtigruten ships, which means fast route, that sails along the Norwegian coast. All year around the Hurtigruten ships transport people, freight, and mail to 34 key communities. The daily loading and unloading during the trip gives passengers an authentic experience. You can't really compare this line with modern cruise lines. The cabins are simple and the amount of crew is small. Nevertheless, from the decks you can enjoy the most beautiful scenic views, and sailing on Hurtigruten ships is a very unique experience.
Do you prefer a luxury line? In 2019 40 cruise lines sailed to Norwegian ports with 80 ships. There is something for everyone who wants to cruise to this part of the world. Are you traveling with children? You may consider Disney cruises. For those who are looking for the best music and food at sea are best served with a Holland America Line cruise. Do you want the ship to be a destination in itself? Check out the cruises that Royal Caribbean is offering in this part of the world. And this is just a handful of lines that are sailing to Norway.
Do you want to see the Aurora Borealis during your cruise? Be aware that most cruise lines are having their Norwegian season between May and September, while the Hurtigruten is sailing all year around in these waters. During spring and summer it's impossible to see the Northern Lights due to the lack of darkness.
When considering the right line for you, there are a couple of things to keep in mind. The length of the cruise, the ports of call you would like to visit, and, not to unimportant, your budget.
Are you seeking a short cruise or a long one? Norway has it all!
Vacation days all over the world are different, and maybe you prefer overland tours and would like to experience just a short trip by ship. The Hurtigruten has cruises from 2 up to 15 days. Isn't that long enough? Check out if you can connect multiple cruises to extend your trip. Most common are the week long Norwegian cruises, these mainly focus on the southern part of the country. Longer cruises either visit more ports in the southern region, or go all the way up to the North Cape, or even further, to Svalbard. So remember, the length of cruise depends on the ports you would like to visit. Leaving from ports like Copenhagen, the Netherlands or Kiel? It will be unrealistic to expect a week long cruise from there going all the way to the North Cape. Do you want to go to the North Cape and only have a week to spare? See if you can find a cruise that is starting further North, or ending over there, so you can save on sailing days.
Let's talk about money
Cruises aren't low budget. Nevertheless, you don't have to break the bank. Many cruise lines have special offers, even more during times where business is slow, like in the off peak season. It's possible to find very good deals for that time frame. Most cruises offer full board. That means you will have a bed, breakfast, lunch, and dinner included. Just keep in mind that a lot of cruise lines add a service charge to your bill at the end of the cruise. When the service wasn't what you expected you can take that off. Side note: Automatic tips are shared with all crew that is providing service in the hotel department, the ones you see and the ones you don't see.
Let's talk ports
Norway is the perfect combination of nature and city life. Not just the destination is worth enjoying, but the journey there is also incredible. The scenic cruising around the fjords is most spectacular. After a rainy day you will be able to see many water falls. Check out the local wild life, and just enjoy the quiet with the high walls of rock around you.
Bergen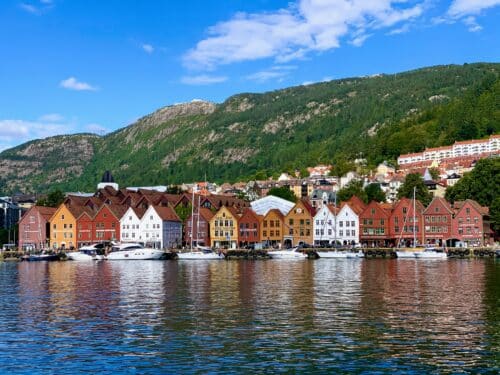 This famous student city is best explored on foot. You can navigate it by just wandering, or with a local guide on a (free) walking tour. Visit the famous wooden houses of Bryggen. Taste the best fresh seafood at the fish market. Take a ride on the only funicular in Scandinavia, Fløibanen. For those who want to indulge in the culture, Bergen has great museums like the open-air museum Gamle, the Bergen Maritime Museum, or KODE 4, where you can see the work of Norwegian painters.
Visiting this city can be overwhelming, and some people love to plan every minute of their visit. I just like to walk into town and see where my feet take me!
Eidfjord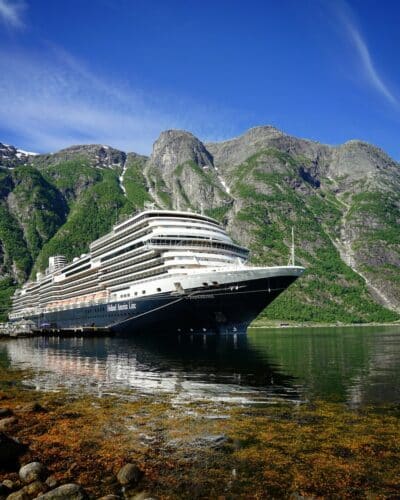 At the sensational Hardangerfjord you will find the charming town of Eidfjord. This is another port where the stunning nature of Norway is on display. This port is perfect for watersport activities, kayaking is a popular one.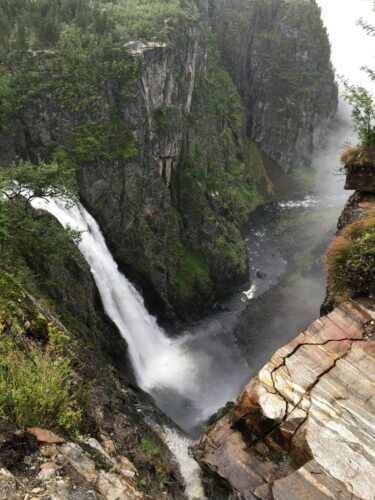 Most of the ship tours visit the Vøringsfossen Waterfall. It is even more impressive after a lot of rain. If you don't want to join the tour offered by your cruise line, or it is fully booked, you can book independent trips to the falls from the little tour office on the dock. Wandering into town is very easy, you just take a right. Do you want to take stunning photos of the ship? Then make a left. Get a coffee to go, bring your book, and read while being surrounded by tons of rock.
Flåm
This tiny village is one of the most popular places in southern Norway. When sailing into this port you enjoy a beautiful scenic view of the Sognefjord and Aurlandsfjord. And that aren't the only two fjords located near Flåm. Nærøyfjord is the smallest fjord in the world, and on the UNESCO list of World Heritage Sites. This fjord is worth the visit on a cruise excursion, as larger ships can't sail into this fjord.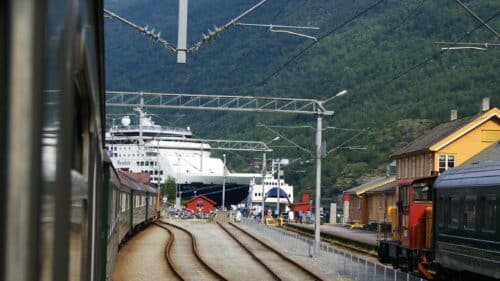 Being one of the most beautiful train journeys in the world, the Flåmsbana railway is definitely the most famous attraction in Flåm. This 20km long route between Flåm and Myrdal is one of the steepest railways in the world. The views from the train are spectacular. You will pass mountaintops, rivers, and beautiful valleys. At the Kjosfossen waterfall the train makes a photo stop for its passengers. From there the train continues to Myrdal. There are many options to go back to the port from Myrdal. Some people decide to book a later train so they can spend some time walking around. It's also possible to make the journey back by bike, or on foot. Personally I would suggest taking the train back, and remember to sit on the opposite side of the train this time, so you see everything you didn't see on your way in and can enjoy the beauty of this region.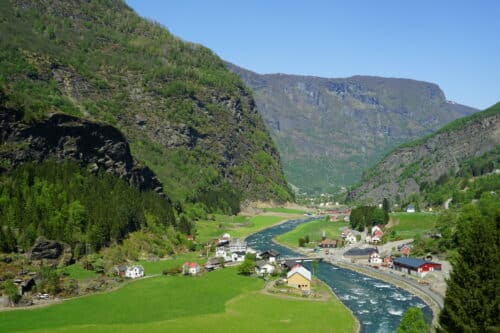 Before heading back to the ship I always stop at the Ægir microbrewery. This cozy brewpub with wooden furniture and warm fire pit is a great place for beer lovers. A beer here will be more expensive than on board, but it's local, cold, and you will have an authentic experience in this touristic town.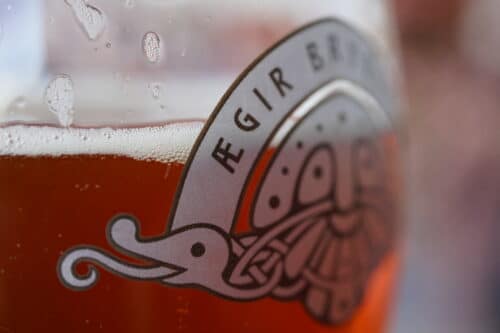 Geiranger

This is my favorite port for sure. It has stunning views, a beautiful sail in and out, and one of the best chocolate stores in the world! Their chili hot chocolate is to die for, not to mention the view from the little café.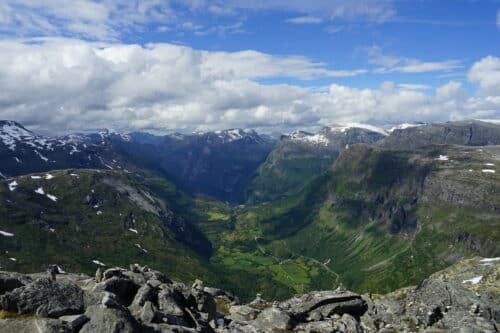 The best views aren't only available from aboard the ship. If you get motion sickness going up hair pin roads, Eagle Road is probably not a good idea for you. But the views from there are just breathtaking. You can gaze into the fjords on one side, and on the other side look all the way up Mt Dalsnibba. On sunny days you can see all the way to Geiranger, while on cloudy days you sometimes can't see past your hand. Don't want to wander that far from the ship? Walk around the bay and make your way up the stairs to the top of the waterfall. That's another spot from which the views are spectacular. Can't get enough of waterfalls? Don't miss the Seven Sisters while the ship sails by it sailing in and out of the fjord.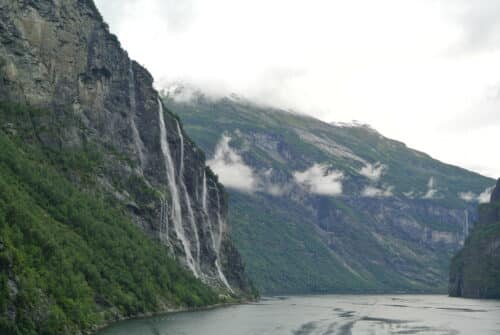 Honningsvag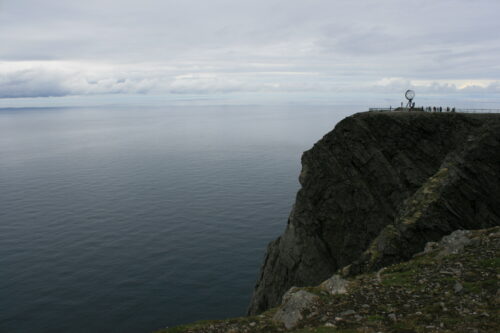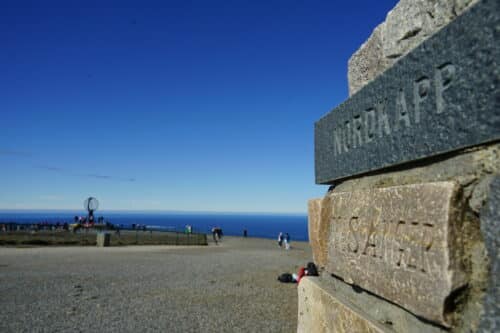 Honningsvag: the gateway to the North Cape. Don't ask me what else there is to do here. I should go to Google for help! So far I've been to the Cape three times, and every time the weather was different. One time I couldn't see anything, the other time it was cloudy, and the last time I was there the sky was so blue I never saw such a blue sky before. Is it the most spectacular place in Norway? Definitely not, that is an easy one. Still it's a special place to visit! Snap some cool photos for your Instagram!
Oslo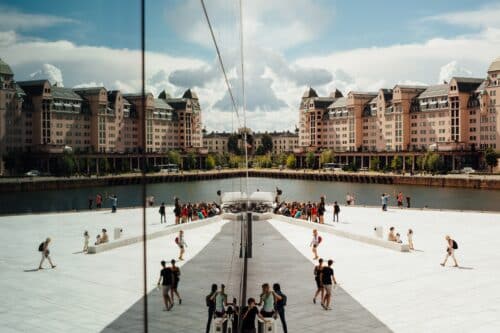 It's impossible to see everything during the eight hours most cruise ships are in the Norwegian capital. Are you here for the first time? Both the hop on hop off bus and a (free) walking tour will help you to get around, see lots of things, and avoid getting lost. Although, I love to get lost in new cities. Explaining all that there is to do in Oslo will take some time.
Good insider tips: When the Royal family isn't home you can visit the inside of the royal palace. If they are they home you can still enjoy the outside, watch the changing of the guards, and wander around the beautiful park on the palace grounds. As you would expect from a country's capital, the city has a huge amount of bars, restaurants, and shops. I let Untappd guide me around new cities. I. Norway, I have to watch out or I'll end up broke at the end of the day! Looking for phenomenal views? Visit the roof of the opera house, from which you can see the Oslofjord.
Stavanger

The white painted houses of Stavanger will welcome you to this city. With its beautiful gardens, houses, and traditional feel this old part of Stavanger is worth the wander. If you are looking for shopping, nature and cafes you want to go into a different direction!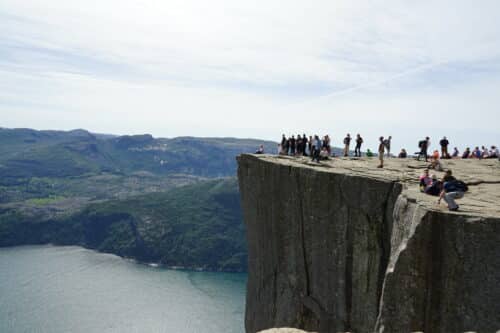 The hikers among us can't miss the 8 km hike to the Preikestolen, which takes approximately 4 hours. At the end of the hike you will be rewarded with a birds-eye view over the Lysefjord. Small cruise ships and tour boats can enter the fjord, so you can see the Preikestolen from below if you wish to. Make sure you are wearing good shoes, the elevation gain is approx. 500 meters. Dress in layers and bring sufficient water and food.
Ovre Holmegate is the most colorful street in Stavanger. A rainbow has kissed the buildings here, and with it's diversity in color and all the interesting businesses this is the place to be. Can't find me onboard? Big chance I'm here. Bøker og Børst is my favorite café in this town. Beer, Books and Coffee, that are the three words that describe this place. Beside this bright street you will find a lot of nice places to explore while you are in Stavanger. The city is small and easy to navigate.
Ålesund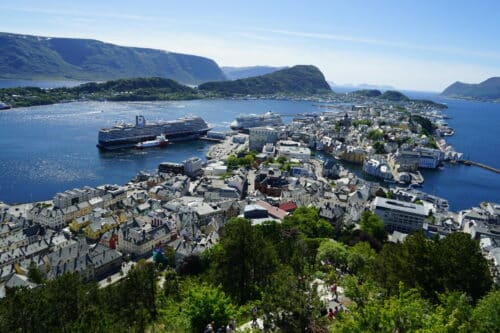 In 1904 this town was destroyed by a fire. With the entire nation helping out, Ålesund was rebuild by young Norwegian architects in Jugendstil, with a touch of Nordic flare. After seeing several ports of call in Norway, you will notice the difference between this city and the others. While strolling around town you will be surrounded by interesting 'art nouveau' architecture. The sea is always nearby, as Ålesund is made up of five islands. You can find the best view of this city on Mount Aksla.
Looking for an activity with children? Ålesund Aquarium is a fun place to go. Don't expect colorful fish in tropical tanks. Here, you find the Norwegian Aquarium, and they show local sea life. A good way to learn about the local fauna.
Still time left until it's time for 'all onboard'? You will find Molo Brew just across the cruise pier. It's a modern building with a great outside terrace, good food, and cold brews. Yes, the prices are Norwegian, but sometimes it's worth trying local food and not going to sip your usual Bud Light onboard!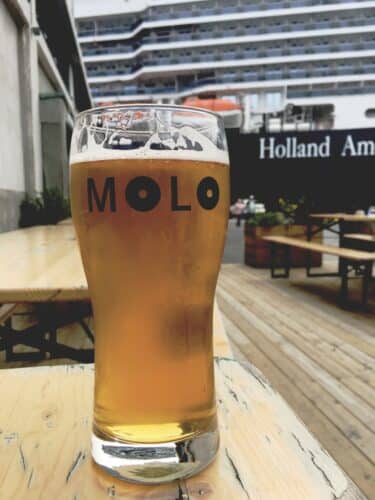 Norway has many ports I haven't visited yet, like Hammerfest, Kristiansand, Svolvær, Tromsø, and Trondheim. There is so much to see and to explore in this country, it is definitely worth to visit multiple times.
Martine is from the Netherlands. Six months of the year she travels with her husband who works on a cruise ship. When she isn't exploring new places she loves to read, write postcards, and crochet. You can follow her on Instagram as @martinemuis, on her blog, or watch her video's on youtube.