Are you wondering why you should go on a cruise? Cruising is defined as "to sail about on a pleasure trip". Taking a cruise, isn't that something you do when you are retired, have nothing else to do and a lot of money to spend? I don't think so! I love to share why I feel cruising is a great way to experience new places. Cruising for everyone!
Why You Should Go On A Cruise
Have you ever backpacked or gone on a road trip? I have and the one thing I absolutely hated about it was the packing and unpacking of my luggage. When taking a cruise you don't have to worry about that, it will be in your cabin from start to finish so you can enjoy the ports of call.
Another great feature of cruising is that you get to enjoy multiple destinations in quit a short amount of time without having to fly, drive, or taking public transport. While you enjoy dinner, the onboard entertainment, or sleep, the ship will sail to the next destination.
What to do in port?
When backpacking or road tripping, I love to 'go with the flow'. Wake up and see where to go next. When going on a cruise you know beforehand where you are going. It's not really spontaneous, but it gives you the change to take advantage of the short time you have in port. When planning the trip you can research the ports, check if the city has a free walking tour, ask the Girls Who Travel Community for recommendations, and book excursions through the ship or with organizations in port. So many options!
What to do at sea?
Relax, take time for yourself, disconnect yourself from your mobile, and do the things you like to do on a lazy Sunday. Sleep in, have a late breakfast (in bed), read a book, enjoy the pool, hut tub or sauna, watch a movie. I've noticed that I sometimes forget to take 'me-time' when I travel. On the cruise with sea days you don't have a choice, and I love that!
What does it cost?
There are so many cruises offered around the world. I picked three to give you an idea on how much you need to save for a cruise.
You can book an interior cabin on a 3 night/4 day cruise to the Bahamas out of Tampa for $ 189,- p.p.*. An Ocean View starts at $ 279,- p.p.* and you can have a balcony for $ 20,- more a person*.
Feeling more for a 10 night/11 day cruise to the Mediterranean round trip Rome (Civitavecchia) while visiting Santorini, Athens (Piraeus), Mykonos, Rhodes, Chania on Crete, Valletta on Malta, Messina on Sicily, Naples and Florence/Pisa (Livorno)? An interior cabin starts at $ 1499,- p.p.*, you can sail ocean view from $ 1849,- p.p.*, and for $ 2849 p.p.* you can be in a balcony.
Always wanted to travel around the world? For a 128 day World Cruise leaving out of Miami to London (Greenwich) you have to dig deep into your pockets. Prices start at $50,000, but this price includes business class air from wherever you are!
Most cruise lines have full board, more luxury brands offer all-inclusive. You get to enjoy three meals a day and snack time is covered too! Most cruise line offer included activities onboard. Want to enjoy more services? Onboard you can buy drink packages, extra activities like wine tasting, laundry service, dinner in specialty restaurants, excursions, etc. Those extra's aren't always automatically included in your cruise fare.
Only cruising?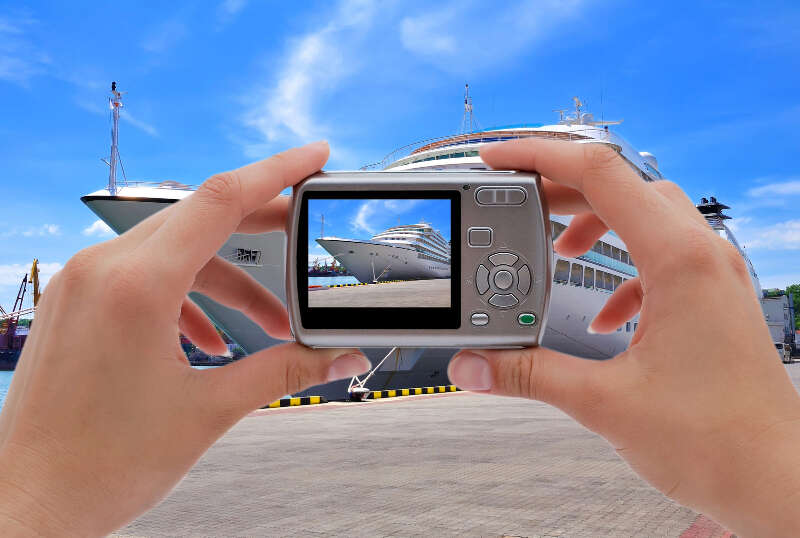 So, after reading this you are probably wondering if I'm only spending my vacation days on ships. No, I don't think so! I feel that cruising can't replace the experience of city tripping, backpacking, road tripping, or any other way of travel where you get to experience places more in-depth, for a longer period and also the areas away from shore.
I do feel cruising is a great and relaxing way to get to experience new places and decide if you would like to return for a longer period of time. And like I said there is no worry about luggage, transportation or cooking. Relax while at sea and enjoy while in port!
*Cruise fares are based on a two person occupancy. Do you travel solo or with a family, check with your travel agent for the current prices. These prices are to give an indication and are the full-board cruise fare only. Airfare, drinks, specialties restaurants, shore excursions, gratuities etc are not included. Want to book a cruise? Always check with your travel agent for special deals and rates. Also subscribe to newsletter for the best deals.
Martine is from the Netherlands. Six months of the year she travels with her husband who works on a cruise ship. When she isn't exploring new places she loves to read, write postcards, and crochet. You can follow her on Instagram as @martinemuis, on her blog, or watch her video's on youtube.