With what seems like the whole world shutting down most of us will be spending a lot more time at home. We have compiled a list of travel movies to stream that keep you traveling in spirit.
Travel movies to stream – Bridget Jones' Diary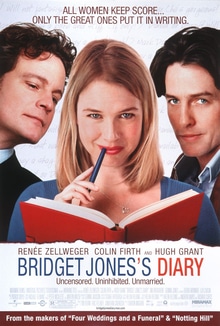 By IMP Awards, Fair use, https://en.wikipedia.org/w/index.php?curid=10826226
This movie makes you want to visit London! Bridget Jones, an average woman,  goes through all the struggles of almost middle age. She is unhappy with her weight and her job and doesn't have a boyfriend. To turn her life around she starts writing a diary, in which she vows to be brutally honest to herself. Suddenly two men are trying to win her over. Bridget's boss is handsome and charming, but has a questionable romantic reputation. And then there is her awkward acquaintance. Bridget's unconventional friends complete this extremely funny and very relatable movie.
Available for streaming on Netflix, Hulu and Amazon Prime!
Leap Year
Do you love Ireland? Have you always been a fan of road trips? Did you know that a marriage proposal can't be rejected on leap day?  A real estate agent decides to go on a road trip to propose to her boyfriend, who lives in Ireland. But it does not go off without a hitch!
Available for streaming on Netflix, Hulu and Amazon Prime!
Into the Wild
Are you the outdoorsy type? So was Christopher McCandless. After Christopher graduates from college he left all his worldly possessions behind and half drove, half hitchhiked to Alaska. After an eventful trip across North America he arrived at his destination and vanished into the wild. Find out how his story ended!
Available for streaming on Netflix and Amazon Prime!
The best exotic Marigold Hotel
Experience India through the eyes of a bunch of British retirees. On their search for a less expensive place than the UK to retire, they move to a newly renovated hotel in India. Find out what happens when it does not meet their expectations. Will they give up and return home, or will they adapt to the new situation?
Available for streaming on Amazon Prime!
The Peanut Butter Falcon
The peanut butter falcon is a wonderfully moving adventure story of two unlikely traveling companions. Zak, a young man with Down Syndrome, runs away from the nursing home he is forced to live. He wants to pursue his dream of becoming a professional wrestler. Fate brings him together with Tyler, a roughneck on the run. Will he be able to accomplish his goal? And what does Tyler's future hold?
Available for streaming on Amazon Prime!
Murder on the Orient Express
Do you love the classics? Famous detective Hercule Poirot is on a mission to solve a murder on the lavish Orient Express, a trans-European train that was famous in the 1930s. One of Agatha Christie's most famous mysteries come to life!
Available for streaming on Netflix and Amazon Prime!
Vicki Cristina Barcelona
Who doesn't love Barcelona? This movie is set in the famous Spanish city. Vicki and Cristina, two friends from America, visit their friend in Barcelona. A chance meeting with a sexy artist who is attracted to both girls has sparks flying. Especially when his mentally and emotionally unbalanced ex wife unexpectedly shows up and adds to the drama. One of my favorite travel movies to stream.
Available for streaming on Netflix and Amazon Prime!
Before Sunrise
Minimalistic yet romantic, Before Sunrise takes you to a beautiful night in Vienna. Jesse, a young man from America, and Céline, a young French woman, meet on a train. They decide to get off together in Vienna after discovering an emotional connection between them. They only have this one night to discover their love for each other since Jesse will have to return to the US the next morning. How do they cope with a love that can only last one night?
Available for streaming on Netflix and Amazon Prime!
Moana
If you love animated movies, Moana is for you! Have you ever been an adventurous teenager? Moana is growing up in ancient Polynesia. When a terrible curse comes down on Moana's people she sets out to sea, where she meets a mighty demigod. Together they sail the oceans to solve the ancient quest and save her world.
Available for streaming on Netflix, and Disney+!
Jurassic Park
Jurassic Park is almost a classic. A group of people is chosen to explore an island theme park. There they discover that a team of scientists have brought extinct dinosaurs back to life. But when the island's power and security measures fail due to sabotage the predators are free to roam and hunt. A dangerous fight for survival begins.
Available for streaming on Netflix and Amazon Prime!
Hopefully you enjoyed these travel movies to stream while you are stuck at home!
Her Adventures is an education and empowerment community dedicated to helping women explore beyond their boundaries. We welcome all people who identify as non-masculine/non-male to connect, educate and inspire each other with their stories, fears, knowledge, questions, and ideas. Because together we make each other strong. We hope you will join us and see the world.