Are you looking for a great place to have a staycation in the Netherlands? 'The Schoorlse Duinen in the Netherlands is the highest dune area at the head of North Holland. There is plenty of room to get a breath of fresh air. A century ago it was one big sandbox here. Now dozens of bird species nest, the most beautiful mushrooms grow and the sunlight plays with thousands of tree leaves.'
The Netherlands are more than 'just' Amsterdam
Sometimes I just can't imagine why I spend so much time at home. Not that I'm ever bored. I was searching the internet to find things to do this summer while not crossing the Dutch border. I got overwhelmed, because my home country has so many amazing things to offer. When people tell me that they have visited the Netherlands and just stayed in Amsterdam, I get a bit disappointed. Our country has SO much more to offer. There are many great places for a staycation in the Netherlands, different things to do, and typical Dutch foods to eat. What is the reason then that I spend so much more time abroad exploring foreign countries, instead of my own? I have no idea. So earlier this week I packed up a picnic lunch, then put extra air in the tires of my bike and went on an adventure just 9 kilometers from home.
Staycation in the Netherlands: Schoorlse Duinen
The Schoorlse Duinen have more than 60 kilometers of foot and bicycle paths that take you to the highest dunes, as well as the oldest forests or the drifting dunes. Beside being great for walking and running this beautiful nature reserve is ideal for cycling. Come on your city bike or take a mountain bike. There are small routes perfect for families or those of us that like shorter distances. There are also full day routes for the more adventurous types. When arriving at the nature reserve, I visited the visitor center first. I got a map of the area to map out a route for today's bike ride. The Duinen are worth just a quick stop, but there is so much to explore. The people who work here will talk to you about the area with so much enthusiasm, even when you didn't plan on going any further you will. You just get too curious while talking to them.
A Stop at Vogelmeer
My bike ride took me to 'Vogelmeer'. This lake is well known for all the birds that are staying here during their visit to the Netherlands. They are not the only inhabitants. There is a herd of cows grazing here. When looking carefully you can see the dragonflies dancing just above the water surface, and lizards are spotted here frequently. I parked my bike on the side of the road while I walked around the lake, finding the best spot to eat my homemade lunch. I also wanted to make use of my camera, which had been laying around in a drawer for a couple of months. To be honest, many moments went by without me realising we are in the middle of a lockdown and 'stuck' at home. Keeping a social distance wasn't an issue at all, until the cows got curious and left their sunbathing spot to explore the area around the lake, like me.
A quiet beach
While I continued my journey on my staycation in the Netherlands I made many stops to take some beautiful photos, stay hydrated or just sit on one of the benches in the reserve to watch all the beauty around me. All the amazing colours, wonderful smells and impressive sounds made this bike ride one of the better ones I have taken in a very long time. It even took me to a beach that was almost abandoned. I haven't seen a quieter beach worldwide in a very long time. Normally I go to the one that is close to the main beach entrance, that is accessible by car. It's good to know that the Dutch coast offers a lot of hidden beach gems that you can only visit by bike or foot. So when you want to escape the crowds, this is the way to do so.
Don't miss this local escape!
Are you living in the Netherlands and are you looking for a local escapes? The Schoorlse Duinen are a place not to miss. And for all of you that are hoping to visit the Netherlands when borders are open again and travel is back to being save, don't miss the gorgeous spot just 50 kilometers away from our capital.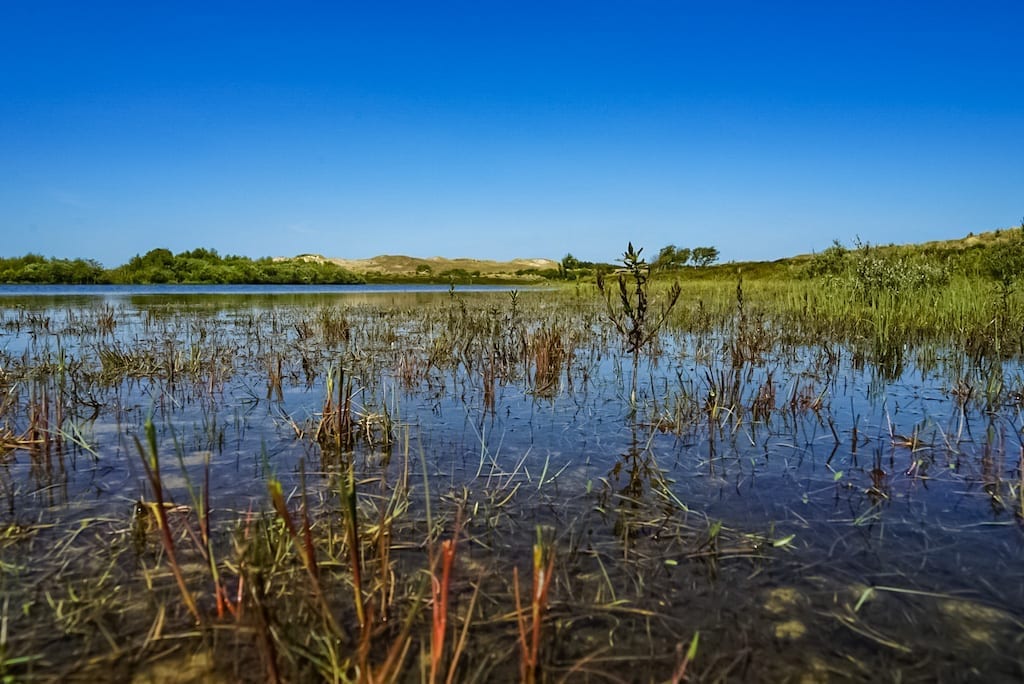 Martine is from the Netherlands. Six months of the year she travels with her husband who works on a cruise ship. When she isn't exploring new places she loves to read, write postcards, and crochet. You can follow her on Instagram as @martinemuis, on her blog, or watch her video's on youtube.