When I was asked to write about holiday traditions in the Netherlands, the first thing that came to mind was Sinterklaas. This legendary figure is based on Saint Nicholas, the patron saint of children. Here most people celebrate Sinterklaas on St. Nicholas Eve, the 5th of December. In Belgium they celebrate it on the name day of Saint Nicholas, the 6th of December.
Happy Sinterklaas – Story of A Dutch Holiday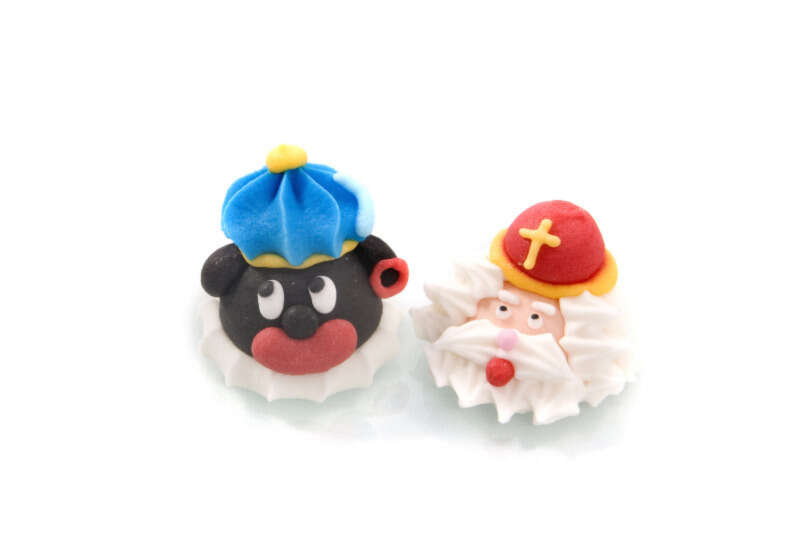 There is a lot to tell about this holiday. Good, bad and ugly. I'll write this from my own perspective. It can be totally different for others. In recent times there are strong (controversial) opinions around this tradition. It's important to respect everybody's opinion. I just want to ask to keep in mind that this is a children's holiday. Celebrating a happy Sinterklaas is dear to many children's heart. Keep that in mind before showing your opinion around children.
The Story of Sinterklaas
If you ask a child where Sinterklaas comes from, they will tell you: from Spain. Every year, somewhere around mid November, he will make his way to the Netherlands with his steamboat, Pakjesboot 12, and his helpers who are called Pieten.
Sinterklaas – The old man and his horse
Appearance
His appearance is very characteristic. He is an elderly man with white hair and a long full beard. He wears a long red cape over a traditional white bishop's alb and a red mitre on his head. A long golden ceremonial shepherd's staff with a curled top completes his outfit.
His horse
Because he is an old man he can't walk far, so he rides on a white horse. When I was young the horse was named Amerigo, nowadays his horse is named 'Oh zo snel', oh so fast, after Amerigo was 'retired'. For the same reason, his age, he can't remember all the children's names anymore. That's why he carries a big red book that states each child's name, and tells him if they have been naughty or nice in the past year. The story goes that in the past children were being taken back to Spain when they were naughty. Also they used to spank children who weren't behaving nicely. Thankfully both is not happening anymore.
Piet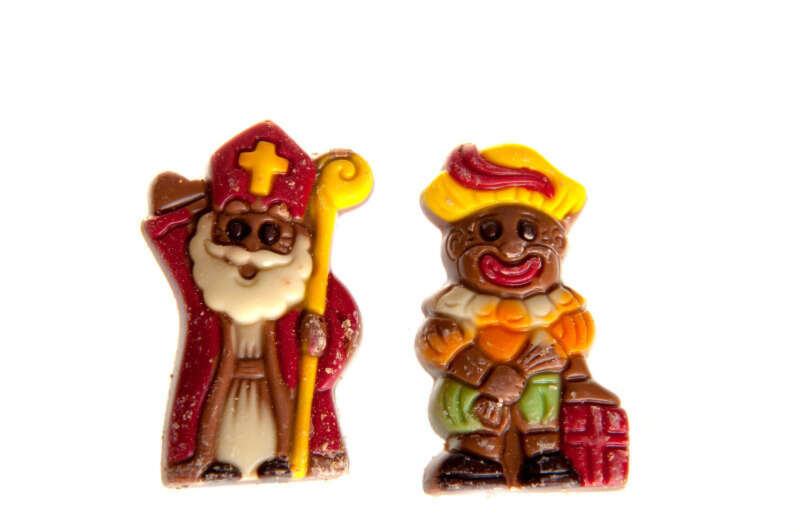 Like everybody at a certain age Sinterklaas needs help. He is assisted by Pieten. The clothing Piet wears is colourful, based on 16th century noble attire. Piet carries a bag which contains candy for the children that he or she tosses around.
The Piet controversy
In the past the characters playing Piet used make-up to turn their faces black. This is what the controversy is about. In 1850 there was a print published called 'Sint-Nikolaas en zijn knecht', what translates in 'St. Nicholas and his servant'. There are stories going around that Piet was black, as he was an African slave.
Another theory
The reason for his color, to me personally, is totally different. Zwarte Piet comes down the chimney to put gifts into children their shoes. That's how he got so dirty and looked black. This is also repeated in many of the songs about Sinterklaas and Piet. Piet is as black as soot.
Piet changed over time
Over the years there have been many changes in the appearance of Piet. Children don't mind how Piet looks. As long as Piet and Sinterklaas bring candy and deliver the gifts it's good! Over the years Piet had changed from being just a helper into a valuable assistent. Sinterklaas has a Piet assisting him with everything. A chief Piet, Hoofd Piet, a navigation Piet, Wegwijspiet, and for every job there is a Piet.
How to celebrate a happy Sinterklaas
The national arrival of Sinterklaas in the Netherlands is the Saturday of or after November 11th. A week before this date there is a special new bulletin, the Sinterklaas journaal, about the journey that Sinterklaas is making to the country from Spain on his boat. Most of the time the question is if he will make it in time. But each year he and the Pieten do! The national arrival is always in a different town and broadcasted live on national Television. Following this arrival, other towns celebrate their own intocht van Sinterklaas (arrival of Sinterklaas).
Children put out their shoe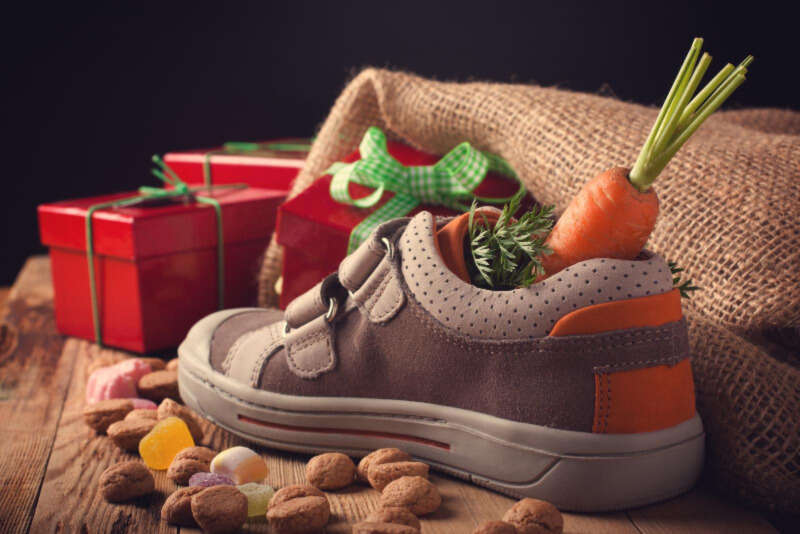 After the 'intocht', it is the tradition that children put their shoe by the fire place before going to bed. We call this 'Schoentje zetten'. The shoe used to be next to the fireplace. Now in modern times it is out close to the central heating radiator! The shoe is left with a carrot, apple, water or another treat. It includes a drawing for the Sint and the children sing a happy Sinterklaas song.
Gifts and treats
During the night Sinterklaas rides his horse over the rooftops and delivers gifts through the chimneys, together with his Pieten. The next day children will find some candy or a small present in their shoe. It's different how many times a week a child can do this. Every family handles it differently.
Sinterklaas' Time in the Netherlands
In the weeks between his arrival and the 5th of December, Sinterklaas stays with his Pieten in 'Het grote Pietenhuis', 'The big Pieten house', somewhere in the Netherlands. During his time in the country he fills children's shoes and he also visits schools, hospitals, shopping centers, elderly homes, etc.
Holiday traditions in the Netherlands
In many countries Christmas is the occasion for gift-giving during the holiday season. But in the Netherlands it's Pakjesavond, Saint Nicolas Eve. Traditionally Sinterklaas visits schools on the 5th of December.
A visit from Piet
That evening families celebrate together, and it's normal if a neighbour comes to knock on the door, pretending to be Piet. After knocking they will leave the sack with presents outside for the children to find. But this tradition is different in each family. My neighbour played Piet many times during my childhood.
The evening of December 5th
The evening is filled with treats, gifts, and family fun. The 5th of December isn't just for children. Families with older children celebrate, too. Before the big day they draw notes with a person's name, and then buy a gift for that person. This tradition is similar to "Secret Santa" in other countries. Now comes the fun part. The gifts are often wrapped in a 'surprise' with a poem. These gifts and the poem are the perfect way to have some good fun with jokes and teasing in front of the whole family. These traditions all vary from family to family. On the 6th of December all the festivities are over and Sinterklaas is going back to Spain, although he first stops in Belgium, because they celebrate a day later.
Happy Sinterklaas Songs
A happy Sinterklaas and songs go hand in hand. From a young age we learn the most fun songs at school. The traditional songs everybody can sing of the top of their head. Every year new songs are added to the songbook, but it looks like they never will be as popular as the traditional happy Sinterklaas songs.
Traditional Sinterklaas treats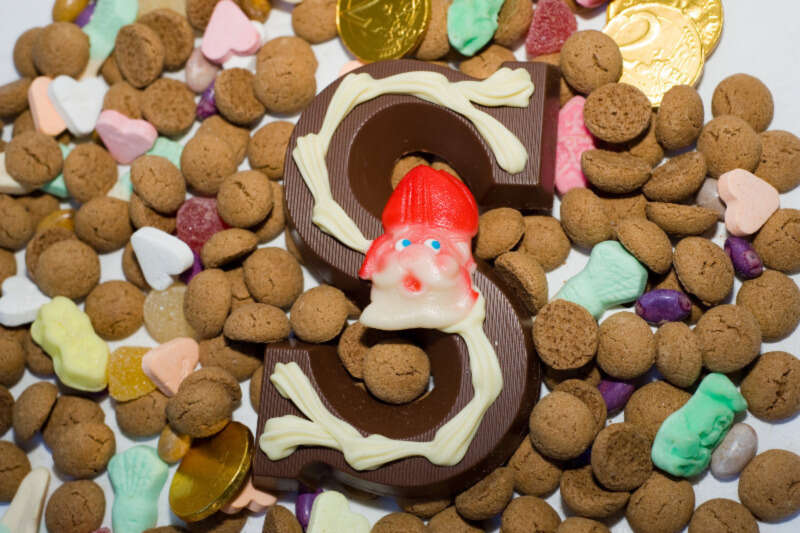 Sinterklaas is all about treats. The most popular are kruidnoten/pepernoten, small and round gingerbread-like cookies. Beside the traditional ones, the chocolate covered ones are very popular. Shops are already filled with both starting in early September. Traditionally Sinterklaas treats also include speculaas, chocolate coins, banketletter, mandarin oranges, marzipan figures and chocolate letters.
Sinterklaas is not only celebrated on the 5th of December
In our family we never celebrated Sinterklaas on the 5th. In the town I was born and raised, Koedijk, we celebrate Gouden Engel. The town used be a fishing town, and the fisherman were never home on the 5th of December to celebrate Sinterklaas. They usually didn't return home until New Years Eve, so for me it's very normal that Sinterklaas returned later in the month for celebrations. For my parents this local tradition was very welcome, as my sister and I celebrate our birthdays close to Sinterklaas.
Different towns, different traditions
Koedijk isn't the only town with a slightly different tradition. In Grou they celebrate Sint Piter on the 21st of February. In Deventer the tradition until 2010 was that the arrival of Sinterklaas happened on the 5th of December. Towns all over the country have their own traditions, and same is true for families. Even outside the Dutch and Belgian border this holiday is celebrated, or something similar to it.
A happy Sinterklaas involves many traditions
It is very hard to write up everything that is going on during the celebration of this tradition. So much is happening every year around Sinterklaas! There's even a special daily news bulletin, from the week before Sinterklaas arrives in the country until the 5th of December. Every year the question is if Sinterklaas will make it to the Netherlands in time and if the children will get their gifts on Sinterklaasavond, Sinterklaas Eve. All stories have a positive ending, although it's still hard to tell you everything.
I do hope that you learned something new about holiday traditions outside of your home country. It was fun to share this one with you! Happy Sinterklaas!
Martine is from the Netherlands. Six months of the year she travels with her husband who works on a cruise ship. When she isn't exploring new places she loves to read, write postcards, and crochet. You can follow her on Instagram as @martinemuis, on her blog, or watch her video's on youtube.