A couple of weeks ago I was at the hairdresser. She asked me what Covid-19 brought me so far. There are quite some things! There's a little library, a vegetable garden and the realisation that there is plenty to explore not too far from home – like Lemeleberg!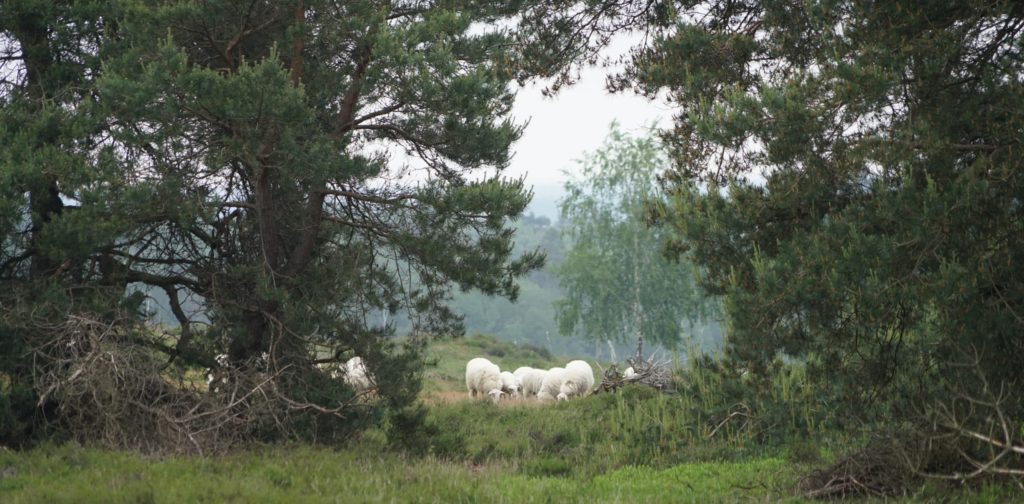 Lemeleberg – A Staycation in the Netherlands
My visit to De Lemele- and Archemerberg was a bit further away than around the corner. It took about 2,5 hours to get there by car. I'm borrowing my parents caravan to camp out around here for two weeks. We are staying at De Lemeler Esch, a handsfree check-in campsite with a whole cleaning plan for the sanitary complex. There are even places with a private bathroom! We choose to stay next to the forest, so for us it's a shared bathroom for the next two weeks.
Lemele- and Archemerberg
Are you looking for the opportunity to do outdoorsy stuff? Many walking and cycling routes start on our campsite. To make it even easier for us it's just a couple of steps from our caravan door. Are you in for a stroll or a very long intense hike? They are all here! We choose to just head in one direction and see where we would end up. The landscape is characterised by a variation of heather, sandy plains and forest. You can also find the juniper berry here.
Nature Reserve
The nature reserve in Lemeleberg has a very long history. It is over 150.000 years old. During the ice age huge glaciers made their way through Scandinavia to the Netherlands. Due to the force of the glaciers moraines arose in the landscape. With a height of 80 meters the Lemelerberg is one of the highest points in the province of Overijssel. While we are visiting the reserve they are working on nature recovery. Over the years a lot of the heather disappeared and trees appeared in its stead. In the last 100 years 90% of the heather in this province vanished. With the recovery the hope is that valuable plants and animal species have a better place to live and survive, protecting them from extinction.
Flocks of Sheep
While we walked around on the heather, making our way to the highest point, we heard the sounds of sheep somewhere on the other side of the plain. We started to notice Veluwse Heideschapen between some trees. Since 1979 you can find a flock of sheep here. There are around 400 of them. These living lawn mowers make sure that the plain stays open. Thanks to the sheep grass won't grow to high and trees don't get a chance to get tall. When I saw the sheep, and out of the blue was in the middle of the herd, I felt excited like a little kid. We talked to the shepherd for a bit. He told us that he is walking here on a daily basis with his flock and sheepdog.
On the Top
The shepherd went on his way, and so did we. We finally reached the top of the 'mountain'. Many people would call it a speed bump rather than a mountain though. But nevertheless we enjoyed the stunning view from here. Soon after the viewpoint we walked into the forest. Tall trees created shade and made you wonder when gnomes or other magical creatures would come out to play. It was completely totally different landscape. Even the smell changed. In the middle of our walk a hot beverage and a lovely sandwich were consumed at De Lemelerberg Theehuis. Such a wonderful place for a little stop, very peaceful, eat typical Dutch foods, and great to do some people watching.
The Way Back
On our way back to the campsite we changed up the route. We made sure that during our 7 km walk we saw all that the nature reserve has to offer. And lucky us, we saw the sheep herd again when we were back at the campsite. I can tell you all about this place. But I do feel that some photos make my case much stronger to visit De Lemeleberg. Every person who loves nature can indulge herself on the Lemeler- and Archemerberg. There are several hiking, biking and horse riding routes. You can even find an accessible route in Lemeleberg for those who use wheelchairs, walkers or strollers. Don't miss this fabulous place when you visit or have a staycation in the Netherlands!
Martine is from the Netherlands. Six months of the year she travels with her husband who works on a cruise ship. When she isn't exploring new places she loves to read, write postcards, and crochet. You can follow her on Instagram as @martinemuis, on her blog, or watch her video's on youtube.