In the Peruvian Andes, tears caressed my cheeks. This was a gift of forgiveness & self love.
Finding Forgiveness & Self Love In the Peruvian Andes
Between choking sobs and gasping breaths, I pulled my cell phone from my jacket pocket. At 5,036 meters above sea level (16,522 feet), Rainbow Mountain was the highest mountain I had trekked. Two hours and twenty-eight minutes to reach the peak may not have set any records, but I felt on top of the world.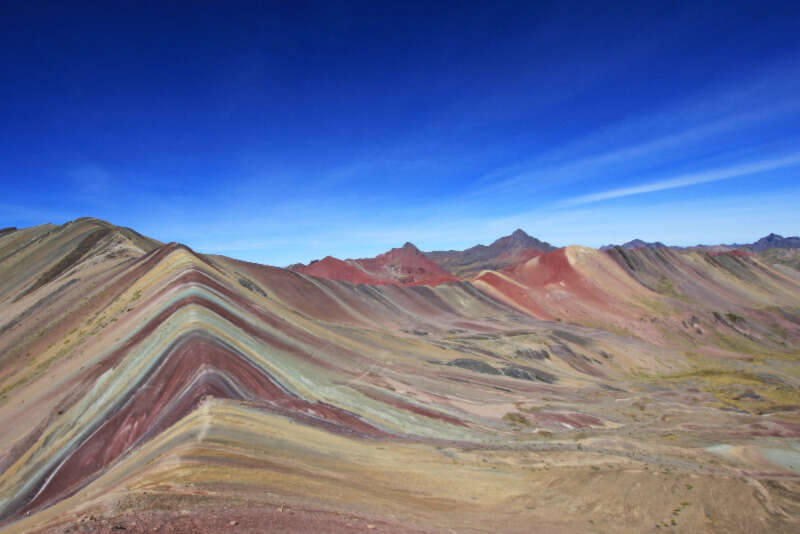 Necessary precautions in the Peruvian Andes
Arriving in Cusco, Peru a few days earlier I figured my body had already acclimatized. Traveling from New York City, I knew that the altitude differential in the Peruvian Andes would be considerable. So I made sure to get plenty of rest, avoid alcohol, and not over-exert myself the days leading up to the trek up Montaña Vinicunca (otherwise known as Rainbow Mountain and Montaña de Siete Colores for the vibrant colors that can be seen on clear days).
Planning A Hike
Ideally, I would have thought to hike the mountain solo. But, that's not how it works in this part of the Peruvian Andes. And, at the end of that day, I would understand the logic behind the policy. At my hostel, I signed up with a tour company where Brigitte, the tour representative provided all the prep info: wear rainproof pants and jacket, carry a water bottle, pack a warm hat (it gets chilly on the mountain), dress in layers (to add and remove as necessary), bring hiking poles, take healthy snacks, and pack ojas de coca (coca leaves to help alleviate hunger and pain during ascent). Tienes alguna pregunta? Brigitte wanted to know if I had any questions. I asked about supplemental oxygen. I wanted to know if they ensured to have some on hand, just in case it was needed. She assured me they had it all covered.
Rainbow Mountain
Smiling, I paid the fee. We thanked each other and said our goodbyes. That night I went to be early because I would be picked up at the crack of dawn – earlier, even. 4 am was when John (the tour guide) came for me. Checking that I had proper gear, he struck me as professional and competent.
Our group was a small one: a Brazilian couple, two women from Mexico, and two friends traveling from Colombia. We were a total of seven hikers, plus John (the driver, Francisco, would not make the ascent). Setting out on the long ride, it would be almost two hours before reaching our breakfast spot, and then another 45 minutes drive to the parking area at the foot of the mountain. Mostly, I slept before and after our small meal.
No prize – it's not a competition
John was raised in this region of Cusco and knows the mountain like the back of his hand. He reminded us on multiple occasions that making it to the peak is no race. There would be those of us who might consider taking a horse (for safety and logistical reasons, they only go about half of the way up), others might be slower. Whatever we do, we must remember to respect the mountain and enjoy the beauty around us. Before we set out, he also gently offered that if at any point we become exhausted, we should not hesitate to take breaks as needed. And, he reiterated that he had supplemental oxygen, coca leaves, as well as agua florida (a fragrant water inhaled to help bring calmness and clarity).
It was time.
The Brazilian couple opted for two horses; the rest of us went on foot. It soon became apparent that I was the slower one in the group. But I wasn't worried about it because I wasn't competing. Initially, John stayed by my side for about the first 30 minutes. I knew he couldn't do so exclusively since it was a "private tour." Eventually, he mentioned he'd have to trek further ahead to check on the other group members. I was fine.
The altitude and emotions take hold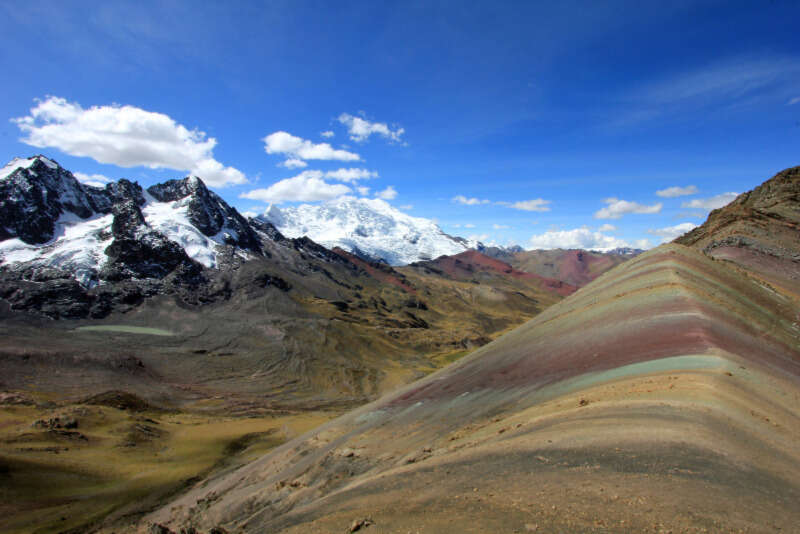 At a point during my hike, I took a break. Taking in the landscape, I spotted alpacas and horses grazing in the distance. With the cool breeze blowing against my face, I closed my eyes and stood quietly for a few moments. When I was ready to start back up the mountain, I turned and looked further down the trail where I spotted a woman throwing up whatever she'd eaten. Then I remembered Brigitte and John saying how altitude affects people differently; I'd also read about it before coming to Peru.
I felt sad for her, but at least she wasn't alone. Someone was beside her, offering assistance. I told myself that I was fine and kept trekking along at a slighter quicker pace. More hikers were on the mountain…the crowds would soon arrive.
Fatigue
Feeling fatigued, I found a large rock to sit on and drank a bit of water. John appeared and taking a seat beside me, asked how I felt. Confiding that I was exhausted, he offered some oxygen and I willingly accepted because I knew my body needed it. After a few minutes, I looked over to my right where I could see the mountain's peak. A flood of emotions washing over me, I began to cry uncontrollably. John sat in silence.
If I don't summit I will feel like a failure. Like I'm not good enough, just as I felt as a child.
My words mixed with tears as I recalled painful childhood memories. John just listened and after another few moments, asked if I was ready to start the trek again. He stayed with me for the duration.
The Summit
Along the route, we met another hiker, Indira. Traveling from Lima, Peru, this too was her first time on the mountain. Accustomed to the high elevations, she offered to continue the rest of the trek with me and John. We were happy to have her positive energy.
Knowing that I needed to conserve my energy, I mostly listened to her stories about life in the big city and her jewelry business. She'd wanted to have a change of scenery and experience time in nature, so she chose Vinicunca.
Just before summiting, I felt an adrenaline rush. Setting my poles in place, I focused on reaching the top. I don't remember if Indira was talking to me, nor do I recall where John had gone. One foot in front of the other, just breathe. I repeated this quietly to myself for the next few minutes until…..
I was just a few feet away from the mountain's altitude marker (it read: Winikunka 5,036 msnm). My cheeks wet with a flood of tears, I was grateful that the mountain allowed me to reach the peak. Shortly after a few photos, John escorted us down. I knew that it was dangerous for us to stay more than a few minutes at such a high elevation.
That day was the most emotionally and physically draining of my life. Being on Montaña Vinicunca revealed to me that my worth is not determined by others. Reaching that summit was a gift – of forgiveness and self-love. We may not ever truly know the power that lies within us, but if we dig deep, chances are we will see a glimmer of it. I hope you, too, get a chance to experience the wonders of Peru.
Looking for a comprehensive itinerary to 10 Peru landmarks? We got you covered!
Lola is a poet, travel blogger, translator, and cultural storyteller. Completing her 200-hour Yoga Teacher Training in 2016 helped her begin the healing process of a painful divorce. Fiercely proud of her Indigenous and African roots, much of Lola's work celebrates vibrant female voices. Outside of global trekking and crafting stories, she counts tango as another passion. In late 2021, Lola returned home to her precious Borikén where she is working (with her friend and business partner, Yuma) to bring collective healing through yoga, meditation, and the Afro-Boricua bomba folk tradition.