This is a story about one of the best trips I ever went on: hiking the Lares Trek! I don't exactly remember how my obsession with mountaineering books started. It was one of those things that slowly creep up on you. Before I knew it I had read a ton of them. I'm aware of the fact that I'm not physically capable of being an actual mountaineer, and let's be honest, isn't it enough to have one hobby where you frequently suffer (sailing)? Since I have zero experience in the mountains we decided to start off easy (as far as multi-day hikes go): Machu Picchu in Peru.
Hiking The Lares Trek to Machu Picchu
Now there are different options on hiking there. Of course there's the Inca trail, but 500 (!!!) people walk that trail EVERY DAY! Can you imagine? That sounded just awful. The Salkantay trail sounded a bit too advanced for little beginner me, so we chose the Lares Trek. The Lares trek is very remote. It leads through two villages deep in the mountains, where you have the chance to meet the locals and experience how they live. That sounded right up our alley.
How we booked
We decided to book the 4 day/3 night tour with Alpaca Expeditions out of Cusco. The choice was somewhat random. There are roughly a million tour operators in Cusco. Alpaca Expeditions had some good reviews, and when I sent an inquiry I got an answer within a few hours. Good communication is an important point!
Since we did this as part of an extended vacation there was a lot of traveling involved and we arrived in Cusco the afternoon before we started the Lares trek. They recommended that you arrive 2 days early to acclimatize, but it was hard to fit all the pieces of the trip together as it was, and all of it last minute as usual, so much acclimatization wasn't in the cards.
Anyway, we arrived in Cusco after a rather dramatic almost plane crash in Lima and were happy we made it there in one piece. That evening we had a briefing at Alpaca Expeditions. First we were told that we were going to be in a group of 6, which seemed like a fine group size. After a few minutes (and some confusion), though, it turned out that the other 4 people had booked a private tour and weren't going to be with us. Meaning? We also got a private tour! The details here are funny, but private tour to Machu Picchu? Yes, please.
Day One – Sacred Valley, Hot Springs and the Start of the Trek
The next morning our guide picked us up at the hotel bright and early at 5 am. We drove through the Sacred Valley to the Lares Hot Springs, where we got to take a dip and had breakfast.
Alpaca Expeditions indicated on their website that since you were going to meet the locals it would be a good idea to bring some gifts along. They mention school supplies, but after spending much time in South America we had an inkling that that wasn't the greatest idea. We stopped at a local market and bought a bunch of little round breads, oranges, coca leaves, cute little hair ties, and ginormous over sized safety pins.
Back in the van and off we went to finally start the Lares trek. The first stretch wasn't too far, maybe 2 hours or so and then we stopped for lunch. The scenery was already stunning, and I had a slight altitude headache. I drank tons of water and coca tea and it went away. I also had a power nap after lunch on a plastic tarp in the sun.
Off we went again, and now the trail started ascending, not too gently. After another maybe 3 hours we arrived at our campsite at just over 4000 meters. It was a stunning site at a lake. Our team had been ahead of us and had already put up our tent. I'm not sure why, but the entrance was about 3 feet from the edge to a good drop down to the lake. I was idly wondering if I'd just break an arm or maybe even my neck if I got up at night to pee and forgot about it. (Spoiler alert: nobody fell into the lake).
The campsite was right by a small village. Two little girls were eyeballing us. The locals there speak the old Inca languages and mostly very little Spanish. Manuel, our guide, grew up in the mountains and was familiar with those languages. He called the girls over and we gave them bread and oranges. Here we found out why Manuel made those choices for us, too. Up there the locals have a little bit of agriculture, but they mostly grow potatoes, so they mostly eat potatoes. The bread and oranges were a welcome sight.
Before dinner Manuel took us to visit one lady in her house. The kitchen and the living/bedroom were two separate houses. We were invited into the kitchen, and Manuel and the lady went right to work trying to stuff TJ, my husband, into a traditional outfit. I had a good laugh, until it was my turn – then TJ was the one laughing. All the while we were watched suspiciously by a bunch of guinea pigs. For those of you who don't know, they eat guinea pigs in Peru. Manuel grabbed one, and handed it to TJ saying 'Look, this one is friendly'. The guinea pigs looked rather horrified, and TJ wasn't quite sure what he was supposed to do with the poor thing.
We each took a Diamox for altitude sickness before bed, just in case. I slept really well, opposed to the first night in Cusco where I woke up gasping for air. So far, the Lares trek offered everything I had expected.
Day two – Condor Pass
The next day the real fun began. Before we took off Manuel announced a team meeting. We all stood in a circle, feeling slightly awkward, and he had the guys introduce themselves to us. TJ then introduced us to them in Spanish (he's fluent, I can order food and explain to the pharmacist that my husband has a terrible stomach ache). They didn't speak any English. They seemed to appreciate that. Their happy reaction gave me feeling that not everyone makes an effort to connect with members of their team aside from the guide.
We continued our hike on the Lares trek by ascending to Condor Pass after breakfast around 7 am. Within 3 hours we hiked from just over 4000 meters (approx 13000 feet) to 4680 (approx 15300 feet). It was steep and challenging, and I loved every minute of it. It wouldn't be fun without at least a little bit of suffering now would it? The scenery was stunning. The weather? Not so much. We had everything from rain to snow and hail and finally a little bit of sunshine revealed some stunning glaciers.
At about 4500 meters I started to feel my fingers going numb, then my arm, my cheeks. I suppose that was due to altitude sickness, too.
On the summit we were joined by the Canadian family and their team (the teams included one master chef, one assistant chef, one porter and the guide). We celebrated with hot coca tea and an assisted head stand.
On the descend we all walked at our own pace, and we spend some time with the Canadians which was nice. After another 3 hours we arrived at our camp site. We were all pretty tired.
After a short rest Manuel took us into the village to say hello to the villagers. We brought gifts and were well received everywhere. It was interesting to see how the people live there. Its' a very simple life. In the first village Manuel told us they had gotten electricity just 3 years prior. Meaning they have light in the evenings, but they were still cooking on a fire.
During that night I woke up because it was raining. I was somewhat distraught because I didn't want to have to hike in the rain the next day. But in the morning it was still raining. We were, however, greeted by a fine white dusting on the surrounding mountains which was beautiful.
Day Three – Camp Stove Cake
The rain conveniently stopped right after breakfast. Breakfast that morning started with a cake. Not any cake, no, a seriously fancy cake that Adolfo, our fine master chef, had just spent 2 hours cooking on a camping stove. I was impressed. It was a serious piece of art, that cake. Thus fueled we could continue the Lares trek.
With a very full belly we took off for the last stretch. Manuel must have figured we had graduated from hiking school for beginners and moved right along. The weather was inconsistent and we had some rain, but never for long and not too much. The 3 hour hike down to the end point was interesting. The change in vegetation and landscape was rapid. I learned that Peru has 80 micro climate zones!
We got to the site of our last meal with the team. We were all proud of ourselves and decided that meant we were finally acclimatized. Since we had been too fast and had some time to kill, Manuel wanted to take us for a walk. Right around the corner we bumped into our mini van which was just arriving. Instead of a walk we went for a ride.
It was shocking to be back in civilization. I had relished the quiet time in the mountains. I really enjoyed being around the team, too. Everybody was just so easy going and relaxed. I made sure I figured out how to say to Adolfo in Spanish that I was extremely impressed by his superior cooking skills. The food was always good and there was tons of it. (While my Spanish is half decent I'm not super comfortable speaking, and wanted to get it right.) We had a nagging suspicion that they made extra large amounts to be able to give the leftovers away to the village people, but really, that made us love them even more.
Our first stop in civilization was a little fruit stand by the side of the road. We sampled some strange fruit I've never had before. I never even heard of before! Then we went to an Inca museum, which was interesting. We rushed back to the camp site to not be late for Adolfo's lunch. I don't think we ate any guinea pig, by the way. At least I hope not.
After lunch we climbed back into the mini van, off to see the salt panes. When we got close the gentleman at the entrance informed us that it would indeed be a very bad idea to drive down the muddy hill after all that rain. Manuel decided we could take "a little walk." To take a short cut he had us climb down a hill side that was so steep that I thought one wrong step and I'd fall down and be dead.
The salt panes were way cool. We bought some souvenirs, got a quick tour and then, keeping the pattern, got to take the back entrance which meant balancing on the edge of the salt panes ("just stretch your hands out, no problemo," Manuel said). We walked by some locals that looked us up and down, laughed and told Manuel we wouldn't be able to make it. I'm happy to report that we did indeed make it, without any major incident. Or minor ones, as a matter of fact.
The mini van took us to Ollantaytambo. We took a nice break at a restaurant with hot food and free wifi (gasp) and then hopped on the train to Aguas Calientes. That was one hell of a train. First of all, there were ticket and passport controls at the door to the train car. There was assigned seating (at no extra charge). Once we got going we got free drinks and cookies! Never mind the fact that the train was on time, unlike the German ones half the time… We got to Aguas Calientes late, walked to the hotel, took a real shower and passed out.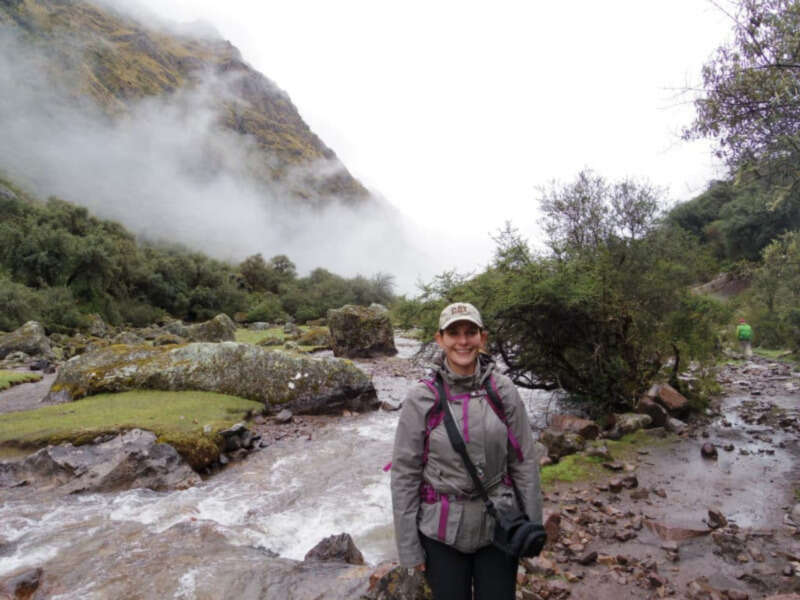 Day Four – Machu Picchu Day!
The next morning we had to get up super early and meet Manuel in the lobby with all our stuff, which we would leave with the hotel for safe keeping. We had a quick breakfast while Manuel told us if we got to the bus station at 5 am we would most likely be at Machu Picchu with the first 1000 people. Yep, really. 1000.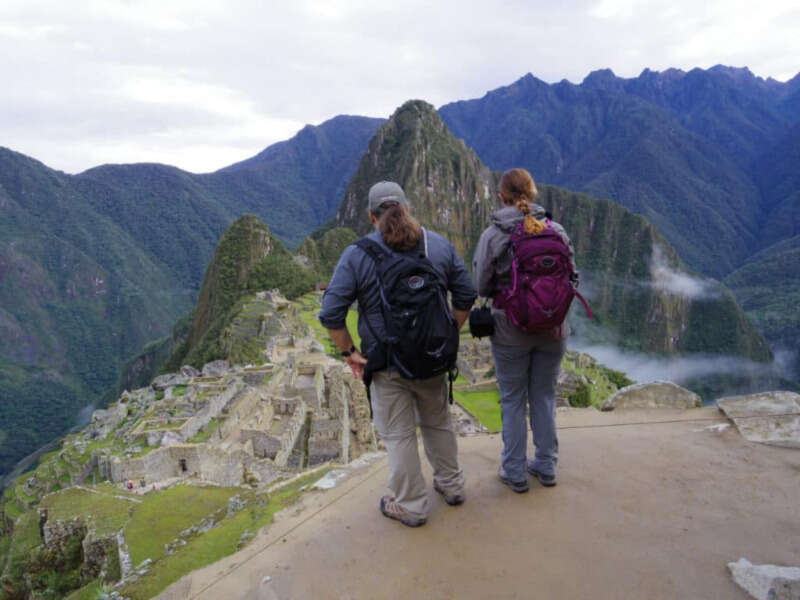 After the time in the mountains the crowd at Machu Picchu was overwhelming. Manuel gave us a two hour tour, then we were free to roam around for a while, and meet him for lunch back in Aguas Calientes later.
What can I say. It was cool, but the grand part of this trip, the amazing, wonderful, ass-kicking, overwhelming one was the day when we hiked up to Condor Pass. I can only recommend doing the Lares trek over the Inca trail. It was such a truly authentic experience.
I can see many more mountains in my future. If you ever get the chance to experience the wonders of Peru, don't hesitate to go! Looking for a comprehensive itinerary to 10 Peru landmarks? We got you covered!