A Beginner's Guide to Positano…
…and why you should add this Italian gem to your bucket list immediately
A Comprehensive Beginner's Guide to Positano, Italy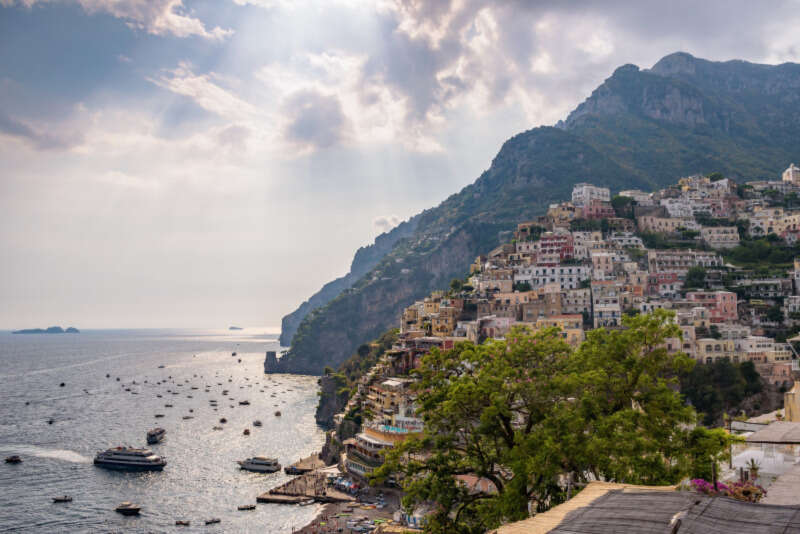 Pasta. Pizza. Ancient cities. These are generally the images that travelers conjure up when someone mentions Italy. And with good reason. Located right in the middle of the Mediterranean, Italy is one of the most popular destinations in the world for international travelers. In 2019, Italy recorded 95.4 million international arrivals. That many people simply can't be wrong about how wonderful of a destination Italy is. However, with that many visitors, Italy also has a reputation for severe overcrowding and over tourism. This is particularly true in bigger cities like Rome and Venice.
Amalfi Coast
To escape the bigger cities, many visitors to Italy head to the Amalfi Coast. There they soak up the sun and get some much needed rest and relaxation. The possibilities in this region of Italy are endless. Visitors can choose between Capri, Ischia, Sicily, Naples, Sorrento, and countless other beautiful locations in the Southwest of the country. A lesser known (but just as beautiful) area of the Amalfi Coast is Positano. Positano is a small, cliffside village with a population of just under 4,000 people as of 2017. We've created the ultimate guide to Positano, including beaches, attractions, and food/wine to help you plan your perfect trip to one of Italy's best hidden gems.
Beaches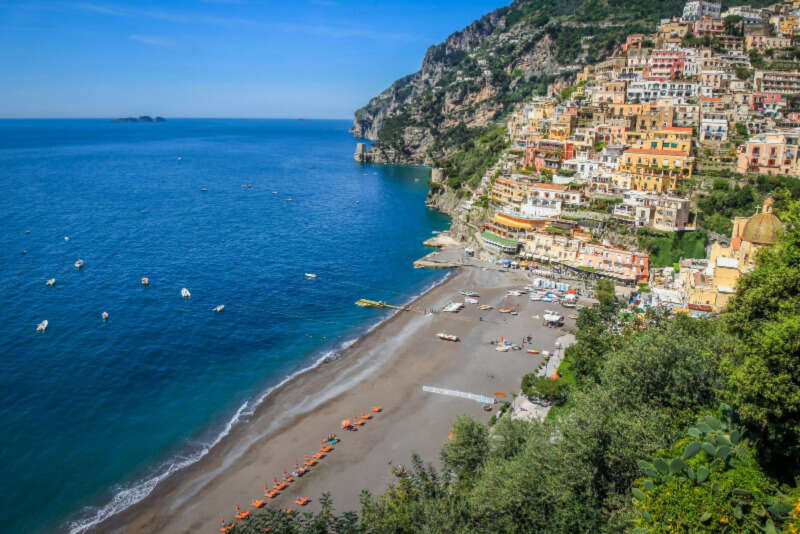 Spiaggia Grande
Perhaps the most well-known beach in Positano is Spiaggia Grande. Located right at the base of Positano's cliffside village, this beach is popular due to its natural beauty as well as the stunning views of the village above. If you're planning to visit, there are a couple of things to be aware of. The sand here is not smooth and fine.Instead it can be very rocky and rough. Be prepared with good shoes, and know that renting a sun chair will cost you a bit of money. Online reviewers also warn that due to how small this beach is, it can get very crowded at times. It also does take a little bit of work to walk down to the beach, and, of course, to walk back up when you are done. Something everyone seems to agree on, however, is that the views and the ambiance are worth it all.
Fornillo beach and Laurito beach
Two lesser known (but equally beautiful) beaches in Positano are Fornillo Beach and Laurito Beach. These are typically less crowded than Spiaggia Grande. Visitors looking for a quieter beach experience will find what they are looking for at these two locations. Like many beaches in and around Positano, the terrain here is more rocky. Getting down to the beach and back will require some steps and/or a bit of a hike. Regardless of where you choose to spend your beach day, know that it will be incredibly relaxing as well as visually beautiful.
ATTRACTIONS in Positano
Once you've caught up on some R&R at the beach, it's time to do some sight-seeing around Positano.
Wandering the village
First and foremost, make sure to spend some time wandering through the village streets and taking it all in. Oftentimes, the best moments while traveling are the unplanned, unexpected moments that one experiences just by wandering around.
Hiking & Views
For something a little more adventurous, head a bit outside of the village to attempt the Path of the Gods hike. Views are out of this world, and the hike is recommended by avid and amateur hikers alike. For some more stellar views, head slightly inland north to Monte Faito, where you can take a cable car to the top for 360 degree views of the Amalfi Coast.
Day Trips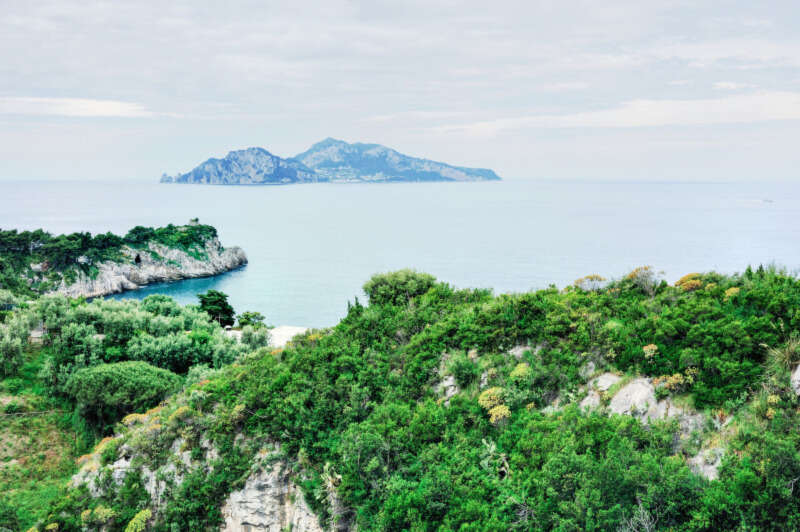 In addition to all of the great attractions one can find in Positano itself, the area is conveniently located to many day trips. One could take a day trip for a slight change of pace. From Positano, it is simple to hop on a ferry or take a tour to other beautiful locations such as Naples, Capri, Ischia, and Sorrento. No matter what you're into, you are sure to find something that suits your taste in and around Positano.
Food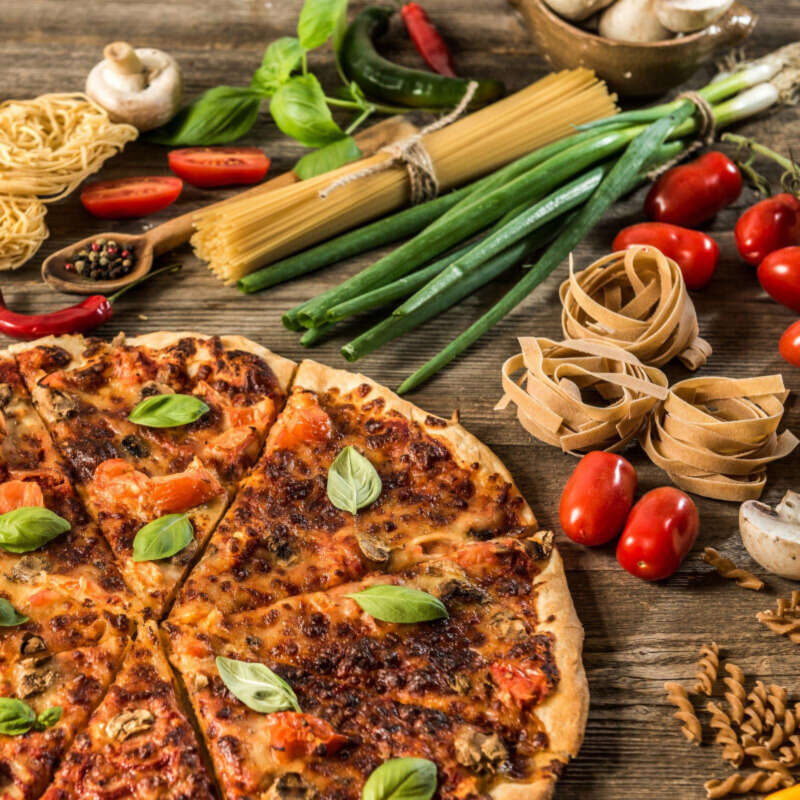 No great trip is complete without some fantastic food. We've researched the best restaurants in Positano so you don't have to. No matter your food preferences, there's sure to be something for everyone on this list. Buon appetito!
La Tagliata
Specializing in traditional Italian fare, La Tagliata overlooks the Mediterranean for stunning views while you eat. Add to that a cozy, family feel (you may even be served by the children of the founder of the restaurant), this spot is well worth the visit. To check out their menu click here!
Da Adolfo
Are you a seafood lover? Make sure to check out Da Adolfo. It was founded in 1966 by Adolfo Bella. Characterized by the little red fish, visitors to Positano cannot miss the restaurant or the small boat that transports diners to the front door. A streamlined, but yet robust menu offers different seafood, chicken, and local wines. For more information on Da Adolfo, click here.
Casa e Bottega
For our vegetarian and vegan foodies, Casa e Bottega cannot be missed. Part restaurant, part boutique kitchen-ware shop, it's easy to spend hours lost in Tanina's little shop. With large (and reasonably priced) breakfast and lunch/brunch menus, Casa e Bottega has something for everyone. While the menu does offer some meat options, there are several vegetarian and vegan options as well.
Da Constantino
No Italian restaurant recommendation would be complete without a solid pizza restaurant. In Positano, Da Costantino is the place to be for a slice of authentic Italian pizza. It was founded in 1978 by Costantino Buonocore. The recipes and restaurant have since been passed on to his brothers and other family members. While their webpage does not include a menu, countless online reviews praise the restaurant and its food selection.
Wine/Drinks
Italy is known for its wine. The Amalfi Coast region is no exception. There are dozens of great wineries in and around the area to check out. We've picked three (and a special bonus) for you to check out here.
Marisa Cuomo Winery
Located within just under an hour's drive from Positano (all on a beautiful coastal route, we might add), Marisa Cuomo Winery is one of the top rated wineries in this region. Part of the reason for this is the unique flavors of the wine due to the terrain and the landscape only found in Southern Italy and the Mediterranean. For more information on the winery and to inquire about tastings, click here.
Cantina Del Vesuvio
As its name suggests, Cantina del Vesuvio is located at the base of the infamous Mount Vesuvius. While it is about an hour drive from Positano, the unique location and delicious wines make the trip worth it. The winery is owned and operated by the Russo family. It has been in operation since 1948. The shop only produces limited quantities of the wine per year. You can only purchase bottles from their actual shop itself. In addition to tastings, the winery also offers cooking classes. Make sure to click here to see everything Cantina del Vesuvio has to offer.
Cantine Stinca
Catine Stinca is a short trip away from Positano, near Sorrento. It has been a staple of the region since the 1960's. It started as a smaller production. But eventually it expanded into the winery it is today. Now, the winery offers tours of the cellar as well as tastings. To book a tasting, click here.
BONUS – Sorrento Limoncello
No trip to Italy is complete without Limoncello. A strong, tart cordial, Limoncello will complement any meal while in Italy. To taste this world-renowned Limoncello, make sure to visit Ristorante Sorrento.
If you're like us, you're already online checking out flights and emailing your boss to request some time off. We get it! If you do end up taking a well-deserved trip to Positano, make sure to tag us in all of your Instagram photos @girlswhotravel, post your story in our Facebook group, and come on our podcast to tell us all about it. Buon viaggio!
22 states, 8 countries/territories, many more to go!