Need some tips on surviving the tourist traps of Venice? I love Venice and it's always a pleasure to visit alone or with friends. A few years ago, I was part of a group of volunteers of an American Air Force base and was asked to walk some of our group around the city.
This was the first time I noticed how different Venice was with tourists. 
How to Survive the Tourist Traps of Venice
Yesterday, I was back in Venice and noticed how different the area is. After seeing a few behaviors that I really don't like as a traveler, I want to share some tips for an easier (and cheaper) experience in one of the most beautiful, yet expensive, places on Earth!
Transportation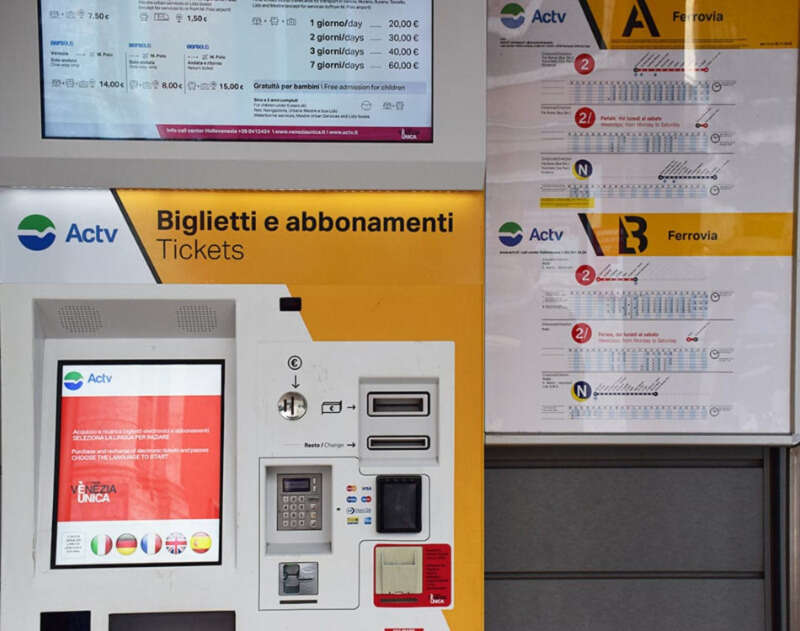 Plan on driving to Venice? I suggest parking in the Venezia Mestre and taking a train from there to Venezia Santa Lucia. Driving (and parking) within the city can be a huge problem!
If I have to be honest, the train is always the best solution when it comes to Italy. It's cheaper if you book a high speed train in advance. Plus, you get a discount if you're under 26; these discounts are limited, though, so the sooner you book, the better! Another option is a private high speed train system, called Italo, that offers last minute tickets for reasonable prices.
Another reason to travel by train? There's a luggage storage area at the train station in case you don't want to haul your bags around the city!
Once in Venice, you have a few options. The water taxi or the common ferry service is probably the most common option. One ride is 7,50 € for 75 minutes (yep, insane). I suggest looking into daily tickets. The daily tickets come in 2, 3, and 7 day formats and cost 20€, 30€, and 60€, respectively. Of course, walking is always an option, too! 
If you plan on visiting any of the iconic islands around Venice, like Murano, Burano, or Torcello, you can reach them by ferry! Tickets are around 27€.
Food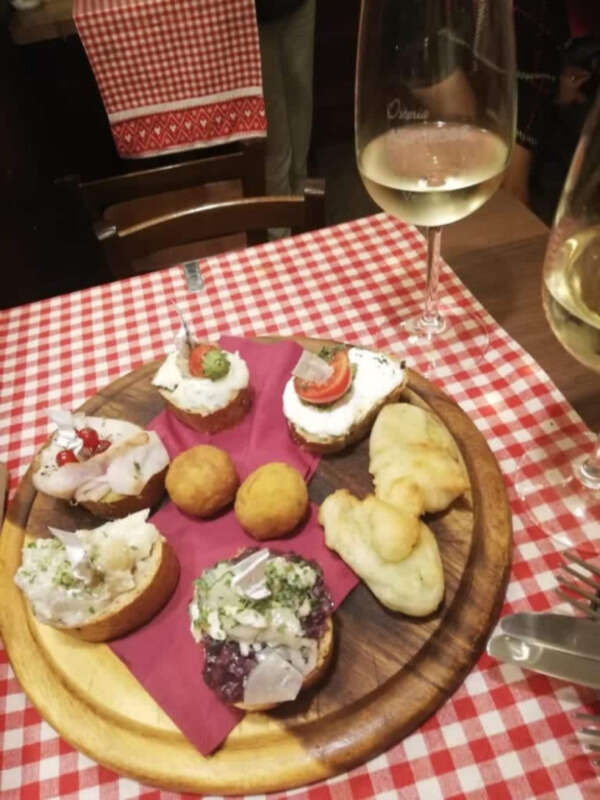 Seafood is a must try in Venice, I get it. But repeat after me: I will try "Cicchetti in Venice." Cicchetti is cheap and very typical in the area. Cicchetti is basically small bites of Venetian food on a bruschetta. Plus, they go very, very well with a glass of wine. Cheap, tasty, and (unfortunately) fairly unknown to tourists. If you want the full Cicchetti experience, go on a food tour! Just Google search "Bacaro Tour" or "Cicchetti Veneziani." I also really recommend trying the fruits at local markets  – you won't regret it. Don't miss out on the excellent wine! Consider one of these 4 best wine bars to go to when visiting Venice.
San Marco's Square
One of my favorite Venetian activities is having coffee in San Marco's Square. It's expensive, but I really recommend doing it! You can have a fantastic drink while people watching to your heart's content.
You can also view San Marco's Square from the Cathedral, but, for me, the best view of the square is from the Bell Tower. Admission is only 8€ and you will see Venice at 360°. Plus, the wait to get inside is usually shorter at the Bell Tower than at the Cathedral.
View of Canal Grande
Behind Rialto Bridge is a luxurious mall called Fondaco dei Tedeschi. Inside is an elevator that leads visitors to the mall's terrace, which lets you enjoy the view of the Canal Grande for free. That's right: free! The terrace is small, so only a small group of people are allowed at each time. People usually only hang around for 15 minutes or so, so it's worth the wait! If the terrace is extra crowded, you'll get a timed ticket that will let you come back and enjoy the terrace at a specific hour!
The Ghetto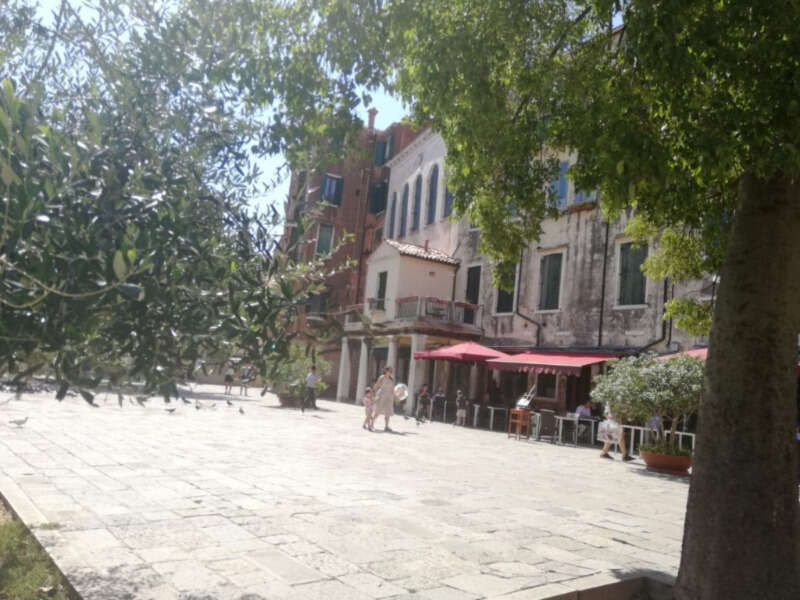 If you're a history fan and want to discover a dark part of Venetian's WWII history, consider visiting the Ghetto. The Ghetto was an area where Jewish people were obligated to stay during the War. Entrance to the museum and 3 of the 5 synagogues of Venice is 12€. It's definitely worth a visit.
Library Acqua Alta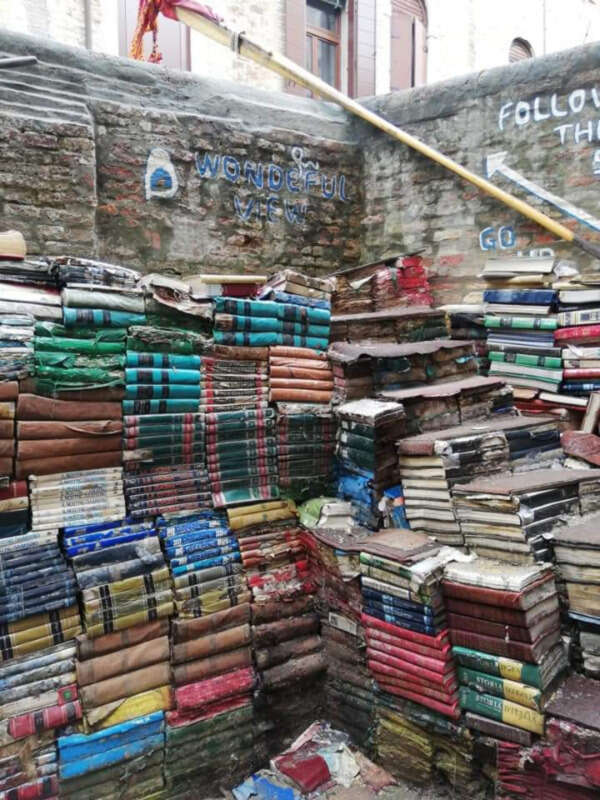 The Library Acqua Alta is definitely not one of the tourist traps of Venice, but easily one of the most beautiful libraries in the world. It's a must visit for all book lovers! Inside, you'll find cheap postcards and vintage souvenirs. Perfect to grab for the family and friends back home.
The Fenice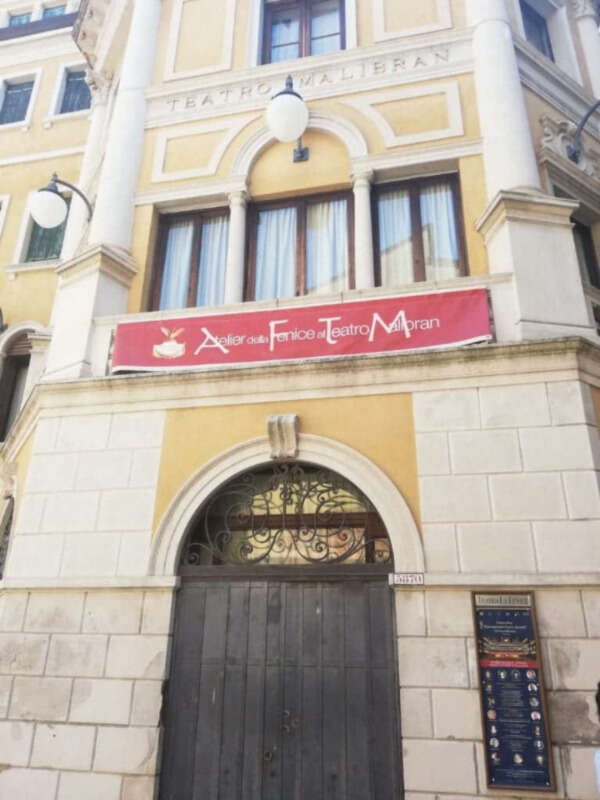 Are you a theatre lover? The Fenice is a historic theater in the heart of Venice. It's open for tours, which cost 11€. Tickets to see an actual show in the Fenice are expensive. If you're going to be in Venice for a few days and want to see live theater, ask the ticket office if you can see a rehearsal! It's not like seeing the whole show, of course, but you can sit in the balcony seats and enjoy the people singing for the same price as a tour! If you're on a budget and wanting to see live theater, consider heading to the Malibran Theater; I booked a ballet there and paid only 25€.
I hope these tips help you this city without the tourist traps of Venice! Don't let bad people fool you with expensive things around town and have a safe trip to Italy!
Ciao! I am Annalisa, I'm from Friuli Venezia Giulia, but right now I live in a small town in Veneto with my husband. I love to travel the world, but Italy is my first true love, because before exploring other countries, one has to know its Homeland first.
When I don't travel I love to read, to cook and bake… That's why I like to eat traditional foods when I travel!
If you want to have a glimpse of my life and travels, feel free to follow me on Instagram!