Many of us retreat to the trail when we need a little bit of peace and quiet. These days, however, trails can sometimes feel like a highway at rush-hour. Quiet can be hard to come by.
6 Tips for Taking the Trail Less Traveled
Uncontrolled crowds can also cause serious damage to the wild places we love to visit. Consider stepping off the beaten track for your next adventure. Taking the trail less traveled is not only good for you, but also for the places you visit.
1. Look beyond National Parks
If you're looking for a memorable outdoor experience, national parks are a tempting option. National parks, which must be created by an act of Congress in the United States, are renowned for their exquisite natural beauty, one-of-a-kind geological features, rich ecosystems, and outstanding recreational opportunities. Yet, with national park visitation rates on the rise, these special places are also making headlines for the crowds that flock to them. These crowds pose a serious threat to wildlife, fragile ecosystems, and make for a less peaceful outdoor experience. So, next time you're heading out for a day hike or weekend camping trip, explore some other trail options including: state parks, county parks, regional parks, open space preserves, Bureau of Land Management land, National Forests, National Wildlife Refuges, and more! Or, pick one of these 15 least visited national monuments in the US.
2. Head towards the green
Whether you're celebrating with a staycation or an overseas getaway and looking to spend some time outside, head towards the green. By which I mean the green splotches on Google Maps, of course! Perusing Google Maps is one of my personal favorite tricks for discovering new walking, hiking, or event picnic spots. Everything from soccer fields to arboretums to National Wildlife Refuges are highlighted in green on the map. Pick a spot close to you and let the adventures begin.
3. Visit in the off-season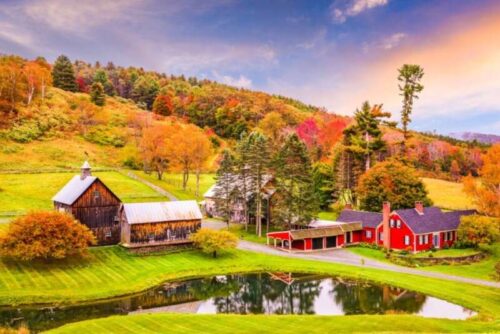 Thinking about hiking through the fall foliage in Vermont or catching a super bloom in Southern California? While certain destinations are well-known for seasonal specialties, consider visiting in the off-season. You'll likely find cheaper prices, fewer crowds, and unexpected beauty. Case in point: Vermont in the summer is lush and green and only a tad bit humid. Plus, you can treat yourself to a post-hike treat of fresh-picked blueberries and frozen yogurt.
4. Catch sunrise or sunset
Sometimes it's all about timing. If you've got your eye on a popular hiking trail or view spot, try visiting at an unpopular hour. Get up early, grab coffee from a local shop, and catch sunrise at that must-see vista point while all your fellow travelers are still asleep in their beds. Or pack a picnic dinner and plan to reach your destination in time for sunset. Just be sure you have a plan for getting back to your car or campsite safely if you do plan to hike or walk in the dark.
5. "Hike" in the city
One tried-and-true way to take the trail less traveled is to avoid trails altogether. Many people head to the mountains for long days of walking and observation. With a small shift in mindset, cities can be a trekkers dream come true. Map out a route that takes you through residential neighborhoods and city parks. Or simply step out your front door and let your intuition be your guide. Pack a lunch, turn your phone to airplane mode, and walk. Observe, contemplate. You might be surprised to discover how much wildlife thrives within city limits. And, after all that walking, you might be relieved you don't have to pitch a tent and fire up the camp stove. Urban backpacking is up and coming!
6. Ask a local
My favorite approach to dealing with most any dilemma while traveling…ask a local. Are you're looking for a special place to spend time outdoors? But you don't want to contribute to the next case of over-tourism? Make friends and as a local for their favorite outdoor spots or trail. Personal, local recommendations are often the best way to avoid the spots that are inundated with all the tourists and take the trail less traveled. Plus, if traveling is all about building connections and cultivating empathy, what better way to connect with your host community than walking a mile (or ten) in their shoes?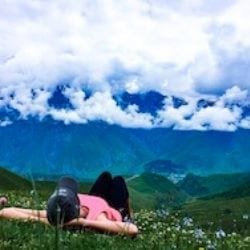 About Molly: Molly grew up in CA, amidst redwoods, coastal fog, and farm fields. Molly's passion for the outdoors and sustainable travel has led her to many remarkable places, and she is now dedicated to helping other travelers explore and experience the wild around them through her blog, Molly Gone Wild.