North America, and particularly the United States, is famous for their breathtaking national parks, areas that are set aside by the government for conservation purposes. National parks have always been incredibly popular, but became even more so during the COVID-19 pandemic, when the outdoors were the safest place to be.
No less spectacular are the nation's national monuments. National monuments are places that the government has declared protected because of their significance to history or science. Both national parks and national monuments are areas which are preserved and protected, for different reasons and through different processes.
No matter what kind of traveler you are, there's a national monument or park out there for you to discover! City lovers visit the Statue of Liberty. Nature enthusiasts will enjoy Yellowstone. There are, however, plenty of reasons to set your sights on the lesser visited sites and parks. They are no less fun and exciting to explore. Even the least visited national monuments can hold surprises. Get off the beaten path and enjoy less crowds and more tranquility, which will give you more time and opportunity to explore without interruptions.
Least Visited National Monuments In The US
Just because a national park or national monument doesn't have the popularity of the Grand Canyon doesn't mean it's not worth visiting. All of these sites are protected because they are amazing, diverse, and offer unique educational and recreational opportunities!
Aniakchak National Monument & Preserve
On the list of most visited parks, published by the National Park Service, Aniakchak National Monument & Preserve ranks at #380 – pretty low! One reason it is one of the least visited national monuments in the United States is it's remote location in Alaska. Alaska is one of the least visited of all 50 states due to it's remoteness and inaccessibility of parts of it. The National park Service registered only 145 visits in 2021!
However, Aniakchak National Monument & Preserve is well worth a visit! The region around the Aniakchak volcano on the Aleutian range, in the south-western part of the state, is wild and beautiful, with mountains and rock formations dating back to the ice age. The volcanic landscape is a reminder of just how many active volcanoes there still are in Alaska. The highlight is an impressive caldera, which is six miles wide and 2,500 feet. 3500 years ago it was formed during a huge volcanic eruption.
There are all kinds of adventures to be had at Aniakchak National Monument & Preserve, but the most popular ones are rafting the Aniakchak River and hiking the caldera floor. Additionally, this place will make every sport fisher's heart go wild with joy!
As a general rule, Alaska is best visited in the summer months, and the Aniakchak National Monument & Preserve is no exception here. It is inaccessible by road, and you will need decent weather to access it by plane or boat. Air taxi flights can be chartered either from King Salmon or other nearby small towns.
It's imperative that you plan your visit carefully, due to the remoteness and potential bad weather conditions, even during the summer. The King Salmon Visitor Center offers plenty of materials that will aide you with your task. Be prepared to bring everything you need for your planned activities, as there are no shops available to sell any items you may have forgotten at this least visited national monument.
Rio Grande Wild & Scenic River
In 2021, the Rio Grande Wild & Scenic River got a meager 275 visitors, thus counting itself among the least visited national monuments. The part of the river that flows through Big Bend National Park is, not surprisingly, incredibly popular. The part deemed as the wild & scenic river, though overshadowed but its famous national park neighbor, is no less beautiful but a lot less crowded!
If you are ready for a 196 mile float trip through Texas' remote areas, then this is one of the least visited national monuments is for you. See rugged canyons, beautiful rock formations, and the wide expanse of the Chihuahuan Desert, along with interesting wildlife such as mule deer, pronghorn, jaguar, javelina, and grey fox, to name just a few.
Access to the wild & scenic river is easy from several point at Big Bend National Park. No matter if you are a beginner or a pro, want a short or a long trip, you will find the perfect option here at Rio Grande Wild & Scenic River. Beginners can start with the 33 mile stretch at Boquillas Canyon. Mariscal Canyon is only 10 miles long, but the stunning scenery will capture your attention without fail. This is better suited for the somewhat experienced traveler, as there are a few class II-III rapids along the way. Santa Elena Canyon provides the easiest access, and is perfect for an overnight trip, but can be turned into a 3 day trip as well.
It is considered the canyon with the most stunning scenery and rock formations! If you want to avoid any and all crowds, paddle through the Floating Hot Springs & San Vicente Canyons. They are often neglected in favor of their more popular counterparts, but it's an easy 20 mile stretch that will nevertheless offer plenty of things to see and keep your eyes occupied. If you are looking for a longer adventure and a true wilderness experience, spend 5-10 days floating the Lower Canyons. This heart of the Rio Grande Wild and Scenic River is wild and beautiful, and one of the least visited national monuments that should be on everyone's list.
Before you start your float trip on one of the least visited national monuments, make sure you familiarize yourself with river rules & regulations, and prepare with everything you need for a successful trip, since you'll be floating through remote areas of Texas.
Port Chicago Naval Magazine National Memorial
In 2021, 575 people visited Port Chicago National Magazine Memorial. That's more than twice the visitors the Rio Grande Wild & Scenic River got, but still far from crowded, and high up on the list of least visited national monuments in the United States. It's name may be misleading – this national memorial is nowhere near Chicago, or even the state of Illinois. Instead, it is to be found in California, on a half-acre of land in Concord on San Francisco Bay's east shore.
Established in 1992 to commemorate he worst home front disaster in the United States during World War II, it was only designated as a unit within the national park system in 2009.
On this visit to one of the least visited national monuments, a guided tour is your only option for exploration, and reservations must be made through the National Park Service. Be sure to do this at least 2 weeks in advance. This is an active Naval Base, and military clearance is necessary in order to be allowed a visit. This is certainly the reason why Port Chicago National Magazine Memorial is one of the least visited national monuments.
The tour starts at the John Muir National Historic Site in the town of Martinez, California and is led by a park ranger. You'll watch a short educational film, then head to to the Concord Naval Weapons Station where you'll learn all about the disastrous loss of life that occurred at Port Chicago National Magazine in 1944, stand at the site of the explosion, and view the memorials dedicated to the lost souls.
While your visit here may be short, do not miss out on this little-known piece of American history!
Medgar and Myrlie Evers Home National Monument
Medgar and Myrlie Evers were African American activists and significant figures in the civil right movement in the United States. Medgar Evers spoke out against racism in the Jim Crow south, which led to his assassination by white supremacists on June 12, 1963. Myrlie Evers spent the next three decades fighting for justice for her murdered husband.
The reason why only 1,034 people visited the Medgar and Myrlie Evers Home National Monument in Jackson, Mississippi, in 2021, making it one of the least visited national monuments in the United States, is that it's closed to the public. You are, however, welcome to stop by and pay your respects to these civil rights icons.
If you are interested in learning more about the civil rights movement while in the area, visit the Mississippi Civil Rights Museum, see the Mississippi Civil Rights Collection at Tugaloo College, and explore the Margaret Walker Center and the COFO Civil Rights Education center.
Rainbow Bridge National Monument
Utah is home to some of the most visited national parks in the United States, which makes it surprising that it also features some of the least visited national monuments. Rainbow Bridge National Monument, the world's highest natural bridge, is located in the Glen Canyon National Recreation Area, in the southern part of Utah. This bridge at the foot of the Navajo Mountains is considered a sacred site by Native Americans. The Navajo call it 'Nonnezoshe', or 'rainbow turned to stone', and it has a long and colorful history. Keep this in mind when you visit, and pay this sacred site the utmost respect.
Getting to Rainbow Bridge National Monument takes either a 2 hour boat ride on Lake Powell, or through some serious determination – on a 32 mile roundtrip hike that includes a roughly 8,400 feet elevation gain. Not a piece of cake, by any means, and the explanation why this fantastic national historic site is one of the least visited national monuments, with only 3,290 people making the trek in 2021.
Any time of year is great to visit this natural wonder, but if you opt for the long hike, do so in the spring or fall, when temperatures are lower and there isn't a whole lot of precipitation. If you visit in the summer and opt for the boat tour, make sure to bring everything you need to protect you from the sun. Utah summers are know to be scorching hot. There are no services at Rainbow Bridge National Monument, so make sure you pack your meals, and bring loads and loads of waters to avoid getting dehydrated.
First Ladies National Historic Site
Throughout American history, the role of First Lady of the United States has much evolved. Traditionally, the First Lady was the hostess of the White House, in charge of all things domestic. Today, we see First Ladies have a very public role, champion important causes and be role models for people worldwide. How did this come to be?
Visit the First Ladies National Historic Site in Canton, Ohio, to find out! The site consists of two buildings: the education center, and the home of First Lady Ida Saxton-McKinley. In 2021, the site received no more than 6562 visitors, making it one of the least visited national monuments. Shadowed by the major attraction in Canton, the NFL Hall of Fame, the First Ladies National Historic Site doesn't get the attention it deserves, so if you are visiting the area, do stop by!
Start at the education center, where you will be able to explore the museum of rotating exhibits and watch an educational film. The Saxton home is only accessible by guided tour, so make sure to reserve a spot at least two weeks in advance! The fact that reservations need to be made that far in advance keeps spontaneous visitors at bay and the number of overall visitors low, too.
Gates of the Arctic National Park and Preserve
With only 7,362 visitors in 2021, Gates of the Arctic National Park and Preserve holds the title of least visited national park, due to its remote location in Alaska, which, we've already learned, is one of the least visited states in the United States. But this lesser known part of the national park system is well worth the trek.
Gates of the Arctic national park is the northernmost national park in the United States, situated entirely north of the Arctic Circle. It protects portions of the Brooks Range.
This is the perfect place to immerse yourself in the vast landscape that has been virtually unchanged for millions of years, except by the forces of nature. No man-mad roads or trails can be found in this ultimate wilderness. Due to its location, the summer months are the only time during which visits are possible. Be prepared to be 100% off the grid. Only experienced adventurers should come here, seeking to wander the Caribou trails in the endless light of Alaskan summers.
Access to this national park is only possible by plane, or by hiking the Dalton Highway. Start your journey in Fairbanks. There are several small airlines providing air taxi services into the gateway communities of Anaktuvuk Pass and Bettles, from which you can start your hike.
Brown v. Board of Education National Historic Site
Kansas is definitely an underrated destination. One of it's must-see attractions is also one of the least visited national monuments: the Brown v. Board of Education National Historic Site. Brown v. Board of Education was a landmark decision by the United States Supreme Court that played a significant role in American history.
In 1896, the so-called 'Jim Crow' laws were passed by the United States Supreme Court. These states that racially segregated public facilities would be legal, so long as the facilities for African American people and white people were equal. These laws effectively banned African American people from using the same buses, schools, or any other public facilities, as white people. But on May 17, 1954, the US Supreme Court ruled against these laws and thus ended racial segregation in public schools.
In 2021, this important national monument in Topeka, Kansas, only received 9,113 visitors. This is most likely due to the fact that overall Kansas doesn't have as much tourism as other states do.
The park consists of the Monroe Elementary School, one of the segregated schools that was heavily involved in this important 1954 Supreme Court decision, and its grounds. Admission is free, and you can spend one very educational hour at this site (or more, if you so wish). The National Park Service does a wonderful job telling the story of this piece of judicial history. It's also a great destination for a field trip! Park rangers are available for tours, accommodating groups up to 70 people.
Salt River Bay National Historic Park and Ecological Preserve
Let's leave the mainland and head to a beautiful island – St. Croix, U.S. Virgin Islands, in the Caribbean. Here we will find the Salt River Bay National Historic Park and Ecological Preserve, which is jointly managed by the National Park Service and the United States Virgin Islands government. Salt River Bay, located at the north end of the island, is rich and very diverse natural estuarine ecosystem. Prehistoric and colonial-era archeological sites are protected in this area, making it a historical site as well as an ecological preserve. Explore an Amerindian village and the only known ceremonial stone-lined ballcourt/plaza in the Lesser Antilles!
Here you will gain an insight in life as it was in the Caribbean before the European settlers arrived. On top of that, you get to see the largest remaining mangrove forest in the US Virgin Islands, coral reefs, and a submarine canyon.
Why, you may wonder, is this gorgeous location one of the least visited national monuments, with only 10,171 visitors in 2021? One reason is certainly the cost of getting to the island. Another reason may be that tourists generally visit the Caribbean for some much needed R&R, which often consists of downtime at the beach rather than visiting national monuments.
However, if you find yourself on vacation in St. Croix, don't hesitate to explore this beautiful place!
Fort Union Trading Post National Historic Site
Once upon a time, from 1829-1867, this was the most important trading post on the upper Missouri River. Native Americans, more specifically the Assiniboine and six other Tribes of the Northern Plains, traded good like smaller furs, such as beaver pelts, sometimes buffalo robes, for other goods they needed. Fort Union Trading Post was instrumental in the establishment of the fur trade in North America.
The site you can see today near Williston, North Dakota, is a partial reconstruction, an interpretation of what the original fort may have looked like. Fort Union Trading Post National Historic Site makes the list of the least visited national monuments with 11,479 visitors in 2021, which is due to the fact that it is out of the way of most tourist attractions. nevertheless, if you are in the area, make sure to set aside an hour or 2 to explore this interesting part of the national park system.
There's no public transportation available to get to this site, which is located on North Dakota Highway 1804, right at the state line between Montana and North Dakota. It's easily reachable from Williston, ND, or Sidney, MT. Note: the parking lot is large and able to accommodate RVs, so make sure to add a stop this site of American history to your road trip!
Start your visit with a short orientation film. Armed with lots of information you can take a self-guided tour through Fort Union, visit the Trade House, and even become a Junior Ranger!
The site, including its visitor center, are open year round, with the exception of Thanksgiving, Christmas, and New Years Days. The Trade House, however, is only open seasonally.
Note: summer time is mosquito time, so make sure to come prepared!
The White House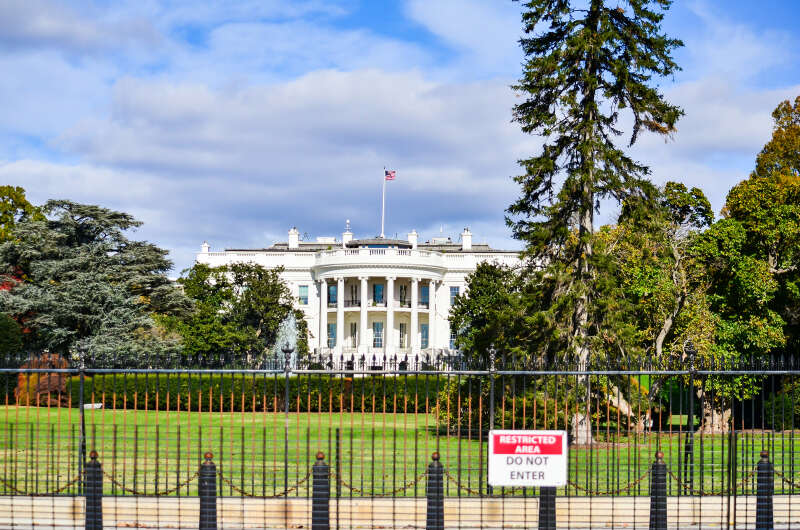 The fact that the White House in Washington, D.C. is one of the least visited national monuments may come as a surprise. But there's a reason! While the White House is most certainly one of the most well-known places in all of the United States, and one that hundreds of thousands of people admire from the outside, it is also the President's workspace and residence, and therefore, access is very limited to visitors. In 2021, a meager 14,205 people were allowed to tour this famous structure.
Plan well ahead for your visit to the nations' capital. Public tours are generally available from 8:00 AM to 12:30 PM Tuesday, Wednesday, Thursday, Friday, and Saturday, unless it's a federal holiday. They are granted on a first come first serve basis, but to score one of the sought-after spots on a tour, you have to submit a request through a Member of Congress and their Congressional Tour Coordinator. Requests need to be made no more than 90, but a minimum of 21 days before the tour date. There's no admission fee. If you are visiting from abroad, contact your country's embassy in D.C. in order to submit a tour request.
See now why not that many people visit the White House? It's complicated, but if you can manage to secure a spot, it'll be well worth it! Parking is a nightmare in the area around the White House. But Washington D.C. has excellent public transportation that'll get you to your destination in no time! Once you are inside, these are the rooms you will permitted access to: the public rooms in the East Wing, which are the Blue, Red, and Green Room, then there is the State Dining Room, also the China Room, and last but not least a view of the White House Rose Garden.
Expect this self-guided tour to take between 30 and 45 minutes.
The White House has a long list of identification requirements, prohibited items, and other important information that you should study well before you go.
Love DC and want to spend more time? Read our article about the 22 most memorable landmarks in Washington DC!
North Cascades National Park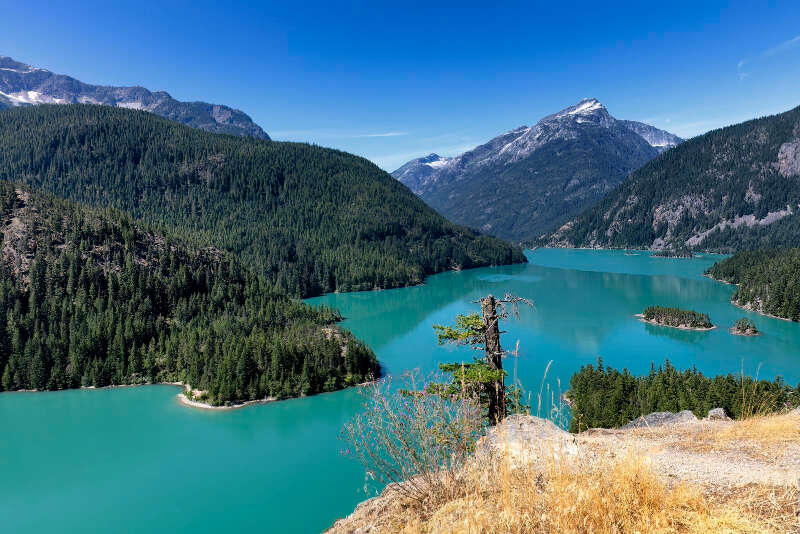 The North Cascades National Park isn't just one of the least visited national monuments within the National Park System, which is excellent news for you, dear reader, who is on a quest to get off the beaten path! Located in northern Washington State, the park is reachable within a mere 3 hours from Seattle. The reason this national park received only 17,855 visitors in 2021 is most likely twofold: for one, Washington State boasts the most stunning scenery wherever you look. And two, there is limited road access to the park.
The stunning alpine landscape is a paradise for hikers. No matter your level of experience, there are hiking trails for you. Your breath will be taken away on each trail, from short strolls ending in scenic outlooks to the steep slopes of beautiful Mount Baker. Admire the over 300 glaciers, remnants of the ice age, and the landscape that's been mostly untouched for millions of years.
A very popular activity at many national parks is boating. Lake Chelan, Ross Lake, Gorge Lake, and Diablo Lake are picture-perfect spots for kayaking, canoeing, and motor boating.
North Cascades National Park is the ultimate destination for those looking for challenging but scenic bicycling opportunities.
if you are planning a multi-day trip, there are several options to camp within the park. While there are leisurely rides available in the lower Stehekin Valley, you have the chance to go all out on steep climbs out of the Skagit River gorge.
While many parts of the park are accessible year round, not all facilities stay open beyond the summer months. As always when you are in the mountains it is important to remember that weather conditions can change rapidly. Therefore, come prepared with gear and proper clothing. The North Cascade visitor center, as well as the Golden West visitor center, provide educational opportunities, facilities such as information desks, a bookstore, and exhibits about the area.
Books, maps, and other items can be acquired at the North Cascades National Park Service Complex Headquarters and Public Information Center. The Wilderness Information Center is where you can acquire a backcountry permit, which is required for overnights in the park year round. You can easily purchase one at an outdoor self-issue station.
Agate Fossil Beds National Monument
The Agate Fossil Beds National Monument is located near Harrison, Nebraska. In 2021, no more than 18,264 visitors explored this fascinating example of the least visited national monuments. This place's claim to fame is the find of full skeletons of extinct Miocene mammals, several million years old, in the early 1900's. Another unlikely event occurred at the same time: a friendship started between the rancher James Cook and Chief Red Cloud of the Lakota.
Its location in the northwest corner of Nebraska plays a big part in the low number of visitors. Yet this unique site, which has been part of the National Park System since 1965, can't be missed! The fossils at this national monument aren't dinosaurs! They are ancient mammals who roamed the High Plains 23 million years ago, and they are no less worth seeing than the infamous T-Rex. An exhibition of these interesting creatures can be seen at the visitor center.
Another, no less interesting exhibition features the James H. Cook collection of Lakota artifacts, gifts from Chief Red Cloud. Learn about the culture of Native Americans through these items, which include but are not limited to Chief Red Cloud's shirt and moccasins. Ready for a short hike? There are two hiking trails that allow you to discover exciting artifacts at these archaeological sites, but also get your blood flowing before you have to get back into the car. With a length of only 1 mile, the Daemonelix Trail is the shorter of the two hiking trails.
Discover the in situ fossil exhibits of the spiral corkscrew fossil of the Paleocastor, an ancient land beaver who lived in the area 23 million years ago. At 2.8 miles The Fossil Hills Trail will take you a bit longer to walk. Make sure to bring some water along if you visit in the summer! Here you get to see the archaeological dig sites. Walk across over natural wetlands and the Niobrara river on a boardwalk, and learn more fascinating facts from the interpretative signs.
By now we already know that some of the least visited national monuments are far from services and amenities, and that's true here as well. Make sure you are fueled up – both you and your car. The closest gas station is 34 miles away, and food isn't available at the national monument. While the site is accessible year round, the High Plains are subject to sudden changes in weather, in both summer and winter. Come prepared with appropriate clothing. Watch out for wildlife. There are venomous snakes in the area, the Prairie Rattlesnakes. Avoid these at all costs, especially because there is no cell phone reception at the national monument, so help won't come fast if you need it.
Ticks are also a concern. Wear long pants, even in summer, preferably in light colors, and spray your clothing with tick repellent to be safe from those nasty buggers. On the matter of your well-being, make sure to stay hydrated. You are at an elevation of 4,000 feet, which can make an impact on those dwelling at sea level, and it does get very warm during the summer months. Last but not least, two fun things: you may be able to see fossils along the way. BUT! Take only pictures, and leave the fossils where you found them. And – you can become a junior ranger here!
Chamizal National Memorial
This National Park Service site, located at the United States – Mexican border in El Paso, Texas, commemorates the peaceful settlement of the Chamizal boundary dispute. This was a border dispute resulting from a natural change of the Rio Grande river, and it lasted over 100 years!
Today, this beautiful 54.9 acre memorial park celebrates the cultures of the borderlands. El Paso is full of interesting and exciting things to do, and maybe that is why Chamizal National Memorial is one of the least visited national monuments in the United States, with only 19,600 visitors in 2021. However, it's a place you shouldn't miss.
Start out by visiting the museum inside the visitor center. Watch the orientation video, then head to the exhibit. This cultural center also consists of art galleries, a theater, and even an amphitheater! Check out the park ranger led activities before you go, so you can time your visit perfectly. Aside from educational opportunities, there are plenty of recreational things to do. The Chihuahan desert climate provides much dry and sunshine, and you can walk the trails, ride your bike, and have a picnic when you get hungry on a beautiful Texas afternoon.
Get directions here.
Women's Rights National Historical Park
Established in 1980, the Women's Rights National Historical Park is a monument to the women's struggle that are as relevant now as they were then: civil rights, human rights, and equality. Sadly, this is one of the least visited national monuments with only 22,847 visitors in 2021 – it really shouldn't be, which is why we are putting it on your radar now!
From July 19-20, 1848, a Women's Rights Convention was held in Seneca Falls, NY, where the park is located today. This national monument tells the story of how the leaders of the day fought for their rights.
This National Historical Park has a calendar full of events, lead by park rangers. The museum is open daily from 9 am to 5 pm, and features exhibits from the 1848 Convention, temporary exhibits, and an educational film, 'Dreams of Equality'. There are four historical properties which are part of the park. Visit the actual site of the Convention, the Wesleyan Chapel. It is open daily from 9 am to 5 pm. Stroll through Declaration Park and see the 100 foot long bluestone water feature. The park is open daily from dawn until dusk.
The Elizabeth Cady Stanton House, home to main organizer of the Convention and primary author of the Declaration of Sentiments, can't be missed, but it's only accessible with a park ranger, so make sure to check the schedule before you go. The M'Clintock House is also only accessible with a park ranger. This is the site where the Convention was planned and the Declaration of Sentiments was drafted in 1848.
The list of least visited national monuments that are nevertheless amazing goes on and on. Next time you are planning a trip, make sure to visit one of these overlooked places!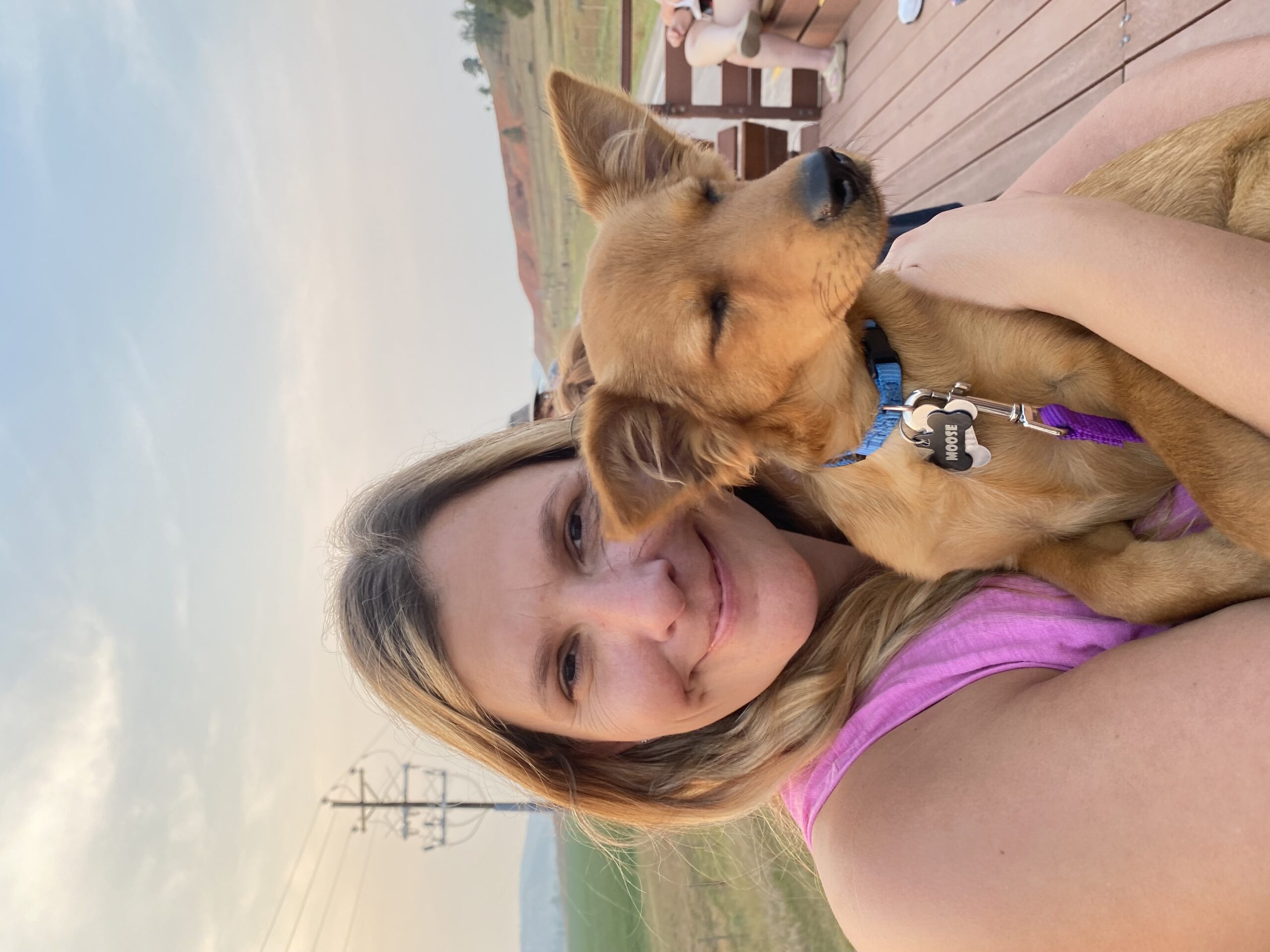 Jenny grew up in Germany. All she ever wanted out of life was to leave and have adventures. Jenny always traveled as much as the budget would allow, and when she met her husband traveling became a full-time thing. You can follow Jenny on her blog and Facebook.