The Virgin Islands, a beautiful archipelago in the Caribbean Sea, are a dream destination on many people's bucket list. Excellent weather, stunning sandy beaches, and a colorful underwater world draw over two million visitors in each year. There are three main islands: St. Thomas, St. John, and St. Croix. They are all excellent destinations, but which US Virgin Island is best to visit?
Which US Virgin Island is Best to Visit?
St. Thomas
St. Thomas is the gateway to the US Virgin Islands. Charlotte Amalie, located here, is the territory's capital. Even if you are planning to visit another Virgin island, you'll first land at Cyril E. King airport on St. Thomas, with easy nonstop flights from destinations such as Fort Lauderdale, and from there you can make your way to St. Croix, St. John, Water Island, or even destinations in the British Virgin Islands, such as Virgin Gorda. St. Thomas is a top destination for cruise ships, and there isn't just one busy cruise port, but two: the West India Company Dock and Crown Bay, both located close to Charlotte Amalie.
Best Things to do
No matter if you want to be active or relax, there's plenty to do on St. Thomas!
Go shopping
The beauty of this Virgin Island is just one reason for its popularity. The duty free shopping is another one. Stroll around Charlotte Amalie on your Caribbean vacation and discover hundreds of duty free shops along the roads and little alleyways! You'll find the usual items popular in duty free destinations: jewelry, alcohol, cigarettes, perfume, cosmetics, and electronics.
But there are unique items for sale that will make a much better souvenir (though who would say no to a souvenir diamond?): custom-made leather sandals, Moko Jumbie Dolls, cookbooks that will allow you to travel back to the Caribbean islands from your kitchen, amazing Caribbean hot sauce, handicrafts, and local arts. A very popular, distinct piece of jewelry which would make a perfect souvenir are hook bracelets. Wear the open end of the hook pointed up toward your heart and indicate that your heart is already taken. Wearing the open end away from your heart means you are still available!
Go sailing
Sailing in the beautiful Caribbean Sea is unmatched. Being out on the water and enjoying a lovely breeze while zipping along is the most freeing feeling in the world. There are different options. You can book a Turtle Cove Catamaran snorkel & sail adventure. Buck Island is home to a National Wildlife Refuge, and underwater national monuments. Here you can snorkel along coral reefs and a ship wreck with plenty of marine life keeping you company.
A champagne sunset sail from Margaritaville is the perfect opportunity to witness a stunning Caribbean sunset. Nibble on snacks while enjoying drinks from the open bar.
If you prefer to not go out with a big group, book a 50′ luxury yacht for a private full or half day catamaran snorkel and beach experience.
Take the water taxi to Water Island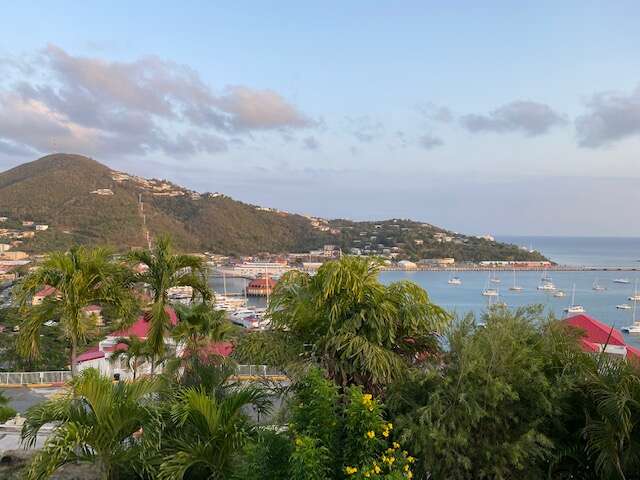 With only 500 acres, Water Island is just a tiny island, a skip, hop and a jump away from St. Thomas by water taxi. It's a fun day trip from St. Thomas. Rent a golf cart to explore. If you are visiting during high season, make sure to call ahead to Rachel's Rentals and reserve one for the day. Don't expect hotels shops, taxis, gas stations, or even a main town. Water Island is nothing but rugged nature, sandy beaches, and views for days.
Swim with Turtles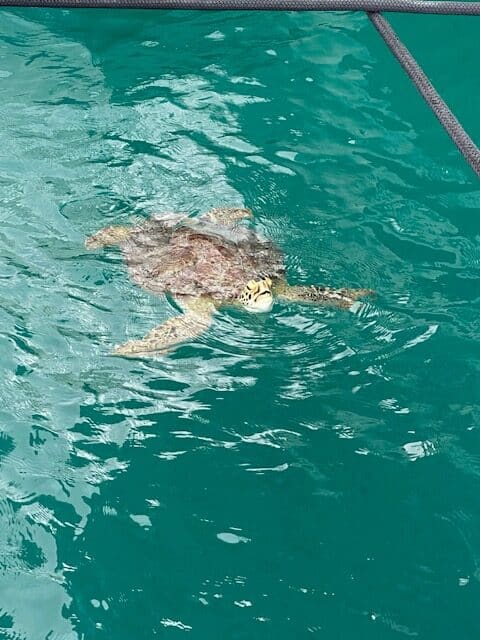 Go snorkeling at Buck Island, explore the underwater national monuments, and enjoy the extra experience of snorkeling at Turtle Cove, where you can see a large population of the endangered Green Sea Turtle species and other marine life. An abundance of tropical fish adds a little more color to the experience.
Hit the pristine beaches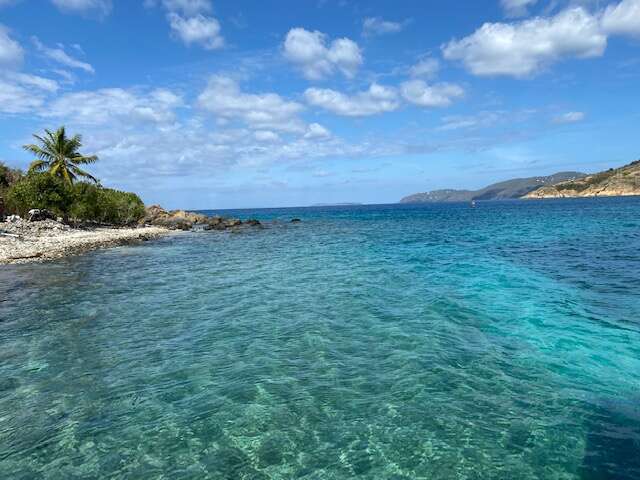 White sand beaches are one of the main reasons people choose the Caribbean islands as their holiday destination, and when it comes to the question of which US Virgin Island is best to visit, St. Thomas may come to mind first.
Magens Bay offers one mile of white sand, and plenty of things to do: water sports, a nature trail, and a lookout with stunning views.
Coki Beach with its surrounding reefs is the best location for snorkeling. It's a popular beach and can be quite busy. There's a boardwalk and a bathhouse, and lots of vendors offer every kind of souvenir you can think of. Close by is Coral World Ocean Park, a marine park that is one of St. Thomas's major tourist attractions.
Another popular beach is Sapphire Beach. It offers views of St. Johns, and you can have a nice lunch at one of the restaurants.
Avoid the crowds on one of St. Thomas's more secluded beaches such as Honeymoon Beach, Secret Harbour, or Bluebeard's Beach.
Lindquist Beach is one of St. Thomas's more pristine beaches, with excellent opportunities for snorkeling and sand that has a slight pink hue.
Places to stay
No matter your budget, you can easily find accommodations on St. Thomas. For a luxury vacation, book The Ritz-Carlton. The Margaritaville Vacation Club by Wyndham is a very nice 4 star hotel. The Castle Villas at Bluebeards offer 3 star accommodations with a 5 star view. If having a whole apartment to yourself is more appealing, choose the East End Studio Apartment near Secert Harbor. You can even stay on a boat!
St. Croix
St. Croix is place to go for a laid-back Caribbean vacation. It is the largest of the US Virgin Islands and offers everything from spectacular beaches, to fine dining, to golf, and even a couple of casinos. It offers a diverse landscape and culture, from the shores to tropical rainforest, and from Danish colonial building to an old sugar plantation.
Best things to do
One thing is for sure: you won't get bored on St. Croix!
Go scuba diving
The pristine waters of the Caribbean sea offer a unique underwater world. Go scuba diving and discover the plentiful marine life.
Go Horseback riding
Horseback riding is a fun and laid-back way to explore your holiday destination. Book a horseback riding experience with a professional tour guide and learn about the history of St. Croix, and the flora and fauna that surrounds you.
Tour the island
If horses aren't your thing, book a guided island tour. Your professional guide isn't just knowledgeable about art, culture, and history, but will also lead you to the best view points and places for photo opportunities. Stop at Estate Whim Plantation Museum and Great House, the only sugar plantation museum in the Virgin Islands.
Indulge in water sports
What's better than playing in the water? Water sports rentals are easy to find. Rent a kayak or a stand up paddleboard and enjoy the stunning views of St. Croix from the water.
Go hiking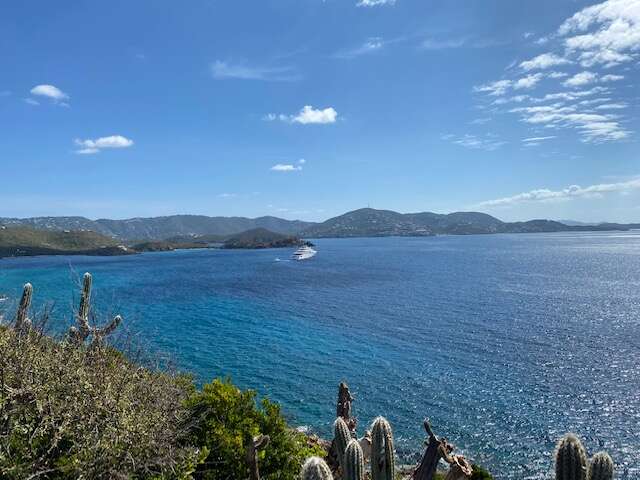 Hiking is a great way to explore the stunning views and natural beauty of the Caribbean. Hike to Jack and Isaac Bays. What you'll find is a jaw-dropping off the beaten path beach that's not as busy because hiking is the only way to get there. There's a reef close by, so pack your snorkel gear, cool off in the waves and explore under water.
St. Croix's North shore offers a very special kind of natural wonder: the Annaly Bay tide pools. If you are up for a challenging hike through the rainforest, you will be rewarded with breathtaking views.
Goat Hill is another great hiking location.
Go to the beach
Cane Bay Beach is a very popular beach on St. Croix. Cane Bay is one of the best scuba diving locations in the Caribbean, and there's equally world-class snorkeling, if you aren't a diver. It can get busy on the weekends when the locals hit the beach, so opt for a weekday to come here.
Rainbow Beach is the ultimate place to watch a Caribbean sunset. There's a water sports rental center and a beach bar, and it's only about one mile away from the cruise ship dock, making it the perfect hangout for cruise ship passengers.
Other popular beaches on St. Croix include Buccaneer Beach. Shoys Beach, and Tamarind Reef Beach.
Have a drink
Did you know that on St. Croix you can tour the Cruzan Rum and Captain Morgan Rum distilleries? Not just that, you can try one of 39 different flavors of rum! Visit the Sion Farm Distillery and learn how breadfruit vodka is made.
Go golfing
Golfing in paradise! Choose between three courses: Buccaneer Golf Course, Carambola Golf Club, and the Reef Golf Course. There are options available for every skill level.
Get lucky
Try your hand at cards or slot machines at one of the two casinos on the island. Divi Carina Bay Casino, located at the East End of the island, offers classic table games such as Black Jack and Poker, but also many more, in a relaxed atmosphere. You'll find Caravelle Hotel & Casino conveniently located in downtown Christiansted and features lots of video slot machines.
Places to stay
While St. Croix doesn't have the variety of accommodations St. Thomas had, you can still find a place to stay that suits you. Sand Castle on the Beach is a property with great views that's for adults only. Sugar Apple Bed and Breakfast in Christiansted has excellent reviews. Gold lovers can stay at The Buccaneer Beach & Golf Resort. Do you prefer staying at a vacation home? This St. Croix Home with Caribbean Views is all you could possibly want and more!
St. John
So – which US Virgin Island is best to visit? While St. John is the smallest of the three islands that make up the main USVIs, it is also said to be the most pristine. More than half of St. John belongs to the Virgin Islands National Park. Lots of options for exploration and fun! The main town here is Cruz Bay.
Best things to do
St. John's natural beauty is unsurpassed, and one of the main draws for people to visit.
Cruz Bay
Cruz Bay is the main town on St. John. From here, you can take the virgin Island ferry to neighboring islands. That includes not only locations in the United States Virgin Islands, but you can also go to the British Virgin Islands from here. Virgin Gorda is easy to get to, and a popular destination, with lots of island charm and gorgeous beaches. Jost Van Dyke is also accessible, and White Bay there is incredibly popular. Or, head to Tortola in the British Virgin Islands and visit Apple Bay, a quaint and charming little fishing village. These are all excellent destinations in the Caribbean.
Private Island Tour
Just arrived, and you want to know what's what? Book a private two and a half hour island tour and get the lay of the land.
Visit Virgin Island National Park
This national park covers 60% of the island – that's 7,259 acres of land area, and 5,500 acres of the adjacent ocean. Hike through the beautifully preserved Caribbean tropical rain forest. The Cinnamon Bay Nature Trail will lead you past the ruins of a sugar plantation, while the Bordeaux Mountain Trail has you walk up, up and up, 1,277 feet to the highest point of St. John.
Snorkeling or diving in protected coral reefs will be a highlight of your Caribbean vacation. White sand beaches await the tired tourist, and the ones you will find inside the park are some of the best and most pristine beaches in the world. Trunk Bay beach is great for snorkeling. Cinnamon beach is as well, and you'll have the chance to engage in water sports or just relax in the sun.
You can rent kayaks or snorkeling equipment at Honeymoon Beach. Maho Bay is an excellent place in Cruz Bay to see leatherback sea turtles, green sea turtles, and other species of sea turtles, as well as stingrays. If you are looking for more quiet beaches, head to Salt Pond Bay.
Go beach bar hopping
St. John offers numerous lively beach bars, so why not go beach bar hopping? Book a US Virgin Islands Beach Bar and Island Hop full day tour from St. John and hit four different beach bars Water Island, Christmas Cove, Coki Points, and one other location that is weather dependent.
Go for a sail
There's nothing better than being carried by wind over Caribbean waters, enjoying the views, the waves, and maybe even a pod of dolphins! Book the Sailing Tipitina Classic Daysail Charter for a private sailing experience. Another really fun (and slightly more affordable) tour is the St. John Full-Day Lime Out Snorkel Sail w/ Taco Lunch & Open Bar. Sail, snorkel, drink, and eat at a floating taco bar! Last but not least, you could treat yourself to a St. John Champagne Sunset Sail with Open Bar & Hors D'oeuvres.
Did you take one of these tours and absolutely loved the freedom out on the water? Good news! On St. John, you can even learn how to sail!
Enjoy water sports
There are so many options for water sports that there is something for everyone. Rent a standup paddleboard, rent a kayak, or join a night kayaking tour. If you want a full day adventure, book the St. John turtle snorkel and cays full day tour.
See petroglyphs in Reef Bay Valley
Located inside the US Virgin Islands national park, you can see one of the most captivating sights: the petroglyphs of Reef Bay Valley. These rock carvings in the blue basalt rock near the island's highest waterfall reveal signs of an ancient civilization.
Places to Stay
One very neat place to stay is inside the Virgin Islands National Park. Cinnamon Bay Beach & Campground allows you to disconnect from the stress of daily life and immerse yourself in nature. If you want to stay within the park but have upgraded accommodations, check out Estate Lindholm. Other excellent and popular places to stay include but are not limited to Limetree Cottage at Chocolate Hole, the Concordia Eco Resort, the Hibiscus Suite at Sunset Serenade, and the Gallows Point Resort.
Is St. Croix or St. Thomas better?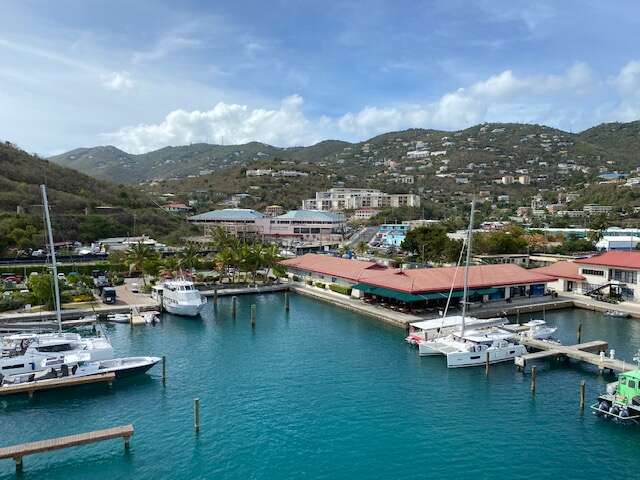 That depends entirely St. Thomas is slightly more affordable, and it is the most visited of the USVIs. It's also the most convenient, with the capital city, Charlotte Amalie, which is big with lots going on, and lots of chain stores and chain restaurants. St. Croix is the largest and the least visited of the USVIs. It's more quiet, with Christiansted, the capital, much smaller than Charlotte Amalie, and Frederiksted, a quaint town, being less lively than St. Thomas. There are less chain stores and chain restaurants, and it's generally less touristy.
Both islands are easy to get to, since they both have airports. To fully explore, you'll need to rent a car on either island. Due to being less crowded, it's easier to drive in St. Croix. Parking is also easier in St. Croix.
St. Thomas takes the win on accommodations, nightlife, and restaurants. Both islands have incredible beaches, and it's impossible to decide which ones are better. St. Croix is much better for hiking, due to the fact that St. Thomas is more crowded and there are simply less trails.
There's simply no clear answer to the question: Is St. Croix or St. Thomas better? if you want an adventurous trip away from the crowds, enjoy secluded Caribbean beaches and nature, book a trip to St. Croix. If you want to shop your heart out, eat at amazing restaurants, and enjoy the nightlife, book a flight to St. Thomas right now!
Which US Virgin Island is the prettiest?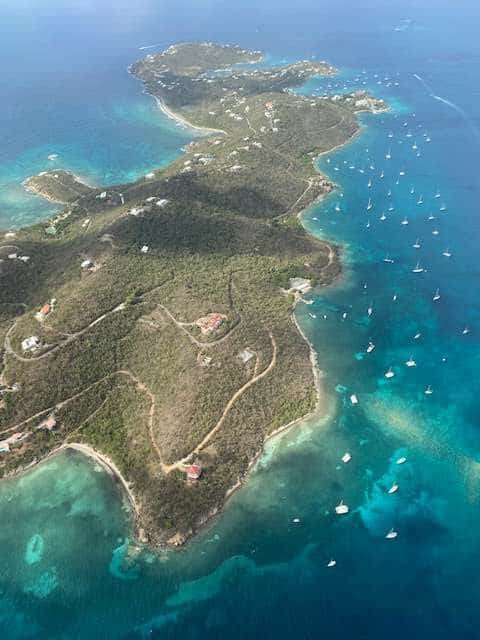 Such a difficult question! St. Croix is the largest and the flattest of the three main US Virgin Islands. Both St. John and St. Thomas are less uniform and more mountainous. All three islands are tropical paradises, but St. John has a slight advantage over the other two when it comes to natural beauty. The large rainforest of the Virgin Island National Park adds a lot to the beauty of St. John.
Lots of hills offer lots of chances to hike up high and enjoy incredible ocean views. But the one thing that makes it special is the lack of big resorts, which leads to the island being less developed and it's nature more preserved. St. John, you get our vote for prettiest US Virgin Island!
Which US Virgin Island has the best beach?
Pristine beaches can be found all around the Caribbean, but we want to know: which US Virgin Island has the best beach? Again, it's tough to judge, but again St. John is the winner in our book. Trunk Bay Beach takes home the trophy. It's beauty is simply breathtaking. Towering coconut palms and white sand make for the perfect combination of pristine beach, and the underwater snorkeling trail is so unique that no other beach can live up to it.
Which island is better in Virgin Islands?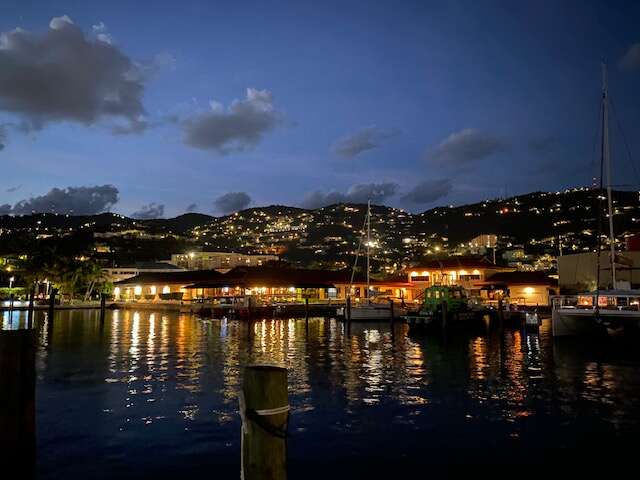 Each of the USVIs has its own flavor, and which US Virgin Island is best to visit for you completely depends on – YOU! St. Thomas is the most affordable, with the best options for shopping, dining, and nightlife. That doesn't mean you are missing out on great excursions, beaches, and water sports. For a quaint honeymoon of secluded beaches and romantic hikes, St. Croix is your answer. If you want the off-the-beaten-path experience and immerse yourself in nature, St. John is your winner! No matter which of the US Virgin Islands you pick, you will have a fantastic vacation! Prepare well with these 20 things to buy for your next beach trip!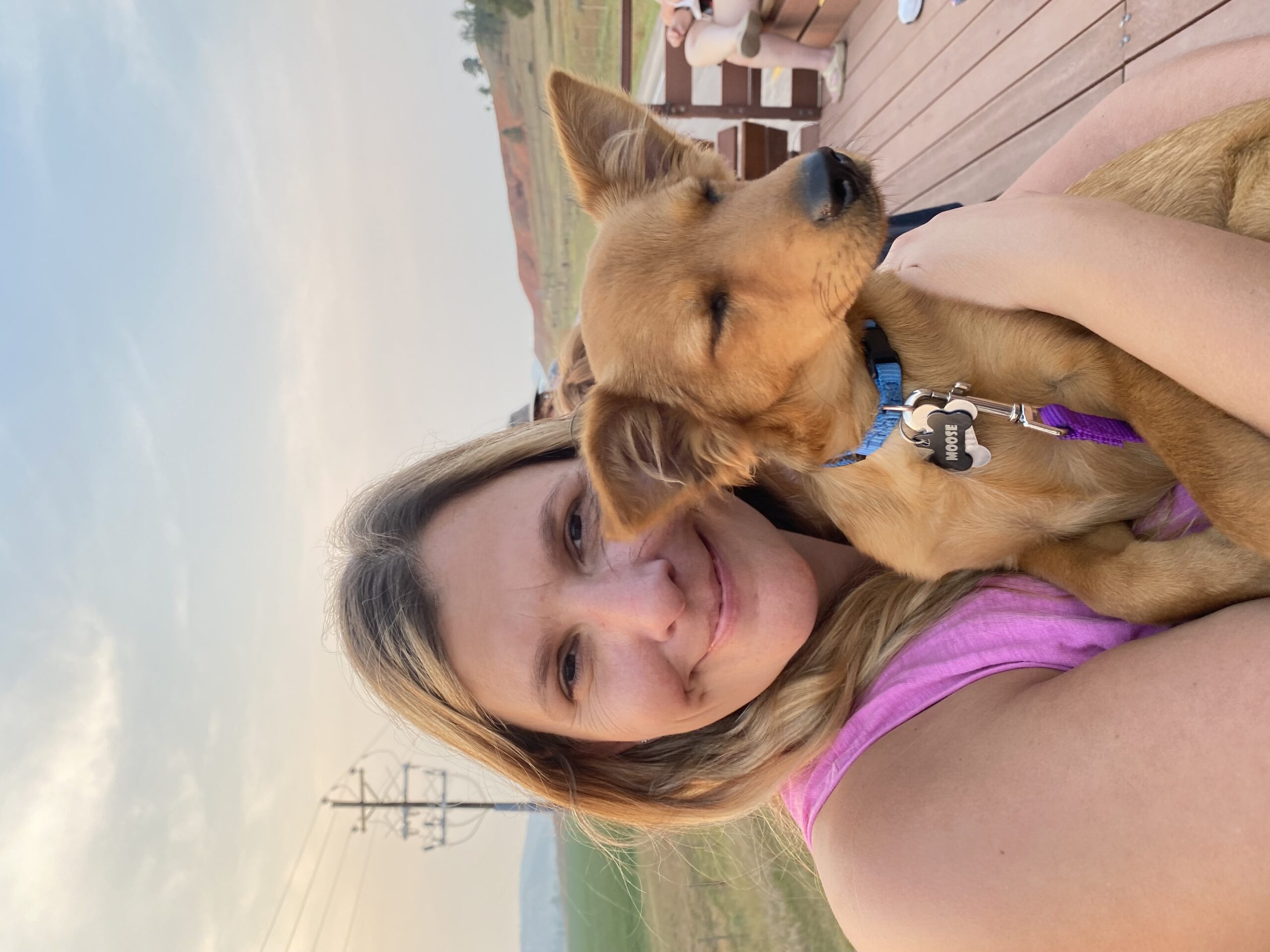 Jenny grew up in Germany. All she ever wanted out of life was to leave and have adventures. Jenny always traveled as much as the budget would allow, and when she met her husband traveling became a full-time thing. You can follow Jenny on her blog and Facebook.