Agritourism Destinations in the USA
The popularity of agritourism in the Unites States is on the rise. It wasn't just the COVID-19 pandemic that pushed people to spend more time in nature. To be constantly 'on', always online, always available, is taking its toll, and we are all looking for ways to unwind and reconnect with nature rather than with Instagram. Farm owners, already well aware of the value of a rural lifestyle, open spaces, starry skies, fragrant meadows, and adorable animals, offer city dwellers a chance to experience it for themselves. And the best thing about agricultural tourism? You don't have to leave the country to experience it! Your next adventure awaits close to home! Agritourism is popular around the world but today, we are sharing a round-up of agritourism destinations in the USA.
This post contains affiliate links. This means we make a small commission at no cost to you if you click through and make a purchase. All prices listed are accurate at time of publication. 
What Is Agritourism?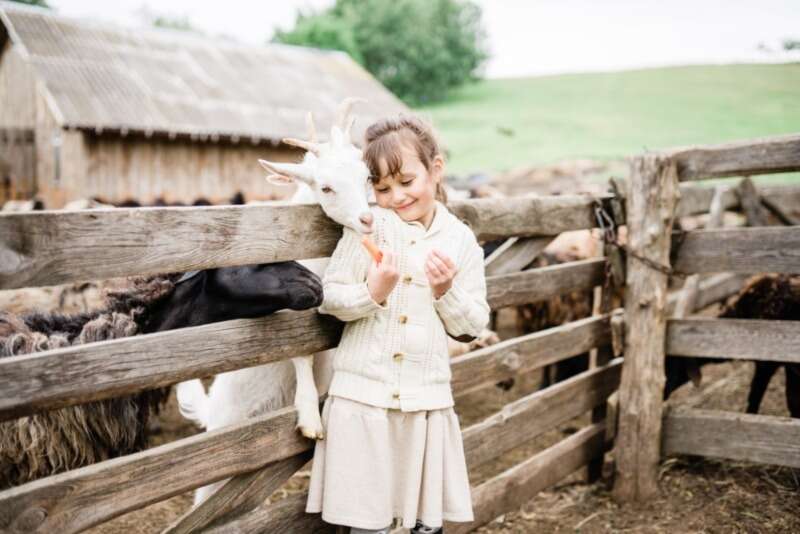 Generally speaking, agritourism occurs when people visit agricultural enterprises. This comes in many forms, and it doesn't have to mean getting on an airplane. As you know, here at Her Adventures we believe that travel happens anytime you explore beyond your boundaries. Agritourism is a great option to travel close to home, be it for educational or recreational purposes!
What does agriculture meets tourism look like? It could be a tour of a working farm or a living history farm, agricultural museums or petting zoos, a visit to a pumpkin patch or corn maze, u-pick opportunities or hay rides, a stay at a dude ranch or wine tourism, a dairy farm or horseback rides.
For farmers, agritourism offers the opportunity to earn some extra income. Local communities benefit from the extra jobs it creates. For tourists, it provides a chance to partake in educational experiences, look behind the scenes of a working organic farm, hang out with cute animals, and connect with nature. Agri tourism can also play a role in preserving agricultural lands.
1. Taos Goji Farm & Eco-Lodge Retreat, El Prado, New Mexico
Are you looking for a unique and rustic getaway to an agricultural enterprise in New Mexico? Look no further than Taos Goji Farm & Eco-Lodge Retreat. Rent one of their cabins or tipis, enjoy a quiet retreat, or participate actively in farm life. Pet alpaca, miniature goats, sheep and a donkey, lounge in a hammock while watching the chickens wander around, and watch the starry night sky over New Mexico.
Click here for directions.
2. Sevier River Ranch & Cattle Company, Hatch, Utah
Located between Zion and Bryce National Parks, Sevier River Ranch & Cattle Company doesn't just offer a chance of tranquil life on a farm, but is at the same time an ideal spot from which to explore those national parks. It's a working cattle ranch, with outbuildings converted into comfy rental units for agritourism purposes. The location is stunning, with spectacular views across the Sevier River Valley, and invites guests to lounge and relax, star gaze, enjoy a leisurely BBQ, but also enjoy the cows, bunnies, jack rabbits, and many other animals, farm and wild.
Click here for directions.
3. Grand Canyon Western Ranch, Meadview, Arizona
Have you always dreamed of staying at a Old West-style resort AND visiting the Grand Canyon and Las Vegas? The Grand Canyon Western Ranch is a secluded cattle ranch, located only 2 hours from Sin City and a meager 10 miles from the rim of the Grand Canyon, is the perfect agritourism destination! Their cabins sleep 2-5 and are decorated in a proper cowboy theme. Glamping is also an option. Horseback rides and wagon rides through the desert are great agritourism activities available here.
Click here for directions.
4. Starseed Ranch, Kapaau, Hawaii
Experience the beauty of Hawaii in a small farm setting. Starseed Ranch is a farm based nonprofit, offering educational experiences for students and retreats for everyone. Farm stays are available in private cabins, glamping platform tents, and individual or group tents. They also offer a month long farmer in residency program, for those who want to immerse themselves in all the workings of an agritourism business and agricultural production. A casual visitor can take one of their one hour farm tours, or book one of their immersive educational experiences: a tropical food forest + plant medicine tour. Their farm to table meals with freshly foraged ingredients will delight every guest.
Click here for directions.
5. C Lazy U Ranch, Granby, Colorado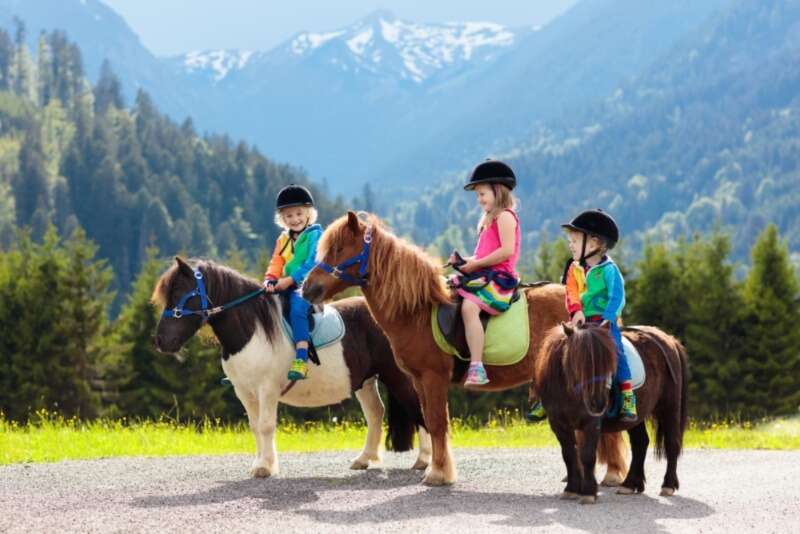 For all those who have never heard of dude ranches, here's a quick explanation: a dude ranch is a cattle ranch that has been converted to accommodate tourists. While the focus is mostly on horseback rides, dude ranches generally offer many other agritourism activities as well. And, most important, they aren't just for dudes!
C Lazy U Ranch is an all-inclusive year-round luxury agritourism destination suitable for the whole family. They offer guestrooms as well as cabins with up to three bedrooms. Horseback rides are available for adults and kids, and they even offer winter horseback riding vacations. This agritourism business makes sure its visitors won't get bored. There's fly fishing, archery, bee hive tours, cattle pushing, guided hiking, games such as volleyball or horseshoes, mountain biking, paddle boating, white water rafting, trap shooting, zip lining, yoga, and much more.
Click here for directions.
6. Ridin-Hy Ranch Resort – Warrensburg, New York
Another great dude ranch can be found in a rural area in New York state – the Ridin-Hy Ranch Resort in Warrensburg. West meets east on 700 acres in the Adirondack mountains, a convenient getaway from the city for everyone! Of course this dude ranch is all about horseback rides, and there are lessons available for those who don't feel confident enough to join one of the guided trail rides yet, and kids can hop onto a pony and have the time of their lives! But that's not all. Ridin-Hy Ranch is one of the agritourism operators that offer plenty of activities for their guests, from pontoon boat rides to kayaking, from swimming to waterskiing, from fishing to golfing, And that's just in the summer. Winter time opens up other fun activities such as skiing, snowmobiling, snowshoeing, ice skating, ice fishing, and sleigh rides!
Click here for directions.
7. Belkin Lookout Farm Natick, Massachusetts
Belkin Lookout Farm has been operating since 1651, making it one of the oldest farms in the United States! Get in line for an opportunity to u-pick some of their wonderful fruit no more than 30 minutes away from Boston:  strawberries, peaches, apples, plums, and finally nectarines. The u-pick selection changes weekly, depending on what's in season. Take a refreshment in their beer garden after you've picked as much as your heart desires. The farm produces its own beer and hard cider. Grab fruit preserves, farm fresh honey, and other farm products from their farm market. Train rides and a play area for kids will make you want to spend all day at this farm!
8. Santa Barbara Wine Tasting Day Tour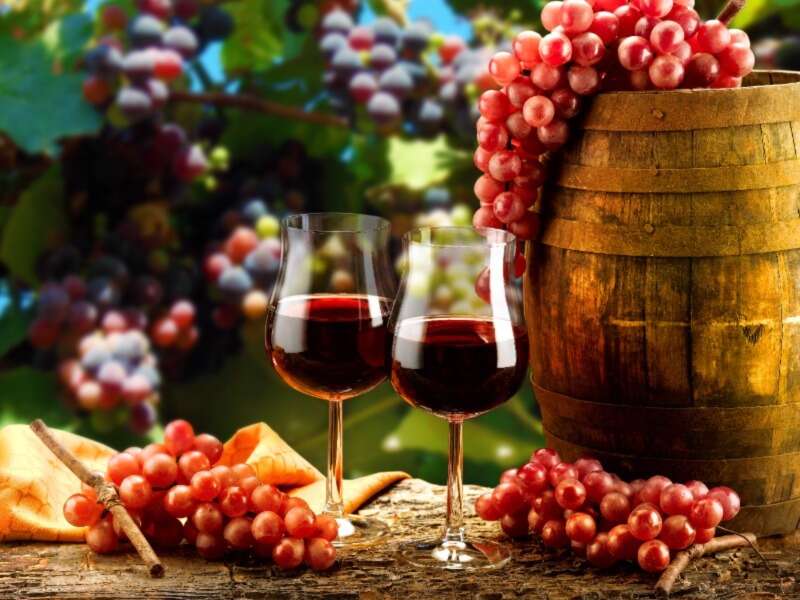 Wine tourism is part of the agritourism industry, and a very popular part at that (click here if you wonder what is wine tourism!)! You can plan a whole vacation along a wine route, or visit a winery you happen to come upon on your trip, or even one that's close to your home! For those with busy lives in Los Angeles, or visitors who love the city but need a tranquil day away from the hustle and bustle, a Santa Barbara wine tasting day tour from Los Angeles is a must. Relax and unwind, stroll through downtown Santa Barbara, and visit Santa Ynez Valley wineries for tastings, all while enjoying the scenery around you.
Click here for directions.
9. Hinchley's Dairy Farm, Cambridge, Wisconsin
Where should you go if you want a farm your of a working dairy farm? To Wisconsin, the land of cheese! A farm tour at Hinchley's Dairy Farm is a truly educational experience, and every season is different. In spring, you have a chance to see many baby animal with a chance to pet and bottle feed them (yes please!). Summer is dedicated to the harvesting of alfalfa, and you'll learn all about the crops used for cattle food, and the diet required for the cattle to stay healthy and happy. Fall, the traditional harvest time, is perfect for wagon rides to see the harvesting of other crops grown on the property. Plus, there's a pumpkin patch and everyone gets a free pumpkin with admission!
Click here for directions.
10. Tietje Crawfish Farm, Jennings, Louisiana
Everyone loves to pet puppies, but mudpuppies? That's the nickname for crawfish, these delicious little fresh water buggers that are the lobster of the south. Crawfish farming is a major industry in Louisiana, and Titje Crawfish Farm added agritourism tourism to their business model. There aren't many places where you have the chance to get the educational experience of a working crawfish farm tour, so don't miss your chance when you visit Louisiana! Learn about the crawfish habitat, their diet, and harvesting techniques, as well as marketing these mudpuppies, and the best way to clean and cook them.
Get directions here.
11. Sawmill Hollow, Missouri Valley, Iowa
Prepare to be amazed at Sawmill Hollow! It's a small farm with a mission: they revived the lost organic aronia berry, a native superfood. If you have never heard of aronia berries, be prepared to have an educational experience on one of their farm tours in this beautiful rural area. Note: farm tours are by appointment only, so make sure to schedule yours ahead of time! Learn about the aronia berry, and buy aronia products such as salsa, jelly, or wine. Don't miss the United States' first aronia berry farm when in Iowa.
Click here for directions.
Agritourism comes in many forms, in many places, all over the Unites States and around the world. Keep that in mind on your travels, no matter if they lead you to one of our best agritourism destinations in the United States, or elsewhere, with other great opportunities to connect with nature.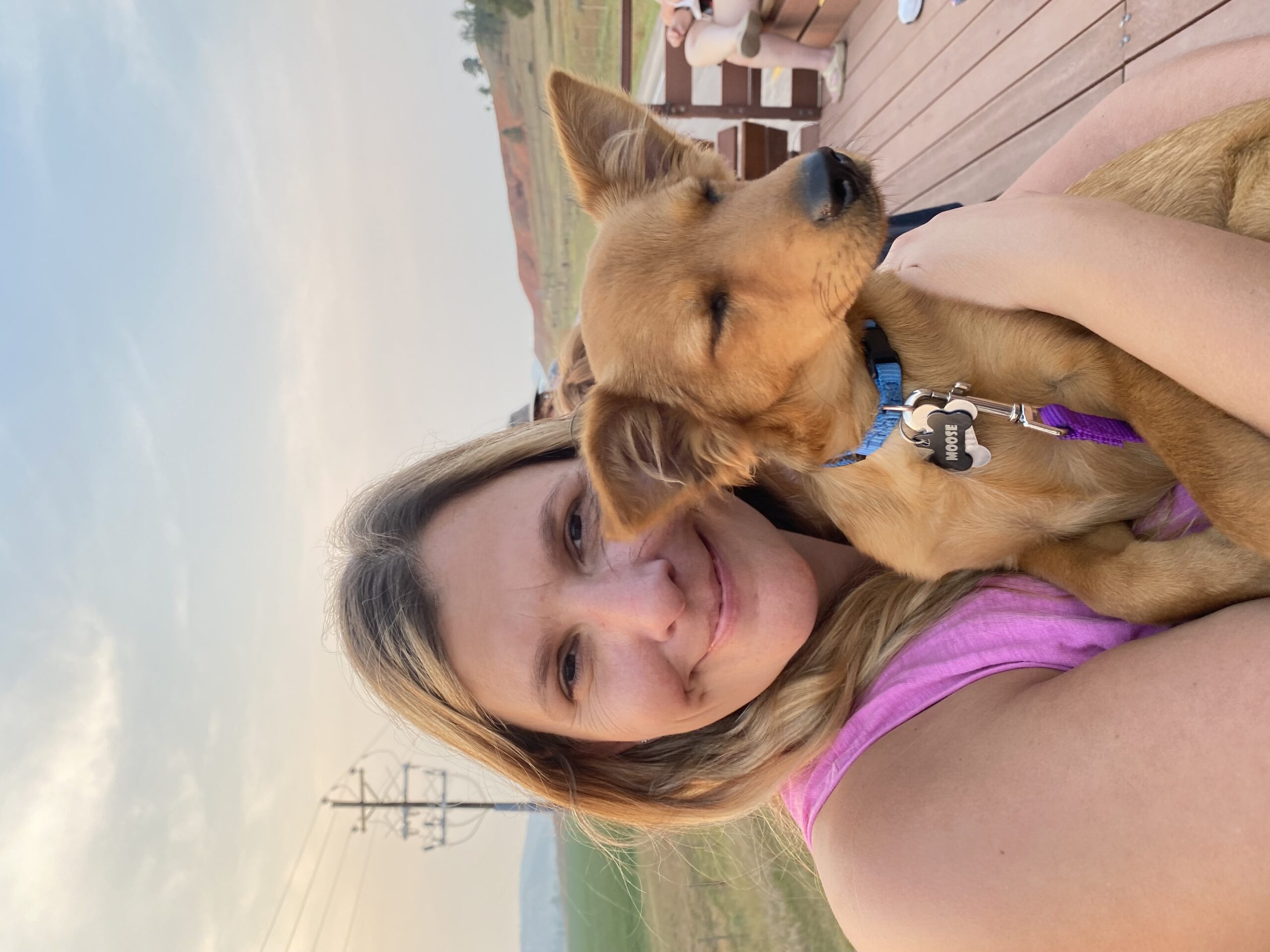 Jenny grew up in Germany. All she ever wanted out of life was to leave and have adventures. Jenny always traveled as much as the budget would allow, and when she met her husband traveling became a full-time thing. You can follow Jenny on her blog and Facebook.