When I first decided to start traveling South America I thought about all the incredible landscapes I'd see, the vibrant cities I'd visit, and the rich history I would encounter. Did you know you can even see penguins in Argentina? I was all excited and giddy and an idiot. Food wasn't something I gave a second thought. I expected it to be easy to travel vegetarian. It wasn't. It was a challenge. And as a plant-based traveler, I should have known better than to assume every place I would visit would be vegan friendly.
Tips For Visiting South America On A Plant-Based Diet
Eating a restrictive diet, whether you're vegan, vegetarian or just allergic to peanuts, means you need to do your homework before you travel – even if it's just a weekend away to your parents! (Thanks mom, tuna salad still doesn't count as a salad). To be honest, I didn't think finding vegetarian options in Latin America would be so hard. Red meat is a staple in lots of South American dishes. At times that made me almost regret everything, but alas, it was. So let me spare you the trouble and tell you all about vegan travel and nine things I wish I knew before I visited South America on a plant-based diet.
#1 You will need a lot of patience (and maybe carry a snack with you)
Now, I know hardcore vegans are already carrying their own potatoes to the opera. But I'm not one of them. I like to see things in a city or town and find vegetarian options somewhere geographically convenient.
If you're like me, arm yourself with patience and think about what you're okay being flexible with. Either you go across town for that one vegetarian friendly place listed on Happy Cow, or you'll have to settle for vegan friendly side dishes in a nearby restaurant or food truck.
In case your apps fail you, you don't have GPS, your Spanish (or Portuguese) sucks, or you just can't afford to keep looking for vegetarian restaurants, take a deep breath and opt for some basic side dishes. To avoid making a dumb hangry decision, carry a pack of mixed nuts on you, or some fruits and vegetables cut to snack size.
#thestruggleisreal
#2 Happy Cow LIES
Happy Cow is to plant-based travelers, what they say diamonds are to girls – except when it's not.
Your friendly veg-food app is not usually up to date on all South American vegetarian options. I sadly turned up more than once to a location listed as "open," only to find it did not exist anymore. Not cool Happy Cow, not cool.
Note: Happy Cow is user supported, so if the community is not active, the app is a no-go.
#3 You will eat A LOT of Potatoes
If you're into free walking tours, meeting other humans (specifically local vegans who could be very helpful!) who are not on the same diet as you are, and experiencing all a city/town has to offer – potatoes are your new vegan travel BFF! (Except in the Mercado del Puerto in Montevideo. There I paid for two potatoes the same my friend paid for 300 grams of meat).
Most bars and venues will have some version of "papas bravas" one of the great vegetarian options you'll find in South American restaurants. And sometimes they have holy guacamole! Additionally they will have good ole fries. And while you'll eventually be tired of potatoes, they are your safest vegan friendly option.
If you do vegan travel – those papas bravas have mayo on them. Beware and ask for them without dressing, and yes, that means just potatoes.
#4 Understand and Accept That You Won't Eat as Cheap as a Meat Eater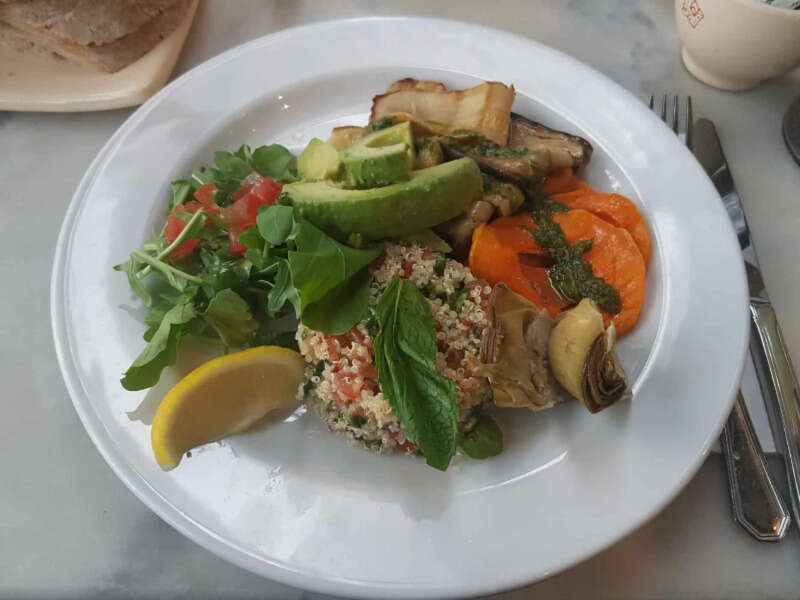 That insane $3 lunch menu in Quito? Yeah, that has red meat in it – even the bean soup. You'll likely be able to find vegan or vegetarian options in every major capital in South America, but they'll usually be more expensive, as they are located either at high-end or touristy areas. If you're on a backpacker budget, those charges add up. Fast.
Spare yourself the heartache and accept that you'll have to spend a bit more to get your nutrients in with fruits and vegetables. If you're mentally prepared for it, you'll feel less hopeless despair.
#5 It's better to say you're allergic if you're very strict with your diet
This is both hilarious and sad. When I was visiting Panama, Ecuador, Chile, and Argentina, I had better results saying I was allergic to dairy than that I did when I said I travel vegetarian.
Why? When I didn't say "allergy", the server or chef/cook would often forget, and I would bite into my veggie sandwich with glee, only to find it had some cheese in it. Vegans – beware!
This also helped with the well-meaning servers, and occasional chef, who insisted I'd have some seafood instead. People don't necessarily understand why you choose vegetarian options, but if you threaten to No 2 uncontrollably or faint in their establishment, they'll let you be – dairy and fish free!
#6 The Best Country to Visit on a Plant-Based Diet is Peru!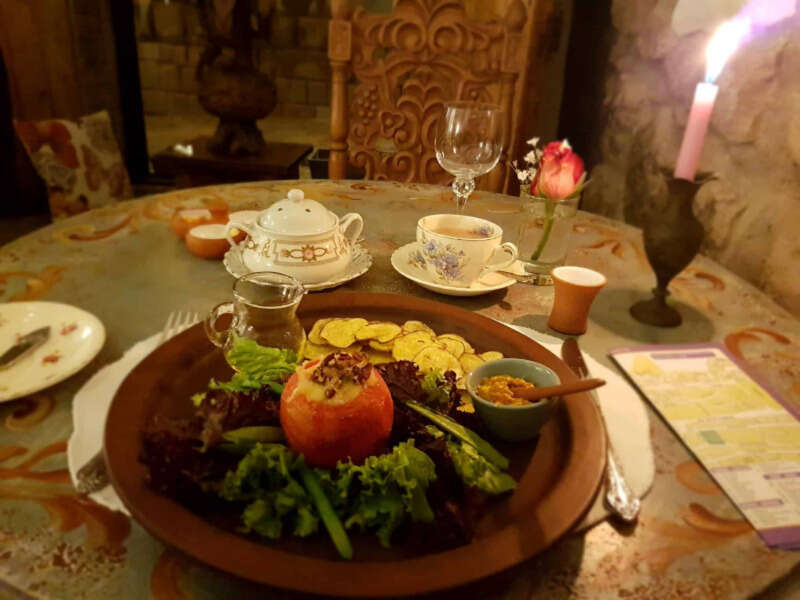 It's not all bad! Yes, you'll eat lots of potatoes, but there's hope still. Introducing the country you never knew you could love so much: Peru! With their many quinoa and veggie-based dishes, delicious dairy-free chicha morada, and countless amazing vegan friendly traditional dishes, you'll have fulfilling, mouthwatering and well-balanced dishes – even in the mountains! Just beware of a local staple – guinea pigs! Yes, they eat them, and you don't want some to accidentally end up in your delicious vegan meal.
A big plus: if you explain you don't eat meat, more often than not the lovely Peruvians will offer to make something from scratch (and off-menu) for you. Follow @theveganglobetrotter for all your Peru-related vegan tips. She is a local (now living in France) who is always dropping the skinny on where to eat and what to ask for!
#7 Cooking At Least One Meal a Day is Your Best Way to Stay Healthy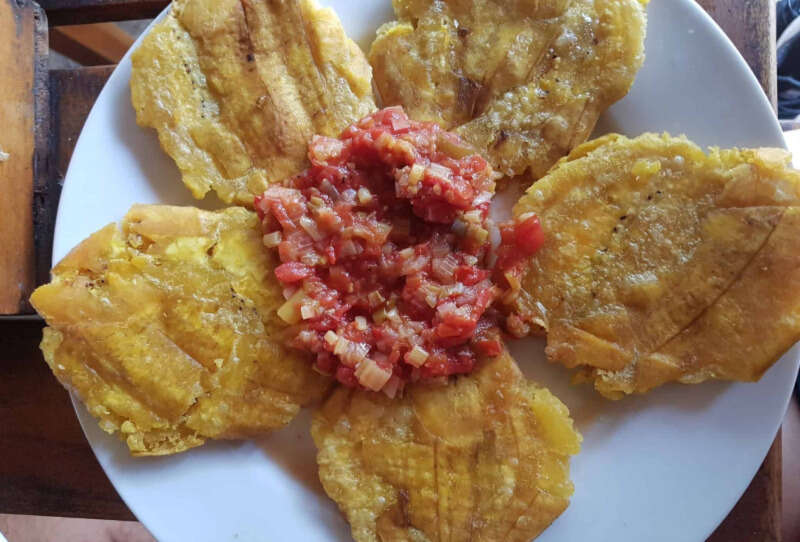 South America is wonderful, mixed, and varied, and you can get all the fruits and vegetables you want – but we like our fried foods, sugar, and salt as much as the next person. You'll often find that the vegan or vegetarian options are some beans (which may or may not have been cooked with a pork leg or a guinea pig in it), fried plantains/potatoes, a simple garden salad, or pasta.
These are all great foods, but if you eat a lot of them very often, you may not get the same nutritiously balanced diet you have at home. Try to cook one of your meals a day and make sure you put in all the nutrients from fruits and vegetables those potatoes are not giving you!
#8 Argentina, Chile, and Uruguay will give you a run for your money – and sanity!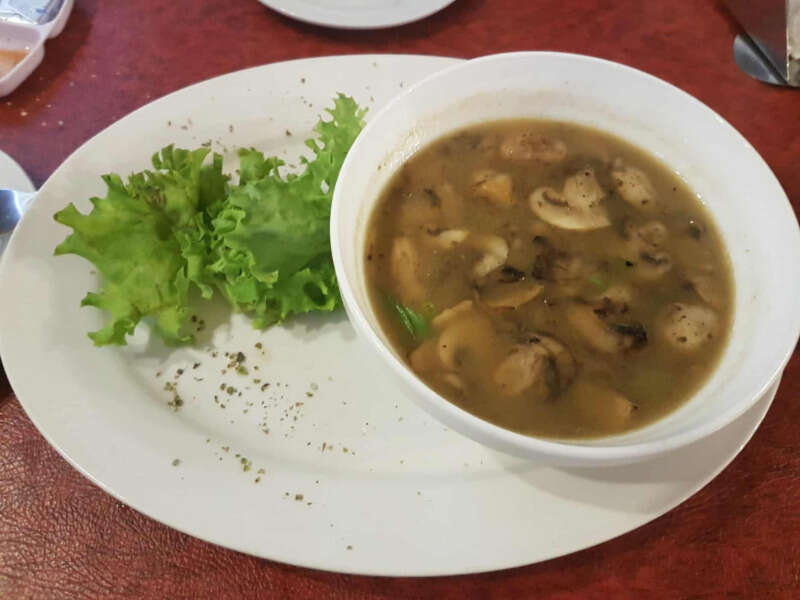 Argentina and Uruguay are well-known red meat exporters, and, while Buenos Aires has a pretty nice and growing plant-based community, the most common food offering is "Asado" – their version of BBQ.
The vegetarian and vegan food scene is budding in Argentina, scarce in Chile, and pretty much non-existent in Uruguay. Now, remember: the capitals always have a little more to offer, but the further you go into the country, the fewer your options will be. Be chill and roll with it!
#9 Facebook is your new best friend
Everyone is on Instagram these days, but the local vegan communities in South America are well organized, and they almost always have active Facebook groups or pages. Here's a list you may find useful (Spanish speaking groups, but you can always post a question to the admins):
Vegetarian Restaurants In South America
Estilo Veggie – Buenos Aires, Argentina
Craving burgers and hot dogs? Then Estilo Veggie is the place for you! if that doesn't sound very vegetarian friendly, don't worry, because it is. Burgers are made with legumes, the hot dogs made from tofu, and the freshly pressed juices are incredible. The tofu wings are a must, and the quinoa Mediterranean salad is delicious.
Get directions here.
Futuro Veggie – Buenos Aires, Argentina
Futuro Veggie is the ideal place to try an Argentinian staple – sanguchitos de miga, a sandwich of white bread filled with different flavors. This vegetarian restaurant also has other great vegetarian and vegan friendly options such as not-chicken nuggets.
Get directions here and check out their website.
Alquimista Montevideo – Montevideo, Uruguay
The small menu offers excellent vegetarian options. Try the the noquis and the apple cinnamon pancakes! Vegam meals are also available.
Get directions here and check out their website.
Estrecho – Montevideo, Uruguay
This small but cozy restaurant is great for those who travel vegetarian. Vegan options are available as well. Try the delicious cucumber, avocado & mint soup and the desserts, which are rumored to be the best in Uruguay!
Get directions here.
Somos Ecuador – Quito, Ecuador
The Somos Ecuador Restaurant offers both vegan and vegetarian options of fusion Ecuadorian dishes with a twist. Try their special yucca bread, the smoked corn Mezzeluna, or the Coliflor Andina, a cauliflower steak with lentil pesto and tamarind chutney.
Get directions here and check out their website.
Miskay – Quito, Ecuador
Get a healthy Ecuadorian meal at Miskay restaurant. Every dish can be served as a vegetarian option. They are more than happy to replace the animal protein with an artisanal protein made of grains or cereals. Yay!
Get directions here and check out their website.
Organika – Cusco, Peru
Fusion Peruvian cuisine with vegetarian options? Yes please! Both the quinoa and the purple cabbage soup are delicious. Try Quinotto Organika or a curry for your main dish.
Get directions here and check out their website.
Chia – Cusco, Peru
Chia isn't just the perfect place to go if you travel vegetarian, it's also organic and vegan friendly. The soups and fettuccine come highly recommended, as do the desserts. Everything is presented beautifully.
Get directions here.
Sapiens – Santiago de Chile, Chile
This vegetarian restaurant guarantees that all dishes are 100% plant-based. Try the Buddha soul bowl, the Dürüm, and the berry cheesecake. South American vegetarian food at its finest!
Get directions here and check out their website.
Quinoa – Santiago de Chile, Chile
Quinoa is one of the most excellent vegetarian restaurants in Santiago. Try the chia pudding and the Huevos Pochados Trufados for sure!
Get directions here.
Nomada Eatery – Panama City, Panama
Nomada Eatery is an excellent restaurant, vegetarian friendly and with vegan options as well. Their veggie burgers are delicious, and their vegetarian bowl is a must-try, especially with added tofu. Do not miss out on their passion fruit juice!
Get directions here.
Tantalo Kitchen & Roofbar – Panama City, Panama
A healthy meal and a drink are the perfect combination for those who practice vegan travel. Try the Tántalo Hipster Burger, with a patty made of lentils and beets.
Get directions here and check out their website.
Visiting South America you expect a lot of delicious natural fruits, organic meals, plus ALL THE VEGGIES, and while that is mostly true (omg the juicessss), it is also true that you will often find yourself wishing for something other than black beans, rice, and salad.
It's OK! Change takes time, and the plant-based scene is just starting in South America. Give it time, eat some cashew nuts and enjoy the sights.
Disclaimer: I'm a flexitarian that prefers to eat a plant-based diet, which I do 99% of the time. I have eaten animal products, such as eggs or fish, at remote locations in South America where kind natives shared their food with me.