New England, and especially Maine, isn't just a destination for long summer days and leaf peeping in the fall. It's a great place to visit in the colder months as well. Winter getaways in Maine can be cozy and quiet, or fun and action filled – or both! Put on your snow boots and head off to one of these snowy wonderland destinations for a romantic getaway or your winter vacation!
This post contains affiliate links. This means we make a small commission at no cost to you if you click through and make a purchase. All prices listed are accurate at time of publication.
Your perfect winter getaways in Maine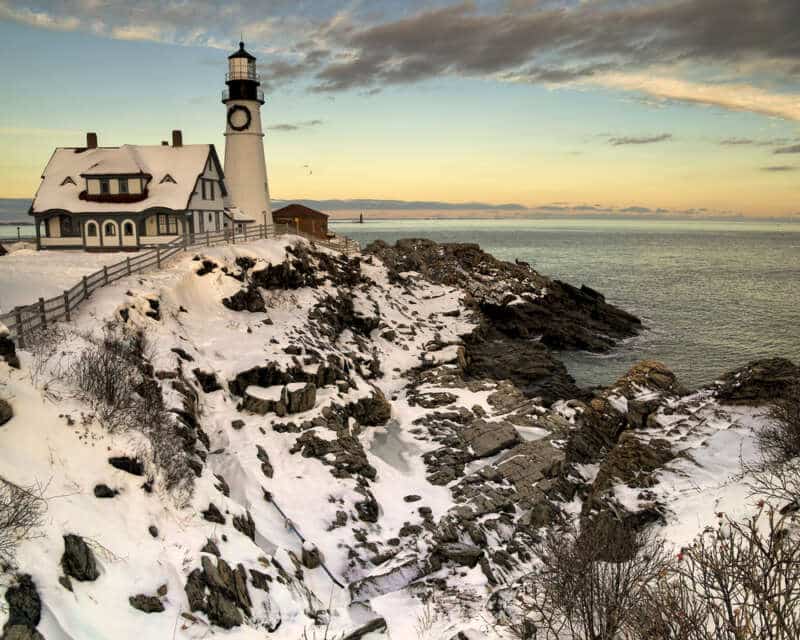 1. Bar Harbor
Bar Harbor is one of Maine's beautiful coastal towns. It is located on Mount Desert Island, along Frenchman Bay, and the gateway to Acadia National Park. Neither the town nor the national park shut down in the winter, so there's plenty to do and see, making Bar Harbor one of the most perfect winter getaways in Maine!
Things to do
Shopping in unique (and well-heated!) stores is a great way to warm up on your stroll through wintery Bar Harbor, and there are plenty of options! Visit Bar Harbor Book Shop, Island Artisans, Cool As A Moose, Fair Trade Winds, Serendipity Resale Clothing Boutique, Willis' Rock Shop, Bar Harbor Tea Company, Ben & Bill's Chocolate Emporium, Fiore, or buy your pup a winter outfit an Bark Harbor – they all stay open year-round!
Go to a museum. Learn about the Wabanaki Nations at the Abbe Museum. Wendell Gilley Museum showcases the work of its namesake, Wendell Gilley. He was a pioneer of decorative bird carving.
Get pampered. Book a massage at Massage Bar Harbor or wander over to Tree of Life for a variety of salon and spa treatments.
Go for a hike. There's nothing more beautiful (and potentially romantic, if you are traveling with your partner) than a hike through the snow covered beauty of Acadia National Park, which is only a short drive away from Bar Harbor. Outdoor enthusiasts will rejoice here. Before you go, check the trail conditions. Maine does get lots of snow in the winter, which can have a serious impact on the trails. If you are comfortable with winter hiking check out the following trails: Wonderland, Cadillac North Ridge Trail, Cadillac South Ridge Trail, Ship Harbor Trail, Bar Island Trail, Compass Harbor Trail, or Sand Beach and Great Head Trail. If you don't want to hit the national park on your own, get in touch with The Natural History Center. They offer a variety of excursions, including to Acadia.
Cross-country ski and snowshoe. Acadia National Park is open and the perfect place for these fun winter activities! Snowmobiling is also allowed inside the park.
Go ice skating. Once the lakes is properly frozen, you can rent skates in town and join in the fun.
Book a photo shoot. The snowy beauty of Bar Harbor and Acadia National park are the ideal backdrop for a private professional photo shoot. It'll make your Maine winter getaway unforgettable.
Places to stay
Bar Harbor is a popular winter destination, so make sure to book your accommodations well in advance. The Inn on Mount Desert, Atlantic Oceanside Hotel & Conference Center, and the Acadia Hotel Downtown are all excellent hotels. Hanscom's Motel & Cottages gets excellent reviews. The Elmhurst Inn is an exceptional B&B, if you prefer that. There are several top notch vacation homes available for rent as well.
2. Boothbay Harbor
Boothbay Harbor is a gem among the little seaside towns. With its historic sites, quaint downtown, and great places to eat Boothbay Harbor is the perfect place for a romantic winter vacation.
Things to do
By now we have established that the best winter getaways in Maine's small towns all include winter sports. But Boothbay Harbor offers loads of other things to do, too!
Visit a museum. At the Boothbay Region Historical Society Museum you can learn all about this small town's history. If you plan your winter vacation for December, don't miss their Harbor Lights Open House. Ride a real steam train through Boothbay Railway Village! During the holiday season, you can even enjoy a North Pole Express experience at this replica of a mid-19th century village. Learn about Maine's maritime culture and heritage at the Maritime Museum in nearby Bath.
Have fun at a festival. Winter doesn't seem like the obvious time to have a festival, but Boothbay Harbor proves that it is, in fact, the perfect location and time to do it! Gardens Aglow is one of the most unique events around the holidays, held at the Coastal Maine Botanical Gardens. The central garden displays hundreds of thousands of Christmas lights! At the Harbor Lights Festival, Boothbay welcomes Mr. and Mrs. Claus, arriving by boat, into their small town. This festival is the perfect opportunity for a romantic horse-drawn sleigh ride. As part of the Harbor Lights Festival, lots of holiday shops are set up inside the opera house. Boothbay is one of the best winter getaways, especially in mid December, when you can witness the Gingerbread Spectacular. It's a gingerbread house competition that'll leave you in awe of the bakers' skills! Enjoy some wintery hot chocolate among the smell of gingerbread.
Shop 'til you drop – and not from frostbite! The quaint downtown of Boothbay Harbor offers lots of cute shops that sell everything from books to knickknacks to specialty foods.
See a play at one of the two theaters in town.
Indulge on a culinary walking tour.
Play in the snow. Last but not least, there's of course lots of opportunity for cross-country skiing, ice skating, and other winter sports.
Places to stay
Here are a few great places to stay during your romantic getaway: Harbour Towne Inn on the Waterfront, Linekin Bay Resort, Flagship Inn Motel, and the Harborage Inn on the Oceanfront, especially attractive because if its oceanfront outdoor hot tub.
3. Camden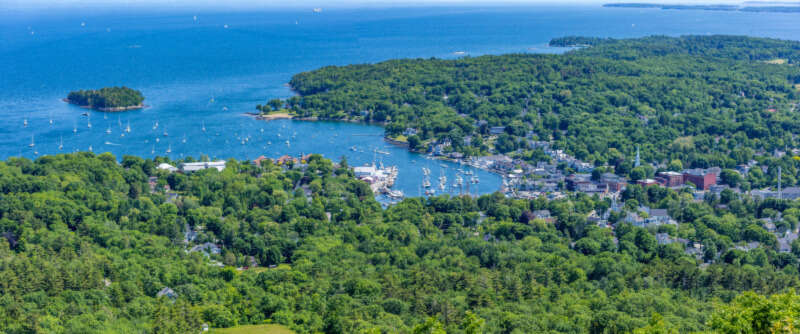 Camden, hidden jewel of the northeast, is another one of these quaint seaside towns we can't get enough of! Located in Penobscot Bay, Midcoast Maine, Camden is on top of the list of best winter getaways in Maine. Stroll through town and admire one Victorian Mansion after another and enjoy views of the harbor.
Things to do
Go shopping. While the more touristy shops close down for the winter, there are still plenty of shops open for you to enjoy, from gift shops to art galleries to candy shops.
Go skiing. Owned and operated by the city, the Camden Snow Bowl is one of Maine's best ski resorts and a great place to ski! On top of that it's a recreational park. And the best thing about this? From the top of Ragged Mountain you will have panoramic vistas of the Atlantic Ocean!
Visit Camden Hills State Park. The park is accessible and open year round, and once the first snow fall occurs, it's the place to be for everyone interested in snow shoeing, cross country skiing, and Nordic skiing. Miles of trails are open for hikers, and there are opportunities for ice climbing. You could spend a whole weekend getaway ay Camden Hills State park and not get bored!
Put on your ice skates. Lakes and ponds freeze over, and what's more romantic than gliding over the ice while holding hands with your sweetheart? Put on your cozy clothes, it gets very cold! Before you go, check in with local authorities to ensure that the ice is thick enough for skating, or hit the indoor ice skating rink at Mid Coast Recreational Center.
Get some grub. Want to start the day just right? Get pancakes at Mariner's Restaurant – they are the bets in this small town! Is it too frosty for a whole day in the great outdoors? Then it's the perfect time to indulge in a Maine specialty – lobster! Take a short stroll to the Waterfront Restaurant and order one of those tasty, claw-y beasts!
Have a cozy evening. The Vintage Room is the perfect place for a romantic evening by the fireplace for couples.
Places to Stay
Lodging in Camden, Maine, is available any time of the year. The Camden Riverhouse Hotel and Inn may just be our favorite, due to it offering nightly campfire with s'mores. Perfect for a two-night stay! What would a cozy winter weekend getaway be without a fire and s'mores, after all? The Lord Camden Inn and the Blackberry Inn are also fine options. The Relais Chateaux Camden Harbour Inn offers modern amenities, breathtaking views, a glass of Prosecco upon arrival, massages in house, and gourmet French cuisine, which may just make it the perfect place in all of New England for a romantic getaway.
4. Rockland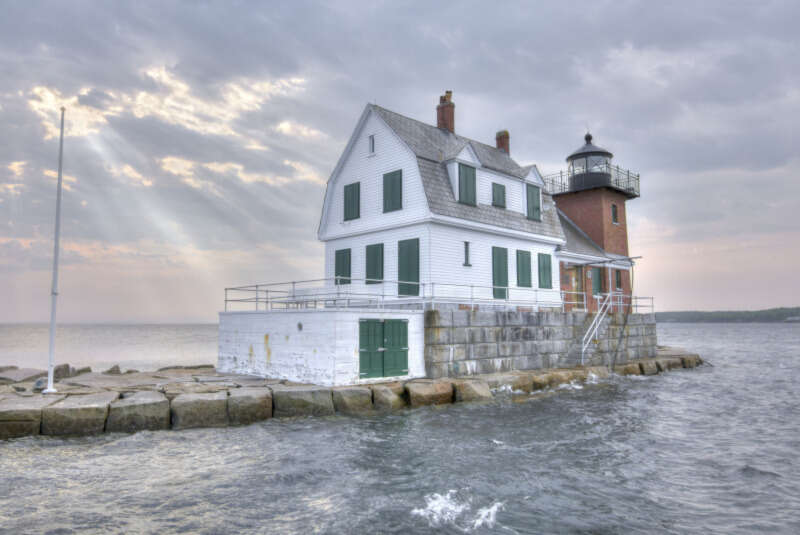 Rockland is a town of nearly 7,000 people, located just a few miles from Camden, but with a different vibe. It is known for the important role it plays in the Maine fishing industry. It's working waterfront is not just picturesque, but interesting and perfect for a short stroll while watching the lobster boats unload.
Things to do
Head to the Acadia National Park. You've already learned about the amazing winter sports activities you can do at Acadia national Park, and since it's so close to Rockland, that's the best bet for outdoor enthusiasts.
Visit a museum. The Farnsworth Museum of Art, the Owls Head Transportation Museum, and the Coastal Children's Museum are all worth a visit. The Maine Lighthouse Museum is a special treat. Where else can you learn about what life as a lighthouse keeper was like?
Stroll past a lighthouse. Unfortunately, Rockland Breakwater Light and Owls Head Light are both closed during the winter season, but that doesn't mean you can't walk by and admire them! They make for excellent, Insta-worthy shots.
Learn about puffins. Project Puffin Audobon Center's only mission is to bring puffins back to Maine. Puffins used to fall victim to hunters and were nearly extinct.
Watch a pie parade. Pies on Parade happens annually at the end of January. And that's not just fruity pies, but pizzas, tarts, and quiches. of course you don't just watch, you'll eat – and for a good cause. This event benefits the the Area Interfaith Outreach Food Pantry, supporting families in need.
Places to stay
250 Main Hotel is a neat boutique hotel offering complimentary breakfast. The Rockland Harbor Hotel is only 1.5 miles from an award-winning restaurant, Primo (highly recommend you try one of their unique cocktails!). If you prefer to have your own apartment for one of your winter weekend getaways, consider Rockland Paradise.
5. Belfast
North of Camden and Rockland, at the mouth of the Passagassawakeag River estuary, you'll find Belfast, a beautiful town perfect for a vacation in Maine. The official Broiler Capital of the World, Belfast is a popular tourist destination, perfect for getaways in summer or winter.
Things to do
Come for the Ice Festival. Generally held in February, in the depth of winter in Maine, the Ice Festival features the Ice Carving Championship. The ice sculptures can be seen all around downtown Belfast. When you plan your winter getaways in Maine, keep this highlight in mind!
Go ice skating at Waterfall Arts Center. If the weather cooperates, the ice rink is open from 7 am until 10 pm every day.
Get out your sled. Belfast Commons is the perfect place to go sledding.
Bring your cross country skis and hit the rail trail, which is also excellent for snowshoeing.
Go for a short stroll on the beach or at the Harborwalk, unless you are experiencing an unusually mild winter day. In that case, you can enjoy a long walk at Belfast's in-town nature trail!
Experience the vibrant art community during the holiday art walk in December.
Eat all the seafood. Maine's quaint coastal towns are famous for seafood and delicious meals made from scratch, and Belfast is no exception.
Places to Stay.
Ready to find lodging for your cozy vacation in Maine? The Belfast Harbor Inn is conveniently located close to Moose State Park and offers views of Penobscot Bay. The Colonial Gables Oceanfront Village has access to a private beach. The Seascape Motel & Cottages has great views, an outdoor pool, and a hot tub. The Yankee Clipper Motel is pet-friendly. The Alden House Inn is a nice Bed & Breakfast.
6. Bangor
With a population of a little over 31,000, Bangor is the third largest city in Maine. That gives you an inkling of just how many quaint small towns this state has to offer its visitors. Back in the day, Bangor was the lumber capital of the world, and one of the East Coast's busiest ports.
Things to do
Catch a performance. Bangor features several venues offering a variety of performances year round, such as The Gracie Theatre, Cross Insurance Center, Collins Center for the Arts, and the Penobscot Theatre.
Enjoy live music with dinner. Several restaurants offer live music. Check ahead of time and make a reservation. Some of the best restaurants in Bangor are Novio's, Timber Kitchen and Bar, Longhorn Steakhouse, 11 Central, Masons Brewing Company, and Texas Roadhouse.
Have a unique shopping experience. Visit the shops in Bangor's historic district. Here, you will find everything from antique books to lobster cookbooks, from gift shops to home décor, and from rare coins to high-end clothing.
Explore a museum. The Cole Transportation Museum, the Maine Discovery Museum, the Maine Air Museum, and the Bangor Historical Society & Thomas A. Hill Museum are all open in the cold season and can provide entertainment when you need a break from the cold on one of your winter getaways in Maine.
Be an outdoor enthusiast. Of course Bangor is the perfect place for fun in the snow-blanketed outdoors. You can go ice skating in one of the parks. There are thousands of miles of snowmobile trails, and several locations to rent one of those fun machines. Check in with the Maine Snowmobile Association to get maps and directions. Strap on your cross country skis or snowshoes and hit the trails at Bangor City Forest, Walden-Parke Preserve, or or the Old Pond Railway Trail.
Go dog-sledding. Hermon Mountain offers the perfect opportunity to try out this fun winter activity.
Places to stay
While Bangor offers plenty of brand name hotels, there are several other options for lodging that will allow you to have a more unique stay during your weekend getaway in New England. The Country Inn at the Mall is conveniently located close to the airport. The Hollywood Casino's 900 slot machines will provide plenty of entertainment. Warm up in the Black Bear Inn and Conference Center's sauna. Want to rent a secluded villa for a romantic getaway? The Falls Cottage is your best bet. Another option for a vacation rental is this waterfront Davis Pond cozy cabin or the Big Red House, a historic home.
7. Ogunquit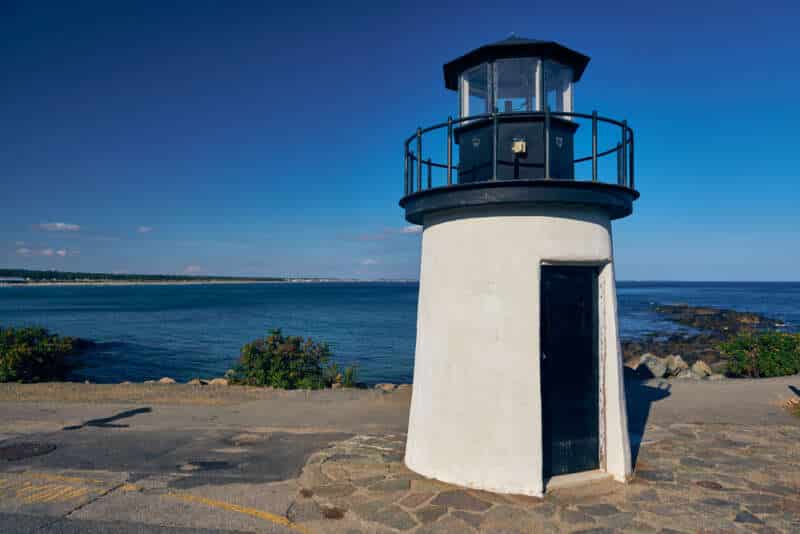 This small town in southern Maine has become quite the tourist hotspot. Its beautiful sandy beaches are a huge draw in the summer months and it can get quite crowded, but once the weather turns, Ogunquit transforms into one of the best winter getaways in Maine.
Things to do
Walk the Marginal Way. The Marginal Way is anything but marginal – it is one of New England's most spectacular scenic coastal walks. The short walk along the 1.25 mile long paved path leads you along the cliffs and the Atlantic Ocean. You will have panoramic vistas of the beautiful scenery, which is even more special in winter. Warm and cozy in your winter clothes you can admire the stormy sea before you head back inside to warm up with a cup of hot chocolate.
Take part in winter sports. Powderhouse Hill ski area is great for beginners and intermediates. You can go cross-country skiing at Harris Farm, offering miles and miles of trails, and even bring your furry friend along on certain days (depending on snow conditions, call ahead and ask). If the conditions are favorable, fat biking is allowed on groomed ski trails, and you can rent snow shoes here as well. The Mount Agamenticus Conservation Region is also idea for snow shoeing, offering the panoramic views you've been seeking on your romantic winter getaway.
Warm up with a hot meal. Hungry after all these outdoor activities? For excellent casual dining, stop by Barnacle Billy's & Barnacle Billy's, etc. for some home made clam chowder and lobster rolls, enjoy a traditional steak dinner at The Steakhouse, or indulge in pasta at Varano's Italian Restaurant. Breakfast lovers can't miss The Omelette Factory and Egg & I Restaurant. The winter months are the best time for romantic fine dining. Maybe you'll even decide to ring in the New Year in one of these superb restaurants in Ogunquit: Angelina's Ristorante, Clay Hill Farm, Joshua's, Five-O Shore Road, Ogunquit Beach Lobster House, or MC Perkins Cove.
Places to stay
The Anchorage by the Sea Resort features a heated indoor pool, hot tub, sauna, and limited ocean view. The Ogunquit Resort Motel features a seasonal outdoor hot tub and is located a mere 2 miles from the Marginal Way Walk. The Sea View Motel offers a trolley service to Perkins Cove and the beaches in the area.
8. Kennebunkport
Kennebunkport, a beautiful small town in southern Maine, is mostly know for its fishing and ship building industry. For a long time, it was put on the map by a very famous resident: former president of the United States, George H. W. Bush.
Things to do
Hit the beach. Once the snow fall sets in, Kennebunkport's fabulous beaches are quiet and serene, and invite those on a getaway for a peaceful walk.
Be romantic. February, in the depths of winter, Kennebunkport turns into the perfect place for lovers. Go on a horse drawn sleigh ride, enjoy a special candlelight dinner or a wine and cheese tasting, have fun at the ice bars and igloos that pop up all around the town, or join a skate party. February in Kennebunkport is perfect for a romantic getaway!
Go bowling at Garden Street Bowl, a full bowling alley.
Celebrate the holidays. In the center if the village you will find a massive Christmas tree. Santa arrives by lobster boat, home made cookies are served in the shops, and you will be able to enjoy Christmas carols at the Franciscan Monastery.
Go cross country skiing and snowshoeing. There are a couple of locations offering miles of trails: Wells Laudholm Farm, and Harris Farm Cross County Ski Center.
Go skating. Kennebunk Waterhouse Pavilion Ice Rink is downtown and free.
Places to stay
Have a unique stay at the Kennebunkport Captains Collection B&B, a collection of historic homes that used to belong to ship captains in this small town. The Rhumb Line Resort offers an outdoor hot tub, perfect for warming up after a long day on the trails. The Nonantum Resort has cozy, individually decorated rooms. At the Yachtsman Lodge & Marina, every room overlooks the river.
9. Millinocket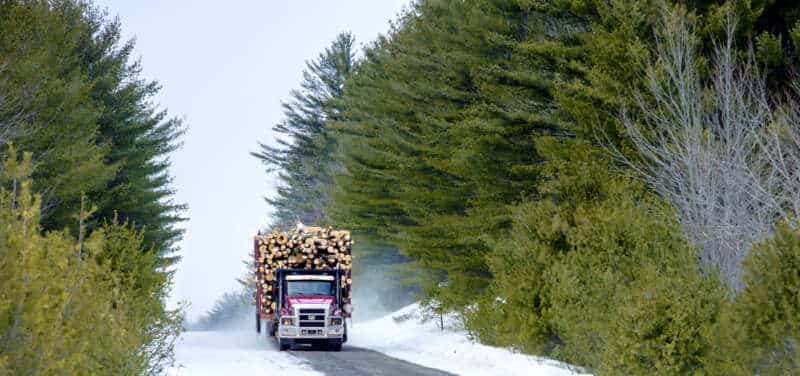 Millinocket is a Native American name and means 'many islands'. Located in the beautiful North Maine Woods, Millinocket is officially Maine's smallest big town. That's because it's a small town which offers loads of big things: big woods, big recreation, big trails, and much more! And it is gateway to the famous Golden Road, the old logging road that goes from Millinocket all the way to the to the Canadian border and makes for a scenic drive – but not in inclement weather.
Things to do
Do all the outdoor activities. Millinocket is the outdoor enthusiast's playground! In this former paper-mill town, snowmobiling is especially popular, and there are hundreds of miles of trails, groomed by volunteers from the local clubs, for you to enjoy during the winter months. You can, of course, also go skiing or snow shoeing. If you want a challenge during one of your winter getaways in Maine, consider signing up for the signing up for the Millinock Marathon and half marathon, which happens every year in December.
Go dogsledding. Are you up for a unique adventure? Go dog sledding with Maine Dogsledding Adventures.
Visit nearby attractions. Lots of people who visit during the winter season take day trips to nearby Baxter State Park, the Katahdin Woods, and Waters National Monument. Both are ideal for recreation in the white-carpeted wildlands of Maine. Moosehead Lake is also close by – the ideal place to go ice fishing!
Buy local products. Here at Her Adventures, we love supporting small businesses. When you support a local business, you may give someone's kid the chance to take music lessons, and put food on the table of a local family rather than into the very deep pockets of billionaires going to space. In that spirit, stop by the Woods and Waters Shop and Timberchic for local products.
Fill your stomach. There are quite a few restaurants in Millinocket worth eating at, so hopefully you aren't just spending one weekend in New England and have a chance to try lots of them: the River Drivers Restaurant, Appalachian Trail Café, Scootic In, Loose Moose Bar & Grill, Sawmill Bar & Grill and many more are there for you after you return hungry from the best trails in the area.
Places to Stay
Last but not least you will need lodging during your New England getaway in Maine. Good options are the Katahdin Inn & Suites, and the Baxter Park Inn.
10. Portland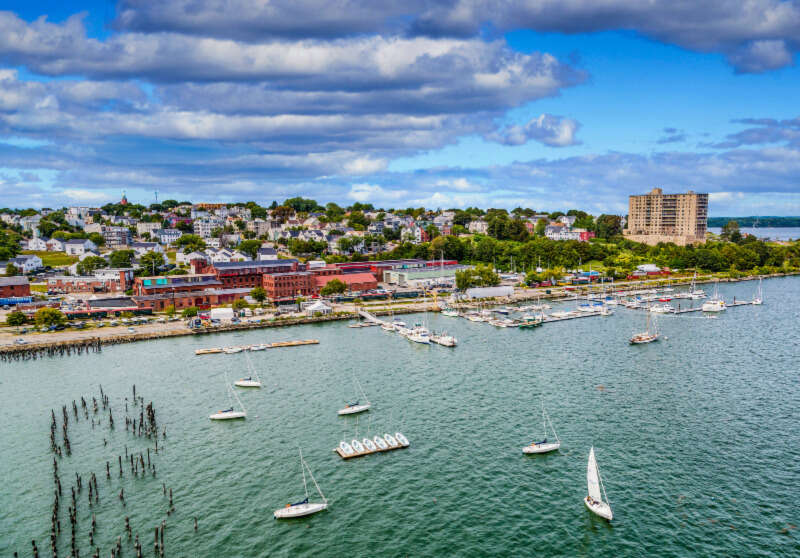 Last but not least, let's chat about winter getaways in Maine's big city – Portland. This beautiful city of around 66,000 people is set on a peninsula and is full of elegant Victorian mansions.
Things to do
Have the best hot chocolate. Portland is full of small coffee shops offering not just a hot cup of joe, but steaming mugs of hot chocolate.
Go for a romantic horse-drawn carriage ride. Grab that hot chocolate, bundle up, and go for a ride to admire each and every elegant Victorian mansion.
Go to the beach. Winter season is great for a short stroll on the beach! Old Orchard Beach, Scarborough Beach, Crescent Beach, and Pine Point Beach are just some of the locals' favorites.
Visit a museum. There are so many to choose from, you can't possibly hit them all on your winter weekend getaway: Maine Maritime Museum, Victoria Mansion, Portland Museum of Art, or the Maine Classic cars Museum.
Go urban skiing. Trails at the Eastern Promenade and the Green Belt serve as walking trails in the summer, and are perfect for cross country skiing and snowshoeing after the first snow fall.
See a show. Live music and performance art are offered even in the winter season at the Merrill Auditorium, Portland Ovations, Portland's Ballet Company, and the State Theater.
Take a tour. The A Walk Through Time Tour in Portland shows you around and teaches you about Portland's history.
Have a drink at an outdoor ice bar. If that's not a unique activity, then we don't know what is! This is even more fun if you plan your getaway at the time of one of the many winter festivals, such as Carnaval ME.
Go sledding at Eastern Promenade or Payson Park.
Go ice skating at the latest addition to the number of rinks at Thompson's Point. Other great options are Deering Oaks pond and Mill Creek Park.
Go snowshoeing. The best winter trails are Portland's Back Cove, and East End Beach. if you want to venture out, go to Mackworth Island and Gilsland Farm, located in Falmouth, or head to Freeport and visit Wolfes Neck Woods State Park.
Places to stay
In Portland you will find a number of well-know name-brand hotels with modern amenities such as Embassy Suites by Hilton, Hampton Inn, Hyatt Place, or the Hilton Garden Inn. Less off the rack stays are available at The Press Hotel, Autograph Collection, Aloft Portland,
The Francis, or Portland Harbor Hotel.
Enjoy your stay
No matter which one of these places you pick for one or more winter getaways in Maine, you are guaranteed to have a unique experience and loads of fun! If you are looking for a truly unique experience off the beaten path, consider visiting on of these 3 outstanding Alpaca Farms in Maine!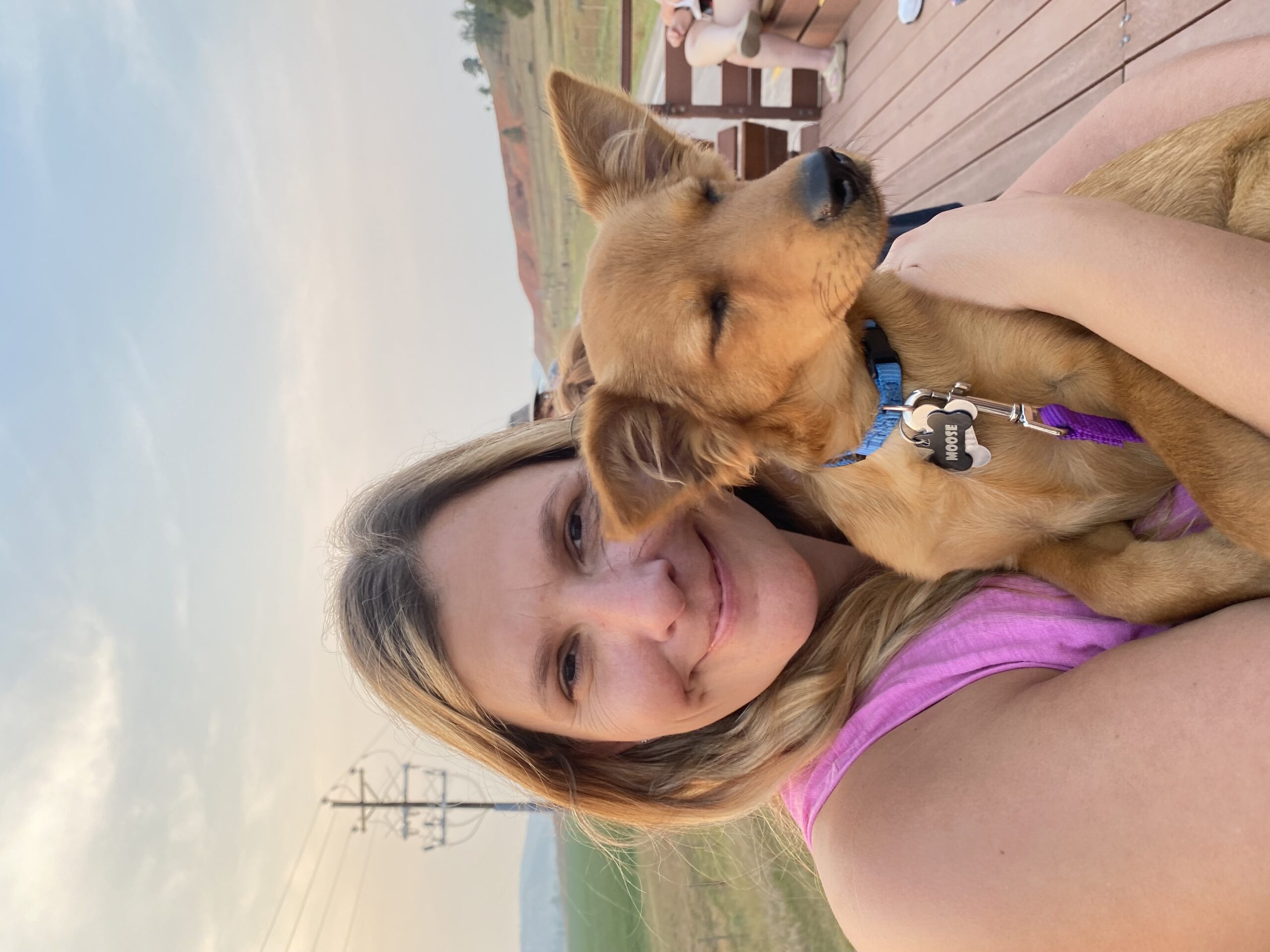 Jenny grew up in Germany. All she ever wanted out of life was to leave and have adventures. Jenny always traveled as much as the budget would allow, and when she met her husband traveling became a full-time thing. You can follow Jenny on her blog and Facebook.