When you're living in a van, space is everything, and how to decorate your van without taking up space is a science. It doesn't take much to make your van look cluttered and overcrowded. This makes it difficult to justify taking up valuable space with décor instead of more practical items. That said, there are ways to add personality to your van without it feeling cluttered.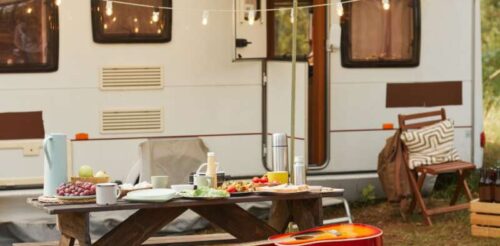 How To Decorate Your Van Without Taking Up Space
Van life isn't about living in a van—it's about having a home on wheels. Here's how to decorate your van without taking up space.
Make the Most of Your Floors and Walls
This part is easiest to do while still working on your van build. Choose shiplap or planks for the walls to provide a homey, cozy vibe; a light, neutral paint color will open up the space and make it feel larger.
Pick flooring that's visually interesting—a wood-look floor is always a great choice. A colorful rug is another great accent piece to add some color while keeping your feet warm on the cold floors.
Brighten Up Your Space
Good lighting can make or break a space. Choose lights with a warm glow to make your van feel cozier as the sun goes down. They're also a great way to showcase your personality; from string lights to fairy lights to café lights, there are plenty of options to choose from. You're sure to find something that matches your personal style.
Another great option is to install a skylight. You'll get tons of natural light, which will brighten up both your mood and your space. If you like to sleep in, be sure to get a cover for it so the sun doesn't shine in your eyes.
Don't Underestimate the Small Details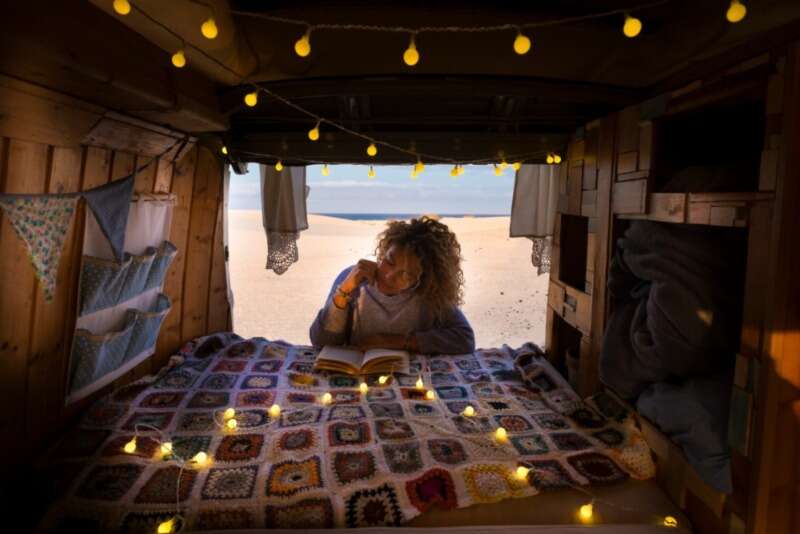 There are plenty of ways to add splashes of color to your van life build. Another way to decorate without taking up space is to choose decorative items for your essentials.
Choose decorative storage bins, as well as colorful blankets and throw pillows. Wall art can also easily add personality to an unused space.
Perhaps the best option is to add some plants. Having green, growing things in your living space is a great way to improve your mental health while also adding some color and life to the room. Choose fresh herbs you use often, like basil, rosemary, or mint, and place them along the window ledge in small pots. Pick a hanger you love and hang some ivy from the ceiling.
Note: If you have pets, remember to check if the plants you add to your space are safe for them to eat.
Maximize Your Outdoor Space
There are plenty of ways to upgrade your van's outdoor living space. Adding a pull-out deck is a great way to give yourself a quality outdoor space without losing much storage space. Don't forget to add lighting out there as well, so you can enjoy it even after the sun goes down.
Are you just starting to plan moving into a van? Read about the top 5 must-haves for women in a van! Also, check out these 10 most useful gifts for van lifers!