Many vans are designed with a male-centric approach, failing to consider the specific needs and preferences of women. Preparing a van for a woman to live in requires considerations of comfort, convenience, and safety. From a functional kitchen and bathroom to a comfortable sleeping space and safety features, a camper van should be equipped to meet the needs of a woman on the road.
Top 5 Must-Have Features For Women In A Van
In this article, we will explore the essential features and amenities that are important for women to have in a van, to ensure a comfortable, safe, and enjoyable van life experience. Whether you are a solo traveler or part of a couple, this guide will help you create a van that is tailored to your needs and desires.
Private bathroom
Having a house on wheels, we try to make it as cozy as possible to feel like home. The space is limited, but it is still possible to have a hot shower and a toilet placed inside a van to ensure you can take care of your personal hygiene even in the wildest places.
To begin with, you can equip your camper van with an outdoor shower. However, it's necessary to point out that it doesn't give a good level of privacy. A woman-traveler will want to have a space to take care of her hygiene any time of day or year without worrying about unwanted attention. An outdoor shower is not the way to guarantee this.
Then, as an option, there are always public restrooms, campground facilities, or gyms. By buying a gym membership, for instance, you partly solve the problem. A gym allows you to take a shower, but still it limits your traveling experience tying you to one gym or another, even if you are a member of a chain of gyms.
A private bathroom with a hot shower and a toilet inside a converted van saves precious time and effort, and it doesn't limit you in the freedom of movement. Once you decided to add a little bathroom including a shower and a toilet to your van, it's time to think of its maintenance. Because the space is limited, combining a toilet with a shower so that one doesn't interfere with the other is a challenge. There are solutions that include a pull-out toilet inside the bathroom. It's is hidden, but it's easy to slide it out when needed. You take a shower and a toilet doesn't get in the way. Having a van equipped with no-smell toilet inside a private cabin, and a shower on top of that, makes your trip stress-free.
Dishwasher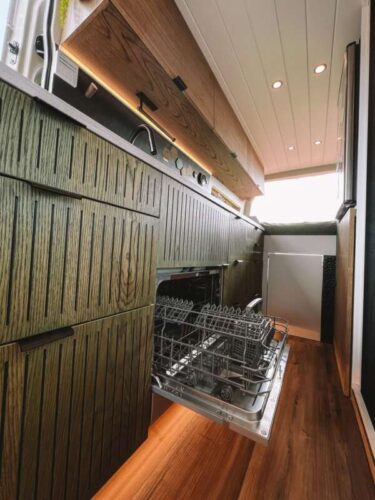 A dishwasher can be a game-changer for women traveling in a van and can greatly enhance the van life experience. Plenty of vans have a sink inside perfect to wash dishes. But why would you want to spend time on this chore while traveling? This is time which can be dedicated to exploring new places instead!
Having a dishwasher in a van can be a luxury, but it can also provide practical benefits that enhance the van life experience. One important benefit is that a compact dishwasher uses less water and is more efficient than washing dishes by hand, making it more environmentally friendly.
Safety features
A woman traveling in a van equipped with safety features is likely to feel more secure, confident, and at ease. The presence of safety features can provide peace of mind, allowing her to fully enjoy the van life experience without fear or worry. Alarms and surveillance cameras provide extra protection against theft and break-ins. They reduce the stress and anxiety that can accompany travel, especially solo travel. Being on the road you will certainly encounter unexpected situations. Anything can happen and here is one more feature which will help a woman feel safe: a fire extinguisher. This is an item that is essential for putting out fires quickly. Smoke detectors alert the traveler of any smoke or fire, providing early warning to evacuate, so make sure that's something you add to your camper van. In case of unexpected situations a first-aid kit, flashlight, and other emergency supplies are important. Lastly, personal safety devices, such as pepper spray or a panic button, can provide added protection in case of an emergency.
Any of these items is one of the most useful gifts for van-lifers!
Pantry for cosmetics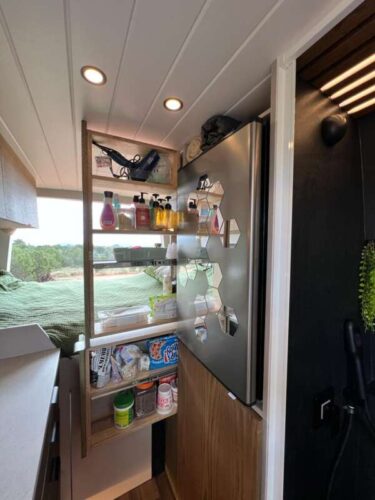 Most women have lots of cosmetics. How can you store everything in such limited space inside your camper van and still keep organized? A pantry provides a convenient and organized storage solution, providing ample storage space without taking up valuable floor or counter space. Not just keeping a van tidy, but protecting from the elements, including heat, humidity, and dust, can be an important reason to have a pantry. This can help keep these items in good condition and extend their lifespan. Unlike a countertop or shelf, a pantry is more stable and less likely to tip over if the road is not flat.
Wardrobe with mirror
Being a traveler means that the road can lead you to a place you didn't even plan to be in. How can a woman live the van life, be ready for anything and still be properly-dressed and good-looking? A wardrobe with a mirror is a must-have for any woman traveling in a camper van. It allows for comfortable storage of clothing and personal items, and a mirror provides a space for self-expression and personal grooming. It may be important for you to be able to have at least one dress or suit with high-heels for an unplanned party, a date or just to go out. Wherever you are, in any state and city, with a wardrobe you are always ready for any occasion.
In conclusion, a van that is prepared for women can greatly improve their traveling experience. Essential features like a bathroom, dishwasher, safety features, pantry for cosmetics, and wardrobe with mirror сan make a van feel like a home away from home, allowing women to live and travel with ease. Check out this article to find out how to decorate your van without taking up space. By taking into account the specific needs and preferences of women, a van can be transformed into a safe, comfortable, and stylish space that is perfect for on-the-go living.
I am an enthusiast who likes adventures and trying new. I am willing to share some stories and tips related to my traveling experience.