When dreaming about a cruise I see myself at a tropical destination laying by the pool in my bathing suit with a cold drink. But not only exotic places are perfect for a cruise. One of the most popular cruise destinations does have 5 million acres of rain forest, but also only 120 sunny days a year. I'm talking about Alaska! While cruising here you are guaranteed to see all sorts of natural wonders. Mesmerizing glaciers, fjords, beautiful waterfalls, and here and there some snow. You can see plenty of wildlife in its natural environment. Make sure you have your camera ready with an empty memory card and full battery when going on an Alaskan cruise.
This post contains affiliate links. This means we make a small commission at no cost to you if you click through and make a purchase. All prices listed are accurate at time of publication.
Go Cruising in Alaska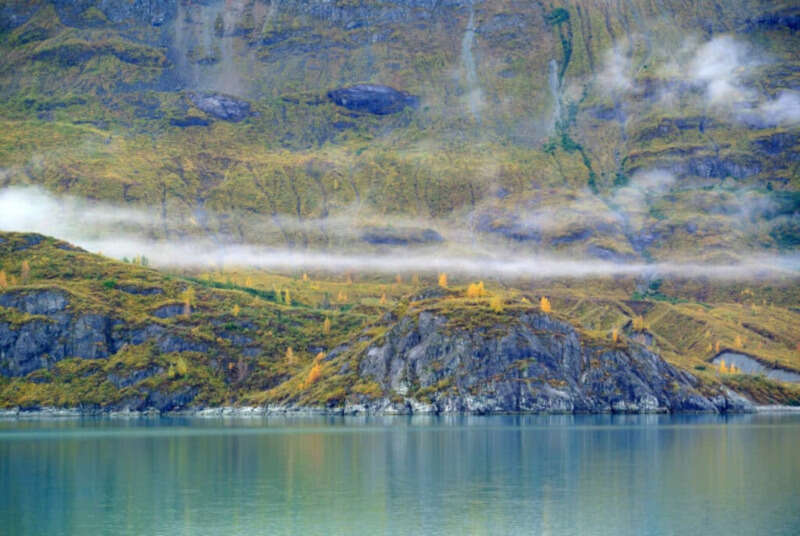 Alaska
With 663.300 square miles the state of Alaska is the largest in the US. Next to the mainland, connected to Canada, you will find approximately 2,670 named islands that together make up the state. The stunning nature and wildlife are one of the main reasons why people travel here. When Googling a lot of interesting nature facts come up, for example 5% of Alaska is covered with 100.000 glaciers. Or that the Aurora Borealis can be seen 243 days a year in the city of Fairbanks. And were you aware that Alaska has well over 100 volcanoes?
The local currency here is the US Dollar. The prices are a bit higher than in the lower 48, which is because of the fact that Alaska is pretty isolated a lot needs to be imported.
The cruising season here starts in April and ends in September, with exceptions that start the season earlier or end later. Even during the summer season four seasons can happen in one day. Dressing in layers is the way to go here. Another essential in your go-bag are bug spray and sunscreen. Interested in seeing the autumn foliage during your cruise? Mainly the leaves start changing at the end of August, and autumn last through the end of September.
What Cruise line to choose?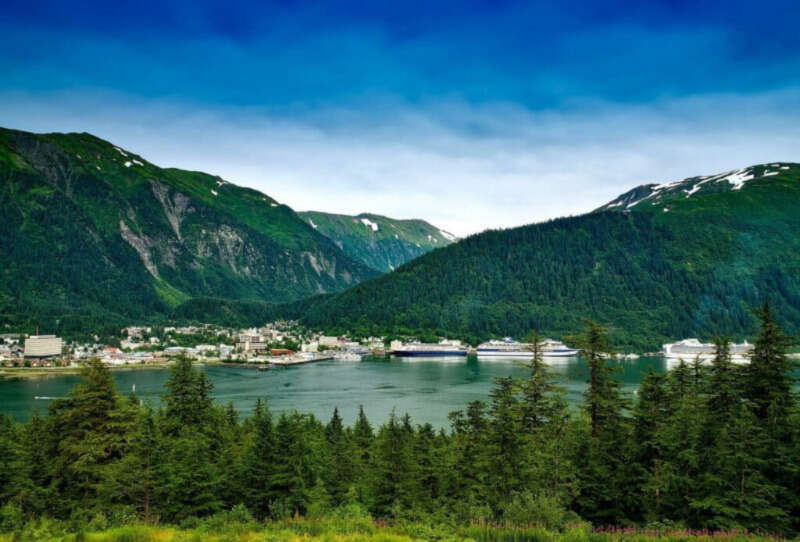 Every summer almost every major cruise line has one or more ships in Alaska. Finding the right cruise line and ship can be a challenge, considering that the region is expecting 60 ships in 2022. It's important to know what you are looking for. Think about length of the cruise, ports of call, embarking and disembarking port, ship amenities, the option to extend the trip with an Alaskan land tour, and last but not least the price. We talk about the last one later.
Princess and Holland America Line are the biggest operators in Alaska. Did you ever see the 'Loveboat'? This well known TV show was filmed on a Princess ship. This line offers casual cruising with focus on Broadway-style entertainment, live music and dining. This line has ships which hold from 2000 passengers up to 3560. The Holland America Line ships are a bit smaller, ranging between 1432 and 2668 guests. It's a popular line for those who are looking for a classic cruise experience with regional food and wine, live music, and unique shore activities. Other popular lines like Celebrity, Carnival, Disney, Norwegian, and Royal Caribbean are also cruising in Alaska.
Are you looking for a more luxury experience? Crystal, Oceania, Regent, and Seabourn have you covered. Lines that focus more on nature and wildlife encounters with their expedition cruises are Alaskan Dream Cruises and Lindblad Expeditions, which is part of National Geographic.
What could help you determine which line to choose are the ports of embarkation and disembarkation. Most lines are using Seattle, USA and Vancouver, Canada, as their turn around ports. For the guest enjoying a land tour some lines have included Whittier, USA, and Seward, USA, in their list of ports. An occasional line departs from San Francisco.
Are you cruising at the beginning of the season? You may be able to join a repositioning cruise. That is a ship coming from its winter destination, moving to their summer cruising grounds, in this case Alaska. The same thing happens at the end of the season, just the other way around. Joining a repositioning cruise mainly means better fares and multiple cruise destinations.
Inside Passage or exploring beyond?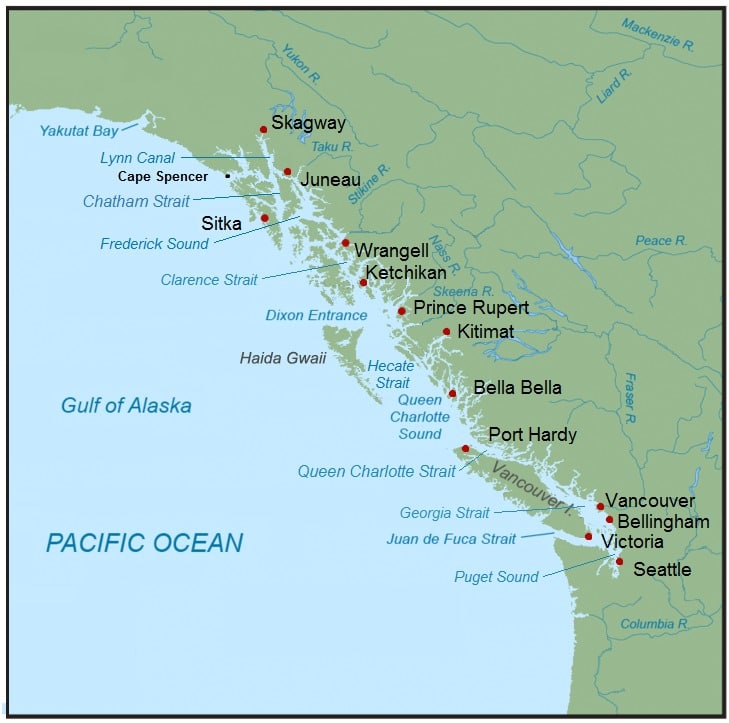 Source: www.wikipedia.com
Most Alaska cruises are 7 days from Seattle, USA, or Vancouver, Canada, exploring the inside passage. Want to explore longer? It's not hard to find a cruise that's 15 days long, or extend your trip with a multiple day land tour visiting Denali National Park and Preserve. Be enchanted by the magic of Alaska.
It's important to know that only two cruise ships per day are permitted in Glacier Bay. Is it on your wish list to visit this national park during a scenic cruise day, check if the line and cruise you are considering are going there. Be aware that ships don't dock here, and you will experience the park from the comfort of your ship.
Let's talk about money
A cruise to Alaska is available in all price ranges. They start as low as $ 300 USD per person. The length of the cruise, your choice of stateroom, and of course the type of cruise will determined the price. They easily can go up to $ 5000 USD per person. Have you found a cruise line you like and their prices seem very high, while the cruise line you don't fancy seems to have the best deals? Check what is included with that price. Are all meals included? Some cruises even offer wine included with dinner. Some cruise lines will even include tours in their total price, while others hope you book them separately through the cruise line. Definitely check on special deals.
Be aware that a lot of cruise lines add a service charge to your bill at the end of the cruise. When you feel like the service wasn't worth the full amount you can ask the front office to lower the amount. Just to keep in mind, automatic tips are shared with all crew providing service in the hotel department, the ones you see and the ones you don't see!
Let's talk ports and scenic cruise destinations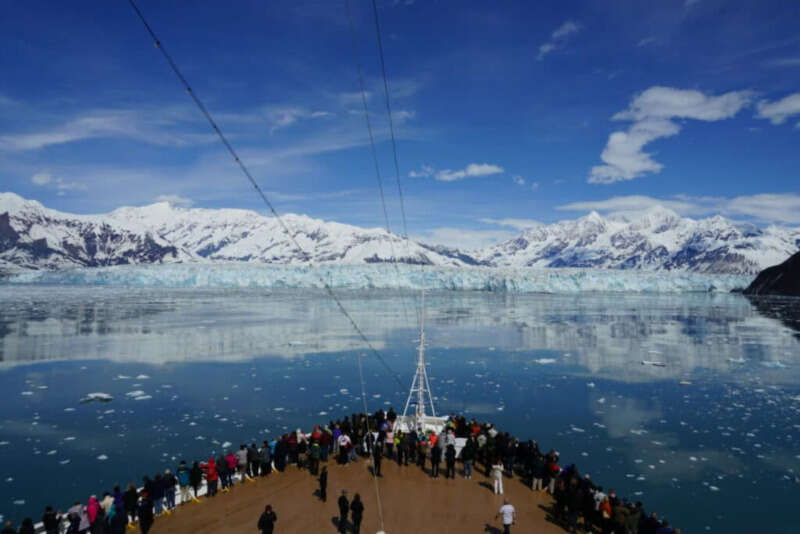 If your main goal on your getaway is to soak up the sun and do some shopping, you probably want to consider a cruise to the Caribbean rather than one to the Last Frontier.
Alaska is the destination where you combine nature with luxury. Explore during the day in your hiking boots, and dine onboard in your casual or elegant outfit at night. The region has cute towns and small cities with local shopping, cruise line chains, and of course places to eat and drink. The great thing about Alaska is the combination of ports and scenic cruising. While having a sea day, find a comfortable seat with your favorite beverage and enjoy the stunning views of Alaska.
It's not uncommon to spot whales and orcas along the way. If you are lucky, the captain or cruise director will make an announcement if they spot wildlife. That happened to me once when there was a sleuth of bears feeding from a whale carcass.
Haines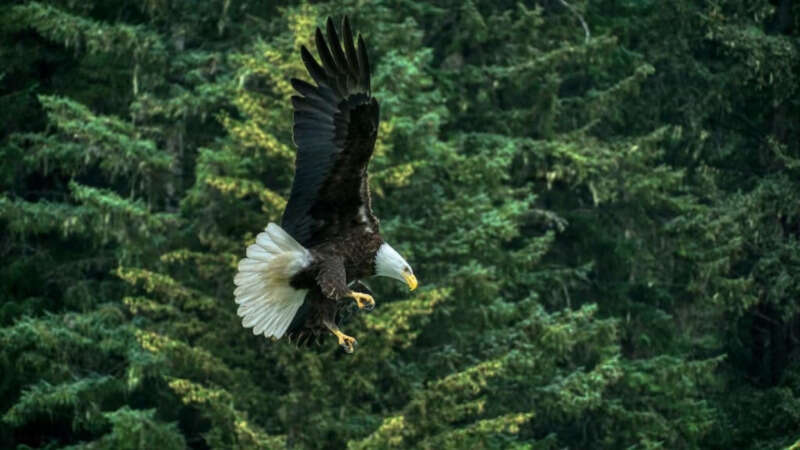 Surrounded by breathtaking landscapes is the town of Haines. Bear sightings near the town happen often, as bears spend time near the river to fish for salmon. You can also find Moose wandering the area. Haines is an excellent place to do watersports like kayaking or rafting. Experience the area from the water's surface, which is totally different than from a big cruise ship. Check out Lutak Inlet, Chilkoot Lake or Lynn Canal.
Do you want to encounter Alaska's wildlife up close? Filmmaker and naturalist Steve Kroschel founded the Kroschel Films Wildlife Center as a home for wild animals that are abandoned and orphaned. This is your chance to see reindeer, bears, and wolves. For more wildlife watching you can visit Chilkat Bald Eagle Preserve State Park, a refuge designated to protect the bald eagle population in this region.
Big DIY'er? Check out the The Hammer Museum showcasing more than 7000 hammers from all around the world. More into local products? Pay a visit to Port Chilkoot Distillery. This award-winning distillery produces artisanal spirits. Stop at the tasting room and bring your favorite back home with you, but check if your cruise allows you to bring alcohol on board. More into beer? Check out Haines Brewing Company, which has a taproom in town.
Haines has it all. From nature, to museums, shopping, great food and beverages. There is plenty to explore here.
Glacier Bay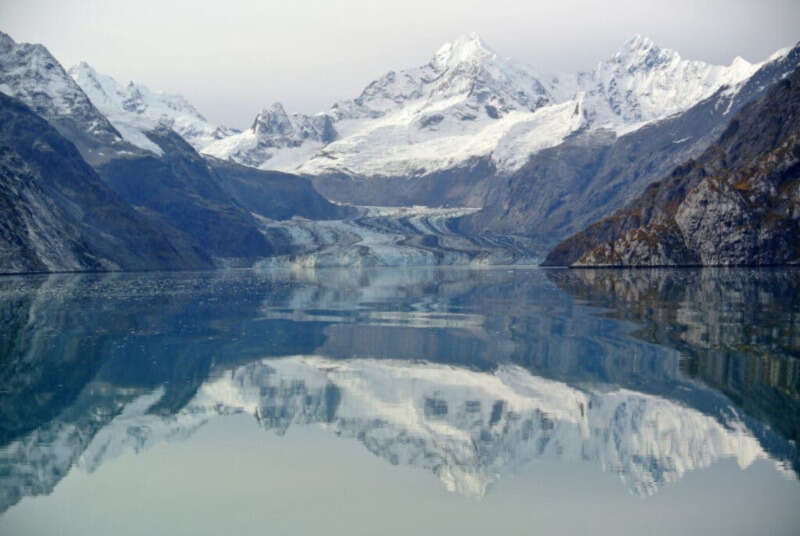 I could write all kind of facts about Glacier Bay National Park, but what you will see there is very hard to put into words. It's the experience, the sound of calving ice from the glaciers is something you need to hear. The only advice I have is this: Don't wake up too late today so you have plenty of time to see everything.
Outside the national park there is a good change to spot whales. Bring your camera and binoculars. After that, find a comfortable spot where you can spend the whole day watching the most amazing landscapes passing by. Keep your eyes open for otters or other wildlife that lives here. This will be day that you will remember for the rest of your life.
Juneau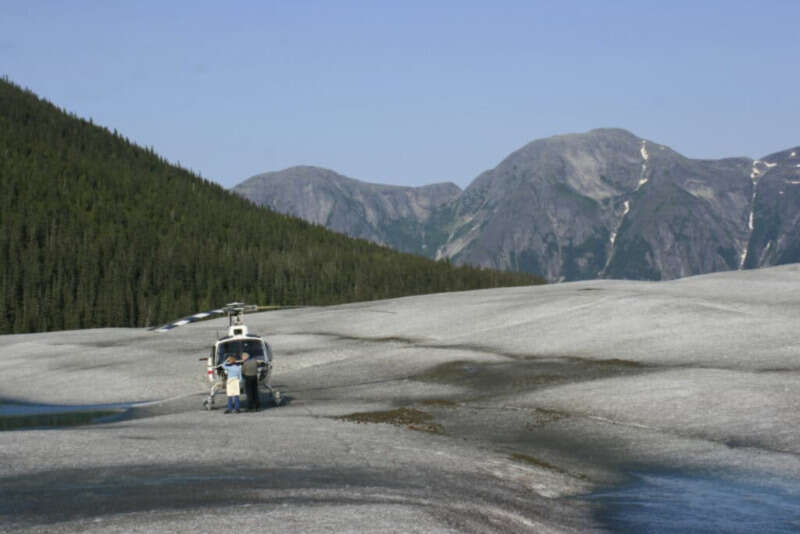 It may not be super important to know this since you are on cruise, but Juneau has no road access to the rest of the state. It is the one state capital in the USA that's only reachable by either boat or plane. This is a great port to take a helicopter tour. Visit glaciers up close when the helicopter stops on one. I know that there is no water on the moon, but I felt like I was on a totally different planet. Such a strange thing.
Want to combine the helicopter tour with something thrilling? See if you can do a combined tour with a dog sleigh ride. On the glaciers here you can find sleigh dogs and their owners getting ready for the Iditarod Trail Sled Dog Race. I'm not a dog person, but this is one of the coolest things I've ever done!
Is a helicopter tour not in your budget? Or don't you like flying? Mendenhall Glacier is not too far from town. Visit the glacier and breathe the fresh air of this area. Back from your hike and looking for breakfast, lunch or coffee? Definitely check out Rookery Café on Seward Street. They have the best sandwiches and sweets to go with your coffee. Spend some time here to relax, write your postcards and to enjoy some local food.
Are you a shopaholic? Walk along the streets and explore everything, from tourist souvenir shop to the local bookstore, funky jewelry shop and post office. Juneau isn't big, which makes it perfect for a stroll after some exploring. Ready for local seafood and some beers? Stop at Hangar On The Wharf. It's the place to be, you will see many of your fellow cruise ship passenger there for sure.
Ketchikan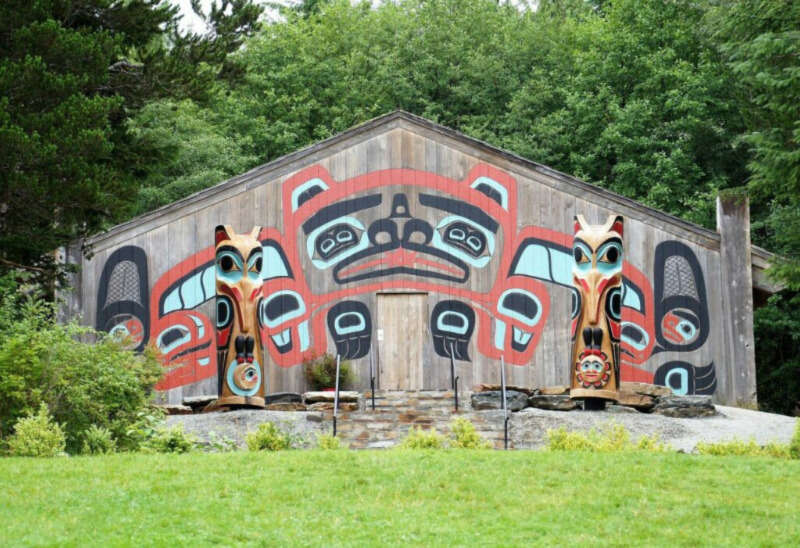 At this port, you will be able to learn more about the Native Americans of Alaska when you visit the Saxman Native Village. Their collection of Native American totem poles is worth the visit, but don't miss the clan house and gift shop.
In the mid 1920's Ketchikan's Creek Street was home to the town's number one industry: prostitution. Now it's the place to go if you want to watch salmon, shop, and eat. The boardwalk and wooden houses allow you to step back in time. On Creek Street you can also ride the funicular to Cape Fox Lodge. This place has the best view in town, and a huge menu with fresh local seafood. It's a bit upper-class, but worth the extra $$$ you pay for eating or drinking here.
Want to bring some handcrafted items home with you? Get your chocolate from the local sweet shop, KetchiCandies. Looking for something that will last a bit longer? Continue to Parnassus Books & Gifts on Stedman Street. They have the best books, and you can find some very cool souvenirs here.
Last but definitely not the least tip: Are you a big fan of Deadliest Catch? Book a 'Bearing Sea Crab Fish Tour' with the Aleutian Ballad. You feel like part of the Deadliest Catch show for a couple of hours and will have stories to tell to all your fiends and family back home.
Sitka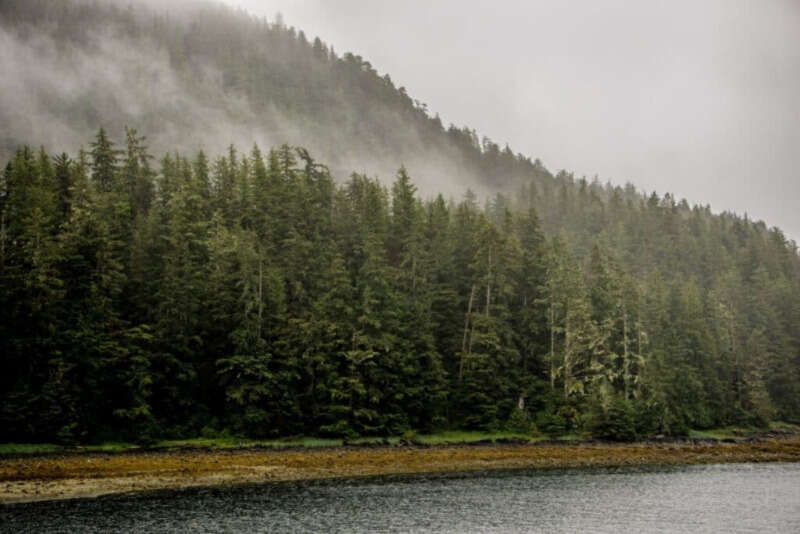 Sitka is the oldest city in Alaska. People say the city has existed for 10000 years, and for 63 of those years Sitka was a big Russian port. This port has everything you are looking for. From exploring the true wilderness to shopping and dining, you will not get bored. It's a small city and easy to navigate. Remember the rainforest I mentioned at the beginning of this article? At the Sitka National Historic Park beside the totem park you will find a temperate rainforest. A beautiful park to be hiking in.
Are you going to do this on a bike? Check if the break is on the tires! I did this once, and after I had a flat tire the tour guide forgot to put the breaks back on my bike … Oh my, when that happened my heart was beating in my throat and I thought I was going to die. Thankfully this didn't happen and I got to stop the bike at a save location. Still, check the equipment when you go explore on a bike.
Seeking your favorite hot beverage? Stop at The Backdoor Café, a cozy coffee place on the backside of Old Harbor Books. More interested in a beer? Check out Harbor Mountain Brewing Co. or Pioneer Bar. Both are good local spots to stop at for a beverage. Before you are getting ready to go back onboard, stop at Reindeer Redhots to have some Sitka style hotdogs. It really is worth the wait, in case there is a long line.
Skagway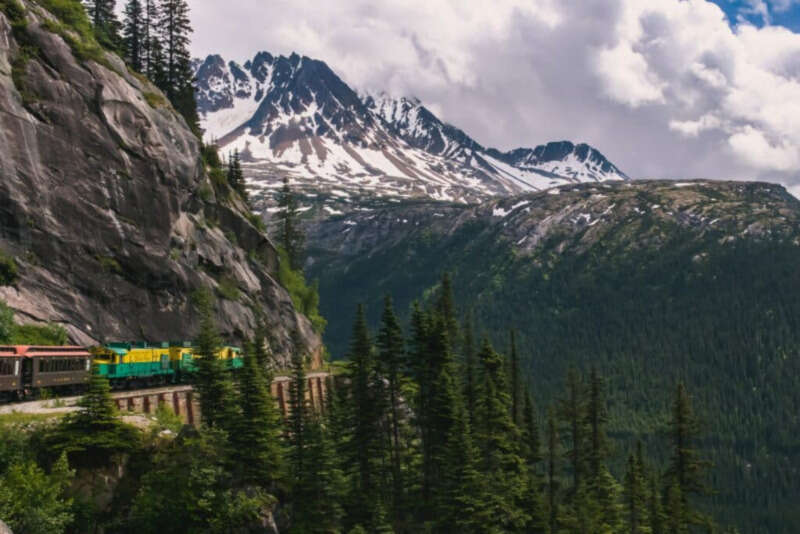 I have heard stories that after the last cruise ship leaves this port at the end of the season, the whole town is empty. This is supposedly a real cruise ship town, and it has all you want from a cruise port. It has some very nice local places, but it looks like they had to close since I was there last. Beside your occasional shopping and dining, watersports and the helicopter tour, this is the spot to take the train over the White Pass and Yukon Route Railroad. The train will pass by the most beautiful and photogenic places. It's a real treat for the eye, and you don't even have to put on your hiking boots.
A place that is open all year around is Skagway Brewing Company. Their menu contains a good selection of beers and a long list of great food items. Are you more of a spirit person? Then Skagway Spirits Distillery is the place to visit. Beside these two the town has a good selection of places to go. Wander on main street to see what place suits your taste.
Tracy Arm Fjord
A couple of hours of scenic sightseeing at Tracy Arm Fjord is included in many itineraries, and you don't want to miss it. It's the best opportunity to see Alaskan wildlife. Are you a bird watcher? Bring your binoculars to spot peregrine falcons, arctic terns, pigeon guillemots, and horned or tufted puffins. On the steep slopes you can spot mountain goats. And don't only look up, also look down to spot whales and harbor seals.
Note: The trip to Tracy Arm is only possible when it's save for ships, due to the number of icebergs floating in the fjord. When it's unsafe, and that happens often, your time in Tracy Arm will be canceled. Check with your cruise line of choice for alternative itineraries. Do you want to see the twin Sawyer Glaciers? See if you can book a tour from one of the other ports.
And more …
The ports mentioned above are the most common to visit on your Alaska cruise. Some cruises leave from Whittier or Seward, ports near Anchorage. Are you doing a cruise from Seattle? Because of the Jones Act ships that are not sailing under the American flag with American crew need to visit a foreign port during their cruise. Victoria in British Colombia is a frequently used stop, a very picturesque one. Victoria has a big passion for beer. Check out what the Victoria Ale Trail has to offer. You will also find one of the world's best gardens here, Butchart Gardens. Most of the time there is too little time to explore everything over here.
This is just a taster of all the things you can do when cruising in Alaska.
Martine is from the Netherlands. Six months of the year she travels with her husband who works on a cruise ship. When she isn't exploring new places she loves to read, write postcards, and crochet. You can follow her on Instagram as @martinemuis, on her blog, or watch her video's on youtube.