Welcome to the Palmetto state! There are many good reasons why Charleston, South Carolina, is one of the top weekend getaway destinations in the US. Founded in 1670, this port city is famous for its cobblestone streets, horse-drawn carriages, and beautiful pastel antebellum houses. A trip to Charleston, this scenic place on the Cooper River, offers history, nature, beaches, and award-winning restaurants. We have created a perfect Charleston itinerary for first time visitors.
This post contains affiliate links. This means we make a small commission at no cost to you if you click through and make a purchase. All prices listed are accurate at time of publication.
The Perfect 3 Day Charleston Itinerary
Are you visiting Charleston for three days? You'll be able to see the top sights, but you could easily spend a week or more and not get bored!
Day 1
It's your first day and you are excited to get out and explore the beautiful city of Charleston, South Carolina! We've got a three day Charleston itinerary that's jam-packed with fun!
Take a Tour
A great way to start out your Charleston itinerary is a guided walking tour. Walking tours are generally led by a knowledgeable local guide who will introduce you to the history of the city and show you the major sights. Once you got a good impression of your surroundings and a lay of the land, you'll know where and what you'll want to explore more while visiting Charleston! There are several fun walking tours available. Spend 90 minutes on a historic city tour. Dive into Charleston's lost African stories on a 2 hour guided black-themed walking tour. If that's too much time to spend on your feet, or if you are visiting in the summer and it's very hot, opt for a 90 minute bus tour instead. If you'd rather spend the day exploring by yourself, you have the chance to add some spooky stories to your Charleston itinerary on an evening ghost tour!
Ride a horse-drawn carriage
Add a carriage ride to your Charleston itinerary! It's not just fun, and romantic, but a great way to soak in all the city has to offer in a leisurely way. Horse-drawn carriages are a staple in the Charleston city scape. They are easy to find if you are looking for a ride. Purchase your ticket at the carriage tour booths outside the Old Charleston City Market. You can, however, get a discount if you book a ride ahead of time. For a group, the cost for tickets runs at $35 USD for adults, and $25 USD for children. Private tours are also available, and they'll cost about $ 150 – 160 USD for two. This can be just a relaxing ride, or you can opt for a carriage tour. The small group setting is excellent for those who thirst for knowledge and have lots of questions! Carriage tours are also available in the evening, which makes them extra romantic.
Note: The carriage drivers use a random lottery system to decide which route to take. This ensures that no part of the city gets too crowded with carriages.
Take a stroll on King Street
King Street is the hub of historic downtown and cannot be missed when you are visiting Charleston, South Carolina. On King Street you'll enjoy an eclectic mix of art, antiques, fashion, home décor, and the most extraordinary food. You could spend all of day 1 of your Charleston itinerary here and not get bored, but there's a lot more to see and do!
Shop at the City Market
The Charleston City Market is recognized as one of the oldest public markets in the country. Once upon a time it was a place where enslaved people were sold. Today, more than 300 craftsmen and artists offer their wares, and it's a great place to find exceptional souvenirs. It claims to be the city's number 1 most visited attraction, so make it a point to add it to your Charleston itinerary. It's open 364 days a year – don't visit on December 25th!
Cool off in one of the House Museums
Visiting Charleston is like stepping back in time. Explore the history of the city and the state of South Carolina, and visit one of the house museums. A house museum is simply that: a house that became a museum. Lots of exquisite antebellum structures were built back in the day, and some of these historic homes have been preserved, restored, and turned into museums. Add the Nathaniel Russell house to your Charleston itinerary, and if you have ample time, are excited to see more outstanding architecture, and want to get a break from a hot summer day, put the Aiken Rhett House on your calendar as well.
Charleston is one of those unexpected US cities with the best art centers. Go out and explore!
Learn about local marine life at the South Carolina Aquarium
Here at Her Adventures we do not often recommend visits to zoos or aquariums. But the South Carolina Aquarium is not just AZA-certified, meaning it has to meet incredibly high standards and stringent requirements, but it also houses a Sea Turtle Care Center, where sick and injured turtles are nursed back to health. Their priorities lay in education, conservation, and the Sea Turtle care center, which makes it a worthy stop on your Charleston itinerary.
End your day on the water
Since you are already at Aquarium Wharf, the perfect end to day 1 of your Charleston itinerary is a harbor cruise on the Cooper River. Here you have several options. You can take a 90 minute cruise with narration. You'll learn about the landmarks you pass (some of which you'll visit on day 2) while enjoying scenic Charleston harbor. Or, if it's still afternoon and you have an hour and a half to pass before heading to one of the exceptional restaurants in the area, go for a dolphin cruise on a tall ship. If you are feeling romantic, book a sunset cruise on a power catamaran.
Day 2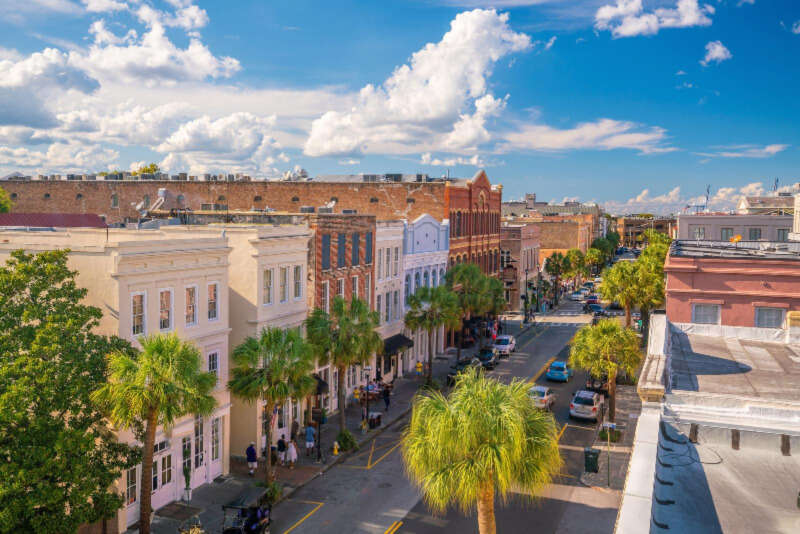 Are you ready for your second day in South Carolina? Today, let's head out to some major attractions that are must-see additions to your Charleston itinerary.
Walk the Ravenel Bridge
The Ravenel Bridge is a cable-stayed bridge over the Cooper River. It connects Charleston with the charming city of Mount Pleasant. The pedestrian path allows you to walk across at a height of 575 feet, offering incredible views of Charleston Harbor (unless you are afraid of heights).
Saunder along the Shem Creek Boardwalk
The Shem Creek Boardwalk is Mount Pleasant's popular waterfront dining district. Admire the wonderful view of the marsh and Charleston Harbor from this picturesque pathway. Wander down to the recreational and commercial docks, watch the pleasure boats, and see commercial fishermen at work on their shrimp and crab boats. This is a nice and relaxing activity on your Charleston itinerary.
Explore the USS Yorktown
Located at Patriot's Point in Mount Pleasant, the USS Yorktown is a retired aircraft carrier turned museum. The "Fighting Lady" participated in World War II, and continued to serve and earn the highest honors until 1970. In 1975, this ship became the centerpiece of the Patriots Point Naval & Maritime Museum.
Today, you can tour the aircraft carrier, travel to the moon and back in a replica of the Apollo 8 capsule, and have a real life experience in the impressive engine room! When does one ever have a chance to explore an aircraft carrier? You should absolutely include this activity in your Charleston itinerary.
Visit the site of the start of the Civil War
From Patriot's Point, take a ferry boat to Fort Sumter National Monument. Choose between a self-guided and a ranger-led tour to immerse yourself in the major historical even that took place here. On April 12, 1861, Fort Sumter came under fire from Confederate artillery batteries surrounding the harbor. Union forces held out for 34 hours, but were then forced to surrender. This event marks the start of the Civil War.
Visit the educational center, museum, and visitor center and learn about the events leading up to April 12, the construction of Fort Sumter and the island, and the story of the American seacoast defenses from 1776 until 1947.
Explore Charles Towne Landing
Head back to Charleston. Charles Towne Landing state historic site, the birthplace of South Carolina, is another great addition to your Charleston itinerary. In 1670, a group of English settlers landed here and established Charles Towne Landing, named in honor of King Charles II of England. Charleston adopted its current name in 1783.
Visit the historic village and the park. Here, the life of America's early settlers is being recreated. First, stop at the visitor's center and see the interactive museum. Then take a self-guided tour on the history trail. Meet and be educated by the living history demonstrators in period costumes. Wander over to the wharf area where you can see the 'Adventure', Charleston's only replica ship from the 17th century. Don't miss the animal forest! It is home to animals that were native to the area back in the day, such as black bears, pumas, and bison. 80 acres of gardens and several miles of trails are just waiting to be explored. If you feel like you've walked plenty today, rent a bicycle! Charles Towne Landing is a very fun addition to your Charleston itinerary.
Hops & Crawl
You've been busy today! You deserve a little break from exploring and a drink – or not? If you are still able to take in some info, book a History and Hops Tour. Start at a bar where you can have a small snack and a drink, join your guide in wandering the streets of Charleston and taking in the sights, and end up at another bar, where you'll learn about the prohibition era, and be grateful that that's over!
Are you up for some serious fun? Add a Haunted Pub Crawl and Walking Tour to your Charleston itinerary. There are plenty of pubs with spooky pasts, and your guide will entertain you with the creepiest ghost stories. End the evening at Waterfront Park at the iconic Pineapple Fountain.
Day 3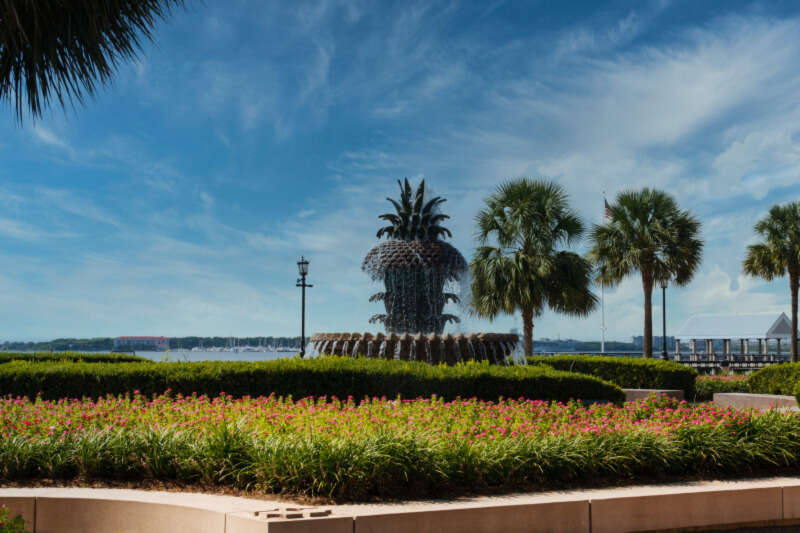 If two days is all you have in South Carolina, then our Charleston itinerary so far allowed you to immerse yourself in history, enjoy the main attractions, and have a great time. But if you have an extra day to spare when visiting Charleston, even better! Let's dive right in, there's no time to waste!
Waterfront Park & Rainbow Row
If your feet were absolutely killing you last night and you opted out of evening activities, take a stroll to Waterfront Park this morning. The iconic Pineapple Fountain should be part of your Charleston itinerary. From there it's not far to Rainbow Row, a row of colorful historic homes, and one of the most photographed parts of Charleston. And speaking of photographs…
Book a photoshoot
Charleston is every photographer's dream. There are more gorgeous locations than anyone can possibly visit in a day. Many of them have already been part of your Charleston itinerary. Book a private photoshoot, revisit your favorite locations, and take home a load of Insta-worthy pictures!
Head out to Angel Oak Park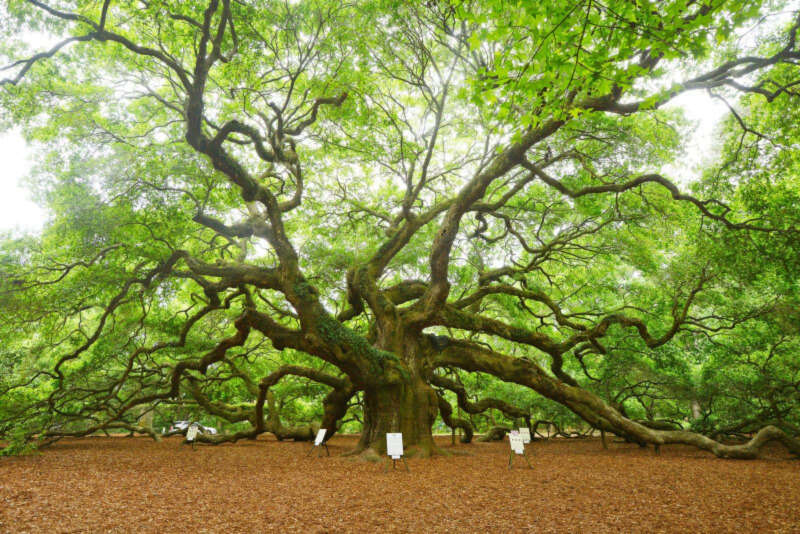 South Carolina is famous for its spectacular, centuries old oak trees. You can see them in many places, but the one that can't be absent from your Charleston itinerary is the one in Angel Oak Park on Johns island. This Southern Live Oak tree is a historical site, and believed to be 300-400 years old. Standing at 65 feet tall, with a circumference of 25.5 feet, it is absolutely spectacular! Admission to the park is free (but donations are gladly accepted to support preservation of the tree), and there's a gift shop selling Lowcountry specialty items.
Visit a Plantation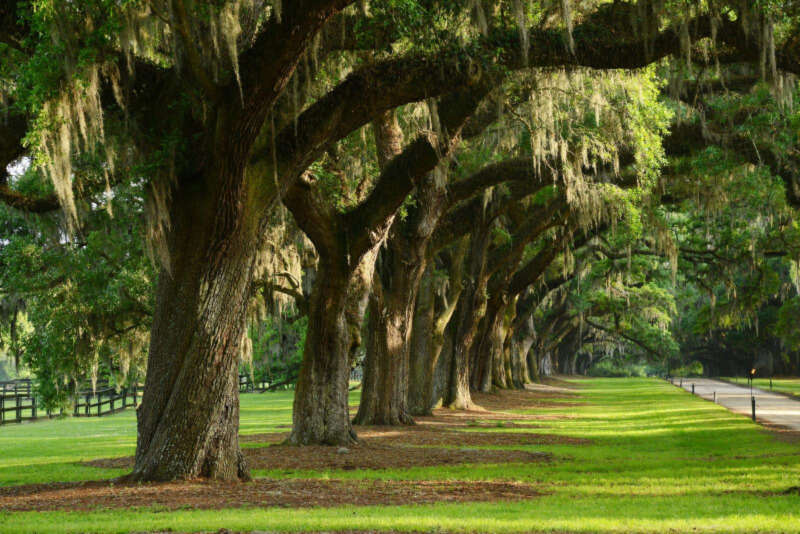 Slavery was rampant in the Antebellum South. You may ask yourself: is it ethical to visit a plantation? The answer is: it depends. We recommend visiting a plantation that focuses on the lives of enslaved people rather than those of the slave holders. Look for plantations employing Black tour guides and historians. If you decide to add one of these historic places to your Charleston itinerary, we suggest you visit with an open mind and open eyes.
Founded in 1681, Boone Hall Plantation, one of the oldest working plantations in America, is popular among tourists. The approach to the mansion through a natural corridor of live oak trees is nothing short of spectacular. The mansion was built by Canadian ambassador Thomas Stone in 1936. You can take a guided tour of the house itself. In addition to that, Boone Hall Plantation offers a Black history in America exhibit. 9 original slave cabins can be viewed on a self-guided tour. There's also a slave history presentation by a tour guide, explaining living quarters, historic relics, and gives an overview of the life is slaves at this location.
Is it ethical to visit Boone Hall? This is what they have to say for themselves: 'The discussion of slavery is often difficult, but it is an important topic that must be discussed openly and honestly whenever plantation life is addressed. At Boone Hall Plantation we believe there is a responsibility to present the history of slavery in an accurate and educational manner each day in a way that pays honor and respect to that history and the progress of Black Americans.'
Magnolia Plantation dates back to 1676 and is the Ashley River's only plantation that survived the American Revolution as well as the Civil War. It is a stop on many people's Charleston itinerary. It is Charleston's most visited plantation, and its gardens were named as one of "America's Most Beautiful Gardens" by Travel = Leisure magazine. Aside from visiting the mansion and gardens, there's plenty of nature to explore, and the chance to see some wildlife. A must on your Charleston itinerary is 'From Slavery to Freedom: The Magnolia Cabin Project Tour'. From the Plantations website we learn that 'discussion focused on the history of slavery at Magnolia and the lives of the enslaved families who lived here.' And 'Magnolia recognizes the importance of acknowledging the vital role of enslaved people in Lowcountry history. No visit to Magnolia can be complete without an understanding of the families who have lived here—first as enslaved workers, and then as paid garden staff—throughout Magnolia's 350 year history. By addressing this often overlooked part of the narrative, we seek to honor and remember the men, women, and children who designed, planted and worked in the gardens, built and maintained the bridges, and labored in the house and the rice fields while enslaved.'
One last spook
What a day it's been! Your 3 day Charleston itinerary has been packed with amazing things. We could go on and on, but this is it for your long weekend getaway in South Carolina! Are you ready for one last fright this evening? Then book the Death and Depravity ghost tour! From ghost pirates to not-so departed souls, you'll hear all about the spirits that haunt Charleston. If that's not spooky enough, choose a guided graveyard tour. What would be better to round out your trip to Charleston than a visit to the city's oldest graveyard after dark?
Best Restaurants in Charleston SC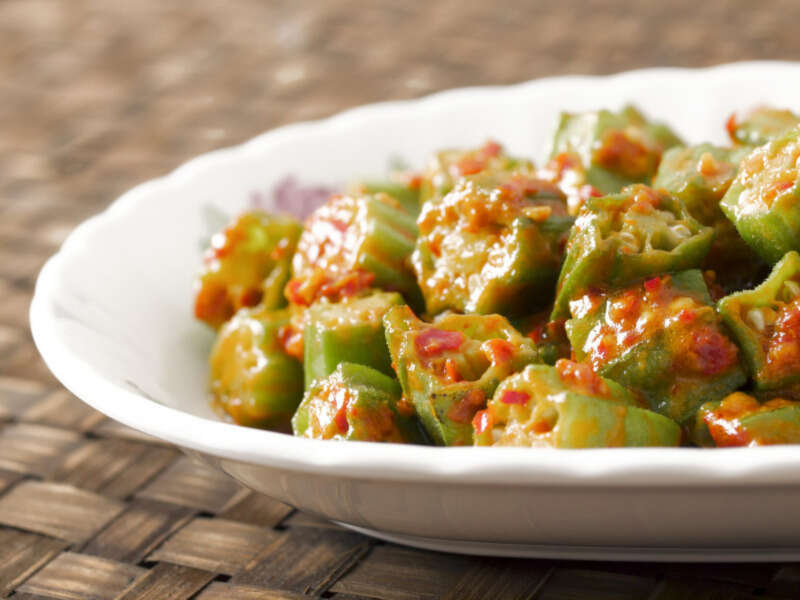 Now, all this activity will make you very hungry! If you are a foodie, your Charleston itinerary just got a little more crowded. Charleston's food scene is outsized for a relatively small city and will not disappoint. You can find whichever dish your heart desires, but we recommend you indulge in the famous (and delicious) Southern cuisine Charleston is famous for.
Hannibal's Kitchen
Hannibal's Kitchen has been in business since 1985 and has been frequented by many celebrities – proof of how delicious their food is! This Lowcountry Legends specializes in classic Charleston dishes, but is especially know for it's outstanding seafood. The best shrimp and grits in all of Charleston can be had here. Other must-try dishes include the Okra soup plate, the fish or the pork sandwich (or both!), and the crab rice. Have a drink of sweet tea to stay hydrated in the Charleston heat!
This restaurant is located off the beaten path for tourists, but it's well worth a little detour! The quality of the food is as good as it is at the fancier restaurants, for half the price and double the portion. Hannibal's Kitchen is open for lunch and dinner. To make a reservation, call, email, or fill out their contact form online. Don't put this place on the tail end of your Charleston itinerary, because you'll want to come back again and again!
Get directions here.
Lewis Barbecue
Are you ready to indulge in the best BBQ you have ever eaten? Then take a short Uber ride from downtown Charleston to Lewis Barbecue! The airy dining room is decorated with a touch of Texas and a touch of Mexico. The restaurant also features a beautiful backyard patio. Pitmaster John Lewis slices up cut-to-order true Central Texas barbecue on the massive, custom-made smokers. Try one of their huge servings of fatty brisket, hot guts (sausage links), turkey slices, and don't miss the green chili corn pudding!
Lewis Barbecue has a nice, relaxed atmosphere and is open for lunch and dinner. To make a reservation, or to order takeout, call them at (843) 805-9500.
Pro tip: Don't be sad about not living next door to this outstanding restaurant. They have a shop and ship meat, sauces, and swag anywhere in the US!
Get directions here.
Renzo
Keep it simple and go grab some of the most delicious wood-fired pizza you'll find outside of Italy! The gold embellished bar and comfy booths give the place an elegant yet cozy feel. Renzo features creative pizzas, such as the Cheli, topped with lamb sausage, feta, honey, and za'atar, and a huge selection of natural wines. On offer are their tried-and-true-favorites, and new selections waiting to send your taste buds on an adventure. Gluten-free options make Renzo the go-to restaurant for everyone!
The place is open for happy hour and dinner. Come and unwind after a long day of sightseeing! You can make a reservation by phone or email.
Get directions here.
Jackrabbit Filly
Jackrabbit Filly restaurant evolved from the famous Short Grain food truck, which was featured in Bon Appetit magazine's Top Fifty Best Restaurants list. Are you in the mood for dim sum? Jackrabbit Filly is one of the few places in the Charleston area that offers this dish. The menu features Chinese dishes, with Japanese and American influences. The dim sum brunch on Sundays (11 am – 2 pm) is a highlight! The restaurant is open for lunch and dinner Wednesday through Saturday, and only offers brunch on Sundays. Taste the chirashi bowl for lunch, or and pick one of the comfort foods such as pork and cabbage dumplings or fried rice with ham and pineapple for dinner. It's imperative you reserve a table. Call 843-460-0037, email at hello@jackrabbitfilly.com, or click here to book through their website directly.
For directions click here.
Maison
Enchanté! You will be delighted to find Maison right on King Street, and enjoy the memorable French meals created by the chef. Their meals aren't just outstanding, they are so beautiful, you'll want to post all the pictures on Instagram. Don't believe it? Click here and see for yourself! Maison is open Tuesday through Saturday, starting at 4.30 pm. How does a $ 5 USD champagne happy hour sound to you? This French bistro is small, make a reservation to ensure you don't miss out on this experience on your Charleston itinerary. Call 843-990-9165 or click here to lock in this culinary delight.
Click here for directions.
Leon's Oyster Shop
You'll always find the best and freshest seafood right where it's caught. Leon's Oyster Shop isn't just great for eating oysters – it's an experience in itself. Located right on King Street, in a retrofitted auto body shop, you can enjoy cheap beer, expensive champagne, friend chicken, kick ass salads, and – oysters! There's no way you can afford to miss this eclectic place, it has to be added to your Charleston itinerary! Leon's Oyster Shop is open 7 days a week, from 11 am until 10 pm. Walk-ins are welcome, but if you are a party of 8 or more, the restaurants asks that you make a reservation.
Get directions here.
We hope that you, dear reader, feel like you have to immediately make a trip to Charleston, South Carolina. It's a can't-miss destination in the United States. The Charleston itinerary we have provided for you should help you make the most of your visit in this great city!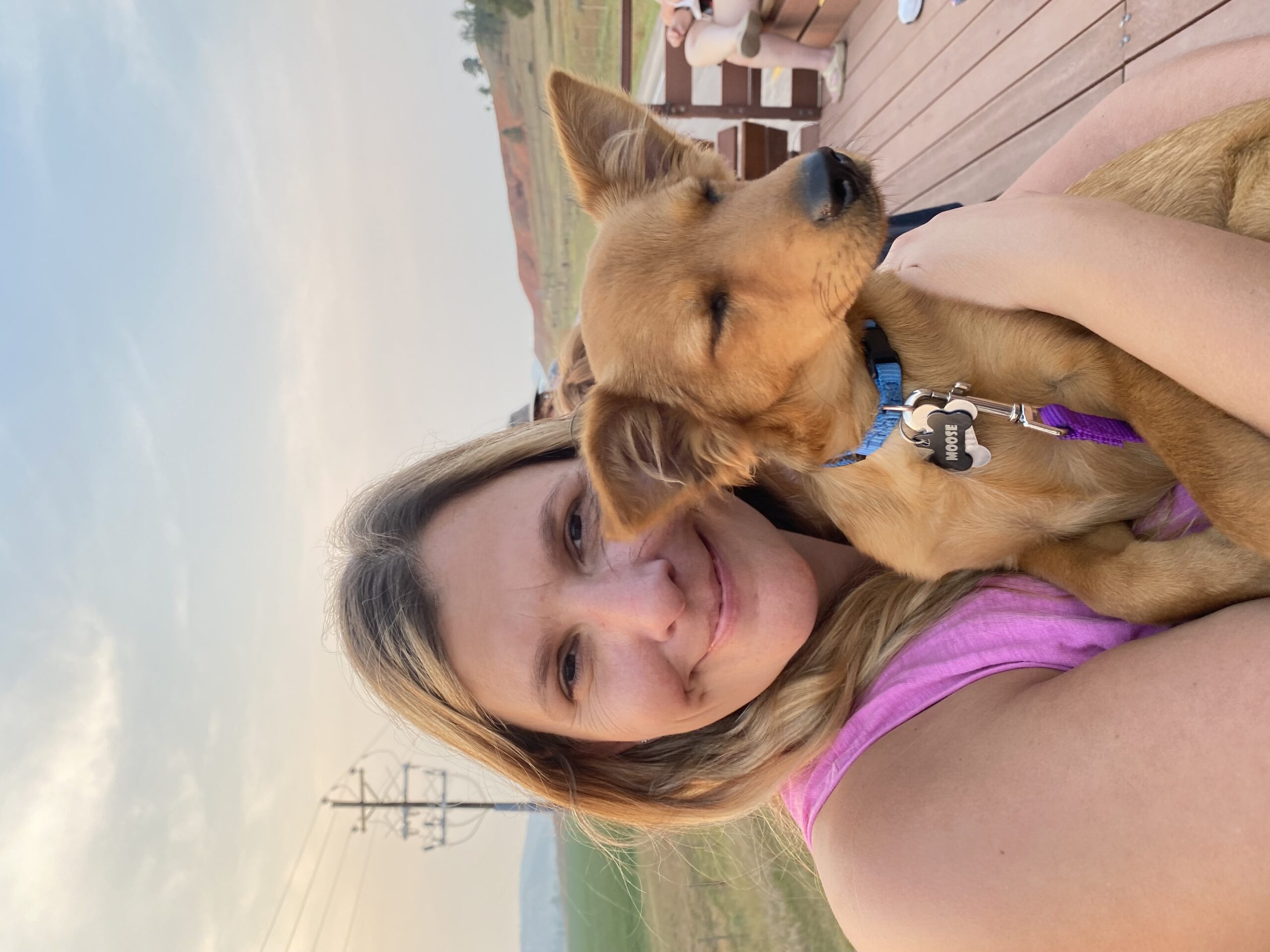 Jenny grew up in Germany. All she ever wanted out of life was to leave and have adventures. Jenny always traveled as much as the budget would allow, and when she met her husband traveling became a full-time thing. You can follow Jenny on her blog and Facebook.