I was stressed to the limit and decided to invite my sister on a trip to Tulum, Mexico. The beaches were beautiful, the ruins were nice, and the town was safe with so many things to do. I got some much needed R&R and so can you! Here are five Tulum tips to help you find your zen.
5 Tulum Tips for the Perfect Mexican Getaway
Money
The first advice I give to people when they ask about Tulum tips is: do not exchange your money at the airport. We did it and later on found out that at the airport there were more fees than if we just withdrew money from an ATM machine. Check with your bank regarding fees. For us, it worked out better to use the ATM.
Transportation
We flew in to the Cancun airport and took a bus to Playa del Carmen. We bought our bus tickets outside the airport where the buses are parked. Taking the bus is one of my favorite Tulum tips! The bus was very comfortable. It had air conditioning, a bathroom, and TVs where they played movies. The trip took about 1 hr 10 min. From Playa del Carmen we bought tickets to Tulum, which was about an hour on the same type of bus. When you get to Tulum you can walk or take a taxi. Tulum Tip: buy your tickets the night before you have to leave. We thought we could get to the bus station early on the day we needed to catch our flight and the bus was sold out. We had to rush to the airport which is never good.
Beaches
Here are some Tulum tips for beaches. We went to three different beaches, all by taxi. Playa Paraiso is close to the Tulum ruins. The food and atmosphere was great and the beach was super beautiful. Akumal beach was also very beautiful. There we rented snorkel gear and swim vest for about $10 and swam with the turtles, which is free for anyone. Caleta Tankah was my favorite beach. It was so quiet, relaxing, and just what I needed. It was a slice of paradise. You pay to get into the beach club (about $7), which includes chairs and umbrella. They also have a restaurant and restrooms you can use. Also, they have a beautiful cenote so close to the beach (literally steps away).
Tulum Ruins
To get to the ruins you can either rent a bicycle or take a taxi. We were glad we decided to take a taxi. The ride seemed too far to take on a bike and it was really hot. We saw a lot of people biking, so I think that would depend on where you stay. There are shops and food before you get to the ruins. You can purchase your ticket at the entrance of the ruins. I didn't notice if they had tours or not but my sister and I explored them on our own. It was very pretty to see the ocean right there. Visiting the ruins is one of the best Tulum tips.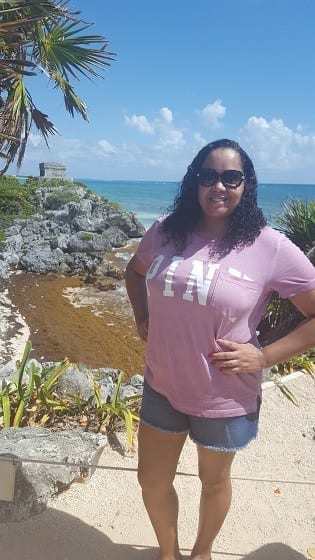 Town
Everyone was very friendly (locals and other tourists). My sister and I both speak fluent Spanish, so that is definitely an advantage when visiting a Hispanic country. learning at least a little bit of Spanish is one of my Tulum tips.  You can walk to just about anywhere. We rented a place through Airbnb, but I think any place in town is close to restaurants, bars, markets, and shopping. The food was good everywhere we ate. The nightlife was so much fun. We found something new to do every night, from sitting at a bar enjoying the night to salsa dancing to karaoke (not my thing but she made me!). We made it back to our room late every night and it was completely safe for us. Note: where we live night clubs close at 2am but in Tulum the party doesn't start until 2 am. We learned that on our first night.
Mexico is one of the most amazing warm places to go in December! Overall Tulum was more than I expected and I recommend it to all girls who travel who haven't been there yet. You will have the perfect Mexican getaway with my Tulum travel tips! Read this article if you want to find out where is the best snorkeling in Mexico!
I'm a proud Latina. Born in Puerto Rico and raised in the US. I have 3 kids who I adore. I've worked in the Information Systems field for over 10 years. I love my family and spending time with them. I also love to travel and I love to dance.