Snorkeling is one of the best water activities to try on vacation, especially in Mexico. But where is the best snorkeling in Mexico? We collected the very best places with the clearest water and the most things to see just for you!
This post contains affiliate links. This means we make a small commission at no cost to you if you click through and make a purchase. All prices listed are accurate at time of publication. 
A note of caution
Here at Her Adventures, we are all about sustainable tourism that's eco-friendly and ethical. Interactions with animals in the wild can be problematic. You may join a tour where the tour guide actually harasses the animals by getting too close of following them for a long time, which can cause them stress. You might also find tours where they encourage you to feed or touch animals. Sure, that's the best way for tourists to get that one unforgettable picture, but nothing is worth harming an innocent animal. So when you are out there, please be considerate. Do not get too close to the animals, and swim slowly and calmly. Not only does it cause them stressed, but when stressed they may decide to fight back. Sea turtles, for example, have been known to snap at unsuspecting tourists when they got too close. When you are snorkeling around coral reefs, do not touch them. Keep a good distance. Corals are living, breathing beings that are easy to damage. And remember that taking starfish out of the water can kill them!
When you follow these guidelines, snorkeling is a great, sustainable, and eco-friendly way to enjoy the wonderful underwater world.
Where is the best snorkeling in Mexico?
There's no doubt that there are many excellent spots to go snorkeling in Mexico. It's a tight race, but here are our favorites!
La Paz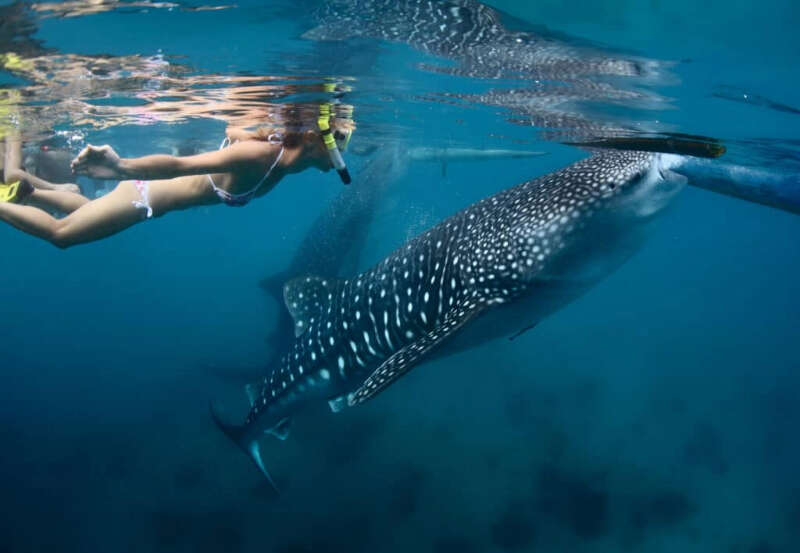 La Paz, the capital of Baja California Sur, located on the Baja California Peninsula is known for many things: its art displays from many Mexican and international artists, its beautiful Malecón promenade, quaint parks, sandy beaches, and… snorkeling! You don't have to go far from La Paz to find calm and clear waters. The Sea of Cortez is rather shallow, and there aren't a lot of currents, which makes for some of the best snorkeling in Mexico. And here's what's extra special about snorkeling in La Paz: between October and May, you can swim with whale sharks! If the idea of swimming with sharks causes you Jaws-induced nightmares, don't worry. While whale sharks are positively ginormous, they are gentle giants and do not hurt humans.
The good news is, you don't need to book a tour to find some awesome spots to go snorkeling. The general rule is, the further away you are from the city, the better the snorkeling. Hit La Concha Beach Resort, Caimancito, Pichilingue, Tecolote East, or Tecolote West for a great experience.
Tours are easy to book, and a great way to see the best spots and learn about the environment. Book a hike, kayak and snorkel mixed adventure tour to Balandra & Pichilingue. The whale shark swim adventure is a must, because that's some of the best snorkeling in Mexico! If you want to get great information from a professional, book a tour that offers whale shark snorkeling guided by a local marine biologist. Another fantastic option is the snorkeling adventure at Espiritu Santo Island National Park. If you want a mix of dry and wet adventure, book a holy spirit island tour.
You'll experience the most excellent weather in La Paz between December and February, And that's also whale shark season. Since La Paz is a popular tourist destinations, you won't have trouble finding nice accommodations. The Hotel Catedral La Paz is super close to the Malecón and all the action. Do you want to be independent, with your own kitchenette, washer, grill, and free parking and WIFI? Book the Adventure Inn La Paz. The Casa al Mar is a 4 star hotel only 150 feet from the beach.
Cabo Pulmo National Park
Cabo Pulmo National Park is located about 60 miles North of Cabo San Lucas,  on the east coast of the Baja California Peninsula. If you are wondering where is the best snorkeling in Mexico, this national marine park is one of your answers. Jacques Cousteau literally called it "The World's Aquarium" – what could be better advertising than that?
Stunning beaches are nestled between mountain ranges and undeveloped desert on this 5 mile stretch. Only a few feet away from the beach, the coral reefs are home to a stunning number of animals.  Lots of the 800 species of marine animals that live in the Sea of Cortez, such as whale sharks and sea turtles, can be found in this area. All you have to do to get the full experience is hop straight into the balmy water and start swimming! Los Arbolitos is the prime spot here, and it offers some of the best snorkeling in Mexico.
Note: because this is a protected area, snorkeling is only allowed with a guide.
The easiest way to get the full experience is to book a Cabo Pulmo National Park snorkel expedition from Cabo San Lucas. A professional guide will show you the four best spots for snorkeling! Alternatively, book a private catamaran tour to Cabo Pulmo National Park.
You also have the potion to lodge near Cabo Pulmo National Park. The Bungalows Cabo Pulmo are not only near the park, but close to some excellent locations for hiking.
Akumal Bay
Head to Akumal Bay to swim with sea turtles! The small village of Akumal is located in the heart of the Riviera Maya. The sea turtles are the big attraction here. However, because they are so popular, there are measures to protect them, and that means you aren't allowed to snorkel and see them by yourself. You must sign up for a tour with a guide, and lifejackets are mandatory. Avoid the crowds and book a very affordable private tour, or join the group fun.
Akumal is conveniently located between Playa del Carmen and Tulum. Akumal itself has nice accommodations, such as the Casa Gatos or the adults-only Secrets Akumal Riviera Maya, but if you prefer to stay in a more hopping place, Playa del Carmen and Tulum are just a hop, skip, and a jump away. From Playa del Carmen, book a Tulum ruins cenote and swimming with turtles tour to snorkel at Akumal. To visit from Tulum, book a half day cenote & turtle adventure.
Cancun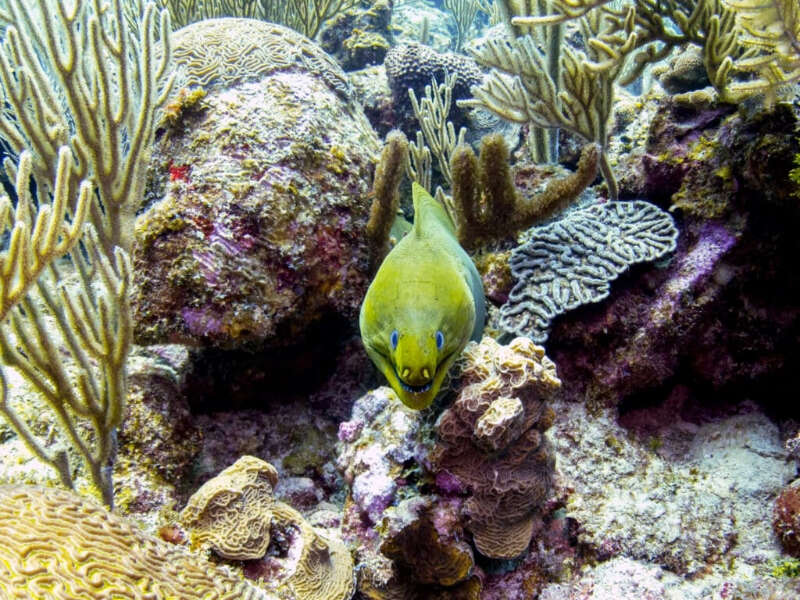 Where is the best snorkeling in Mexico… or on earth? Well, Cancun is right up there! With the Great Mayan Reef in its backyard, Cancun is hard to beat when looking for the best snorkeling destinations. The closest offshore reef to the hotel zone is at Punta Nizuc. Clear waters and the expansive coral reef make for an amazing experience. You are in for a real treat when you visit Xcaret Park and Xel-Há. In Xcaret, you can snorkel in an underground cave, while Xel-Ha has an abundance of tropical fish. The most special place to hit the underwater world is the Cancun Underwater Museum. When do you ever get a chance to see art under water? Sculptor Jason deCaires Taylor created nearly 500 pieces you can discover on your snorkeling adventure.
While you can just hit the water from the beaches, a great way to get a full experience is to book a tour. On the 5-in-1 Cancun snorkeling tour you get to swim with turtles, visit a reef, see two exhibits in the underwater museum, discover a shipwreck, and enjoy a cenote. Or choose to go coral reef snorkeling with lunch and roundtrip transportation in Puerto Morelos. Book an all-inclusive tour to Xel-Há. Or pick a sailing experience to Isla Mujeres in a catamaran that includes snorkeling and an open bar (but please don't get in the water when impaired).
Cancun is a paradise of options when it comes to accommodations. The Renaissance Cancun Resort & Marina is located a mere 10 minutes from downtown, and right by a large shopping area. The Adhara Hacienda Cancun is right in the heart of Cancun and offers a free shuttle service to the beach. Looking for a party hostel? The Nomads Enigmatic Hotel, Hostel & Restaurant Bar is your answer! If, on the other hand, you want a luxury experience, your best bet is the 5 star Garza Blanca Cancun-All Inclusive.
If you visit Cancun in late October or early November, you don't just get to snorkel, but celebrate a special holiday. Cancun is one of the best places to celebrate Day of the Dead.
Cozumel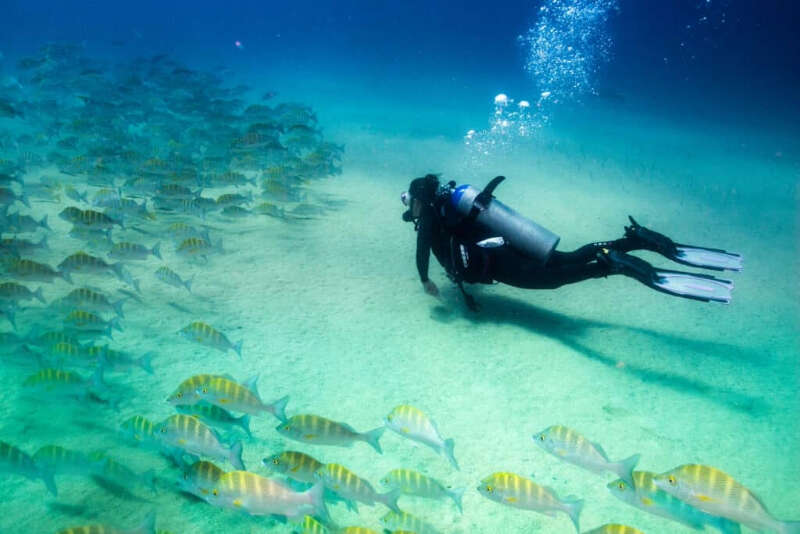 Cozumel is an island in the Caribbean Sea, only a 40 minute boat ride from Playa del Carmen. The island is a very popular cruise ship destination, and for good reason! The beaches are beautiful, the tropical scenery is breathtaking, and the diving and snorkeling is iconic! If you are vacation planning and wondering where is the best snorkeling in Mexico, Cozumel is the answer. Cozumel is part of the Mesoamerican Reef, which is the second largest reef in the world after the Great Barrier Reef in Australia.
The water in Cozumel is a balmy 80 Fahrenheit on average – perfect for spending long periods of time without risking frostbite! Visibility is absolutely prime – in some spots reaches as far as 250 feet. The best spots for snorkeling are on the west and southwest side of the island. Here the waters are calmer and shallower than they are on the north and east sides, where rough conditions and strong underwater currents pose a danger for everyone but the experienced swimmer.
From the beach, you can swim out to several reefs and enjoy snorkeling there. There are also offshore reefs, which can be reached by boat. Take a tour to the hotspots: Palancar Reef, Columbia Reef and Playa el Cielo. Or choose a catamaran snorkel tour to El Cielo and Tortugas Beach Club. If you don't fancy crowds, book an El Cielo snorkel by private boat.
if you want to experience the fantastic underwater world without getting wet, there are two very intriguing options: you can go on a submarine expedition, or have an invisible boat snorkeling adventure.
The best time to visit is between March and June, when temperatures during the day reach around 90 Fahrenheit, and nights are around 70 Fahrenheit, perfect for sitting outside and breathing in the tropical scents.
Accommodations are plenty, and they are available in every price range. Villa Escondida B&B is located in downtown Cozumel and has exceptional ratings. If you prefer not to have kids around, book the Hacienda Boutique B&B. Villas El Encanto are sustainable and pet-friendly. If you want to splurge, book the all-inclusive Dreams Cozumel Cape Resort & Spa.
Mexico is one of the most amazing warm places to travel in December.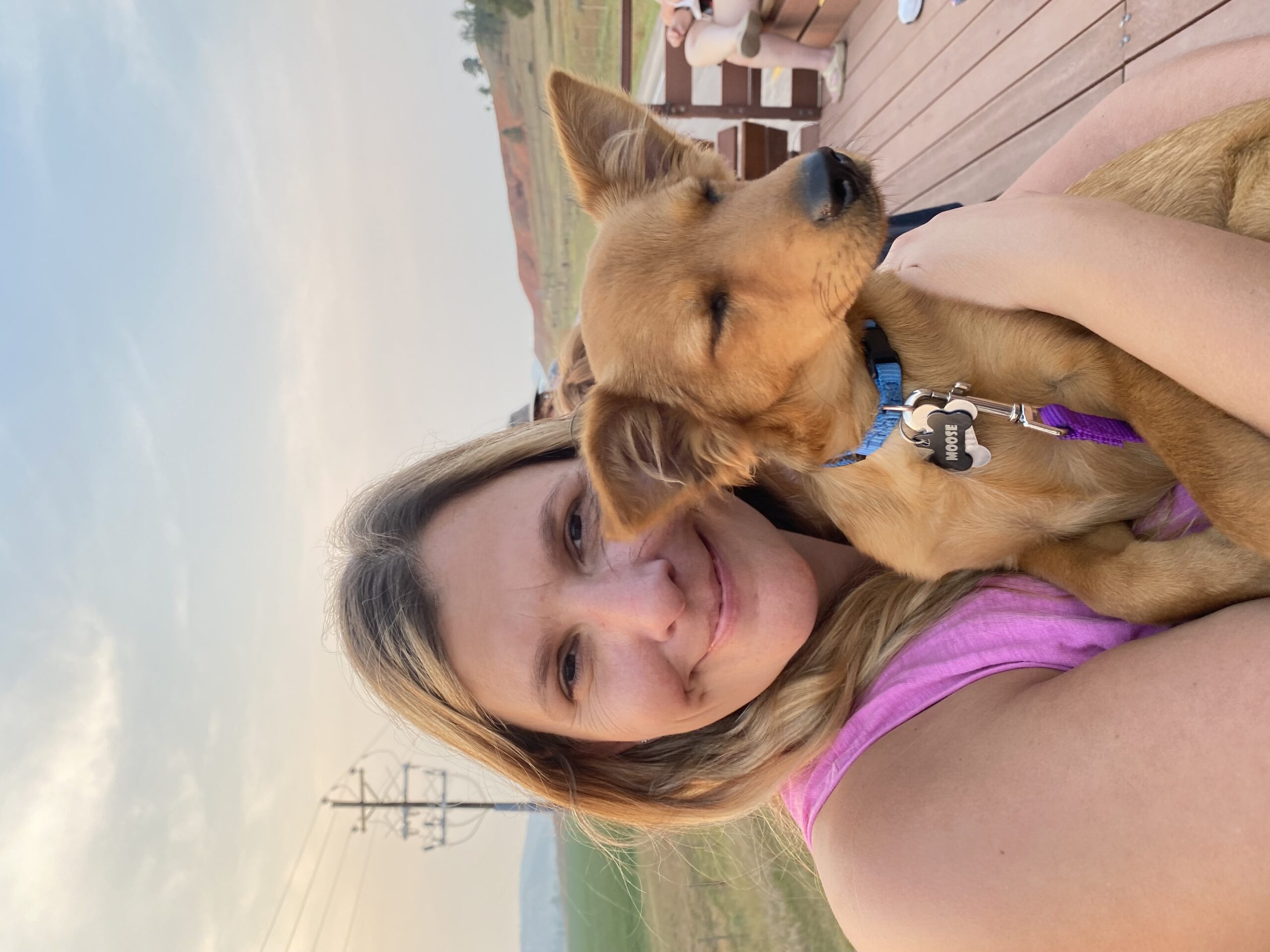 Jenny grew up in Germany. All she ever wanted out of life was to leave and have adventures. Jenny always traveled as much as the budget would allow, and when she met her husband traveling became a full-time thing. You can follow Jenny on her blog and Facebook.