I've been visiting coastal Maine and its little fishing towns in New England in the summer since I was a little girl. As a full time resident of the Canadian Maritimes, I'm no stranger to a lobster boat. Also I'm not too shy to bait a hook, I've fallen asleep to the sound of a fog horn, and I've swam in ocean temperatures so cold your body goes numb. It goes without saying that Maine naturally feels like home to me. But there is something extra special about coastal Maine, on  the US East Coast, and in particular the following three towns, that keeps me vacationing here when I could search for something more unfamiliar.
Bar Harbor, Camden, and Rockland are my favorite fishing towns in coastal Maine. Three towns with so much character and so much to see and do. I'd like to make some recommendations for the perfect long weekend (or heck, stay a week!) visiting them.
This post contains affiliate links. This means we make a small commission at no cost to you if you click through and make a purchase. All prices listed are accurate at time of publication. 
Coastal Maine Highlights
Bar Harbor
Bar Harbor is my favorite town in coastal Maine by far! It  is a sweet, bayside fishing community with a big advantage in the tourism industry, located on Mount Desert Island. Plus, Acadia National Park is just outside of its downtown. Within the town itself, I would recommend the following.
Things to do in Bar Harbor Maine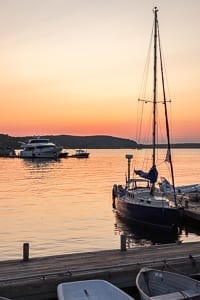 Take a whale watch cruise with Bar Harbor Whale Watch Company. These guys will find the whales for you! I highly recommend their "Puffins and Whales" tour, as it takes you to a local puffin reserve. You can speak with researchers and see the efforts being made in seabird conservation.
Go on a scenic sailing trip along Maine's beautiful coast.
Shop and eat along Main Street.

You will find iconic Maine shops like

Cool as a Moose

and

Geddy's

, and tasty foods at

Paddy's Irish Pub

and the

Bar Harbor Beerworks in downtown Bar Harbor.
Take a self-guided walking tour.
Watch the sunset over Frenchman's Bay at Agamont Park.

Grabbing a homemade ice cream (lobster ice cream being an option here) at

Ben and Bill's Chocolate Emporium

and securing a spot on the grassy hill overlooking the wharf is my favorite way to end a busy day.

Enjoy a culinary walking tour.
In the fall, mushroom hunting is a great experience. If you are not a pro at identifying mushrooms, join a guided tour to be safe!
Go for a long walk on Bar Harbor's famous Shore Walk!
Discover the Porcupine Islands! You will find them just offshore of Bar Harbor. They are well-known for their beautiful, rugged, and dramatic features of cliffs, hidden caves, and rocky shores.
Stop at Dorr Museum of Natural History to learn about Maine's wildlife.
Study the history of Maine's Native People, the Wabanaki, at the Abbe Museum.
Acadia National Park
One of America's most charming national parks is just down the road from Bar Harbor. The options for activities are truly endless.
Things to do in Acadia National Park
Watch the sunrise from Cadillac Mountain. Said to be the first glimpse of sunrise in the US from May through October, it is an amazing experience.
Go hiking along Acadia's many Coastal trails, or perhaps try the more challenging favorites. "The Beehive" or "Precipice" which lead you up the side of the granite mountains, often using via ferrata style handrails.
Choose to go on a guided hike.
Soak up the sun on Sand Beach. 

It couldn't be more simply named, but Sand Beach is a truly gorgeous gem inside of Acadia. The iconic granite cliffs line the sides, and boats swing in close and wave a friendly hello.

Visit the Thunder Hole, 

an interesting phenomenon which takes you out onto Maine's cliffs themselves.

Watch the sunset at Bass Harbor Head Lighthouse, 

but be sure to arrive early to beat the crowds!
Camden
One of those  charming little fishing towns with an iconic harbour that is a gorgeous place to take photos.
Things to do in Camden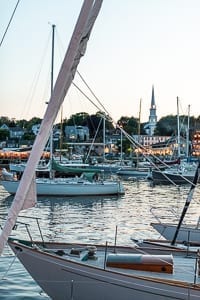 Go for a sail with a skilled professional on one of the many sailboat tours. BYOB.
Watch sailboat races 

in the summertime by attending the

Camden Classics

.

Go hiking at Camden Hills State Park and enjoy  the scenic view from the top of Mount Battie.
Shop and eat 

at restaurants such as

Long Grain

(well known in the area for its fantastic Thai food that has many craving it after they leave), or

Rhumb Line

(a fantastic seaside bar with great lobster rolls and fish tacos.

Catch a show at Camden Opera House.
Go for a stroll at Camden Harbor Park and Amphitheater. There are two parks, commissioned by the local philanthropist Mary Louise Curtis Bok Zimbalist in 1931 to complement the library, which had recently been renovated.
Swim and boat at Megunticook Lake.
If you visit in winter, go skiing at Camden Snow Bowl.
Rockland
A busier town with a bit more of an artistic vibe, Rockland is a very short drive from Camden.
Things to do in Rockland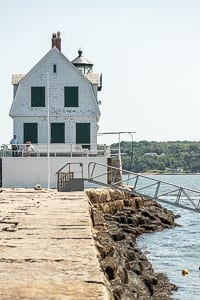 Watch the sunrise over the harbor. Rockland's harbor is wide and vast. It is a beautiful place to take early morning photos.
Hike to Rockland Harbor Breakwater Lighthouse. 

A truly unique experience, the hike is straight into the bay, along a stone breakwater that is 3/4 of a mile long. Be cautious of your footing!

Attend the Maine Lobster Festival. 

A summer event that is truly Maine.

Do not miss the Farnsworth Art Museum! This museum specializes in American art, and you get to see many works of some of the most famous American artists.
Learn about maritime history at the Maine Lighthouse Museum. It houses the largest collection of livesaving, lighthouse, and U.S. Coast Guard artifacts in the country! It's a mere 3 minutes away from the Farnsworth Art Museum, so you can visit them back to back.
Best Time To Visit Coastal Maine
The most popular time to visit coastal Maine are the summer months. Starting in May, the weather slowly warms up, but you can still experience a wicked Nor'easter at that time of year, so be prepared and pack accordingly. July and August are the warmest and most pleasant months in regards to the weather. All tourist attractions will be open, and you won't miss any of the highlights. However, come September, the leaves are starting to change. New England is famous for its incredible fall foliage, and everyone who has experienced it can confirm that it's a breathtaking, once in a lifetime sight. Late September and early October are the ideal time for leaf peeping.
Note that Labor Day weekend is a very busy time in coastal Maine. With fabulous weather almost guaranteed, and the coastal towns going all out for the tourists, everyone plans their getaway. Plan ahead, and plan early, and you won't have any troubles finding a place to stay and things to do!
You must promise me, while you are visiting Coastal Maine that you will try a lobster roll and a blueberry beer. I won't judge you if you forgo the lobster ice cream ;). Maine is fantastic for a summer trip, but winter is also a good time to visit! Check out these 10 best winter getaways in Maine! And if you want a truly unique experience, visit one of these outstanding Alpaca Farms in Maine! Have a wicked good time!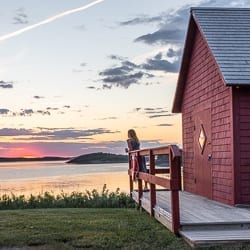 About Hillary: Hillary is an East Coast Maritimer with a love for all things nature and wildlife.  With a degree in biology and a passion for photography, you can find her hiding out in a field somewhere chasing foxes and deer or sleeping in anything from a camper van to a fancy hotel. Follow her on Instagram for more adventures.
Hi! I'm an East Coast Canadian with a love for all things nature and wildlife.  With a degree in biology and a passion for photography, you can find me hiding out in a field somewhere chasing foxes, or sleeping in anything from a camper van to a fancy hotel. Check out my website for more adventures!