Morocco is a country in North Africa that's becoming ever more popular with travelers from around the world. It offers a unique mix of culture, history, and nature. One can see ancient ruins one day, and ride a 4 wheeler through the Sahara desert the next. It's filled with gorgeous coastlines, vibrant mountains, sweeping deserts, ancient cities, scents of spices, and colorful markets. No matter the season, visitors will find plenty to do during their stay in Morocco. We are dedicating this post to share a Morocco travel guide that can help our readers make the most out of their time in this incredible North African country.
This post contains affiliate links. This means we make a small commission at no cost to you if you click through and make a purchase. All prices listed are accurate at time of publication. 

Morocco Travel Guide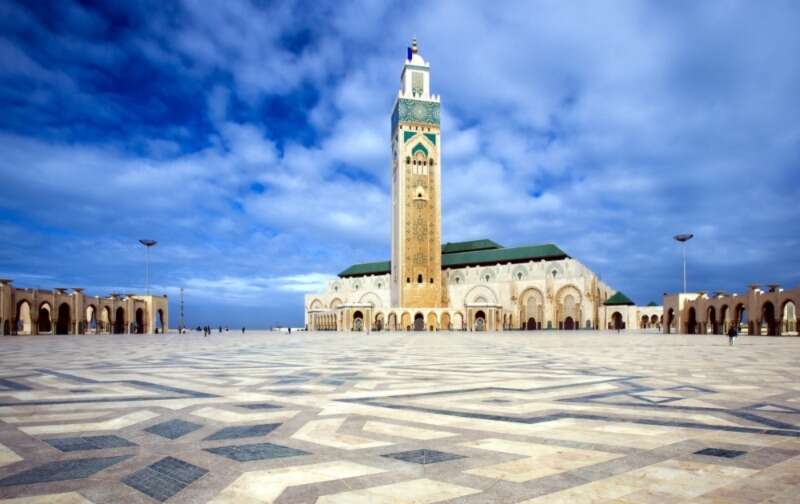 Facts About Morocco
Before we dive right into all the amazing things we can do in Morocco, let's chat about some facts any Morocco travel guide should tell you.

Language
The main language spoken is Arabic. About 33% of Moroccans speak French. English is an emerging language, mostly spoken in larger cities and touristy places. If you are planning to explore off the beaten path, make sure to brush up your French.

Religion
Morocco is a Muslim country. Travelers to Morocco should be prepared to dress conservatively in public areas. Women should cover knees and shoulders. Long skirts will allow you to stay relatively cool if you are traveling during the warmer months, and a shawl is a must-have accessory, as it serves to cover up when necessary. Access to nearly all mosques will be denied to non-Muslims, with one exception, which this Morocco travel guide will tell you all about in a bit.

Currency, ATMs & Credit Cards
The official currency is the Moroccan dirham. One dirham consists of 100 units called a santim. The dirham is a closed currency, which means that you can't take it in or out of the country. Thus you'll have to exchange money upon arrival. You can bring any amount of cash into the country, though traveling with large amounts of cash is never advisable, for safety reasons. Rather than exchanging money at the airport, where you won't get the best rate, go into town and exchange it at at hotels or the Bureau de Change. Travelers checks aren't common, so your best bet is to bring a mix: cash, a debit card to use at ATMs, and a credit card. Most cities will have ATMs, but come prepared. Some of them charge fees. To avoid this, check with your bank. They may be able to tell you which bank they collaborate with, and at that bank you'll likely be able to use the ATM without paying a hefty fee. Note: there's a withdrawal limit of 2000 dirham per transaction, though you can withdraw money several times per day if necessary. Visa and Mastercard are widely accepted.

Internet
You will find internet access readily available in your accommodations, and the speed is quite good. To ensure you always have internet on the go, go online and buy a sim card before you go. That way you aren't dependent on finding WIFI.

Electricity
Morocco uses 220 V electricity. You will need the Europlug or the Europlug adapter to be able to charge your electronics.

Seasons
Morocco has four seasons. Hot and dry summers, milder but wet and humid winters, and pleasant shoulder seasons. These shoulder seasons are the best time to visit.

Things To Do In Morocco
Morocco has much to offer. From unique landscapes to cultural attractions, there's plenty to keep visitors occupied. An 8 days Morocco tour from Casablanca is a great way to see everything, but if you want to strike out on your own, we will list the top 10 things you shouldn't miss when visiting Morocco.

Animal tourism
Before we talk about all the amazing things you'll experience during your stay in Morocco, let's have a quick chat about a topic that's very dear to our heart here at Girls Who Travel: ethical animal tourism. Unfortunately, you'll see many examples of animal tourism that's anything but ethical. There are people offering selfies with chained monkeys, or snake charmers. These are animals that aren't living in an appropriate environment, and by engaging with them you support this practice. Learn more about ethical animal tourism by clicking here!
Now here's one question that's most likely on your mind: is it ethical to ride a camel in Morocco? After all, camels have been used for transportation purposes in that are for ages. There is no easy answer. While it's certainly best not to, and the sand dunes of the desert can be explored without riding on the back of an animal, if riding a camel through the desert has always been your dream, then read on. The most important thing is to not support a business that doesn't care well for their animals. There's an organization called SPANA – Society for the Protection of Animals Abroad, and it's their mission 'to transform the welfare of working animals in low-income countries.' They teach proper care of animals and provide veterinary care. If you see a SPANA tag on the animals, you know that they receive proper treatment and care, and are inspected regularly to ensure this.
So – if it's your dream to ride a camel through the Sahara, please ensure you do not harm animals in the process.

1. Visit Casablanca
Casablanca is Morocco's largest city, located in the central-western part of the country. While it is less charming than Marrakech or Chefchaouen, this port city and main economic hub is still worth a stop on your trip to Morocco. The main attraction is the Hassan II Mosque, the only mosque in the country that allows non-Muslim visitors. However, non-Muslims can only enter with a guided tour. Pro tip: head to Corniche road to take the best pictures of Hassan II Mosque!
The Old Medina (Old Town) is a great place to look for souvenirs, and take Insta-worthy shots. Consider booking a Medina and beyond cultural walking tour. Quartier Habous is another neighborhood worth strolling through. It's especially renowned for the olive markets. At Place Mohamed V you can admire architecture in the neo-Moorish style, also known as Mauresque style.
The Cathedral du Sacre Coeur, the Central Market, and Souq Haboos are also worth seeing. A Casablanca city tour is a great way to see the most important sights.
Casablanca has some decent nightlife as well. On Rue Allal ben Abdellah, in the city center, you'll find several restaurant-bars. Head to the beachfront boulevard de la Corniche in Aïn Diab to find nightclubs such as Candy Bar, Le Village, Mystic Garden, and Pulp Club.

2. Enjoy Marrakesh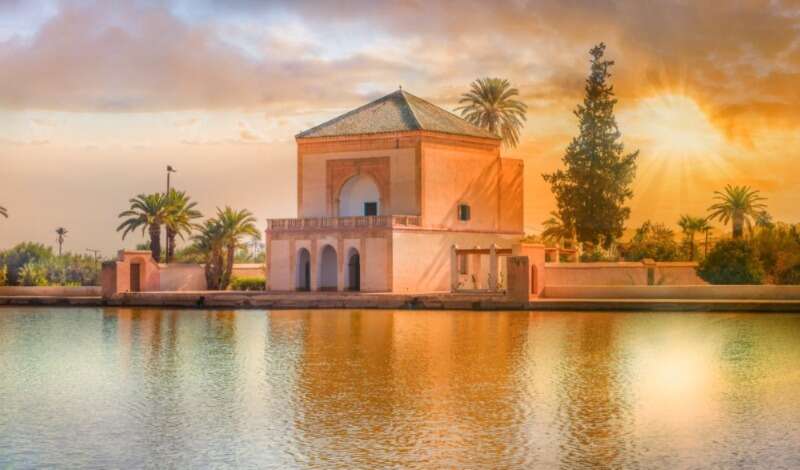 Don't miss Marrakesh when visiting Morocco! This former imperial city in the western part of the country is jam-packed with things to do and see.
Bahia Palace is one of the most beautiful palaces you'll find anywhere. El Badi Palace, the ruins of a once epic palace, are set in sunken gardens. The location offers stunning views of the medina.
Marrakesh is famous for its markets (souks). The most famous one is Souk Semmarine. You can buy anything from silverware to rugs and leather goods here. Jardin Majorelle is a must-see botanical garden, created by French painter Jacques Majorelle. Its centerpiece is an indigo blue art deco house, and the collection of cacti will blow your mind.
One epic activity you can do from Marrakesh is a hot air balloon ride. It includes a traditional Moroccan breakfast, which is usually served with tasty mint tea. The views of the foothills of the Atlas mountain range are hard to beat!
No matter if you got mint tea or not on your balloon ride, you should stop by the Riad Yima Tea Room. It's the gallery of Hassan Hajjaj, a contemporary Moroccan artist, and it's full of pop art! After tea, stroll through the Mellah, the Jewish quarter.
Marrakesh is home to several museums: Maison de la Photographie, Musée Yves Saint Laurent, Musée des Confluences, and Musée de Mouassine are all worth visiting.
Book a Palmeraie quad bike desert adventure for an extra adrenaline kick.
Last but not least, you should at least enjoy time in one (or more!) hammams during your stay in Morocco. These public bath houses are the ideal place to rest and relax your wary traveler body. In Marrakesh, the Hammam De La Rose is highly recommended, as any Morocco travel guide will tell you.

3. Travel to Fez
Fez, the former capital of the Kingdom of Morocco, is packed full of history. It is home to the oldest university in the world, has an ancient walled city, and the Medina of Fez is a UNESCO World Heritage Site!
We highly recommend wandering the narrow alleyways of Fes el-Bali. It's not just a haven for shopping and sightseeing, but also the world's largest car free area. Don't miss Bab Boujloud, the  blue archway with mosaic tiles. A one of a kind experience can be had at Chaouwara Tanneries, a large leather workshop where visitors can get insights into the leather-making process that's been used since ancient times. To get a break from the hustle and bustle, take a timeout at Jardin Jnan Sbil gardens.
Bou Inania Medersa, a theological college of incredible beauty, is one of the few religious sites open to non-Muslims. At Al-Attarine Madrasa, you can admire the courtyard, a mind-blowing piece of architecture. Kairaouine Mosque is one of the world's largest mosques. You can't go in, but you can admire it from the outside.
The Merenid Tombs aren't that exciting, but from there you have the most magnificent views of Fez.
If you are short on time, book a full day private tour to ensure you see all that's noteworthy!

4. Explore the Blue City
Get ready to be enchanted! Chefchaouen is also known as the Blue City, thanks to blue hues everywhere. In 1492, during the Spanish inquisition, and again at the onset of World War II, Chefchaouen experienced an influx of Jews. The color blue has an immense significance in Judaism, and therefore they started painting walls and buildings in shades of blue, which created the most striking, beautiful city.
This place is massively Instagrammable. Wandering around, you'll find the perfect photo opportunity around every corner. Up the hill you'll find the ruins of the Spanish Mosque. Go very early or late to catch the sunrise or sunset from this location with the perfect views. Chefchaouen offers a chance to buy souvenirs not found elsewhere in Morocco. Check out the stalls and shops in the Medina around Plaza Uta El-Hammam to find woven blankets and baskets, and clothing made of wool. Also in the Medina you find the Kasbah Museum, an old Moroccan fort.
To take only a sneak peak, book a full day trip to Chefchaouen from Rabat.

5. Soak in the history of Rabat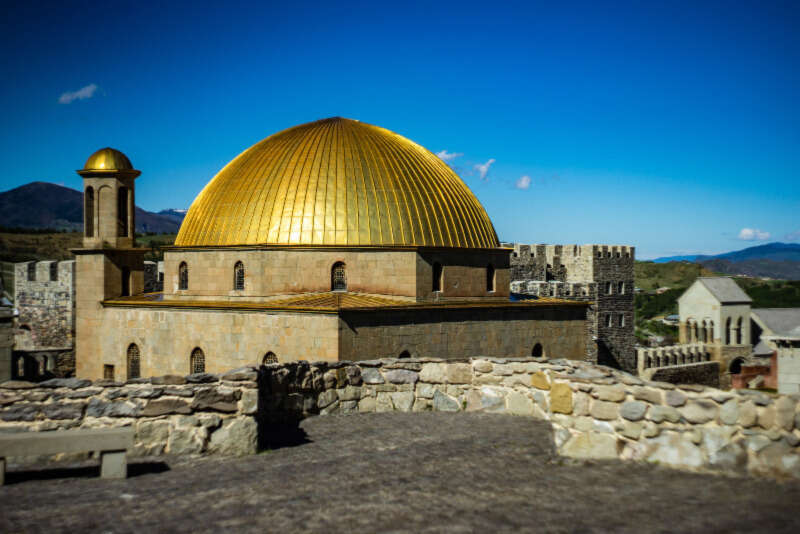 Rabat, located at the Atlantic coast, is Morocco's capital. Famous landmarks dot this Imperial City, and there's plenty to do.
The Mausoleum of Mohammed V is one of the most famous sights to see, listed in every Morocco travel guide. It is the tomb of Mohammed V, the ruler who led Morocco to independence, and is open to non-Muslims. Hassan Tower, an incomplete minaret made of red sandstone, standing 140 feet tall, is part of the complex that houses the tomb. It's highly recommended to also visit the MMVI – the Mohammed VI Museum of Modern and Contemporary Art, showcasing the work of over 200 Moroccan artists.
The Kasbah of the Udayas is a citadel on top of a hill at the mouth of the Bou Regreg river. Once upon a time it was used to launch attacks on Spain, but today it's a UNESCO World Heritage Site worth seeing during your trip to Morocco. Don't miss strolling through the Andalusian Gardens while visiting the Kasbah. It also houses a neat museum, the Oudaias Craft Museum.
On the left side of the river you'll find Chellah, an ancient archaeological site. It was once a a medieval fortified Muslim necropolis, but the earliest artifacts here date back to the time of the Phoenicians.

6. Get out into nature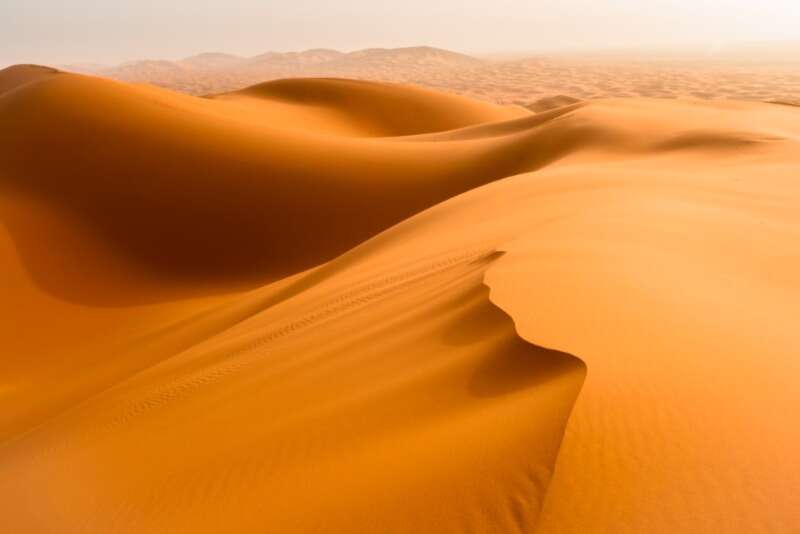 What would a Morocco travel guide be without mentioning the Sahara desert? Of course you will want to visit this most famous of all deserts on your trip to Morocco. If you want to avoid the infamous camel ride, book a Merzouga 4×4 tour excursion around dunes, a walking trip at sunset into the Erg Chebbi Dunes with a local guide, a Merzouga off roading experience, or, for some extra and unusual fun, a guided sandboarding experience.
There's no shortage of nature diversity in Morocco. After your time in the desert, spend some time at the ocean with a surf trip to the best spots of Essaouira. If you are visiting Morocco during the summer, an attempt at the Toubkal Ascent could be in the cards for you. Or spend 2 days hiking in the Atlas mountain range. Climbing in the Todra Gorge is also an option, as is kayaking in the Ahansal Valley. Visit Talassemtane National Park and hike through the Rif Mountains.

7. Relax in the Windy City
You may only have heard this nickname used for Chicago, USA, but Morocco, this incredible country in North Africa, also has a Windy City! Essaouria is a coastal town with a decidedly chill vibe. It lives up to its name and is thus very popular with wind and kite surfers. Wander by the towering city walls and explore Essaouria's beautiful Medina, a UNESCO World Heritage Site. Sip mint tea and enjoy spectacular views from the many rooftop terraces offered by cafés and restaurants. Venture just outside the city to La Fromagerie, a small restaurant and cheese farm. Try their specialty – camel milk cheese! Shop at the souks. You may get better deals here than in the bigger cities. But whatever you do, do not attempt to sunbathe here unless you are fond of a mouthful of sand. It gets really windy!

8. Go to a place where old and new meet
Air Ben Haddou, located along a former caravan route leading from Marrakesh to the Sahara, is a historic ighrem or ksar (fortified village) and a UNESCO World Heritage Site. What's new about it you wonder? It's a popular filming location for movies and TV shows! Lawrence of Arabia, The Mummy, Gladiator, Prince of Persia: The Sands of Time, and many more movies used Air Ben Haddou as a back drop. It was even used in some episodes of Game of Thrones! It's history transported onto our screens at home. What could be better than to go check it out for yourself?
The easiest way to get there is with a private day tour from Marrakesh, visiting not just Air Ben Haddou, but also Ouarzazate, a city nicknamed 'door to the desert'.

9. Stop at Volubilis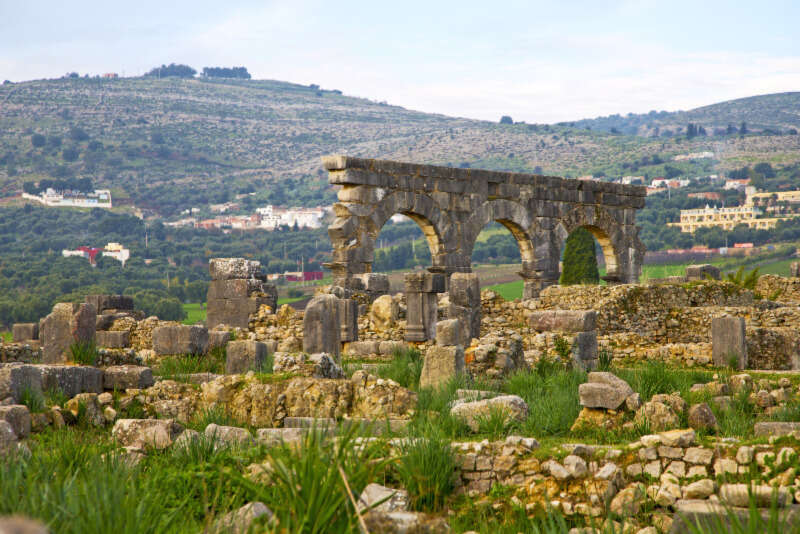 Who would think that once upon a time there were Roman cities in modern day Morocco? Volubilis was the Mauritanian capital under Juba II and Ptolemy, and it was founded in the third century BC. Located in northern Morocco, near Fez, Volubilis is one of the most significant archaeological sites in this North African country, and a UNESCO World Heritage Site. Back then, the city was a major site for wheat growing and olive oil pressing. The remains are well-preserved, and absolutely worth visiting. The best way to go about this is to book a Volubilis and Meknes day trip from Fez.

10. Visit Moulay Idriss Zerhoun
Moulay Idriss Zerhoun, located in northern Morocco, near Fez, is one of the most important pilgrimage sites in this North African country. What can you expect when visiting the holiest city in all of Morocco? Located at the foothills of the Zerhoun mountains, Moulay Idriss Zerhoun has a number of remarkable landmarks and sites.
The Mausoleum of Moulay Idriss only allows non-Muslims to enter as far as the inner barrier, but it's worth going to take a peak. The Grande and Petite Terrasses offer excellent views. Wander to the Sentissi Mosque to see the only cylindrical minaret in Morocco. Take a walk to the Roman Baths and the Haroune aqueduct.
A great way to visit is to book a Volubilis, Moulay Idriss, Meknes, and Chefchaouen 2 day tour.

Best Hotels In Morocco
Of course accommodations will be on your mind when booking your stay in Morocco. Let's take a look at the excellent choices of hotels in Morocco.

Art Palace Suites & Spa, Casablanca
Dreams come true at the Art Palace Suites & Spa. This 5 star hotel is truly unique. Each suite is decorated individually, inspired by a celebrity or an international icon. They are lavishly furnished, with marble bathrooms and separate seating areas. Have a swim in the heated indoor swimming pool, and sweat it out at the sauna. Rest and relax in the traditional Moroccan hammam, and enjoy international or local cuisine at the Art Age restaurant. Afterwards, have a cocktail at Le 4 Lounge bar, or indulge in tea, coffee, and pastries at Le Living Room.

Down Town Hotel By Business & Leisure Hotels, Casablanca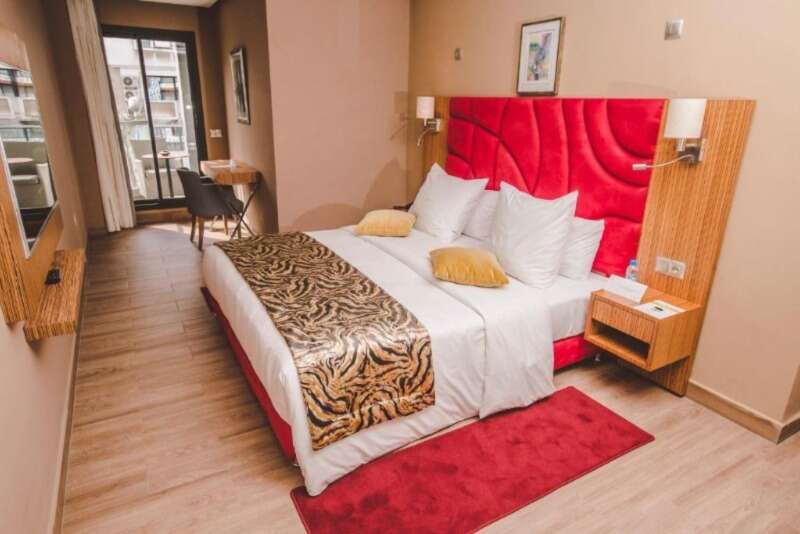 Conveniently located in the Maarif district, close to some of the major sights, you'll find the Down Town Hotel. Very clean and spacious rooms will make you feel comfortable at this 4 star property. The staff is friendly and helpful, and happy to help out with your transportation or any other needs that may arise during your stay. All rooms have a TV, coffee maker, bathrobes & slippers, and some even have a seating area. Guests can choose between garden and city views.

Yto Boutique Hotel, Casablanca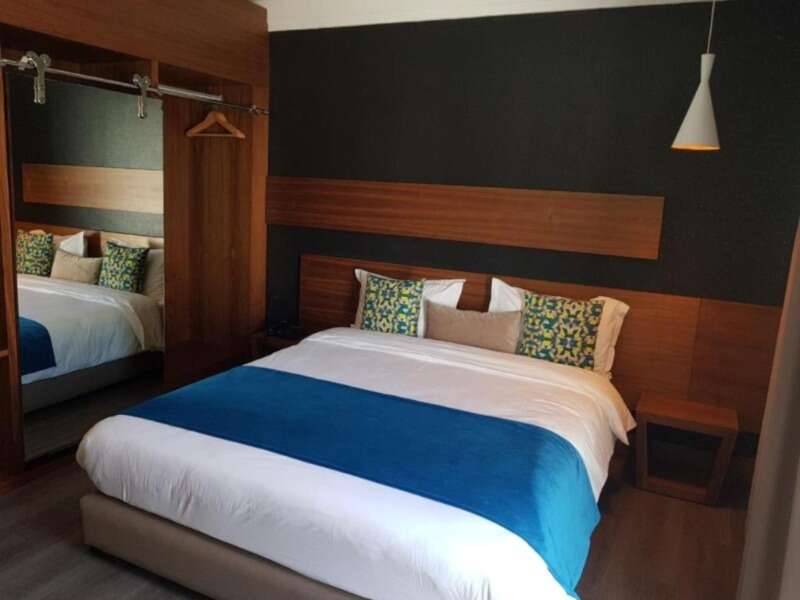 Looking for a highly recommended 3 star hotel? The Yto Boutique Hotel is your answer! It's conveniently located close to the town center, offers free WIFI, a 24 hour front desk, and an on-site restaurant serving local and international food. The rooms are modern and clean, and all of them are airconditioned.

Palais Faraj Suites & Spa, Fez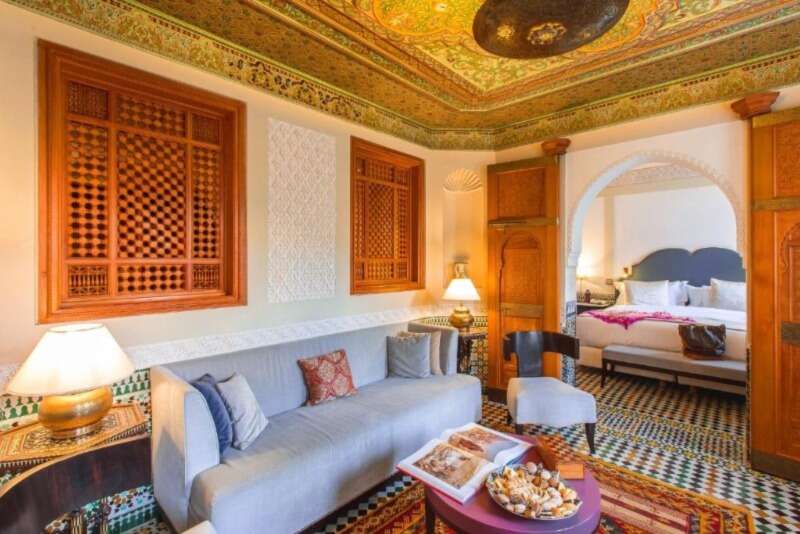 If you are planning to stay in one major city and take day trips, Fez is a good choice. The Palais Faraj Suites & Spa is a fantastic base. This 5 star hotel offers true luxury. If you've always wanted to stay in a in a former Arab-Moorish palace, this is your chance. The rooms are spacious, clean, and every interior decorator's dream. Rooms are airconditioned and offer a TV, free WIFI, free soft drinks, and a mini bar. The outdoor pool, spa, hammam, massage treatments and beauty salon are there for your enjoyment. Best of all? There is a free yoga class every Saturday afternoon, and free meditation sessions on Thursdays. The ideal place to relax after a long day playing tourist! There are 2 restaurants and 2 bars on site.

Nour Plazza Hotel, Fez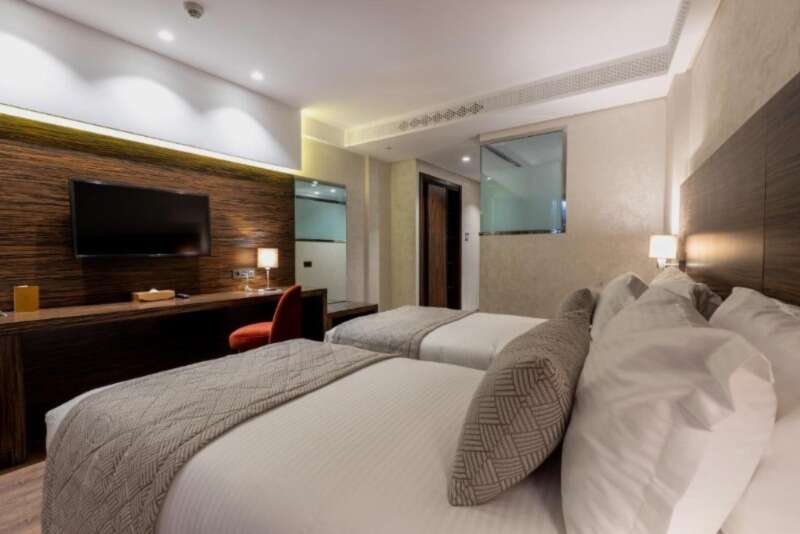 Traveling with little ones? The Nour Plazza Hotel has family rooms! On top of that nice feature there is a restaurant, outdoor swimming pool, a fitness center, a shared lounge, and many other amenities. For an additional charge, this excellent 4 star property can arrange for cooking classes, live music, cultural tours and classes, and themed dinners. What's not to like?

Blue Sky Hôtel, Fez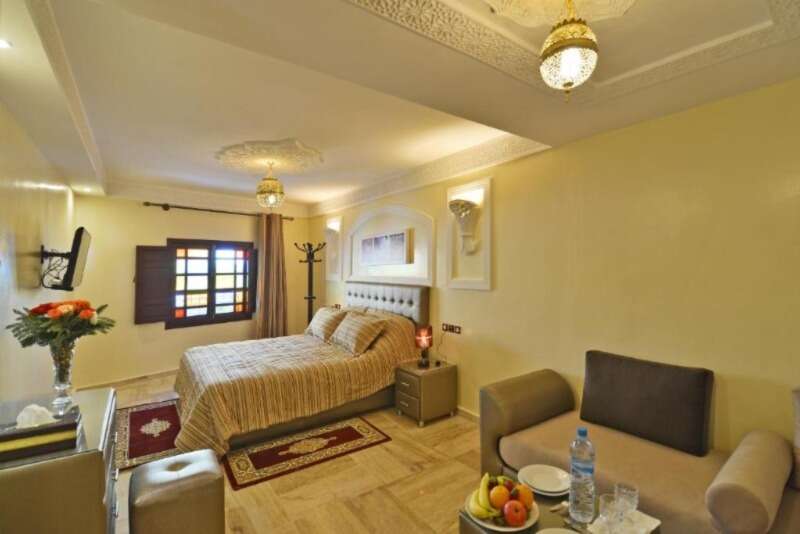 The Blue Sky Hôtel is a 3 star hotel in an excellent location. It's an easy 0.8 mile walk to the Royal Palace. All rooms feature air-conditioning, and rooms with terraces and/or seating areas are available. There's a restaurant on site, and the 24 hour desk allows you to check in any time.

Other Places To Stay In Morocco
Adagio Casablanca City Center, Casablanca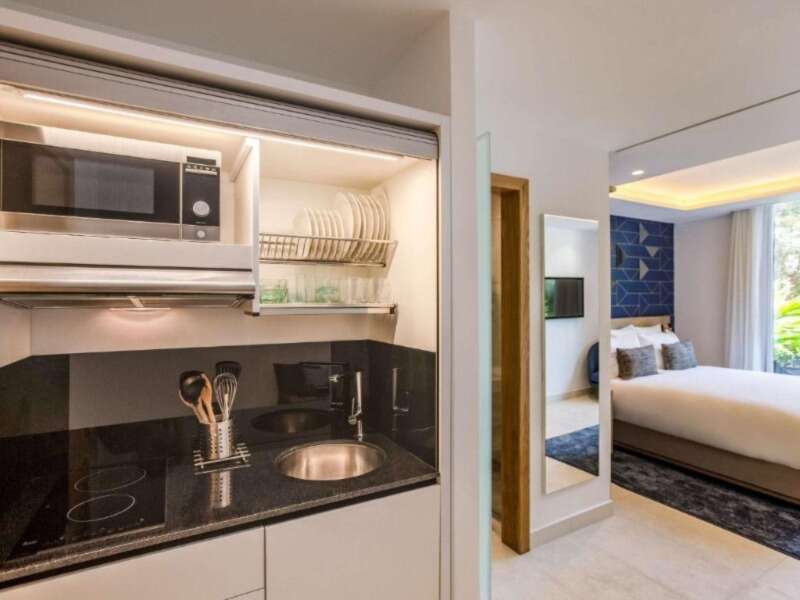 The Adagio Casablanca City Center, located conveniently, as you might have guessed, at the city center, is a condo hotel. That means you have all the amenities of a hotel, such as a restaurant, a seasonal outdoor swimming pool, a bar and a shared lounge, but there's more! Each condo has a full equipped kitchen. If you, like me, wake up at 5 am and there's no way to make coffee, you'll have an unhappy start to your day. The Adagio Casablanca is a 4 star property, but since you have access to a kitchen, you can choose to make your own meals, spending the extra money on a nice place to stay rather than on food.

Appartement Aznavour Hostel
The Appartement Aznavour hostel is in a good location, only a few miles from most attraction. All rooms are equipped with electric tea pots. The bathrooms are shared.

Appartement au bord de la mer vacation home
The appartement au bord de la mer vacation home is a short 17 minute walk away from El Mreissah Beach. The unit offers 2 bedrooms and 2 bathrooms, a fully equipped kitchen including a dishwasher, and TV. The property features a restaurant, a shared lounge, a playground, a garden, free WIFI and free parking.

Résidence Hôtelière Le Diamant Vert, Fez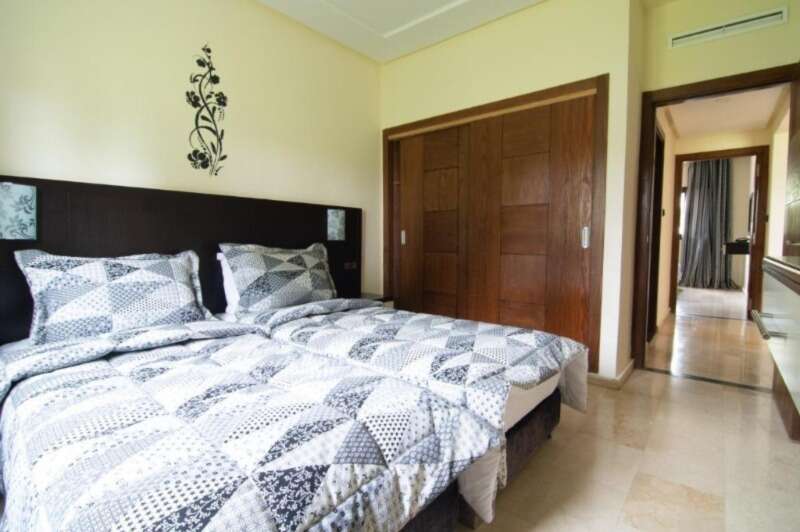 Would you like to have hotel-style amenities, but with more privacy? Then choose to stay at Résidence Hôtelière Le Diamant Vert. Located only 5 minutes from the city center of Fez, this 3 star property offers individual bungalows on 14 hectares. Enjoy restoring forest views on your personal terrace. All bungalows are airconditioned, have a kitchenette, and a TV. There's a restaurant on site.

Moroccan Dream Hostel, Fez
If you are traveling on a budget and looking for an excellent hostel to stay, look no further than the Moroccan Dream Hostel. It's located only 2 miles from the Royal Palace and 3 miles from the next train station, and features concierge services, non-smoking rooms, a shared lounge, free WIFI and a terrace. Our favorite feature? Every room comes with a a safety deposit box to keep all your important documents and belongings safe while you are out and about.

Dar Claire Vacation Home, Fez
Dar Claire is an exceptional vacation home available to rent in Fez. It features 3 bedrooms and 3 bathrooms and is super close to major attractions. Air-conditioning, a flat-screen TV with satellite channels, a fully equipped kitchen, and a patio with city views will make your stay as comfy as possible.

Best Places To Eat In Morocco
Casa Lalla Restaurant, Marrakesh
The Casa Lalla Restaurant serves international and Moroccon cuisine. Decorated in Moroccan style, you will find the ambience to be welcoming and romantic. The service is outstanding, and the staff will happily explain to you their specialties, which is especially helpful if you aren't familiar with Moroccan cuisine. The food is first class, and the selection of wines is very nice. Fine dining at its best!

Amal, Marrakesh
If you love healthy food, Moroccan, African, and Middle Eastern choices with gluten-free, vegetarian, and vegan options, AND you love to support women, eat at Amal! This restaurant is a non-profit organization dedicated to the empowerment of disadvantages women. And they serve delicious food! Enjoy your lunch on the tranquil patio and support women In Morocco at the same time.

Atelier Oriental, Casablanca
Enjoy Moroccan and Lebanese cuisine at Atelier Oriental, located inside the hotel Sofitel Casablanca Tour Blanche. Their options include: vegetarian, salt-free, halal, and gluten-free foods. The food is exquisite. Highly recommended are the lentil soup, the lamb tagine, and the couscous beef.

Organic Kitchen, Casablanca
Eat well at Organic Kitchen. This restaurant serves international and European cuisine, with vegetarian, vegan, gluten-free, and halal options. The food is excellent, and especially the Buddha bowl is highly recommended, as is the Nasi Goreng with tofu. Don't miss out on the fresh juices!

Restaurant Palais Bab Sahra, Fez
The ambience at Restaurant Palais Bab Sahra Fez is one of the best you'll find anywhere in Morocco. The interior design rivals that of a palace, and the Moroccan food they serve is delicious. Try the couscous with cabbage, vegetables, and beef. If you love it, you can even take a cooking class here!

Berrada Family Restaurant, Fez
The Berrada Family restaurant in Fez is a great option for everyone looking for a local, less touristy place to eat their meals. They cater to people eating vegetarian, vegan, and halal. This family run operation offers a relaxed and friendly atmosphere. The food is delicious. The kefta tagine especially will blow your mind.
How To Get Around Morocco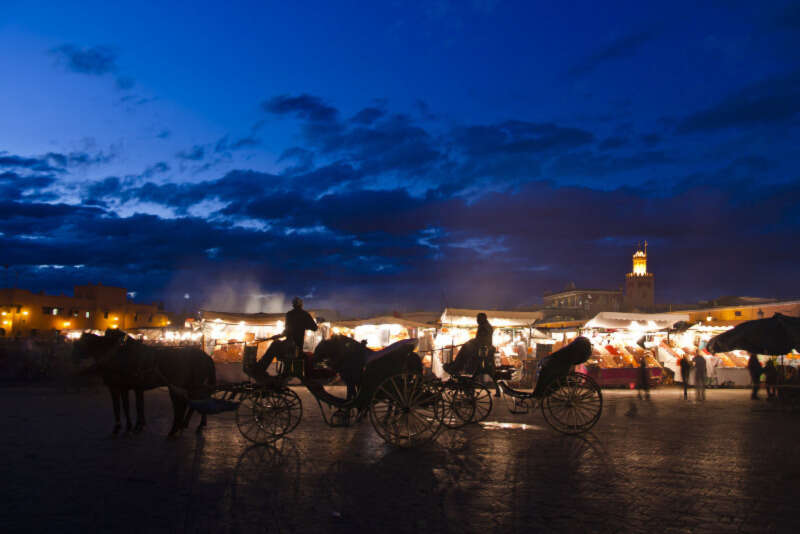 Getting around Morocco is easy, thanks extensive public transportation, and can be done on a budget. (If you are a budget traveler, check out the Girls Who Travel Budget Travel Toolkit! The Budget Travel Toolkit makes it simple to turn your travel dreams into an affordable reality right now.)
Buses are the easiest and cheapest way to travel around the country. There's a whole network of private bus companies covering every inch of this North African country, but the four biggest ones are: Compagnie de Transports Marocains, SATAS, Supratours, and Trans Ghazala. They offer fixed schedules, air-conditioned buses, and limited seating, so you are guaranteed a comfy ride.
Trains are another good option for public transportation. Trains are run by the state, and they connect  most cities west of the Atlas Mountains. There are set timetables which are posted in the train stations, but also available online on the website of the Office National des Chemins de Fer. First class tickets are available and quite affordable, especially if you are used to American or European prices. When you plan your schedule, don't make it too tight. Sometimes trains are as punctual as can be, and other times they run late.
Grand Taxis, Morocco's collective taxis, shoulder the brunt of the public transportation needs. You'll see these old Mercedes Sedans literally everywhere in the country. They offer short rides and longer ones, and can be found at train and bus stations, and often also at many street corners. The Grand Taxis offer 6 seats, and it's a shared ride, meaning that they will pick up other travelers along the way.
The better way for solo female travelers to get around towns and cities it by Petit Taxi. These are small, 4 door vehicles, and they only take 3 passengers at a time. One thing to look out for is the fare. All three passengers can be on different fares, and it's prudent to ask the taxi driver to charge by his electronic meter. Fares go up by 50% after 8 pm.
Every Morocco travel guide will tell you that getting around the country by plane is possible, but it's expensive and not highly recommended. If you do insist, Royal Air Maroc is the country's largest airline and flies domestically.

How To Stay Safe In Morocco
Overall, Morocco is a fairly safe country for female travelers. There are, however, some things to look out for, and some guidelines to follow that will help keep you safe. First of all, Morocco is a very conservative country. Dressing in a more conservative fashion will safe you from unwanted attention. You don't have to adhere to a strict dress code, but covering knees, midriff, and shoulders is a good way to go. Maxi skirts are a great option that's light enough to keep you cool. Scarves are useful, too.
Extensive attention from men can occur. The best thing, aside from dressing conservatively, is simply to ignore it.
If you are taking one of the Grand Taxis, it's a good idea to book 2 seats, and claim the passenger seat. Or sit next to another woman. This will prevent you from getting unwanted attention men as well.
Be vigilant. If you return to your accommodations after dark, take a Grand Taxi rather than walking through the narrow alleyways. Be kind but not too friendly towards strangers. Be aware of petty crimes like pickpocketing. Pick up a few phrases in French so you can ask for help if you need it.

Customs & Etiquette In Morocco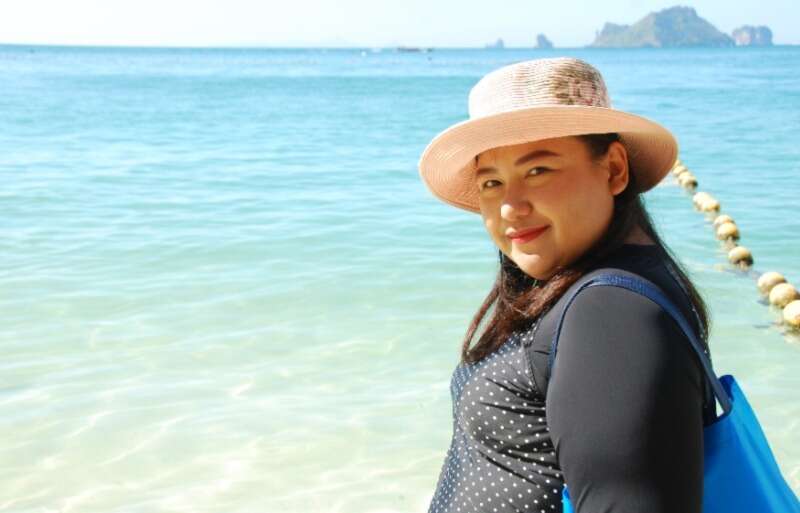 We've already talked about the dress code. It's a good way to stay safe, but dressing conservatively is also considered respectful, and we should respect customs and traditions in the country we are visiting.
Greetings are quite formal and consists of a handshake with the right hand (the left hand is considered unclean), and an inquiry about the person's health and family, if you know them.
Eating with your left hand is also considered unclean.
Pointing at people with your index finger is considered impolite.
During Ramadan, non-Muslims aren't expected to fast, but it's polite to eat and drink indoors.
Taboo subjects for conversation include: the royal family and the political situation in the area.
Religion can be a touchy subject. Be very prudent about it or avoid the topic altogether.
Never photograph border checkpoints, military, police, or airport installations.
Moroccans aren't known for being punctual. Organized tours and their guides are the exception.
Be aware of selfie scams. A person with, say, a chained monkey will try to get you to take a selfie with the animal, and ask for money after the fact.
At the hammam, it's custom to bathe naked, but wearing a bikini bottom isn't frowned upon. Men are expected to wear shorts.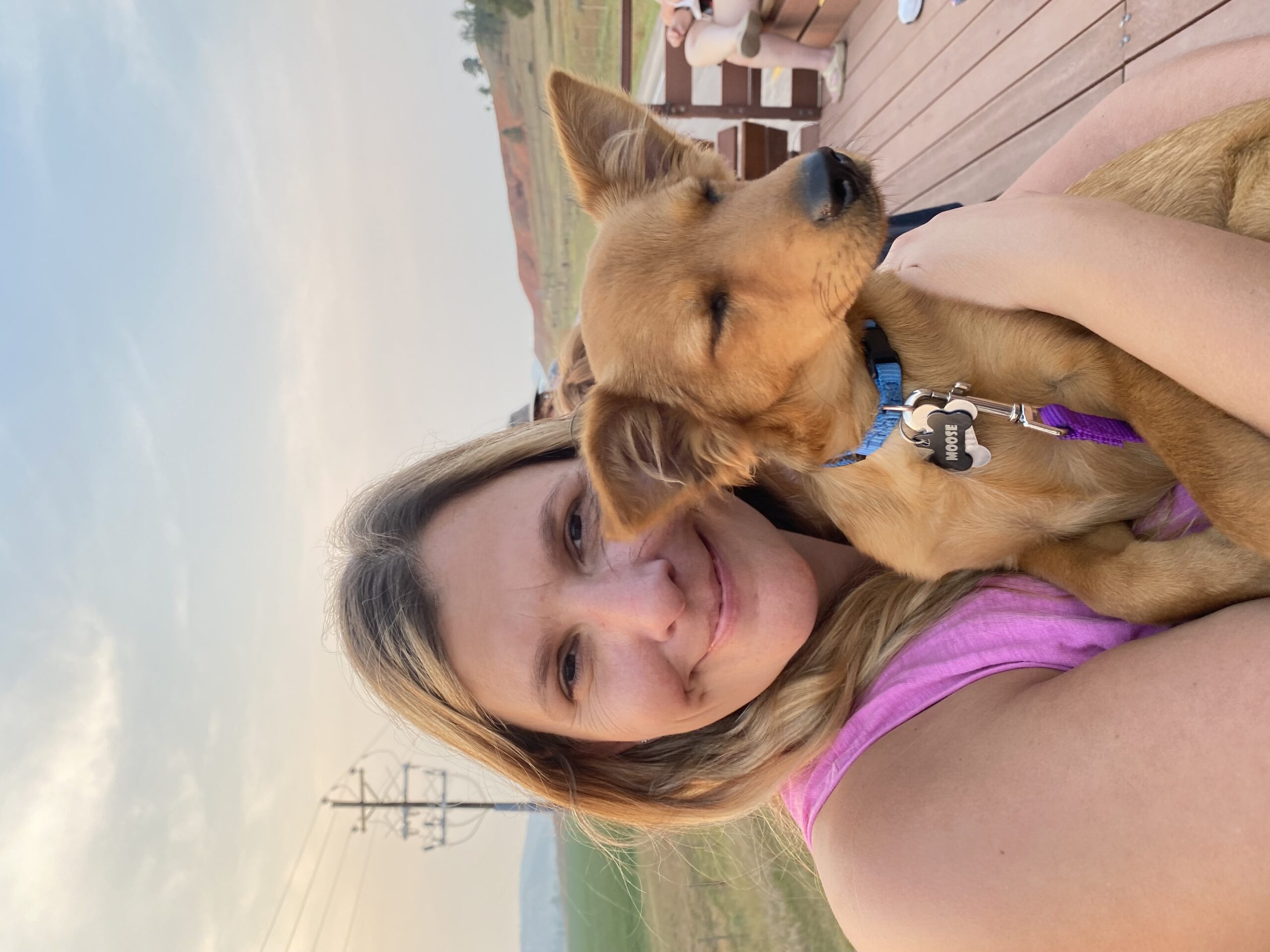 Jenny grew up in Germany. All she ever wanted out of life was to leave and have adventures. Jenny always traveled as much as the budget would allow, and when she met her husband traveling became a full-time thing. You can follow Jenny on her blog and Facebook.